Industry Insights
[215+ Pages Report] According to Facts and Factors, the global tocotrienol market was worth about 272 (USD million) in 2020 and is predicted to grow to around 380 (USD million) by 2028, with a compound annual growth rate (CAGR) of around 6.6%. The report examines the tocotrienol market's drivers and restraints, as well as the impact they have on the demand during the forecast period. In addition, the report analyses global opportunities in the tocotrienol market.
Market Overview
Tocotrienols are vitamin E-related compounds. Vitamin E is a nutrient that is required for normal body and brain function. Tocotrienols, like other vitamin E compounds, are classified into four types: delta, gamma, beta, and alpha. Tocotrienols can be found in rice bran, palm fruit, palm fruit, barley, and wheat-germ oils. Tocotrienols, according to experts, have numerous health benefits, some of which are more potent than those found in more common tocopherols. Increased brain health & functionality, anticancer activity, and cholesterol-lowering effects are among them.
Tocotrienols are naturally occurring substances that are often present in low amounts. Tocotrienols have numerous medicinal benefits and are an essential component in the treatment of diseases such as diabetes, cardiovascular disease, and certain types of cancer. Tocotrienols also inhibit the proliferation of breast cancer cells. Tocotrienols are generally regarded as safe (GRAS) substances, and they are also utilized as an addition to nutritional supplements.
Growth Drivers
Tocotrienol is widely regarded as a safe drug, and it is employed in the production of vaccines for cardiovascular disease, anti-cancer, cholesterol-lowering, and a variety of other purposes. It is also used as an additive in dietary supplements. Furthermore, the rising incidence of cardiovascular illnesses caused by people's unhealthy lifestyles and bad diets around the world is propelling the global tocotrienol market. They are also used to reduce the growth of tumors and the damage done to DNA. Rising consumer awareness of health issues, as well as increased adoption of a healthy diet and lifestyle, are expected to drive the market.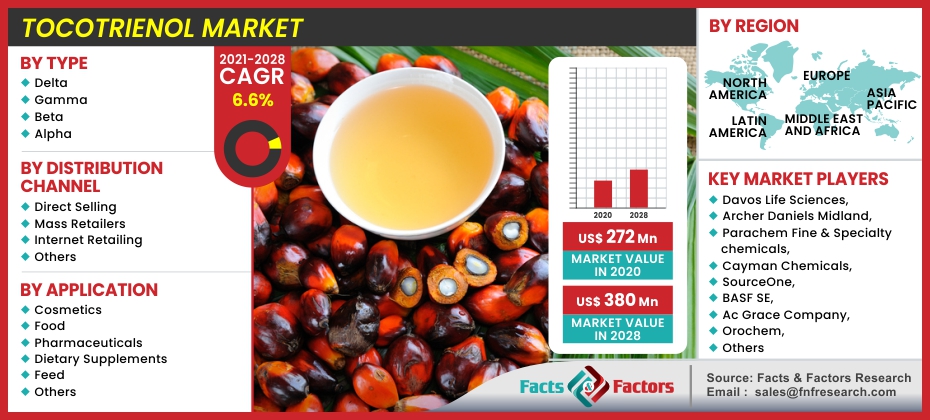 To know more about this report | Request Free Sample Copy
Also boosting the market is the growing need for tocotrienol in nutricosmetics, since cosmetic goods are particularly sensitive to oxygen, and the usage of mixed tocotrienol stabilizes the chemicals used in these cosmetic products. Even with all of the benefits of tocotrienol, the high cost for market contributors to enter the market is the key reason limiting the market's growth. They are also ineffective against negative health-related effects, which limits the usage of tocotrienol to certain health conditions such as cardiovascular disease. As a result, there are numerous chances for end-user market companies to spend in research & development and develop new ideas that will help the market grow in the coming years.
Report Scope
| | |
| --- | --- |
| Report Attribute | Details |
| Market Size in 2020 | USD 272 Million |
| Projected Market Size in 2028 | USD 380 Million |
| CAGR Growth Rate | 6.6% CAGR |
| Base Year | 2020 |
| Forecast Years | 2021-2028 |
| Key Market Players | Davos Life Sciences, Archer Daniels Midland, Parachem Fine & Specialty chemicals, Cayman Chemicals, SourceOne, BASF SE, Ac Grace Company, Orochem, Excel ViteInc, American River Nutrition, Eisai Food and Chemical Co. Ltd, Palm Nutraceuticals Sdn. Bhd., Vance Group Ltd., Sime Darby Bioganic Sdn, and BTSA Biotechnologies Aplicados SA., among others |
| Key Segment | By Type, By Distribution Channel, By Application, and By Region |
| Major Regions Covered | North America, Europe, Asia Pacific, Latin America, and the Middle East & Africa |
| Purchase Options | Request customized purchase options to meet your research needs. Explore purchase options |
Regional Landscape
North America is seeing a rapid rise in tocotrienol production capacity, particularly in the United States, due to rising consumer demand for nutritional supplements. The global tocotrienol market is predicted to rise steadily as end-user applications expand globally. Furthermore, rising personal awareness about cancer and cardiovascular disease therapy, as well as growing concern for the health of younger and older populations, are likely to drive tocotrienol production in various nations in the region, propelling market growth throughout the forecast period. Asia Pacific tocotrienol market is predicted to increase rapidly during the forecast period, owing primarily to the expansion of the dietary supplement market, particularly in China and India. Furthermore, population growth and rising health concerns, particularly in China and India, are projected to propel the tocotrienol market forward.
Recent Developments
A published clinical study in patients with type 2 diabetes mellitus (T2DM) in May 2021 revealed that Delta-tocotrienol derived from annatto improved glycemic control, inflammation, and oxidative stress.
In July 2020, a clinical trial published in the journal 'Complementary Therapies in Medicine' from Pakistan's Armed Forces Institute of Pathology added to the growing body of data suggesting tocotrienols are beneficial to the liver.
In June 2021, Malaysia's Ministry of Health's Food Safety and Quality Division has launched a public consultation on suggested modifications to the Food Regulations 1985.
Allowing nutrient function claims for tocotrienol-rich fractions (TRF) is one of the proposed amendments.
There are two potential claims: 1) TRF is an antioxidant that may aid in the reduction of oxidative stress; and 2) TRF may aid in the improvement of cognitive function.
Competitive Landscape
Some of the main players in the global tocotrienol market include
Davos Life Sciences
Archer Daniels Midland
Parachem Fine & Specialty chemicals
Cayman Chemicals
SourceOne
BASF SE
Ac Grace Company
Orochem
Excel ViteInc
American River Nutrition
Eisai Food and Chemical Co. Ltd
Palm Nutraceuticals Sdn. Bhd.
Vance Group Ltd.
Sime Darby Bioganic Sdn
BTSA Biotechnologies Aplicados SA.
The global tocotrienol market is segmented as follows:
By Type Segment Analysis
By Distribution Channel Segment Analysis
Direct Selling
Mass Retailers
Internet Retailing
Others
By Application Segment Analysis
Cosmetics
Food
Pharmaceuticals
Dietary Supplements
Feed
Others
By Regional Segment Analysis
North America

The U.S.
Canada
Mexico
Rest of North America

Europe

France
The UK
Spain
Germany
Italy
Nordic countries

Denmark
Finland
Iceland
Sweden
Norway

Benelux Reunion

Belgium
The Netherlands
Luxembourg

Rest of Europe

Asia Pacific

China
Japan
India
New Zealand
Australia
South Korea
Southeast Asia

Indonesia
Thailand
Malaysia
Singapore
Rest of Southeast Asia

Rest of Southeast Asia

The Middle East & Africa

Saudi Arabia
UAE
Egypt
Kuwait
South Africa
Rest of the Middle East & Africa

Latin America

Brazil
Argentina
Rest of Latin America