Industry Insights
[210+ Pages Report] According to Facts and Factors, the global citrus fiber market was worth about USD 315 million in 2020 and is predicted to grow to around USD 445 million by 2028, with a compound annual growth rate (CAGR) of around 4.2% during the forecast period. The report examines the citrus fiber market's drivers and restraints, as well as the impact they have on the demand during the forecast period. In addition, the report analyses global opportunities in the citrus fiber market.
Citrus Fiber Market: Overview
Citrus fiber is a naturally occurring dietary fiber. It is a category of chemicals that includes hemicellulose, cellulose, and pectin. Citrus fiber is naturally found in a variety of citrus fruits, including oranges, lemons & limes, grapefruits, and tangerines. Citrus fiber has a wide range of applications in cuisine. Citrus fiber offers a neutral taste and flavor, as well as digestible carbs and minimal fat content due to the low-calorie level. Fiber aids digestion, cholesterol maintenance, regularity, blood sugar balance, and other functions. It has been linked to longevity and lowering the risk of cancer.
Citrus fiber is made up of insoluble or soluble fibrous components of citrus fruits. Citrus pulp fiber is used as an additive in food items to improve water retention qualities. Furthermore, they are gaining popularity among makers of plant-based drinks as a way to improve taste and texture while replacing chemical-based additives. Citrus fiber's high surface area and composition allow it to hold water, emulsify, and gel while being used at very low levels. Furthermore, citrus products are becoming increasingly popular as a rich source of vitamins, minerals, and dietary fiber, all of which are required for optimal growth and development as well as overall nutritional well-being. During the projected period, the global citrus fiber market will be driven by rising demand for natural food ingredients.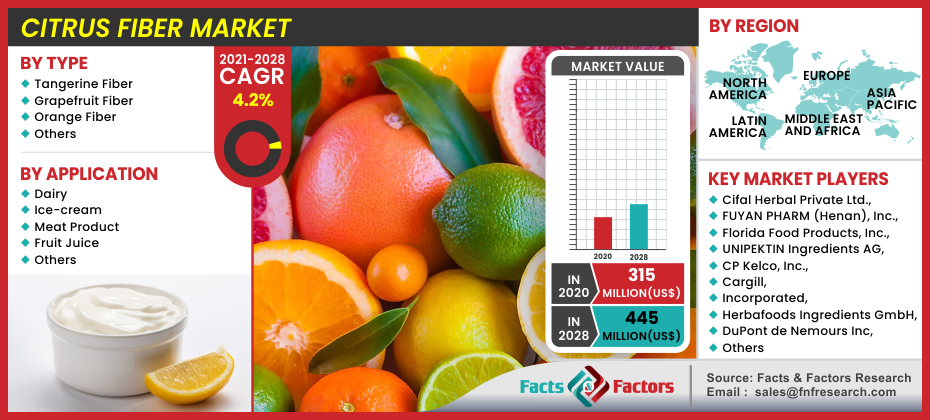 To know more about this report | Request Free Sample Copy
Citrus Fiber Market: Growth Drivers
The global increase in awareness among consumers for specific products is projected to fuel the expansion of the citrus fiber market. It has been popular for many years, and individuals with a healthy lifestyle, such as athletes, are the key users. Citrus fiber prices are high in contrast to other fiber products due to high production costs and high initial investments. This can have an impact on consumer adoption in the early stages, but new firms entering the market might improve competition and, as a result, buyer power in the long run.
The processed food products industry has grown significantly in recent years, owing to a number of underlying market dynamics. Consumer preferences have also shifted significantly in recent years. Consumer demand for bakery & confectionery items, meat products, and meat replacements is increasing, which is rising the demand for citrus fiber in the packaged food business dramatically. The expanding popularity of consuming convenient snacks originated in industrialized nations and is fast extending to the Asia Pacific emerging economies. Snacking on the fly has driven the market for frozen and ready-to-eat foods dramatically. During the projected period, rising demand is anticipated to get a favorable impact on the global citrus fiber market.
Citrus fiber has strong market demand. Its demand has been boosted by increased consumer awareness of nutritional labeling and a preference for less processed foods. Increased changes in lifestyle and acceptance of new diets such as organic, keto, and vegan, have positively impacted the citrus fiber market and are likely to benefit significantly during the projection period as well. Also, high-level investments and unique product lines for plant-based functional products are predicted to boost demand for citrus fiber.
Segmentation Analysis
The global citrus fiber market can be segmented into type, application, and region.
By type, the market is classified into a tangerine fiber, grapefruit fiber, orange fiber, and others. Among these, grapefruit fiber is expected to account for a significant proportion of the global market.
By application, the citrus fiber market is segmented into dairy, ice-cream, meat products, fruit juice, and others. Fruit juices such as orange, apple, grapefruit, lemon, and pomegranate juice are gaining popularity among researchers due to their major beneficial impacts on the human body, including stress relief, enhanced cancer prevention, digestive issues, skin tone, and heart health.
Report Scope
| | |
| --- | --- |
| Report Attribute | Details |
| Market Size in 2020 | USD 315 Million |
| Projected Market Size in 2028 | USD 445 Million |
| CAGR Growth Rate | 4.2% CAGR |
| Base Year | 2020 |
| Forecast Years | 2021-2028 |
| Key Market Players | Cifal Herbal Private Ltd., FUYAN PHARM (Henan), Inc., Florida Food Products, Inc., UNIPEKTIN Ingredients AG, CP Kelco, Inc., Cargill, Incorporated, Herbafoods Ingredients GmbH, DuPont de Nemours Inc, Fiberstar, Inc., Nans Products., and Others |
| Key Segment | By Type, By Application, and By Region |
| Major Regions Covered | North America, Europe, Asia Pacific, Latin America, and the Middle East & Africa |
| Purchase Options | Request customized purchase options to meet your research needs. Explore purchase options |
Regional Landscape
North America is one of the major regions in the global citrus fiber market, and it will remain a very appealing market throughout the projected period. The United States will account for more than 89.1 percent of the North American market by 2031. Personal care and cosmetics items are popular among American consumers. They are also expressing concern about the detrimental consequences of chemicals and synthetic compounds used in personal care and cosmetics items. This will increase the use of citrus fiber in the personal care and cosmetics sectors in the United States, thereby driving the regional market growth.
In Germany, the increased need for fat alternatives will be a major growth driver. Citrus fibers are used to replace approximately 45 percent of the fat or oil in baked products while maintaining product quality and taste. Growing demand for healthy bakery goods with fat replacements in Germany is boosting the country's citrus fiber market forward.
Brazil is predicted to account for more than 45 percent of Latin America's citrus fiber consumption. Wholesome beverage alternatives are on the rise in Brazil. Because of the improved lifestyles and eating habits of Brazilian consumers, the increased demand for packaged, ready-to-eat foods will increase the incorporation of citrus fiber. Increasing demand for packaged foods in Brazil had a substantial influence in the first half of 2021, and demand is predicted to stay high in the second half of the forecast year.
China accounts for much more than 58 percent of the East Asian market. Fiber consumption in China is increasing through various food products, which is driving market expansion. Citrus fiber is employed not only to meet fiber requirements but also for water retention and emulsification. As a result, Chinese food and beverage makers utilize citrus fiber as a mouthfeel enhancer and clouding agent in prepared beverages, nutrition bars, powdered drinks, snacks, and bakery products. As a result, the use of fiber in food applications will boost growth in the Chinese market.
With revenue growth of more than 45 percent, India dominates the South Asian market. In India, the consumer shift favoring clean label products is accelerating. Citrus fiber is being used by a number of companies as a natural food supplement to replace synthetic preservatives in yogurts, smoothies, and other food products. In India, the clean label trend is boosting the regional citrus fiber market.
Recent Development
December 2021 - Fiberstar Inc., the market leader in high-performance citrus fibers, had introduced novel methylcellulose-free options for the development of clean label meat alternatives.
Competitive Landscape
Manufacturers in the global citrus fiber market are focused on improving their digital presence in order to reach out to customers. Having a digital presence is crucial for reaching out to a global market and customer service at a lower cost when compared to other traditional marketing tactics. As a result, manufacturers are increasing their online presence on digital platforms.
Some of the key players in the global citrus fiber market are :
Cifal Herbal Private Ltd.
FUYAN PHARM (Henan) Inc.
Florida Food Products Inc.
UNIPEKTIN Ingredients AG
CP Kelco Inc.
Cargill
Incorporated
Herbafoods Ingredients GmbH
DuPont de Nemours Inc
Fiberstar Inc.
Nans Products.
The global citrus fiber market is segmented as follows:
By Type Segment Analysis
Tangerine Fiber
Grapefruit Fiber
Orange Fiber
Others
By Application Segment Analysis
Dairy
Ice-cream
Meat Product
Fruit Juice
Others
By Regional Segment Analysis
North America

The U.S.
Canada
Mexico
Rest of North America

Europe

France
The UK
Spain
Germany
Italy
Nordic countries

Denmark
Finland
Iceland
Sweden
Norway

Benelux Reunion

Belgium
The Netherlands
Luxembourg

Rest of Europe

Asia Pacific

China
Japan
India
New Zealand
Australia
South Korea
Southeast Asia

Indonesia
Thailand
Malaysia
Singapore
Rest of Southeast Asia

Rest of Southeast Asia

The Middle East & Africa

Saudi Arabia
UAE
Egypt
Kuwait
South Africa
Rest of the Middle East & Africa

Latin America

Brazil
Argentina
Rest of Latin America