Industry Insights
[219+ Page Report] According to the report published by Facts & Factors, the global mobile gaming market size was worth around USD 108.15 billion in 2022 and is predicted to grow to around USD 339.45 billion by 2030 with a compound annual growth rate (CAGR) of roughly 13.55% between 2023 and 2030.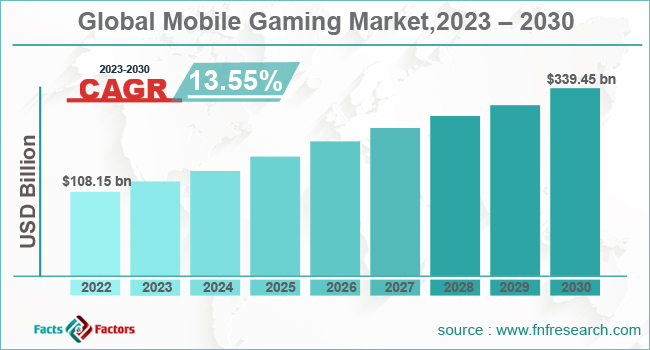 To know more about this report | Request Free Sample Copy
The report delves deeper into several crucial aspects of the global mobile gaming market. It includes a detailed discussion of existing growth factors and restraints. Future growth opportunities and challenges that impact the mobile gaming industry are comprehensively addressed in the report.
Market Overview
Mobile gaming is the activity of playing video games using mobile devices such as tablets and smartphones. This requires the gamer or the device user to download games that are specifically designed to be compatible with mobile platforms. In recent times, the popularity and consumption of mobile games have increased rapidly.
These video games offer a wide range in terms of production quality, type of games, levels to overcome, and difficulty level. Some of the games are more simple such as endless runners while some use advanced technologies and offer an immersive experience such as role-playing games (RPGs) and multiplayer online battle arenas (MOBAs).
Key Insights:
As per the analysis shared by our research analyst, the global mobile gaming market is estimated to grow annually at a CAGR of around 13.55% over the forecast period (2023-2030)
In terms of revenue, the global mobile gaming market size was valued at around USD 108.15 billion in 2022 and is projected to reach USD 339.45 billion, by 2030.
The mobile gaming market is projected to grow at a significant rate due to the widespread adoption of smartphones
Based on platform segmentation, Android was predicted to show maximum market share in the year 2022
Based on device segmentation, smartphones were the leading segment in 2022
On the basis of region, North America was the leading revenue generator in 2022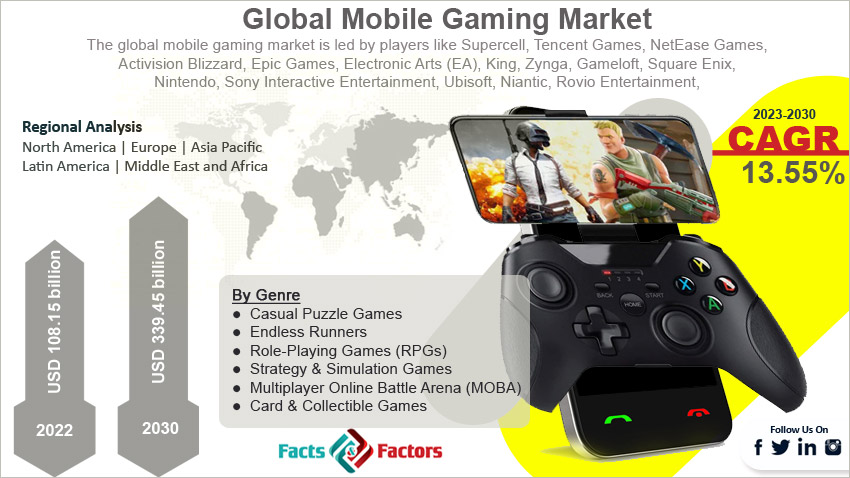 To know more about this report | Request Free Sample Copy
Growth Drivers
Widespread adoption of smartphones to drive market growth
The global mobile gaming market is projected to grow owing to the increasing and widespread adoption of smartphones across the globe. With time, mobile devices have become an extremely common part of the modern population. People across age groups including children to senior citizens have become comfortable with using smartphones and all the applications supported by these devices.
Moreover, the increasing availability of less expensive digital devices attracts more consumers every year. This trend is one of the primary reasons for the higher consumption of mobile games. Moreover, it is often a trend that a certain popular mobile game starts gaining even greater acceptance when people start discussing it.
For instance, Candy Crush Saga, one of the most popular Match 3 puzzle games, had registered 138 million in 2022 as reported by Mobile Marketing Reads. People are seeking ways to incorporate active participation and entertainment. Playing mobile video games allows them to do so.
Restraints
Growing concerns over addiction to video games may restrict market expansion
One of the primary concerns in the global mobile gaming market is the growing concern over excessive use of mobile games especially among children. Minors become addicted to playing video games on tablets & smartphones and they do not show any interest in outdoor sports which restricts their overall growth.
For instance, a 15-year-old student in 2018 from India had to receive treatment for being addicted to PUBG, a popular mobile game. Such incidents lead to children being isolated from real-world scenarios which greatly inhibits social skills.
Opportunities
Integration of mobile games with educational programs to assist in higher growth
As the educational system across the globe is evolving, there is a growing trend of incorporating modern technology such as mobile video games in teaching sessions. Special games are being developed by professionals that are meant specifically for educational purposes.
This is especially applicable for toddlers or children above the age of 3 years. The development and adoption of educational games are likely to provide better growth opportunities for the mobile gaming industry since they are made comfortable with technology in a controlled environment and under the supervision of guardians or parents.
Challenges
Revenue generation from mobile games creates challenges for market players
Companies or individuals developing free mobile games rely on advertisements and in-app purchases for generating revenue. Most of the end consumers do not make additional in-app purchases and under such circumstances, game developers generate revenue from advertisements.
Excessive display of ads while playing a game creates poor user experience and most people may switch to other games. Retaining players can become a significant challenge for game providers causing them to lose revenue.
Segmentation Analysis
The global mobile gaming market is segmented based on platform, type, device, and region.
Based on the platform, the global market is divided into Windows, iOS, and Android. The mobile gaming industry witnessed the highest growth in the Android segment in 2022 due to the presence of a large number of video games compatible with Android systems. Many entertainment platforms including Netflix and Instagram launched feature Android games to create more user awareness about their services.
Moreover, the higher number of Android users globally is a major driving factor for Android mobile games. iOS games are only compatible with iOS software which is run by Apple Inc and these games can only be played on iPhones or iPads which restricts the number of players.
It is noteworthy that companies are now developing games that are compatible with all forms of phone software including Android and iOS. As per a recent report by BankMyCell, in the first quarter of 2023, the Android operating system was the preferred option and held dominance over 71.63% of the market share.
Based on genre the global market is segmented into casual puzzle games, endless runners, role-playing games (RPGs), strategy & simulation games, multiple online battle arena (MOBA), and card & collectible games.
Based on devices, the mobile gaming industry is divided into smartphones and personal digital assistants. The former segment generated the highest revenue due to greater consumer use of smartphones. Additionally, the portability and advanced capabilities of mobile devices attract more gamers. Smartphone companies have started developing high-resolution displays, powerful processors, and various sensors to cater to the needs of the gamer group of consumers.
Moreover, these devices provide easy access to app stores where users can access games from a wide range of options. Personal digital assistants (PDAs) have become redundant and were mostly used in the early 2000s. As indicated by research, more than 6.92 billion people worldwide have access to smartphones.
Recent Developments:
In May 2023, Krafton, a South Korean game holding company and the creator of Battlegrounds Mobile India (BGMI) announced the relaunch of the popular gaming franchise in India but with limited playtime. The game was initially banned in 2022 under Section 69 of the Information Technology (IT) Act of the country. The ban has been lifted only for 90 days as of now post which the Indian regulatory agency will review its policy and decide the future of the game in India
In May 2023, Amazon announced a partnership with Pokemon Go. This collaboration will allow the former to sell mobile gamers-related T-shirts and toys. The e-commerce giant has opened up new business avenue in a business-to-business format called Amazon Anywhere through which makers of video games can sell goods directly through their platforms
Report Scope
| | |
| --- | --- |
| Report Attribute | Details |
| Market Size in 2022 | USD 108.15 Billion |
| Projected Market Size in 2030 | USD 339.45 Billion |
| CAGR Growth Rate | 13.55% CAGR |
| Base Year | 2022 |
| Forecast Years | 2023-2030 |
| Key Market Players | Supercell, Tencent Games, NetEase Games, Activision Blizzard, Epic Games, Electronic Arts(EA), King, Zynga, Gameloft, Square Enix, Nintendo, Sony Interactive Entertainment, Ubisoft, Niantic, Rovio Entertainment, Playrix, Miniclip, Voodoo, Kabam, Glu Mobile, Nexon, Garena, Machine Zone(MZ), Social Point, Scopely, and others. |
| Key Segment | By Platform, Genre, Device, and Region |
| Major Regions Covered | North America, Europe, Asia Pacific, Latin America, and the Middle East &, Africa |
| Purchase Options | Request customized purchase options to meet your research needs. Explore purchase options |
Regional Analysis
The global mobile gaming market is projected to witness the highest growth in
North America is projected to dominate the global mobile gaming market due to the presence of a mature market in terms of video games including the mobile version. The United States is one of the pioneers and currently the biggest mobile game producers. It is also home to some of the most-well known game developers which directly contributes to regional dominance.
Moreover, a large proportion of the US population is addicted to mobile gaming. A recent report by MPower indicated that there are over 150 to 231 million gamers in the US region and up to 6 million people in the country have gaming disorders. There is a growing market for more advanced gaming experiences as technology in the region continues to grow at a rapid pace.
Europe is projected to emerge as a significant revenue generator with the presence of a large gaming consumer base who are always seeking new experiences. Additionally, Europe has a thriving esports scene which contributes to greater demand for advanced mobile games resulting in higher growth.
Competitive Analysis
Supercell
Tencent Games
NetEase Games
Activision Blizzard
Epic Games
Electronic Arts(EA)
King
Zynga
Gameloft
Square Enix
Nintendo
Sony Interactive Entertainment
Ubisoft
Niantic
Rovio Entertainment
Playrix
Miniclip
Voodoo
Kabam
Glu Mobile
Nexon
Garena
Machine Zone(MZ)
Social Point
Scopely
The global mobile gaming market is segmented as follows:
By Platform Segment Analysis
By Genre Segment Analysis
Casual Puzzle Games
Endless Runners
Role-Playing Games (RPGs)
Strategy & Simulation Games
Multiplayer Online Battle Arena (MOBA)
Card & Collectible Games
By Device Segment Analysis
Smartphones
Personal Digital Assistant
By Regional Segment Analysis
North America
Europe

France
The UK
Spain
Germany
Italy
Rest of Europe

Asia Pacific

China
Japan
India
Australia
Southeast Asia
Rest of Asia Pacific

The Middle East & Africa

Saudi Arabia
UAE
Egypt
Kuwait
South Africa
Rest of the Middle East & Africa

Latin America

Brazil
Argentina
Rest of Latin America