Industry Insights
[226+ Pages Report] According to Facts and Factors, the global Business-to-Business E-commerce market was valued at roughly USD 7.35 Trillion in 2020 and is predicted to create revenue of roughly USD 18.57 Trillion by the end of 2026, with a CAGR of roughly 18.70% between 2021 and 2026.
B2B e-commerce refers to an online transaction in which both sides are companies. In other words, a B2B transaction occurs when a company sells products or services to another company, which is its customer. B2B enterprises, like any other type of business, come in a variety of shapes, sizes, and levels of sophistication. They can cover a wide range of company types and industries, from accountancy, legal, and digital services to physical items including machinery, equipment, and consumer goods.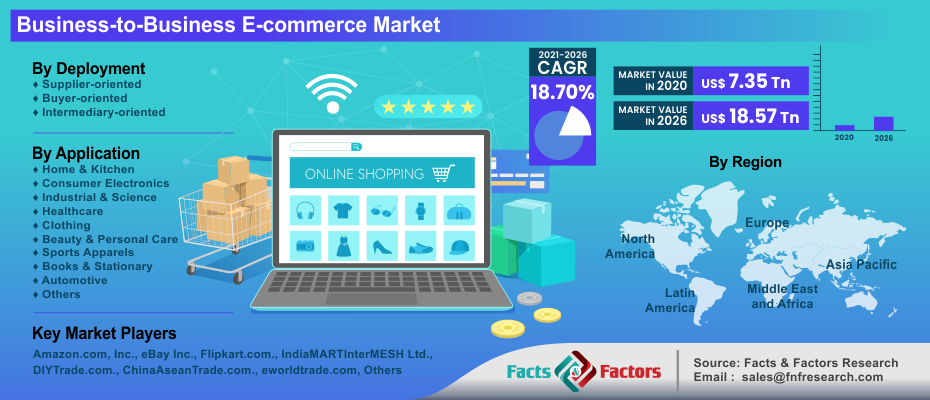 To know more about this report | Request Free Sample Copy
Market Overview
While many of us shop online as consumers, many of us are unaware that the worldwide B2B digital commerce market is worth six times as much as the B2C market. As local and international corporate shoppers flock to the internet in search of speed, convenience, and simple purchase experiences, these figures are expected to rise. This will drive demand for B2B E-commerce platforms by encouraging historically offline B2B sellers to put up an E-commerce site.
B2B gateways play a critical role in facilitating large-scale and SMEs firms in reaching out to remote locations and have evolved into a global way of doing business. These portals aid in the formation of new commercial partnerships between organizations as well as the maintenance of current ones. Furthermore, B2B E-commerce platforms support companies to cut marketing expenses, improve customer/supplier management, and increase sales engagement.
A B2B transaction occurs when one company sells a set of products or services to another company. Typically, the vendor's products and services are used by a group or department. On occasion, a single buyer user completes a transaction in support of the company's business objectives. Furthermore, some B2B transactions entail the usage of products by the entire organization, such as office furniture, computers, and productivity software.
The B2B consumers ' decision - making process is facilitated by a purchasing committee, which includes a business decision-maker, such as the person in charge of the budget; a technical decision-maker, or anyone who examines the functionalities of the prospective products; and influencers, such as people who provide feedback on the decision. A request for proposal, in which the buyer invites prospective vendors to submit bids specifying their products, terms, and pricing, may be used for large purchases. B2B is crucial because, to start, run, and grow, every business needs to buy items and services from other businesses.
B2B providers provide office space, furniture, computer hardware and software, and other services to a company. Suppliers provide the food that corporations keep in their kitchens and the signage that is posted on their office buildings.
Websites allow potential customers to learn more about a company's products and services and make contact. Organizations can explore for items and services on online product and supplier exchanges commence and websites procurement through E-procurement integrations. B2B transactions are also facilitated by specialized internet directories that provide information about specific industries, companies, and the products and services they offer.
Industry Growth Factors
The COVID-19 epidemic shifted consumer preferences toward online buying, opening up new opportunities. The B2B e-commerce business outlook has been impacted by a growth in the number of orders, changes in customer behavior, supply chain disruptions, and the closure of physical storefronts. While retail sales fell in 2020, e-commerce sales grew significantly. Several B2B companies are increasingly concentrating on bringing their customers online.
Smartphones are becoming more common, and internet penetration is expanding, opening up new opportunities for industry growth. The increased popularity of B2B e-commerce platforms has resulted from the simplicity of doing business and the ability to check inventories, see orders, and make payments on mobile phones. Furthermore, as the market becomes more competitive, many organizations are turning to online business strategies to acquire a competitive advantage.
In an economy that is progressively becoming digital, E-B2B has a strong use case to resolve traditional Business - to - business retail enhance the end-consumer experience and supply-chain capabilities by resolving the pain points of intermediaries in the traditional B2B and unorganized supply chain.
When it comes to e-commerce developments, online B2B is still catching up to the old B2B model. The issue is in the area of pricing negotiation and collaboration. While many businesses appreciate the convenience of shopping online, they are accustomed to dealing with sales professionals who frequently provide special rates for large orders. A hybrid strategy, in which customers can build relationships with sales agents while simultaneously being able to shop online and receiving the same pricing by entering special codes, could be a potential option.
Customers, even corporate customers, have requirements, wants, and aspirations, as well as a preference for personalization. B2B buyers, on the other hand, have significantly more criteria. They include more stakeholders, have longer sales cycles, and demand more complex customization in general - and this isn't going away. Personalized messaging engages over 72% of customers, and 69 percent of B2B buyers will pay more for a personalized experience. Personalized products, prices, promotions, checkout experiences, and marketing messages are all part of this.
Segmentation Analysis
The Business-to-Business E-commerce Market is segmented based on deployment type and application:
As per deployment type (supplier-oriented, buyer-oriented, intermediary-oriented and application (home & kitchen, consumer electronics, industrial & science, healthcare, clothing, beauty & personal care, sports apparel, books & stationary, automotive, others).
Report Scope:
| | |
| --- | --- |
| Report Attribute | Details |
| Market Size in 2020 | USD 7.35 Trillion |
| Projected Market Size in 2026 | USD 18.57 Trillion |
| CAGR Growth Rate | 18.70% |
| Base Year | 2020 |
| Forecast Years | 2021-2026 |
| Key Market Players | Flipkart.com, Amazon.com, Inc., ChinaAseanTrade.com, DIYTrade.com, eFlexfire LEDs, Bay Inc., eworldtrade.com, IndiaMART InterMESH Ltd., KOMPASS, Quill Lincolnshire, Inc. and Others |
| Key Segments | Deployment Type, Application, and Region |
| Major Regions Covered | North America, Europe, Asia Pacific, Latin America, and Middle East & Africa |
| Purchase Options | Request customized purchase options to meet your research needs. Explore purchase options |
Regional Analysis
North America, which will be followed by the Asia Pacific, is expected to rise rapidly over the projection period. The existence of major organizations such as eBay Inc. and Amazon.com Inc. among others has built strong B2B sales platforms in the countries. Nevertheless, the pandemic has prompted several other firms to adopt an online business strategy to reach and serve a larger audience. B2B vendors on social media platforms will benefit from the same delivery and a more engaging shopping experience. Cloud technology advancements and Artificial Intelligence (AI) will help improve customer experience even further, opening up new opportunities in the e-commerce market.
Run-of-the-mill purchases including basic transactions with clients requiring no value-added services or the purchase being a simple reorder accounted for a substantial share of B2B sales in North America. However, the complexity of B2B suppliers' products or services works as a substantial impediment to B2B-commerce adoption. Over the projection period, the market will experience a spike as technology advances. Furthermore, the continuous epidemic has compelled some firms to go online to serve customers all over the world. Based on the industry, geography, and competition, businesses are still looking for suitable internet channels.
Covid-19 Analysis
The market is highly fragmented on a global scale, with a mix of small, medium, and large organizations transferring their operations online. As a result of the epidemic, numerous businesses have turned to internet platforms as an alternative to meet customer demands. The COVID-19 epidemic is likely to continue to have an impact on how businesses operate in the long run, with most B2B vendors opting for online commerce as their preferred method of doing business.
Due to the rapid move from brick-and-mortar purchases to online retail platforms to limit the danger of coronavirus infection during human interaction, the COVID-19 pandemic has resulted in considerable development in the e-commerce business.
COVID-19 had a significant impact on the e-commerce business in early 2020. Existing customers' behaviors have transformed significantly as a result of the shutdown in nations such as Germany, the United States, Spain, Italy, India, China, and Russia. Due to the restrictions on public gatherings, online buying is preferred during this time. Although social interactions are also migrating Business-To-Business (B2B) and online conversations are going to take place technologically, millions around the world are flocking to the internet as a consequence of social alienation. According to e-commerce industry analysts, this has had a good influence on the business, with some companies reporting a significant boost in product demand.
While the coronavirus outbreak wreaked havoc around the world, businesses prioritized preventing physical contact while maintaining business continuity. As a result, several B2B merchants urged their clients to shop online. For example, Fastparts, a distributor of agricultural machinery parts, is attempting to build a web store to better serve its customers.
Competitive Players
Some of the essential players operating in the Business-to-Business E-commerce market are :
Flipkart.com
Amazon.com, Inc.
ChinaAseanTrade.com
DIYTrade.com
eFlexfire LEDs
Bay Inc.
eworldtrade.com
IndiaMART InterMESH Ltd.
KOMPASS
Quill Lincolnshire Inc.
By Deployment Type:
Supplier-oriented
Buyer-oriented
Intermediary-oriented
By Application:
Home & Kitchen
Consumer Electronics
Industrial & Science
Healthcare
Clothing
Beauty & Personal Care
Sports Apparels
Books & Stationary
Automotive
Others
By Region:
North America
Europe

France
UK
Germany
Italy
Spain
Rest of Europe

Asia Pacific

China
India
Japan
South Korea
ASEAN
Australia
Rest of Asia Pacific

Latin America

Brazil
Mexico
Rest of Latin America

Middle East & Africa

GCC
South Africa
Rest of Middle East & Africa