Industry Insights
[224+ Pages Report] According to the report published by Facts and Factors, the global ISO tank container market size was worth around USD 210.2 million in 2021 and is predicted to grow to around USD 325.32 million by 2030 with a compound annual growth rate (CAGR) of roughly 5.1% between 2022 and 2030. The report analyzes the global ISO tank container market drivers, restraints/challenges, and the effect they have on the demands during the projection period. In addition, the report explores emerging opportunities in the ISO tank container market.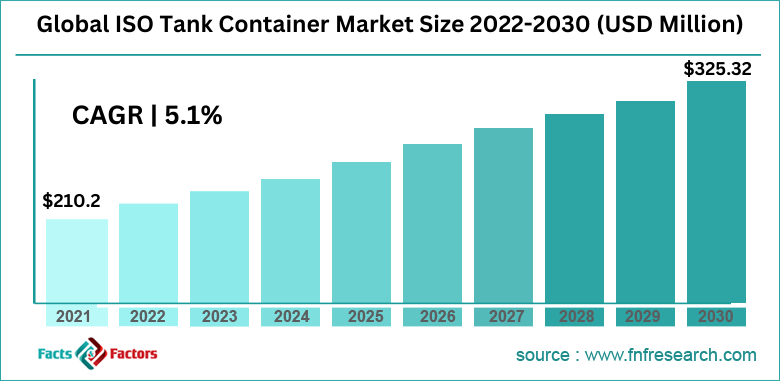 To know more about this report | Request Free Sample Copy
Market Overview
ISO stands for the International Organization for Standardization which is a non-government global federation of standards bodies from over 160 countries. Each region is represented by one standard body. The main function of a tank container is to transport liquid products. ISO tank containers perform the same function but they are ISO-certified in terms of quality and safety. The manufacturing of ISO tank containers is as per the standards laid down by the ISO but they efficiently carry non-hazardous or hazardous substances.
Stainless steel is used as the manufacturing material which is surrounded by multiple protective layers. The container exhibits a manhole situated at the top. It also has at least one valve located at the top and another valve located at the bottom of the container. ISO tank cylinders like conventional liquid containers are cylindrical and since they follow ISO standards the frame used to store the tank is generally 2.4 meters wide, 6 meters in length, and around 2.5 meters in height. The liquid carrying capacity of an ISO tank cylinder ranges between 21,000 to 40,000 liters.
Key Insights
As per the analysis shared by our research analyst, the global ISO tank container market is estimated to grow annually at a CAGR of around 5.1% over the forecast period (2022-2030)
In terms of revenue, the global ISO tank container market size was valued at around USD 10.2 million in 2021 and is projected to reach USD 325.32 million, by 2030.
The ISO tank container industry is projected to grow at a significant rate due to the tank's environment friendliness
Based on application segmentation, petrochemicals were predicted to show maximum market share in the year 2021
Based on type segmentation, the multi-component tank was the leading type in 2021
On the basis of region, Asia-Pacific was the leading revenue generator in 2021
Growth Drivers
Environment friendliness of ISO tank containers to propel market demand
The global ISO tank container market is projected to be driven by the environment friendliness of the containers as opposed to traditional containers. Studies have indicated that ISO containers leave around 50% less carbon footprint than certain long-hauled transport of a drummed shipment. This means that they are relatively less harmful to the environment. Intermodal transportation, which refers to the transport of large-size products in the same stainless steel container through more than 1 mode, can help in reducing carbon-dioxide emissions by almost 70%.
Furthermore, the design of ISO tank containers is known to prevent incidents like leakages and spillage which not only act as a cost burden to the stakeholders but also cause severe damage to the environment and quality of water along with the marine ecosystem. Additionally, these containers offer versatility, efficiency, and safety that is unmatched by any other contemporary transport solution for liquid products over long distances.
Restraints
High cost of associated infrastructure development to restrict market expansion
The use of ISO tank containers requires supportive infrastructure which can be raised only with high initial investment. Factors like advanced warehousing facilities and availability of equipment like giant cranes along with access to road and inland rail can cause the overall project cost to reach extremely high values. Moreover, the certification and inspection of ISO tanks before they receive the final approval could also cause limitations during the ISO tank container industry growth trajectory.
Opportunities
Ongoing political turmoil to create multiple growth opportunities
The current political turmoil between the eastern and the western countries, particularly the surrounding countries like the USA, China, Russia, and Ukraine along with other supporting territories could create higher growth opportunities as countries are expected to grab the chance of breaking the monopoly in the global market by providing low-cost and effective storage and transport solutions. The global ISO tank container market could also register lucrative growth opportunities due to the growing demand for better, safer, and more efficient containers during water transport, especially in long hauls.
Challenges
Fluctuating raw material prices to challenge market growth
One of the key challenges faced by the ISO tank container industry players is the fluctuating prices of raw materials causing strenuous situations in the production of the final goods. The growing trade tension amongst multiple countries could cause a challenge for the market players. In this situation, certain companies are expected to benefit but there will also be collateral damage in terms of market leaders losing monopoly due to the entry of new and efficient players.
Segmentation Analysis
The global ISO tank container market is segmented based on application, mode of transport, type, and region
Based on application, the global market is divided into food & beverages, petrochemicals, pharmaceuticals, chemicals, and others.
In 2021, the global market registered the highest growth in the petrochemicals segment due to the surge in demand
Petrochemicals are chemicals that are derivatives of natural gas or petroleum and have large-scale commercial applications
The demand for petrochemicals is projected to overtake the supply of diesel and gasoline during the projection period
In 2021, the global petrochemical market generated USD 556.15 billion in revenue
Additionally, the growing use of technology to revolutionize the chemical manufacturing segment could lead to growth in the segment
Based on mode of transportation the ISO tank container industry is segmented into marine, rail, and road.
Based on type, the global market is divided into linked tank, multi-compartment tank, cryogenic and gas tank, reefer tank, and swap body tank
The global market witnessed the highest growth in the multi-compartment tank segment in 2021 since it offers a higher advantage as compared to the counterparts
They are equipped with two or more compartments in different versions and hence are more versatile for various liquid product
For instance, printing ink in four different colors can be stored and transported using a four-compartment ISO tank
The average cost of a 20 feet standard ISO container is around $10,572
Recent Developments:
In March 2022, Suttons Group, a leading company operating in the tank container logistics service segment, announced its investment in ISO tank containers. To encourage the company's international tank container fleet, it has invested in 100 additional 24,000 liters ISO tank containers. NT Tank will be acting as the supplier and the delivery was expected to be completed by the end of summer in the same year
In September 2020, the Indian government allowed the transport of oxygen in ISO tank containers to manage the shortcoming that was induced during Covid-19. The approval allowed the country to quicken its transport process of liquid oxygen which was in high demand during the pandemic
Report Scope
| | |
| --- | --- |
| Report Attribute | Details |
| Market Size in 2021 | USD 210.2 Million |
| Projected Market Size in 2030 | USD 325.32 Million |
| CAGR Growth Rate | 5.1% CAGR |
| Base Year | 2021 |
| Forecast Years | 2022-2030 |
| Key Market Players | Meeberg, Nantong Tank Container CO. Ltd., China International Marine Containers Co. Ltd., Singamas Container, CXIC Group Containers Company Limited, Bewellcn Shanghai, Danteco Industries BV, Corban Energy Group, Chart Industries Inc., Furuise, Cryeng Group, M1 Engineering, Intermodal Tank Transport, Rootselaar Group, Quantum Technologies Group Inc., Welfit Ody, Tankcon, Tankformator, Bulkhaul Limited., and Others |
| Key Segment | By Application, Mode of Transportation, Type, and Region |
| Major Regions Covered | North America, Europe, Asia Pacific, Latin America, and the Middle East &, Africa |
| Purchase Options | Request customized purchase options to meet your research needs. Explore purchase options |
Regional Analysis
Asia-Pacific to lead with the highest growth
The global ISO tank container market is projected to witness the highest growth in Asia-Pacific following suit from the previous years. The growth is propelled by the consistently growing maritime trade from regions like India, China, Japan, and other countries. Furthermore, the growing acceptance and product innovation in terms of ISO tank containers along with the rising investment in supportive infrastructure could lead to higher regional growth.
Furthermore, factors like growth in the food and beverages segment encouraged by the growing population, rise in disposable income, and better investment opportunities, could drive the regional market expansion. Growth in Europe is anticipated to be led by the rising water-transported trade activities as well as increasing entry of new, including domestic and international, players in the regional market. A rise in revenue across end-user verticals like the pharmaceutical and petrochemical industries could also assist in generating more revenue.
Competitive Analysis
Meeberg
Nantong Tank Container CO. Ltd.
China International Marine Containers Co. Ltd.
Singamas Container
CXIC Group Containers Company Limited
Bewellcn Shanghai
Danteco Industries BV
Corban Energy Group
Chart Industries Inc.
Furuise
Cryeng Group
M1 Engineering
Intermodal Tank Transport
Rootselaar Group
Quantum Technologies Group Inc.
Welfit Ody
Tankcon
Tankformator
Bulkhaul Limited.
The global ISO tank container market is segmented as follows:
By Application Segment Analysis
Food & Beverages
Petrochemicals
Pharmaceuticals
Chemicals
Others
By Mode of Transportation Segment Analysis
By Type Segment Analysis
Lined Tank
Multi-Compartment Tank
Cryogenic and Gas Tank
Reefer Tank
Swap Body Tank
By Regional Segment Analysis
North America
Europe

France
The UK
Spain
Germany
Italy
Nordic Countries
Benelux Union

Belgium
The Netherlands
Luxembourg

Rest of Europe

Asia Pacific

China
Japan
India
Australia
South Korea
Southeast Asia

Indonesia
Thailand
Malaysia
Singapore
Rest of Southeast Asia

Rest of Asia Pacific

The Middle East & Africa

Saudi Arabia
UAE
Egypt
South Africa
Rest of the Middle East & Africa

Latin America

Brazil
Argentina
Rest of Latin America