Industry Insights
[214+ Pages Report] According to Facts and Factors, the global FRP tank market size was worth around USD 2.3 billion in 2021 and is predicted to grow to around USD 3.1 billion by 2028 with a compound annual growth rate (CAGR) of roughly 4.5% between 2022 and 2028. The report analyzes the global FRP tank market's drivers, restraints/challenges, and the effect they have on the demands during the projection period. In addition, the report explores emerging opportunities in the FRP tank market.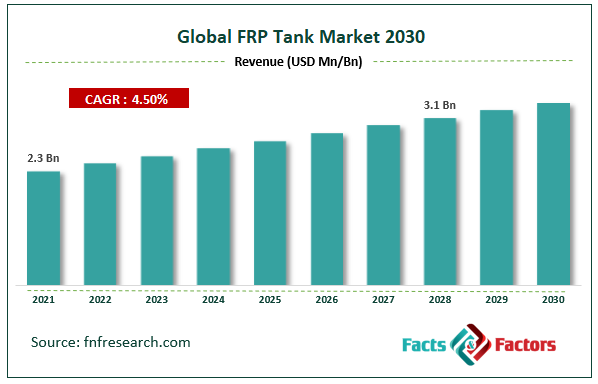 To know more about this report | Request Free Sample Copy
Market Overview
Chemical storage tanks, other kinds of piping systems, equipment, and other industrial process machinery are generally built out of Fiberglass Reinforced Plastic (FRP). Manufacturers favor using FRP material for chemical and other industrial processes because of its conventional properties such as resistance to corrosion that can't be beaten when compared to other materials. Fiberglass reinforced plastic is used in a variety of structures including pump station sumps, underground fuel storage tanks, and chemical storage tanks. The manufacturers use different types of technologies to favorably and effectively operate the FRP tank.
Key Insights
As per the analysis shared by our research analyst, the global FRP tank market is estimated to grow annually at a CAGR of around 4.5% over the forecast period (2022-2028).
In terms of revenue, the global FRP tank market size was valued at around USD 2.3 billion in 2021 and is projected to reach USD 3.1 billion, by 2028. Due to a variety of driving factors, the market is predicted to rise at a significant rate.
Based on resin type segmentation, polyester was predicted to dominate the market in the year 2021
Based on fiber type segmentation, fiberglass held the largest market share in 2021
Based on application segmentation, the water & wastewater industry is expected to hold the largest market share during the forecast period.
Based on region, Asia Pacific was the leading revenue generator in 2021.
Covid-19 Impact
The COVID-19 pandemic negatively impacted the growth of the Fiber Reinforced Plastic (FRP) tank market in 2020 as a result of the closure of manufacturing facilities and the subsequent limitations on logistics and transportation. The supply of FRP tanks was also affected by supply chain disruptions. Manufacturers made significant changes to their procedures to meet with local and national regulations for employee protection against the SARS-CoV-2 virus. Many large-scale manufacturers cut back on operations temporarily or enable production to continue with fewer employees. Moreover, the least demand for these tanks from the end-use industries such as oil & gas, chemicals, and others impacted the growth of the market negatively. For instance, according to International Energy Agency (IEA), the global energy demand decreased by 4% in 2020, the most since World War II and the highest absolute fall ever. This negatively impacted the FRP tank market during the COVID-19 era.
Growth Drivers
Properties such as endurance and strength of FRP tank is expected to fuel the market growth
Tanks made of FRP are readily accessible for use in several applications. The high-performance epoxy resin exterior surface, which has a seamless one-piece liner made of polyethylene (PE) or ABS, is coated using the FRP coating process. These FRP function as a two-layer shield to help build corrosion protection. FRP tanks are also available in a variety of sizes, from tiny to huge. The FRP tanks are also designed with great corrosion resistance in the account. The resistance to corrosion caused by weather, temperature, and chemicals employed in the industry extends to these factors. The FRP tank shells are also rustproof because epoxy resins were used in their construction. During the anticipated period, all of these variables will help the global FRP tanks market growth.
Restraints
Volatility in the raw material prices is projected to hamper the market during the forecast period
During the projected period, market volatility for FRP tanks is anticipated to be a hindrance. Polyester resins, Vinyl ester resins, Epoxy resins, Polyurethane resins, Phenolic resins, and hybrid resins are only a few of the petroleum-based derivatives used as raw materials in the manufacture of FRP tanks. The price of petroleum and its derivatives are very volatile due to fluctuations in the market's supply and demand for crude oil. For instance, as per US Energy Information Administration (EIA) report, the average monthly US refiner purchase cost of crude oil reached USD 60.53 per barrel in July 2019, USD 51.36 per barrel in January 2021, and USD 73.81 per barrel in December 2021. The volatile price of crude oil, which also influences the cost of FRP tanks, is a cause of the price volatility of the derivatives and resins used to create FRP tanks. These factors are also providing a sizable disruption in the market for FRP tanks.
Opportunities
Growing uses of FRP tanks in various end-use industries expected to provide lucrative opportunity for market growth
The increasing use of FRP tanks in various end-use industries is expected to provide a lucrative opportunity for manufacturers operating in the market. The FRP tanks have several applications in various industries such as chemical, oil & gas, water & wastewater, and others. For example, due to a variety of reasons, FRP tanks have grown in popularity as potable water storage containers. Because it is noncorrosive, water can be stored for extended periods while being clean and drinkable. Fiberglass-reinforced tanks are a vital solution, particularly in difficult-to-access areas like more remote areas. FRP tanks are easy to clean and have a non-porous interior that prevents the growth of germs or other impurities. FRP tanks can be built in a fully bonded manner to prevent any potential groundwater from entering the tank, keeping the drinking water secure and hygienic. Thus, the growing use of the application in various industries augmented to provide an attractive opportunity to the manufacturers and drive market growth.
Segmentation Analysis
The global FRP tank market is segmented based on resin type, fiber type, application, and region
Based on resin type, the global market is bifurcated into polyester, epoxy, and others. The polyester segment dominated in 2021 and is expected to show its dominance during the forecast period. The segment growth is attributed to the properties such as versatile, offering good dimensional stability, and having good mechanical, chemical-resistance, and electrical properties. Polyester is a commonly used resin type for the manufacturing of FRP tanks. On the other hand, the epoxy segment is growing at the highest CAGR during the forecast period. In comparison to polyester and vinyl ester resins, epoxy resins have a wider range of characteristics. They exhibit extremely low shrinkage, strong dimensional stability, high-temperature resistance, good fatigue, and adherence to reinforcements, and all of these properties at the same time. They also exhibit outstanding resilience to basic (alkali) conditions and solutions.
Based on fiber type, the global FRP tank market is categorized into carbon fiber and fiberglass. The fiberglass segment was a significant market share in 2021 and is expected to grow during the forecast period. Glass fiber has become more popular recently since it offers high flexibility and is used in many mechanical and electrical industries. They are reasonably priced and provide high strength and recyclability. Furthermore, the materials made from these fibers are recyclable, providing greater space for the industry to expand. Additionally, the expansion of bunkering facilities and the ongoing need for tanks on ships also contribute to the segment's growth.
Based on application, the global market is segmented into chemicals, water & wastewater, oil & gas, pulp & paper, power, and others. The chemical/industrial application is expected to develop at the highest rate during the forecast period, while the water & wastewater application is projected to be the most dominant application in the market. FRP tanks are used in a wide range of water and wastewater applications, including septic tanks, municipal wastewater storage, stormwater management systems, wastewater treatment, oil-water separators, grease interceptors, potable water storage, onsite wastewater tanks, industrial wastewater tanks, water conservation tanks, and fire protection tanks. FRP tanks are becoming more and more used in industrial settings for pulp and paper, chemical processing, and storage of chemicals.
Recent Developments:
In October 2021, the improved Ultima and Ultima+ range of Compact FRP Sewage Treatment Plants was recently introduced by Hubert Enviro Care Systems P Ltd (HECS), a pioneer in the field of water and wastewater treatment in India for the past 25 years. Over the past few decades, HECS, a full-service environmental management firm with operations throughout India, has completed over 700 STP projects both domestically and abroad and has established a reputation for technological and product innovation.
In April 2019, Shawcor Ltd., a global energy services company specializing in products and services for the pipeline and pipe services segment of the oil and gas industry announced the acquisition of ZCL Composites, North America's largest manufacturer of environmentally friendly fiberglass reinforced plastic underground storage tanks for the fuel, water and wastewater and oil & gas markets. Through this acquisition, the company broaden its product & service offering.
Report Scope
| | |
| --- | --- |
| Report Attribute | Details |
| Market Size in 2021 | USD 2.3 Billion |
| Projected Market Size in 2028 | USD 3.1 Billion |
| CAGR Growth Rate | 4.5% CAGR |
| Base Year | 2021 |
| Forecast Years | 2022-2028 |
| Key Market Players | SHAWCOR, Enduro, LF Manufacturing, Amiantit Fiberglass Industries Limited, Future Pipe Industries, Composite Technology Development Inc., Luxfer Group, Hexagon Composites ASA, EPP Composites Pvt Ltd., SELIP s.p.a., and Others |
| Key Segment | By Resin Type, Fiber Type, Application, and Region |
| Major Regions Covered | North America, Europe, Asia Pacific, Latin America, and the Middle East &, Africa |
| Purchase Options | Request customized purchase options to meet your research needs. Explore purchase options |
Regional Analysis
The Asia Pacific is projected to dominate the market during the forecast period owing to the increase in the energy demand, retail gasoline station demand, and others
The Asia Pacific region is expected to dominate the global FRP tank market during the forecast period due to rising energy demand, retail gasoline station demand, the expansion of desalination facilities, the impending shortage of fresh water, rainfall conservation, and the momentum behind replacing outdated aging tanks. For instance, according to the US Energy Information Administration, China had a 1.4 billion population in 2020 and a rapidly expanding economy. In 2020, it was both the world's top consumer and producer of energy. In 2019, China's primary energy production was around 123.591 quadrillion Btu and the consumption of 151.609 quadrillions Btu. In addition, the presence of prominent players such as Hengrun Group Co. Ltd., Lianyungang Zhongfu Lianzhong Composites Group Co., Ltd., Hao Hua Zhongyi GFRP Co. Ltd., Beijing Composite Materials Co. Ltd., and Hebei Chengda FRP Co. Ltd. Is expected to propel the market growth during the forecast period.
Competitive Analysis
SHAWCOR
Enduro
LF Manufacturing
Amiantit Fiberglass Industries Limited
Future Pipe Industries
Composite Technology Development Inc.
Luxfer Group
Hexagon Composites ASA
EPP Composites Pvt Ltd.
SELIP s.p.a.
The global FRP tank market is segmented as follows:
By Resin Type
By Fiber Type
By Application
Chemicals
Water & Wastewater
Oil & Gas
Pulp & Paper
Power
Others
By Regional Segment Analysis
North America
Europe

France
The UK
Spain
Germany
Italy
Nordic Countries
Benelux Union

Belgium
The Netherlands
Luxembourg

Rest of Europe

Asia Pacific

China
Japan
India
Australia
South Korea
Southeast Asia

Indonesia
Thailand
Malaysia
Singapore
Rest of Southeast Asia

Rest of Asia Pacific

The Middle East & Africa

Saudi Arabia
UAE
Egypt
South Africa
Rest of the Middle East & Africa

Latin America

Brazil
Argentina
Rest of Latin America