Industry Insights
[205+ Pages Report] According to the report published by Facts Factors, the global petrochemical market size was worth USD 549.5 billion in 2021 and is estimated to grow to USD 775.07 billion by 2028, with a compound annual growth rate (CAGR) of approximately 5.90% over the forecast period. The report analyzes the Petrochemical market's drivers, restraints/challenges, and the effect they have on the demands during the projection period. In addition, the report explores emerging opportunities in the Petrochemical market.
Market Overview
An industrial economy's foundation is petrochemical, an essential component for many industrial operations. Tires, industrial oil, and plastic are just a few of the thousands of products made from petrochemical detergents. Basic plastic is a byproduct of the product and is used as a building block in manufacturing consumer goods. Some frequent uses of petrochemical products include building materials, paints, vehicles, packaging, household goods, and medical equipment. As a result of modern technology, the sector can also process a wider range of raw materials and diverse sorts of products. Some major drivers propelling the growth of the global petrochemicals market's revenue include expanding petrochemical demand in the pharmaceutical and automotive industries, rising plastic packaging use, and rising petrochemical component adoption in industrial processes. Additionally, the building and construction sector's continued expansion is anticipated to assist the market's revenue growth.
COVID-19 Impact:
The COVID-19 epidemic and the decline in the economy have conflicting effects on this market. Due to a boost in demand from the packaging industry, ethylene consumption rose dramatically during the early stages of the pandemic. This significant rise in demand can be attributed to rising consumer spending on polyethylene packaging products. Over this time, there was a major rise in the demand for polyethylene from the food, sanitary, and medical industries. On the other hand, because of the limitations put in place by governments globally, demand from the construction and automotive industries saw a dramatic fall. COVID-19 had a negligible effect on supply chains for bulk goods and forced businesses to review their manufacturing procedures. Most businesses could take the required precautions to protect their workers and maintain operations so that plants could continue to supply the chemicals needed to fight the epidemic. Industry participants have survived the storm despite a few plants closing in some areas.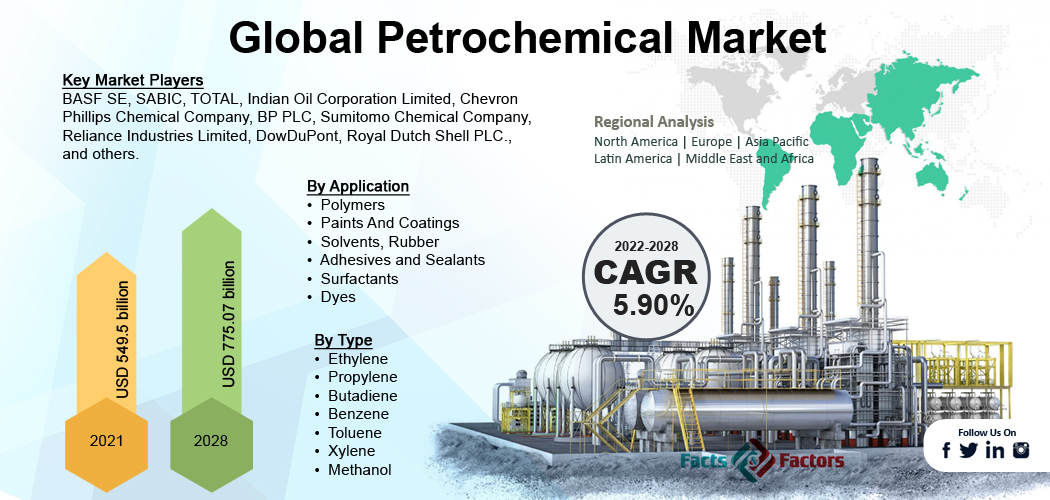 To know more about this report | Request Free Sample Copy
Key Insights
As per the analysis shared by our research analyst, the global petrochemical market value is expected to grow at a CAGR of 5.90% over the forecast period.
In terms of revenue, the global petrochemical market size was valued at around USD 549.5 Billion in 2021 and is projected to reach USD 775.07 Billion by 2028.
Some major drivers propelling the growth of the petrochemicals market's revenue include expanding petrochemical demand in the pharmaceutical & automotive industries, rising plastic packaging use, and rising petrochemical component adoption in industrial processes.
By type, the ethylene category is expected to dominate the market.
By application, the polymer category dominated the market in 2021.
The Asia Pacific dominated the petrochemicals market in 2021
Growth Drivers
Growing adoption of petrochemical in automotive industries to drive market growth
Due to its various qualities, including lightweight, design, and durability flexibility, petrochemicals are frequently used in the automotive sector. Petrochemical intermediates make vehicles' interiors, bodies, tires, dashboards, and other parts. The increased usage of composite materials based on petrochemicals in production has altered the automotive industry. Additionally, petrochemical chemicals are typically utilized to create various domestic products, such as cosmetics, fragrances, aftershaves, and makeup. Petrochemical compounds are also present in significant amounts in shampoos and hair dyes. The wax used for hair or beards is created using petroleum derivatives, which is anticipated to propel the global petrochemical market's expansion.
Restraints
Volatility in the costs of raw materials likely to hamper the market growth
The oil price volatility is anticipated to have a negative effect on the global petrochemicals market and cause it to decline significantly. Additionally, the increase in oil prices has impacted consumer and government spending, both heavily dependent on the revenue from crude oil exports. As a result, the petrochemicals market growth rate is anticipated to be hindered in the future by both these factors.
Segmentation Analysis
The global petrochemical market has been segmented into types, applications, and region.
Based on type, ethylene, propylene, butadiene, benzene, toluene, xylene, and methanol are segments of the petrochemical market. In 2021, ethylene had a market-dominating revenue share of more than 40.0%. It is linked to increased ethylene demand across several sectors, including building, packaging, and transportation. Throughout the projected period, it is anticipated that the consumption of ethylene in emerging economies like India, Brazil, Vietnam, and Thailand will increase due to the countries' ongoing modernization and thriving automotive and packaging sectors.
Based on application, the petrochemicals market is segmented into polymers, paints & coatings, solvents, rubber, adhesives & sealants, surfactants, and dyes. The polymer segment is expected to dominate the petrochemical market in 2021.
Recent Developments
In 2019: ExxonMobil, an American oil and gas company, and GAIL Ltd., the industry leader, engaged in a contract. This cooperation aims to supply natural gas to India's power and transportation sectors.
Report Scope
| | |
| --- | --- |
| Report Attribute | Details |
| Market Size in 2021 | USD 549.5 Billion |
| Projected Market Size in 2028 | USD 775.07 Billion |
| CAGR Growth Rate | 5.90% CAGR |
| Base Year | 2021 |
| Forecast Years | 2022-2028 |
| Key Market Players | BASF SE, SABIC, TOTAL, Indian Oil Corporation Limited, Chevron Phillips Chemical Company, BP PLC, Sumitomo Chemical Company, Reliance Industries Limited, DowDuPont, Royal Dutch Shell PLC., and others. |
| Key Segment | By Type, Application, and Region |
| Major Regions Covered | North America, Europe, Asia Pacific, Latin America, and the Middle East &, Africa |
| Purchase Options | Request customized purchase options to meet your research needs. Explore purchase options |
Regional Landscape
The Asia Pacific dominated the petrochemical market in 2021
Due to the region's fast-growing chemical & construction sectors and the rising usage of polymers in various applications, particularly in China, Japan, and India, the Asia Pacific region, especially China, dominated the global petrochemical market in 2021. Over the past 20 years, China's progress in the petrochemical business has been characterized by quick investments and free competition. The country has also led the way in creating significant petrochemical complexes with high chemical yields, with many ongoing and future investments planned across the country.
Competitive Landscape
BASF SE
SABIC
TOTAL
Indian Oil Corporation Limited
Chevron Phillips Chemical Company
BP PLC
Sumitomo Chemical Company
Reliance Industries Limited
DowDuPont
Royal Dutch Shell PLC.
Global Petrochemical Market is segmented as follows:
By Type
Ethylene
Propylene
Butadiene
Benzene
Toluene
Xylene
Methanol
By Application
Polymers
Paints And Coatings
Solvents, Rubber
Adhesives and Sealants
Surfactants
Dyes
By Regional Segment Analysis
North America
Europe

France
The UK
Spain
Germany
Italy
Nordic Countries
Benelux Union

Belgium
The Netherlands
Luxembourg

Rest of Europe

Asia Pacific

China
Japan
India
Australia
South Korea
Southeast Asia

Indonesia
Thailand
Malaysia
Singapore
Rest of Southeast Asia

Rest of Asia Pacific

The Middle East & Africa

Saudi Arabia
UAE
Egypt
South Africa
Rest of the Middle East & Africa

Latin America

Brazil
Argentina
Rest of Latin America