Industry Insights
[221+ Pages Report] According to Facts and Factors, the global agricultural robots and drones market size was valued at USD 5,172.50 million in 2021 and is predicted to increase at a CAGR of 18.21% to USD 14,120.03 million by 2028. The study examines the market in terms of revenue in each of the major regions, which are classified into countries. The report analyses the global agricultural robots and drones market's drivers and restraints, as well as the impact they have on-demand throughout the projection period. In addition, the report examines global opportunities in the agricultural robots and drones market.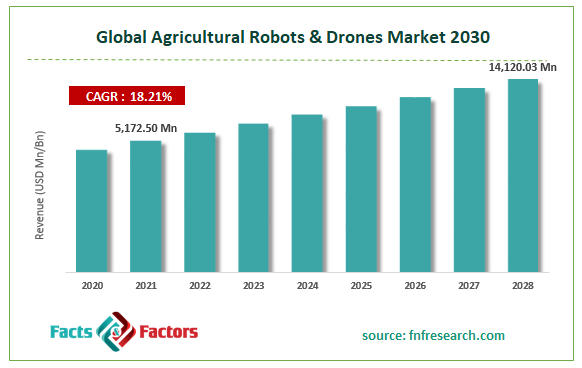 To know more about this report | Request Free Sample Copy
Market Overview
Farmers can focus on increasing overall production yield by using agricultural robots to automate slow, repetitive, and boring tasks. Unmanned aerial vehicles (UAVs) or drones, milking robots, automated harvesting systems, driverless tractors, and other robots are examples of agricultural robots. However, due to the rapid commercialization of driverless tractors, they are expected to outperform drones and milking robots within the next three to four years. Growing population and labor shortages, as well as maturing IoT and navigation technologies, are some of the factors accelerating the use of robots in agriculture.
Furthermore, untapped market potential and scope for agriculture automation, increased use of electrification technology in agricultural robots, and use of real-time multimodal robot systems in fields have created a number of opportunities for manufacturers. Besides that, untapped market potential and scope for agriculture automation, increased use of electrification technology in agricultural robots, and use of real-time multimodal robot systems in fields have created numerous opportunities for manufacturers of driverless tractors, milking systems, and drones.
Growth Drivers
Growing population and labor shortages encourage automation. The agriculture industry is under pressure from the world's growing population and the need for increased productivity from existing farmland. Changing demographics and urbanization, for example, are now having an impact on the agricultural industry. With an aging farmer population limiting the supply of manual labor, the labor shortage has become a global issue. The younger generation is less likely to pursue farming, and children from farming families frequently relocate to urban areas in search of better career opportunities.
Multimodal or heterogeneous platforms that combine ground and aerial vehicles enable targeted support, intelligence, and mission planning. Because tasks can be completed in parallel, collaborative and cooperative behavior among different robots becomes advantageous for large-scale agriculture and dairy operations, resulting in better economies of scale. Robots and autonomous systems of various types can now be brought together in a systemic approach.
COVID-19 Impact
Businesses around the world have suffered revenue losses and supply chain disruptions as a result of the COVID-19 outbreak. Worldwide, factory shutdowns and quarantine measures have been implemented, limiting movement and business activities. The economic impact is growing, and the world's top economies are expected to enter a global recession. The global COVID-19 pandemic has had an impact on the agricultural robotics market. It has been observed that the market in 2020 will be lower than in 2019. Market participants have observed a decrease in demand for certain types of robots across a variety of applications. This crisis has impacted most types of agricultural robots, and it is expected to have a short-term impact. Many players experienced negative or slow growth rates in 2021.
The complete research study looks at both the qualitative and quantitative aspects of the global agricultural robots and drones market. Both the demand and supply sides of the market have been investigated. The demand side study examines market income in various regions before comparing it to all of the major countries. The supply side research examines the industry's top rivals, as well as their regional and global presence and strategies. Each major country in North America, Europe, Asia Pacific, the Middle East and Africa, and Latin America is thoroughly investigated.
Segmentation Analysis
The global Agricultural Robots and Drones market is segregated based on Type, Farm produce, Farming environment and Application.
By Type, the UAVs are expected to be the leading segment. The cost of agricultural drones has steadily decreased over the years, making them an appealing investment for many modern farmers. The emergence of low-cost multispectral cameras has also aided in keeping costs as low as possible. With authorities such as the Federal Aviation Administration (FAA) laying the groundwork for regulations on the use and operation of drones, the adoption of UAVs for agricultural applications has skyrocketed. As a result, UAVs have the largest market share.
By Application, the field farming application is likely to hold a major share of the agricultural robots market over the projection period due to the high penetration rate of UAVs and the high average selling price of driverless tractors. Drones and self-driving tractors are helping to automate field farming. The market for driverless tractors is predicted to eclipse the market for milking robots as the use of driverless tractors for automating field farming applications continues to expand. The market for milking robots is maturing, as they have already been marketed. As a result, it will grow at the slowest rate, causing dairy and livestock management applications to grow at a slower rate than other farming applications.
Report Scope
| | |
| --- | --- |
| Report Attribute | Details |
| Market Size in 2021 | USD 5,172.50 Million |
| Projected Market Size in 2028 | USD 14,120.03 Million |
| CAGR Growth Rate | 18.21% CAGR |
| Base Year | 2021 |
| Forecast Years | 2022-2028 |
| Key Market Players | Deere & Company (US), DJI (China), CNH Industrial NV (UK), AGCO Corporation (US), DeLaval (Sweden), Trimble Inc. (US), BouMatic Robotics (The Netherlands), Lely (The Netherlands), AgJunction (US), AgEagle Aerial Systems (US), YANMAR Co. (Japan), Deepfield Robotics (Germany), ecoRobotix (Switzerland), Harvest Automation (US), Naïo Technologies (France), ROBOTICS PLUS (New Zealand), KUBOTA Corporation (Japan), HARVEST CROO (US), Autonomous Tractor Corporation (US), Clearpath Robotics (Canada), DroneDeploy (US), Agrobot (Spain), FFRobotics (Israel), Fullwood Packo (UK), Monarch Tractor (US), and Others |
| Key Segment | By Type, Farm Produce, Farming Environment, Application, and Region |
| Major Regions Covered | North America, Europe, Asia Pacific, Latin America, and the Middle East & Africa |
| Purchase Options | Request customized purchase options to meet your research needs. Explore purchase options |
Regional Landscape
North America had the highest proportion of the market for agricultural robots. Due to growing labor scarcity and high labor expenses in the region, robotics and automation are being used to improve production and maintain quality requirements. North America's aviation authorities have established guidelines for the use of drones in commercial applications in the United States, Canada, and Mexico. North America is also a potential market for driverless tractors because it is one of the main markets for auto-steering tractors. The players in this region are extensively spending in R&D operations in order to build low-cost, high-productivity robots.
Competitive Landscape
The report contains qualitative and quantitative research on the global Agricultural Robots and Drones Market, as well as detailed insights and development strategies employed by the leading competitors. The report also provides an in-depth analysis of the market's main competitors, as well as information on their competitiveness. The research also identifies and analyses important business strategies used by these main market players, such as mergers and acquisitions (M&A), affiliations, collaborations, and contracts. The study examines, among other things, each company's global presence, competitors, service offers, and standards.
List of Key Players in the Global Agricultural Robots and Drones Market:
Deere & Company (US)
DJI (China)
CNH Industrial NV (UK)
AGCO Corporation (US)
DeLaval (Sweden)
Trimble Inc. (US)
BouMatic Robotics (The Netherlands)
Lely (The Netherlands)
AgJunction (US)
AgEagle Aerial Systems (US)
YANMAR Co. (Japan)
Deepfield Robotics (Germany)
ecoRobotix (Switzerland)
Harvest Automation (US)
Naïo Technologies (France)
ROBOTICS PLUS (New Zealand)
KUBOTA Corporation (Japan)
HARVEST CROO (US)
Autonomous Tractor Corporation (US)
Clearpath Robotics (Canada)
DroneDeploy (US)
Agrobot (Spain)
FFRobotics (Israel)
Fullwood Packo (UK)
Monarch Tractor (US)
The global agricultural robots and drones market is segmented as follows:
By Type Segment Analysis
Milking Robots
UAVs/Drones
Automated Harvesting Systems
Driverless Tractors
Others
By Farm Produce Segment Analysis
Fruits & Vegetables
Field Crops
Dairy & Livestock
Others
By Farming Environment Segment Analysis
By Application Segment Analysis
Harvest Management
Field Farming
Dairy & Livestock Management
Soil & Irrigation Management
Others
By Regional Segment Analysis
North America
Europe

France
The UK
Spain
Germany
Italy
Nordic Countries
Benelux Union

Belgium
The Netherlands
Luxembourg

Rest of Europe

Asia Pacific

China
Japan
India
Australia
South Korea
Southeast Asia

Indonesia
Thailand
Malaysia
Singapore
Rest of Southeast Asia

Rest of Asia Pacific

The Middle East & Africa

Saudi Arabia
UAE
Egypt
South Africa
Rest of the Middle East & Africa

Latin America

Brazil
Argentina
Rest of Latin America