Industry Insights
[233+ Pages Report] As per the Facts and Factors market research report, the global package drones market generated sales revenue of USD 1.07 Billion in 2020. Further, the package drones' sales are expected to generate revenue of USD 11.20 Billion by the end of 2026, increasing at a CAGR of around 48% from 2021 to 2026.
Market Overview
Small products, such as books, documents, medicine, and food, can be efficiently packed and delivered to customers on the same day they make their purchase using delivery drones. Drone technology was first employed in military, research, photography, communication, and security applications. With the advancement of technology, the spectrum of applications grew to include package delivery, which has become a source for faster and more convenient deliveries to customers' doorsteps. Drones are more cost-effective logistically than delivery trucks, including labor savings. Drones promise to deliver packages within minutes, depending on the origin of the retailer/warehouse and the location of the customer. Drones have a mobility advantage since they remove a road traffic stumbling block, which will reduce traffic congestion by removing vans and vehicles from the roadways. Drones have been shown to be more environmentally friendly than traditional delivery vehicles due to their lower carbon footprint.
Industry Growth Factor
Orders can now be placed online with a single click of a button and are expected to arrive at the customer's door the next day or the same day. This has resulted in a desire for speedier delivery, which has resulted in an increase in the number of delivery vehicles on the road. Medium and heavy-duty trucks are used to transport items from factories to warehouses, between warehouses, and finally to the customer's door. These same vehicles are expected to be responsible for a quarter of all greenhouse gas emissions in the United States. Drones can help to eliminate the carbon footprint left by these delivery vehicles. Drones have been shown to be more energy-efficient, economically beneficial, and environmentally friendly than traditional delivery vehicles. Drones, on the other hand, must be charged in order to function, therefore power derived from a clean source of energy is essential.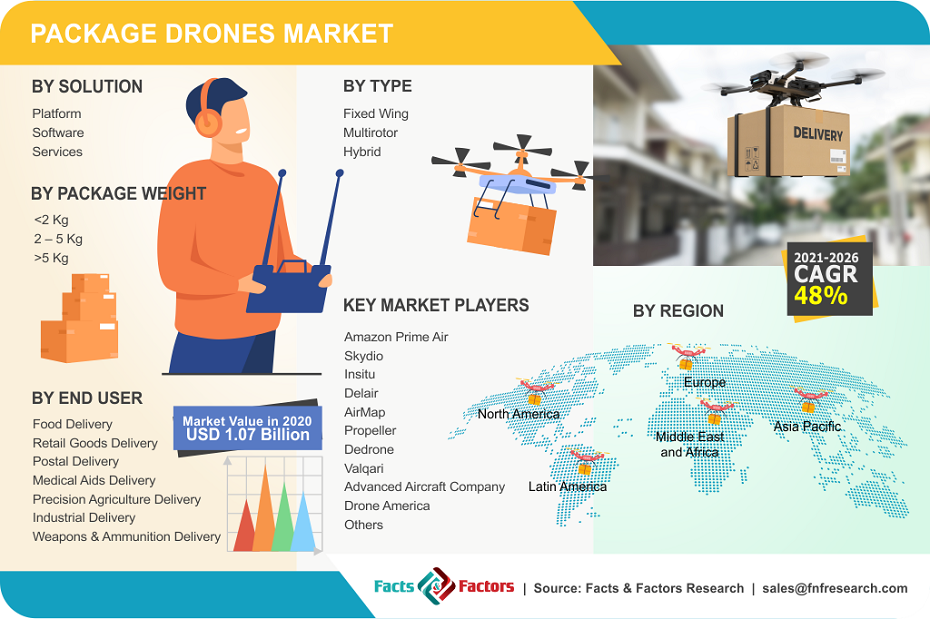 To know more about this report | Request Free Sample Copy
Segmentation Analysis
The study provides a decisive view of the global package drones market by segmenting it based on the mode of operation, solution, type, package weight, end-user, and geographic regions. The mode of operation segment is categorized into autonomous and controlled. Platform, software, and services are the solution segment of the global package drones market. To offer better target customer analysis, our analyst further bifurcates type segments into fixed wing, multirotor, and hybrid. The package weight segment is categorized into <2 Kg, 2 – 5 Kg, and >5 Kg. In addition, to understand the industry, our analyst classified the end-user segment by Food Delivery, Retail Goods Delivery, Postal Delivery, Medical Aids Delivery, Precision Agriculture Delivery, Industrial Delivery, and Weapons & Ammunition Delivery.
Report Scope
Report Attribute

Details

Market Size in 2020

USD 1.07 Billion

Projected Market Size in 2026

USD 11.20 Billion

CAGR Growth Rate

48% CAGR

Base Year

2020

Forecast Years

2021-2026

Key Market Players

Amazon Prime Air, Skydio, Insitu, Delair, AirMap, Propeller, Dedrone, Valqari, Advanced Aircraft Company, Drone America,

DroneSeed, UPS Flight Forward, Flytrex, Matternet, Wingcopter, Volans-I, Wing, Flirtey, Zipline, DJI, EHang, among others

Key Segments

Mode of Operation, Solutions, Types, Package Weight, End User, and Region

Major Regions Covered

North America, Europe, Asia Pacific, Latin America, and Middle East & Africa

Purchase Options

Request customized purchase options to meet your research needs. Explore purchase options
Regional Analysis
Based on regions, the global package drones market can be divided into five main regions namely North America, Europe, Asia Pacific, Latin America, and The Middle East and Africa.
With the FAA's continued assistance, drone delivery is expected to become a reality in the skies of the United States soon. According to the FAA, about 220,000 drone pilots have a license to fly out of nearly 870,000 registered drones in the United States. To fly your drone commercially, you'll need a license. It is critical to acquire FAA certification in order to increase the burgeoning commercial use of drones, including on-demand drone delivery. Also, the growing demand of the e-commerce industry and the trend towards online shopping with a high demand for same-day delivery is expected to propel the growth of the North American Market. Federal Aviation Administration of the United States is working with different industry pioneers and local, and state governments to make the commercial use of drone reality and thus North America is expected to dominate the package drones market over the forecast period.
Competitive Players
Some of the key players in the package drones market are
Skydio
Insitu
Delair
AirMap
Propeller
Dedrone
Valqari
Advanced Aircraft Company
Drone America
DroneSeed
UPS Flight Forward
Flytrex
Matternet
Wingcopter
Volans-I
Wing
Flirtey
Zipline
DJI
EHang
Amazon Prime Air
The global package drones market is segmented into:
By Mode of Operation
By Solution
Platform
Software
Services
By Type
Fixed Wing
Multirotor
Hybrid
By Package Weight
By End User
Food Delivery
Retail Goods Delivery
Postal Delivery
Medical Aids Delivery
Precision Agriculture Delivery
Industrial Delivery
Weapons & Ammunition Delivery
Global Package Drones Market: By Region
North America
Europe

France
The UK
Spain
Germany
Italy
Rest of Europe

Asia Pacific

China
Japan
India
South Korea
Southeast Asia
Rest of Asia Pacific

Latin America

Brazil
Mexico
Rest of Latin America

Middle East & Africa

GCC
South Africa
Rest of Middle East & Africa