Industry Insights
[231+ Pages Report] According to the report published by Facts and Factors, the global respiratory diagnostics market size was worth around USD 8.21 billion in 2021 and is predicted to grow to around USD 13.81 billion by 2030 with a compound annual growth rate (CAGR) of roughly 9.12% between 2022 and 2030. The report analyzes the global respiratory diagnostics market drivers, restraints/challenges, and the effect they have on the demands during the projection period. In addition, the report explores emerging opportunities in the respiratory diagnostics industry.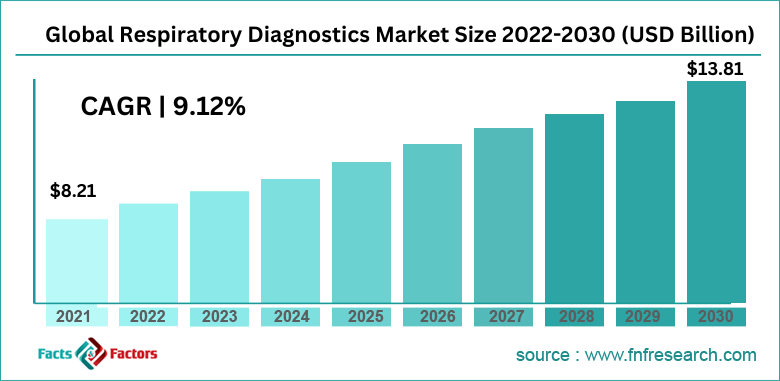 To know more about this report | Request Free Sample Copy
Market Overview
Respiratory disorders are related to the condition and functioning of the lungs along with other respiratory systems. They are medical concerns like cystic fibrosis, asthma, lung cancer, pulmonary hypertension, mesothelioma, and tuberculosis. If these issues are left untreated they can lead to severe health-related complications which may even turn life-threatening after crossing a certain threshold. However, diagnosis plays an important role in determining the exact treatment plan that can effectively treat or cure the disease. The onus of diagnosis lies with the physician handling the case where they must conclude the source and reason for the respiratory disorder. Once the information collected is evaluated using efficient techniques, the concerned medical professional, which is generally a pulmonologist, will determine the treatment that the patient needs to undergo. There are different types of tests or diagnostic tools that can be used to treat respiratory conditions; however, patients are also required to play their part in terms of regular check-ups and monitoring of trigger points to minimize the overall symptoms.
Key Insights
As per the analysis shared by our research analyst, the global respiratory diagnostics market is estimated to grow annually at a CAGR of around 9.12% over the forecast period (2022-2030)
In terms of revenue, the global respiratory diagnostics market size was valued at around USD 8.21 billion in 2021 and is projected to reach USD 13.81 billion, by 2030.
The respiratory diagnostics industry is projected to grow at a significant rate due to the growing number of respiratory disorders
Based on disease segmentation, asthma was predicted to show maximum market share in the year 2021
Based on products & services segmentation, instrument & devices were the leading products in 2021
On the basis of region, North America was the leading revenue generator in 2021
Growth Drivers
Growing medicinal cases of respiratory disorders to propel market demand
The global respiratory diagnostics market is projected to grow owing to the rising prevalence of different types of respiratory disorders. Even mild forms of such conditions can dramatically impact the overall quality of life and in some cases, they can even be fatal which means that patients suffering from respiratory conditions like asthma, tuberculosis, and lung cancer amongst other diseases have to ensure that the condition remains under control while undergoing treatment. One of the most common respiratory conditions is asthma which leads to the narrowing and swelling of the airway resulting in the production of extra mucus. There is no cure for the disease and all the available medical plans can only assist patients in managing the symptoms which include shortness of breath, wheezing during exhalation, chest pain or tightness along with other more severe symptoms. As the number of people suffering from multiple respiratory conditions will increase, the demand for effective diagnostic tools is projected to grow simultaneously.
Restraints
Insufficient medical reimbursement policies to restrict market expansion
There are a limited number of medical insurance providers or programs related to reimbursement while undergoing medical diagnosis. Many patients across the globe largely depend on the benefits of reimbursement as in certain countries the cost of undergoing diagnosis is exceptionally high including developed countries. The lack of favorable medical reimbursement could act as a growth restraint for the respiratory diagnostics industry as the cost of treatment exceeds the total income of the person, and in some cases, the entire family. For instance, lung cancer treatment, which includes accurate diagnosis, can go up to USD 16000.
Opportunities
Growing healthcare infrastructure to provide growth opportunities
The global respiratory diagnostics market is projected to benefit from the growing investments in the global healthcare segment. Regional governments along with international healthcare bodies are striving to provide excellent medical care to the general population across income groups irrelevant of social, political, or economic background. For instance, in 2021, the US government spending on healthcare increased by almost 2.7% reaching more than USD 4 trillion. Similarly, other developing nations have amped up their efforts in acknowledging the roadblocks and overcoming them in terms of healthcare infrastructure.
Challenges
Managing the cost of research and product innovation to challenge the market expansion
One of the major challenges faced by the global respiratory diagnostics industry players is related to the cost of product research and innovations. The changing political dynamics have largely impacted the world trade scenario due to fluctuating prices of raw materials, especially influencing transportation costs. Furthermore, the growing situations pointing toward an incoming recession in the next few years could also create more challenges that the market players may have to navigate through.
Segmentation Analysis
The global market is segmented based on disease, test type, products & services, end-user, and region
Based on disease, the global market is divided into bronchitis, lung cancer, pulmonary fibrosis, tuberculosis, asthma, and others.
The global market was dominated by the asthma segment in 2021 followed by pulmonary fibrosis and lung cancer
Asthma is one of the most prevalent respiratory diseases with the Asthma and Allergy Foundation of America reported that almost 9.8% of the female population suffers from the condition
It is more prevalent in women than men and almost 11 people die every day due to complications arising out of the condition, in the USA
Growing awareness and proactive testing for lung cancer could drive the segmental demand during the forecast period
Based on test type, the respiratory diagnostics industry is divided into OSA diagnostic tests, mechanical tests, traditional diagnostic tests, molecular diagnostics tests, and imaging tests.
Based on end-user, the global market is segmented into direct tender, retail sales, and others.
Based on products and services, the global market is divided into instruments & devices, assays & reagents, and service & software
The respiratory diagnostics industry is expected to be dominated by the instrument & devices segment during the projection period owing to the wide-scale applications of the equipment in accurate diagnosis
For instance, imaging tools like positron emission tomography (PET) scans, computed tomography (CT) scans or magnetic resonance imaging (MRI) are the most common tools used to diagnose lung cancer
These devices are constantly being re-innovated to add better features in the systems to derive high-grade output performance
The cost of an MRI scan in the USA can cost between USD 300 to USD 2800
Recent Developments:
In May 2022, NuvoAir, a digital health company, announced the launch of a virtual Asthma Assessment Service in collaboration with 17 National Health Services in the UK. The collaboration will help in reducing diagnosis time for Asthma while also contributing to improved clinical capacity and the quality of remote patient management and monitoring
In July 2020, Novartis, a multinational pharmaceutical company announced its collaboration with Propeller Health, a precision digital health company. The companies will jointly move toward integrating digital health tools for the treatment of asthma. The platform called Enerzair Breezhaler is used to treat uncontrolled asthma
Report Scope
| | |
| --- | --- |
| Report Attribute | Details |
| Market Size in 2021 | USD 8.21 Billion |
| Projected Market Size in 2030 | USD 13.81 Billion |
| CAGR Growth Rate | 9.12% CAGR |
| Base Year | 2021 |
| Forecast Years | 2022-2030 |
| Key Market Players | COSMED srl, Medtronic, Koninklijke Philips N.V., GENERAL ELECTRIC COMPANY, NIHON KOHDEN CORPORATION, F. Hoffmann-La Roche Ltd, Masimo, GC Diagnostics Corporation, Bio-Rad Laboratories Inc., Drägerwerk AG & Co. KGaA, Carestream Health, bioMérieux SA, Johnson & Johnson Services Inc., Abbott, Novartis AG, Thermo Fisher Scientific Inc., Bayer AG, GlaxoSmithKline plc, BD, Wartsila, Spear Power Systems, Akashi AG, Saft Total, Corvus Energy, EnerSys, Leclanche SA, Siemens, Echandia AB., and others. |
| Key Segment | By Disease, Test Type, Products and Services, End-User, and Region |
| Major Regions Covered | North America, Europe, Asia Pacific, Latin America, and the Middle East &, Africa |
| Purchase Options | Request customized purchase options to meet your research needs. Explore purchase options |
Regional Analysis
North America to lead with the highest growth
The global respiratory diagnostics market is projected to witness the highest growth in North America owing to the presence of an excellent medical diagnostic infrastructure in the countries of the US and Canada. The established health architecture of these countries allows them to cater to the medicinal needs of a higher number of patients who are, in most cases, medically insured. Furthermore, the growing US Food and Drugs Administration (FDA) approval for new and advanced respiratory diagnostic tools along with the rising number of digital health providers could also contribute to the regional growth.
Moreover, the US healthcare sector is witnessing high adoption of remote patient care trends which enables doctors to treat a larger number of patients. The regional sector is one of the most advanced in terms of the adoption of software and services for patient treatment resulting in an improved patient experience. Growth in African countries could be driven by the surging initiatives of international healthcare units along with private pharmaceutical and healthcare companies.
Competitive Analysis
COSMED srl
Medtronic
Koninklijke Philips N.V.
GENERAL ELECTRIC COMPANY
NIHON KOHDEN CORPORATION
F. Hoffmann-La Roche Ltd
Masimo
GC Diagnostics Corporation
Bio-Rad Laboratories Inc.
Drägerwerk AG & Co. KGaA
Carestream Health
bioMérieux SA
Johnson & Johnson Services Inc.
Abbott
Novartis AG
Thermo Fisher Scientific Inc.
Bayer AG
GlaxoSmithKline plc
BD
Wartsila
Spear Power Systems
Akashi AG
Saft Total
Corvus Energy
EnerSys
Leclanche SA
Siemens
Echandia AB.
The global market is segmented as follows:
By Disease Segment Analysis
Bronchitis
Lung Cancer
Pulmonary Fibrosis
Tuberculosis
Asthma
Others
By Test Type Segment Analysis
OSA Diagnostic Tests
Mechanical Tests
Traditional Diagnostic Tests
Molecular Diagnostic Tests
Imaging Tests
By Products and Services Segment Analysis
Instruments & Devices
Assays & Reagents
Service & Software
By End-User Segment Analysis
Direct Tender
Retail Sales
Others
By Regional Segment Analysis
North America
Europe

France
The UK
Spain
Germany
Italy
Nordic Countries
Benelux Union

Belgium
The Netherlands
Luxembourg

Rest of Europe

Asia Pacific

China
Japan
India
Australia
South Korea
Southeast Asia

Indonesia
Thailand
Malaysia
Singapore
Rest of Southeast Asia

Rest of Asia Pacific

The Middle East & Africa

Saudi Arabia
UAE
Egypt
South Africa
Rest of the Middle East & Africa

Latin America

Brazil
Argentina
Rest of Latin America