Industry Insights
[226+ Pages Report] According to the report published by Facts Factors, the global pearl jewelry market size was valued at USD 10.5 billion in 2022 and is projected to reach USD 25 billion by 2030 with a promising CAGR of 13% between 2023 and 2030. The report also analyzes the global pearl jewelry market growth factors, restraints, opportunities & challenges, and their impact on the demands during the forecast timeframe. Moreover, the report examines upcoming trends in the pearl jewelry market.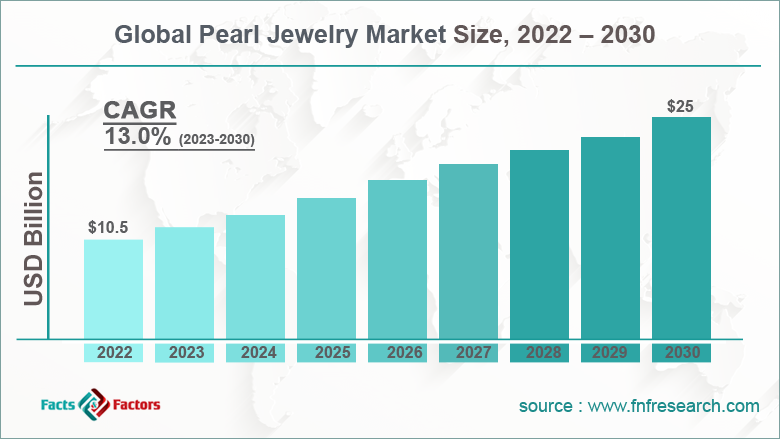 To know more about this report | Request Free Sample Copy
Market Overview
The global industry to the sub-segment of the larger jewelry market that revolves around the designing, production, sourcing, selling, and buying of jewelry pieces made of pearls. They are unique and precious gemstones that originate within the soft tissue of mussels and oysters, also known as mollusks. Pearls are known to be the oldest type of gemstone available on earth and are highly valued since they have been adorned by men and women as jewelry for centuries. The global industry includes different types of pearls including original and synthetically prepared pearls.
Key Insights
As per the analysis shared by our research analyst, the global pearl jewelry market is estimated to grow annually at a CAGR of around 13% over the forecast period (2022-2030)
In terms of revenue, the global pearl jewelry market size was valued at around USD 10.5 billion in 2022 and is projected to reach USD 25 billion, by 2030.
The market is projected to grow at a significant rate due to the growing popularity of pearls
Based on material segmentation, gold was predicted to show maximum market share in the year 2022
Based on type segmentation, the necklace was the leading type in 2022
On the basis of region, Asia-Pacific was the leading revenue generator in 2022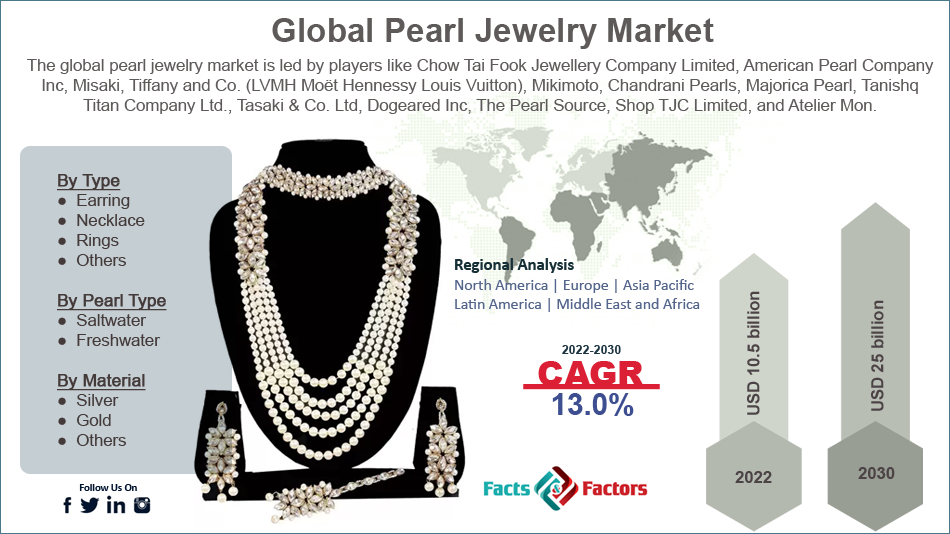 To know more about this report | Request Free Sample Copy
Growth Drivers
Growing popularity of pearls to propel market demand
The global pearl jewelry market is projected to grow owing to the increasing popularity of pearls amongst all genders. Even though pearl has been long used as a jewelry item, the gemstone has recently gained more attention from the younger generation owing to the physical apparel and the richness that pearl imparts to the overall appearance of the person wearing it.
The international fashion industry is responsible for bringing pearls back into fashion since designers have initiated jewelry designs incorporating pearls in various formats. Factors like social media campaigns, excellent marketing and advertising techniques adopted by jewelry makers and sellers, along with growing awareness amongst consumers have resulted in a rise in demand for pearl jewelry.
Restraints
High dependence on natural means of pearl production to restrict the market growth
Most of the commercial grade pearls are produced naturally with the aid of mollusks like oysters that are present in the wild environment. This means that there is a high dependence on nature for the production of the pearl and there is relatively less human intervention in terms of improving the pearl's quality at its origin stage. Since natural means of pearl production are vulnerable to climate and ecosystem changes, the supply chain of pearl jewelry cannot be predicted for the long run. This can severely disbalance the global industry since production changes influence price sensitivity depending on product availability.
Opportunities
Growing fashion industry to provide excellent growth opportunities
Pearl jewelry has become popular in the modern-age fashion industry which is highly influenced by centuries-old jewelry designs. Designers are investing heavily in bringing back old traditions and this can be witnessed in the ways pearls are getting incorporated along with other gemstones and jewelry metals to create a new era of contemporary jewelry.
The growing population that is fashion-oriented and prioritizes fashion could help in creating a larger consumer database during the projection period. Additionally, pearls have always been a popular jewelry choice for the older generation due to the high aesthetics-value of the gemstone.
Challenges
Environmental concerns are important challenges to be overcome by players
Harvesting pearls from the ocean can have irreparable consequences on marine life. Over-harvesting of pearls can severely impact the aqua system, affecting the environment in the long run. The supply quantity and quality could be severely damaged if the marine ecosystem undergoes any sort of disbalance. Hence, it is an important challenge for the global industry players to ensure that harvesting pearls do not impact the water environment otherwise the industry may soon become unsustainable.
Segmentation Analysis
The global pearl jewelry market is segmented based on type, pearl type, material, and region
Based on type, the global market divisions are earrings, necklaces, rings, and others
Although the type of jewelry chosen is dependent on several factors like personal preference, availability, price, and cultural norms, the most popular type of pearl jewelry are necklace
They are available in different length sizes along with pearl quality and are mostly adorned by the women population owing to the high status associated with good-quality pearl necklaces
Pearl earrings are another popular form of pearl jewelry. Some earrings have single pearl studs for each year while some designs are more detailing For instance, drop earrings are becoming increasingly popular amongst the younger consumers
In 2011, the world witnessed a large melo pearl being sold for USD 30,500
Based on pearl type, the global market segments are saltwater and freshwater.
Based on material, the global market is divided into silver, gold, and others.
In 2022, gold dominated the global market as it is one of the most popular precious metals to be used with pearls for jewelry designs
Gold offers long-lasting luster. It is also highly durable and one of the best metals to compliments the look of pearls going as far as enhancing their appearance
Furthermore, gold, in general, has a high consumer database and most people prefer to invest in jewelry as assets.
Gold is also available in different colors like white, yellow, and rose to give consumers more options to choose from
For instance, a survey conducted by National Jeweler claimed that almost 35% of the respondents preferred white gold
Recent Developments:
In December 2022, JAXXON, a leading provider of men's jewelry, announced the launch of its much-anticipated range of high-quality pearl collections for men. The company intends to fill the gap in the fashion industry that exists between women's and men's jewelry. The new launch is the company's first pearl collection for men
In August 2022, Wilfredo Rosado, a high-end jewelry artist, announced the launch of a new line of jewelry brands. The first collection in the launch is called Pearl ID and is curated with fine craftsmanship, artistic flair, and fashion sense. Pearl ID intends to revolutionize the way pearls are viewed
In June 2022, a rare 3-row natural pearl necklace was sold for INR6,24,91,000 at an auction held in India by AstaGuru. The necklace consists of natural salt-water pearls along with some forms of gold and diamond
Report Scope
| | |
| --- | --- |
| Report Attribute | Details |
| Market Size in 2022 | USD 10.5 Billion |
| Projected Market Size in 2030 | USD 25 Billion |
| CAGR Growth Rate | 13% CAGR |
| Base Year | 2022 |
| Forecast Years | 2023-2030 |
| Key Market Players | Chow Tai Fook Jewellery Company Limited, American Pearl Company Inc, Misaki, Tiffany and Co. (LVMH Moët Hennessy Louis Vuitton), Mikimoto, Chandrani Pearls, Majorica Pearl, Tanishq Titan Company Ltd., Tasaki & Co. Ltd, Dogeared Inc, The Pearl Source, Shop TJC Limited, Atelier Mon., and others. |
| Key Segment | By Type, Pearl Type, Material, and Region |
| Major Regions Covered | North America, Europe, Asia Pacific, Latin America, and the Middle East &, Africa |
| Purchase Options | Request customized purchase options to meet your research needs. Explore purchase options |
Regional Analysis
Asia-Pacific to witness the highest growth
The global pearl jewelry market is projected to witness the highest growth in Asia-Pacific due to the high consumer database of pearls in the countries of India, China, Indonesia, and Japan. Along with being home to the largest consumer groups, Indonesia is also the largest producer of pearls. This growth is due to the gemstone having a long cultural association with Asian territories. For instance, Japan considers pearls as a sign of beauty, purity, and elegance. China associates pearls with longevity, and good luck and most of the women population prefers to have some natural pearls in their jewelry collection. It is often presented as a gifting item in Chinese culture.
Furthermore, pearl jewelry has been an integral part of Asian history making it one of the most valued gemstones that are also readily available in the region hence the pricing is much more affordable as compared to other forms of the gemstone. The growing number of pearl harvesters, and jewelry designers, and affordability could be the reasons for regional market growth in the coming years.
Competitive Analysis
Chow Tai Fook Jewellery Company Limited
American Pearl Company Inc
Misaki
Tiffany and Co. (LVMH Moët Hennessy Louis Vuitton)
Mikimoto
Chandrani Pearls
Majorica Pearl
Tanishq Titan Company Ltd.
Tasaki & Co. Ltd
Dogeared Inc
The Pearl Source
Shop TJC Limited
Atelier Mon
The global pearl jewelry market is segmented as follows:
By Type Segment Analysis
Earring
Necklace
Rings
Others
By Pearl Type Segment Analysis
By Material Segment Analysis
By Regional Segment Analysis
North America
Europe

France
The UK
Spain
Germany
Italy
Nordic Countries
Benelux Union

Belgium
The Netherlands
Luxembourg

Rest of Europe

Asia Pacific

China
Japan
India
Australia
South Korea
Southeast Asia

Indonesia
Thailand
Malaysia
Singapore
Rest of Southeast Asia

Rest of Asia Pacific

The Middle East & Africa

Saudi Arabia
UAE
Egypt
South Africa
Rest of the Middle East & Africa

Latin America

Brazil
Argentina
Rest of Latin America