Industry Insights
[232+ Pages Report] According to the report published by Facts & Factors, the global orthopedic prosthetic market size was worth around USD 2.3 billion in 2022 and is predicted to grow to around USD 3.4 billion by 2030 with a compound annual growth rate (CAGR) of roughly 5.31% between 2023 and 2030. The report analyzes the global orthopedic prosthetic market drivers, restraints/challenges, and the effect they have on the demands during the projection period. In addition, the report explores emerging opportunities in the orthopedic prosthetic market.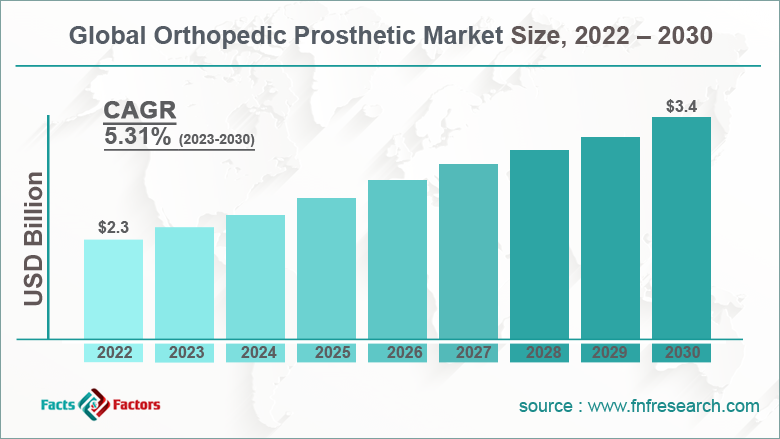 To know more about this report | Request Free Sample Copy
Market Overview
Artificially created body parts that are used as substitutes for actual body parts are called orthopedic prosthetic devices. The main goal of using these devices is to ensure that the substituted body part functions normally thus assisting in improving the quality of life of the patients undergoing these procedures. People who have undergone orthopedic surgery or suffer from congenital abnormalities along with patients who have suffered from physical trauma are generally the consumer base for these devices.
The industry revolves around the designing, production, storage, and distribution of orthopedic prosthetic devices and includes a wide range of products like braces, implants, artificial joints, and others that assist in mobility restoration and functionality in patients.
Key Insights
As per the analysis shared by our research analyst, the global orthopedic prosthetic market is estimated to grow annually at a CAGR of around 5.31% over the forecast period (2022-2030)
In terms of revenue, the global orthopedic prosthetic market size was valued at around USD 2.3 billion in 2022 and is projected to reach USD 3.4 billion, by 2030.
The market is projected to grow at a significant rate due to the growing geriatric population worldwide
Based on technology segmentation, conventional orthopedic prosthetics were predicted to show maximum market share in the year 2022
Based on end-user segmentation, hospitals were the leading users in 2022
On the basis of region, North America was the leading revenue generator in 2022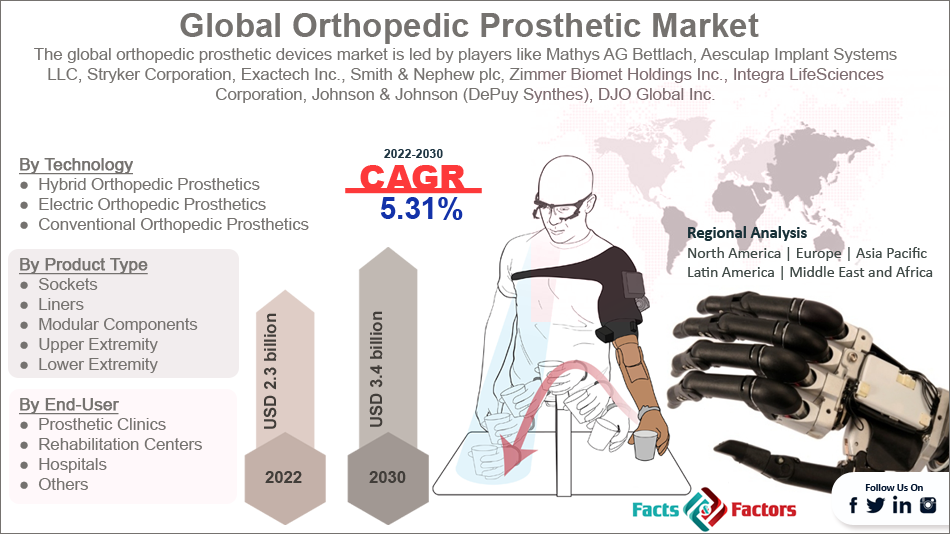 To know more about this report | Request Free Sample Copy
Growth Drivers
Growing geriatric population to propel market demand
The global orthopedic prosthetic market is projected to grow owing to the increasing number of elderly populations across the globe. The geriatric segment is prone to contract multiple orthopedic-related conditions that worsen with age further supported by other factors like previous medical concerns, diet, and physical activity.
Some of the most common medical issues that a significant number of the older population suffers from are osteoporosis causing bones to become brittle and weak, spinal stenosis leading to the spinal cord becoming weak, and fractures, to name a few. Rheumatoid arthritis is another issue that affects a significant number of senior citizens globally.
Restraints
High associated expenses to restrict the market growth
One of the major growth restrictions that exist in the global industry is the high cost associated with orthopedic devices and their maintenance rendering them unaffordable for a large segment of low to medium-income families.
Furthermore, patients that lack access to medical insurance and reimbursement policies may have to invest in the devices at their personal expense, and the changing political and economic dynamics in the world and discussions over oncoming recession could lead to the industry players facing multiple growth restraints. For instance, the cost of artificial shoulder joint surgery in the US is estimated to be around USD 15000 and more.
Opportunities
Research & Development to provide excellent growth opportunities
The ability of any industry to grow and survive depends on its investment in constant product innovation along with research & development to improve the currently existing products along with introducing newer solutions in the market. Driven by the growing demand for orthopedic prosthetic devices, the industry players have initiated more resource allocation for higher research which is expected to work in the favor of the industry.
For instance, In 2021, Orthonika, a Brazil-based company operating in the industry, received funding of USD 7.5 million from e. Bricks Ventures which the company is expected to use in improving its existing product line.
Challenges
The growing number of product recalls acts as a major challenge
The global industry is witnessing a surge in the number of cases related to product recall due to faulty manufacturing of devices. These faults may originate at the design or manufacturing point but they are surrounded by intense regulatory compliance issues along with safety concerns.
The increasing number greatly tarnishes the industry's image which is a major challenge for the players operating in the segment. For example, 2019 witnessed the recall of certain models of prosthetic devices made by Stryker that were used in hip replacement surgeries, by the US Food and Drugs Administration authority.
Segmentation Analysis
The global orthopedic prosthetic market is segmented based on technology, product type, end-user, and region
Based on technology, the global market divisions are hybrid orthopedic prosthetics, electric orthopedic prosthetics, and conventional orthopedic prosthetics.
Currently, the industry is led by the conventional orthopedic prosthetics segment since they have already existed in the industry for a longer time as compared to the most recent technologies that are still finding user base
One of the major reasons for the growth is the relatively lower expense of the surgeries along with the presence of a large of skilled healthcare professionals who are well acquainted with these processes
However, with the growing advancements in the healthcare field, the demand for hybrid and electric technologies is growing rapidly
As per the European Hip Society, around 200,000 hip replacements surgeries are conducted in Europe every year
Based on product type, the global market is divided into sockets, liners, modular components, upper extremity, and lower extremity.
Based on end-user, the global market is divided into prosthetic clinics, rehabilitation centers, hospitals, and others.
2022 witnessed the highest CAGR in the hospital's segment followed by rehabilitation centers
The high segmental CAGR was driven by the high number of surgeries conducted across government and private hospitals across the globe
These units are well-equipped to handle minor cases along with major trauma incidents
Furthermore, prosthetic clinics are generally more expensive than hospitals making them the last resort for many patients
As per statistics by the International Osteoporosis Foundation, 1 in every 5 men and 1 in every 3 women, above the age of 50, are likely to fracture some part of the body
Recent Developments:
In March 2022, Exatech, a leading developer of innovative instrumentation, implants, and other smart technologies for the industry, announced the launch of Equinoxe® Humeral Reconstruction Prosthesis. The product was made available in Europe for clinical use. The device is used for reconstruction after tumor resections and for treating proximal humeral bone loss
In December 2022, NYU Langone Health completed the first round of surgeries for people with limb loss in the greater New York region. The surgeries were conducted using US FDA-approved implantable prosthetics and under the new initiative called Osseointegration Program
In October 2022, Exacte recalled several models of Truliant knee and Optetrak implants after a lawsuit was filed in Brooklyn complaining that the device failed to perform prematurely leading to revision surgeries. The company has recalled over 200,000 products
Report Scope
| | |
| --- | --- |
| Report Attribute | Details |
| Market Size in 2022 | USD 2.3 Billion |
| Projected Market Size in 2030 | USD 3.4 Billion |
| CAGR Growth Rate | 5.31% CAGR |
| Base Year | 2022 |
| Forecast Years | 2023-2030 |
| Key Market Players | Mathys AG Bettlach, Aesculap Implant Systems LLC, Stryker Corporation, Exactech Inc., Smith & Nephew plc, Zimmer Biomet Holdings Inc., Integra LifeSciences Corporation, Johnson & Johnson (DePuy Synthes), DJO Global Inc., Össur hf., LimaCorporate S.p.A., Otto Bock HealthCare GmbH, MicroPort Scientific Corporation, B. Braun Melsungen AG, Wright Medical Group N.V., Globus Medical Inc., Colfax Corporation, Medtronic plc, Arthrex Inc., ConforMIS Inc., and others. |
| Key Segment | By Technology, Product Type, End-User, and Region |
| Major Regions Covered | North America, Europe, Asia Pacific, Latin America, and the Middle East &, Africa |
| Purchase Options | Request customized purchase options to meet your research needs. Explore purchase options |
Regional Analysis
North America to lead with the highest growth
The global orthopedic prosthetic market is projected to witness the highest growth in North America with the US acting as the majority of the contributor's list. The growth is driven by the rising number of people growing over the age of 50 supported by strong medical insurance and reimbursement policies allowing them to undergo orthopedic surgeries without any hassle. The already established health infrastructure of the US and Canada is a significant region for high CAGR in North America.
Factors like the growing rate of product innovation, increasing US FDA approvals, rising investments in healthcare infrastructure in general, and availability of skilled professionals are other crucial causes of regional expansion. However, the industry players operating in North America struggle with keeping up with the stringent regulatory processes and rising rate of product recalls after failing to perform as per expectations.
Competitive Analysis
Mathys AG Bettlach
Aesculap Implant Systems LLC
Stryker Corporation
Exactech Inc.
Smith & Nephew plc
Zimmer Biomet Holdings Inc.
Integra LifeSciences Corporation
Johnson & Johnson (DePuy Synthes)
DJO Global Inc.
Össur hf.
LimaCorporate S.p.A.
Otto Bock HealthCare GmbH
MicroPort Scientific Corporation
B. Braun Melsungen AG
Wright Medical Group N.V.
Globus Medical Inc.
Colfax Corporation
Medtronic plc
Arthrex Inc.
ConforMIS Inc.
The global orthopedic prosthetic market is segmented based on:
By Technology Segment Analysis
Hybrid Orthopedic Prosthetics
Electric Orthopedic Prosthetics
Conventional Orthopedic Prosthetics
By Product Type Segment Analysis
Sockets
Liners
Modular Components
Upper Extremity
Lower Extremity
By End-User Segment Analysis
Prosthetic Clinics
Rehabilitation Centers
Hospitals
Others
By Regional Segment Analysis
North America
Europe

France
The UK
Spain
Germany
Italy
Nordic Countries
Benelux Union

Belgium
The Netherlands
Luxembourg

Rest of Europe

Asia Pacific

China
Japan
India
Australia
South Korea
Southeast Asia

Indonesia
Thailand
Malaysia
Singapore
Rest of Southeast Asia

Rest of Asia Pacific

The Middle East & Africa

Saudi Arabia
UAE
Egypt
South Africa
Rest of the Middle East & Africa

Latin America

Brazil
Argentina
Rest of Latin America