Industry Insights
[209+ Pages Report] According to Facts and Factors, during the forecast period of 2022 to 2028, the global online language learning market is estimated to develop at a compound annual growth rate (CAGR) of 18.8%. The global online language learning market was worth USD 14.2 billion in 2021, and it is anticipated to exceed USD 28.5 billion by 2028. The study investigates several elements and their consequences on the growth of the global market.
Market Overview
The methodology of learning new languages is referred to as "language learning." Virtual worlds are becoming increasingly important in many industries, particularly language learning. Globalization and geographic expansion are increasing cultural diversity and patterns of communication, which necessitate linguistic programs and courses.
Businesses in the hotel and retail industries depend largely on a strong workforce from various countries and value multilingual employees. To meet this criterion, these organizations either hire locals for their international office locations or train existing staff via language learning courses and programs.
COVID-19 Impact
The COVID-19 pandemic forced the closure of all educational institutions, resulting in dramatic changes in the education sector, including the phenomenal rise of e-learning, in which teaching is done remotely via digital platforms. According to the World Economic Forum, different regions or countries have varying levels of COVID-19 infection, and more than 1.3 billion children in 185 countries are currently affected by closed schools due to the pandemic. Furthermore, according to the United Nations Educational, Scientific, and Cultural Organization (UNESCO), country-wide closures affect more than 62% of the world's student population, and the pandemic affected 1.75 billion students as of June 2020. As a result, the online language learning market is currently witnessing several advancements and free membership apps by companies seeking to expand their user base.
Furthermore, as a precautionary measure to ensure the safety of their staff and reduce the spread of the disease, most businesses were shuttered and all non-critical international travel was restricted during the outbreak. In addition, most companies have allowed employees to work from home, which would be unavoidable in today's world. As a result, there has been a surge in professional interest in learning new languages in order to develop the skills and competitive edge in international markets. As a result, the pandemic was demonstrated to be a game-changer for the language learning market, with higher projected growth over the next year.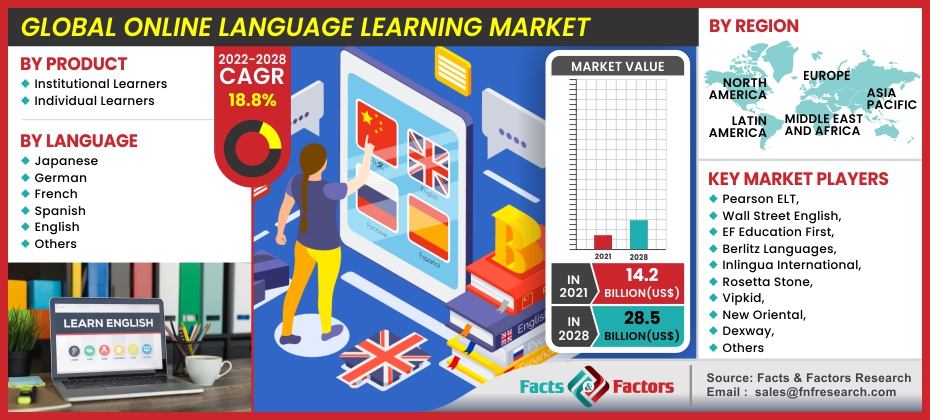 To know more about this report | Request Free Sample Copy
Growth Drivers
Globalization and rising need for cross-border communication are driving market growth
Because of the globalization of the economy and the adoption of cost-effective technology-based products, the global online language learning market is quickly changing. Globalization and the growing need for cross-border communication, the increasing e-learning market, the effect of COVID-19, and the intrusion of artificial intelligence into e-learning are all driving growth in this market. Furthermore, rising education spending, growing phone & internet user base, and multinational companies' desire for multilingual employees provide enormous growth opportunities for players in the online language learning market. Furthermore, recent trends include flexible pricing structures and the introduction of wearable technologies.
E-learning is rapidly expanding, allowing people from all over the world to keep in touch and learn new skills via the Internet. Some of the major factors influencing the market growth include learning flexibility, relatively inexpensive ease of accessibility, rising investments in digital active learning, and increased effectiveness through animated learning. Furthermore, users have acquired a taste for the ease of accessibility and improved effectiveness offered by emerging animated, involving, and interactive learning techniques in recent years. In addition, the growing number of social media users and increased access to broadband, combined with cell devices with online functionalities, are driving the market growth.
Furthermore, the growing popularity of distance language learning is believed to enhance the e-learning market. Distance language learning has proven to be the most effective way for learners to take courses in a flexible setting. This provides learners with flexibility and also aids in time management for those who are under pressure to shape business and/or life commitments. Furthermore, if pursued through certified institutes or universities, distance learning provides face-to-face engagement with native speakers, which accelerates the learning process and offers tailored lessons based on the learner's ability. As a result of technological advancements in learning and teaching, global interest in e-learning platforms is growing, boosting the online language learning market.
Restraints
Unawareness about the existence of online language learning to hinder the market growth
Many businesses are unaware of the fundamentals of online language learning, which is expected to stifle the growth of the online language learning market. Furthermore, internet access has not reached all parts of the world, further stifling market growth.
Opportunities
Flexible pricing structures provide chances for growth and facilitate market expansion
To establish and enhance their role in the global online language learning market, language learning companies are implementing innovative, appealing, and flexible pricing strategies. For example, Rosetta Stone Inc. (US) offers language learning for 28 languages for USD 8 per month, USD 12 per month for a three-month subscription, and USD 200 for a one-time payment. As a result, the wider availability of subscription services with various pricing plans is supposed to support the market's rapid growth in the future.
Challenges
The use and adoption of e-learning among users is a challenging task
The current online language learning system faces some potential challenges in terms of availability, accessibility, usability, and the quality of the e-learning website service.
Many learners and instructors are still hesitant to use the online language learning process, which explains their reluctance. Many people are suspicious of the learning services provided by the system, such as completing assignments, conducting tests, and so on. Furthermore, the issue affects not only educators but also instructors, who may perceive the transition from traditional teaching to e-learning as a threat to their jobs.
Segmentation Analysis
The global online language learning market is segregated on the basis of product, language, and region.
By product, the market is divided into institutional learners and individual learners. In 2020, the individual learner's segment commanded the largest proportion of the online language learning market. Rising internet accessibility, an increase in mobile phone customer base, and the consistent release of mobile applications at reasonable rates by major players are among the factors driving this segment's growth.
By language, the market is divided into Japanese, German, French, Spanish, English, and others. Because of growing globalization, awareness of developing English language skills, priority for English over other languages, and implementation of English as a global language, the English language accounted for the largest share of the online language learning market in 2020. Mandarin Chinese, on the other hand, is anticipated to grow at the fastest CAGR during the projected period given the rapidly changing worldwide trade and economic circumstances, soaring deals with Chinese companies, expanding education opportunities in China, and industry expansion in the country.
Report Scope
| | |
| --- | --- |
| Report Attribute | Details |
| Market Size in 2021 | USD 14.2 Billion |
| Projected Market Size in 2028 | USD 28.5 Billion |
| CAGR Growth Rate | 18.8% CAGR |
| Base Year | 2021 |
| Forecast Years | 2022-2028 |
| Key Market Players | Pearson ELT, Wall Street English, EF Education First, Berlitz Languages, Inlingua International, Rosetta Stone, Vipkid, New Oriental, Dexway, Macmillan Education, Eleutian Technology, Live Language, Duolingo, Linguatronics, Houghton Mifflin Harcourt, Babbel, Sanako Corporation, iTutorGroup, Busuu, 51talk, and SANS Inc., among others |
| Key Segment | By Product, Language, and Region |
| Major Regions Covered | North America, Europe, Asia Pacific, Latin America, and the Middle East & Africa |
| Purchase Options | Request customized purchase options to meet your research needs. Explore purchase options |
Regional Landscape
The Asia Pacific region is anticipated to dominate the market
Asia Pacific region is anticipated to dominate the global online language learning market during the forecast period. Education is one of the most promising sectors in both developed and emerging nations for the gradual advancement of digitalization. Digitalization in education is a key driver of online language learning in emerging nations such as India, China, and Japan. India has been one of the prominent nations where the digital revolution in educational institutions is currently thriving, and it is expected to create a massive market in the near future.
Asia Pacific's online language learning market is fragmented, with several companies present, and the market's competitive dynamics are expected to change in the coming years. Furthermore, several government initiatives undertaken by various governments are expected to drive the growth of the region's digital language learning market.
Recent Development
March 2020: Sanako Corporation announced the availability of a subscription service for Sanako Connect, a new remote classroom learning solution for schools. Sanako Connect enables teachers and students to access sessions from any location using a Chromebook, laptop, or tablet, as well as text and audio-based communication tools between students and teachers.
April 2020: Rosetta Stone Inc. announced that all consumer subscribers will receive unlimited free language tutoring. The company commits to providing users with live tutoring from native speakers who can assist language learners in practicing a new language by speaking and listening in an interactive way.
Competitive Landscape
Some of the main competitors dominating the global online language learning market are
Pearson ELT
Wall Street English
EF Education First
Berlitz Languages
Inlingua International
Rosetta Stone
Vipkid
New Oriental
Dexway
Macmillan Education
Eleutian Technology
Live Language
Duolingo
Linguatronics
Houghton Mifflin Harcourt
Babbel
Sanako Corporation
iTutorGroup
Busuu
51talk
SANS Inc.
The global online language learning market is segmented as follows:
By Product Segment Analysis
Institutional Learners
Individual Learners
By Language Segment Analysis
Japanese
German
French
Spanish
English
Others
By Regional Segment Analysis
North America

The U.S.
Canada
Mexico
Rest of North America

Europe

France
The UK
Spain
Germany
Italy
Nordic countries

Denmark
Finland
Iceland
Sweden
Norway

Benelux Reunion

Belgium
The Netherlands
Luxembourg

Rest of Europe

Asia Pacific

China
Japan
India
New Zealand
Australia
South Korea
Southeast Asia

Indonesia
Thailand
Malaysia
Singapore
Rest of Southeast Asia

Rest of Asia Pacific

The Middle East & Africa

Saudi Arabia
UAE
Egypt
Kuwait
South Africa
Rest of the Middle East & Africa

Latin America

Brazil
Argentina
Rest of Latin America