Industry Insights
[228+ Pages Report] According to the report published by Facts and Factors, the global e-learning market size was worth around USD 210.1 billion in 2021 and is predicted to grow to around USD 848.12 billion by 2030 with a compound annual growth rate (CAGR) of roughly 17.54% between 2022 and 2030. The report analyzes the global e-learning market drivers, restraints/challenges, and the effect they have on the demands during the projection period. In addition, the report explores emerging opportunities in the e-learning market.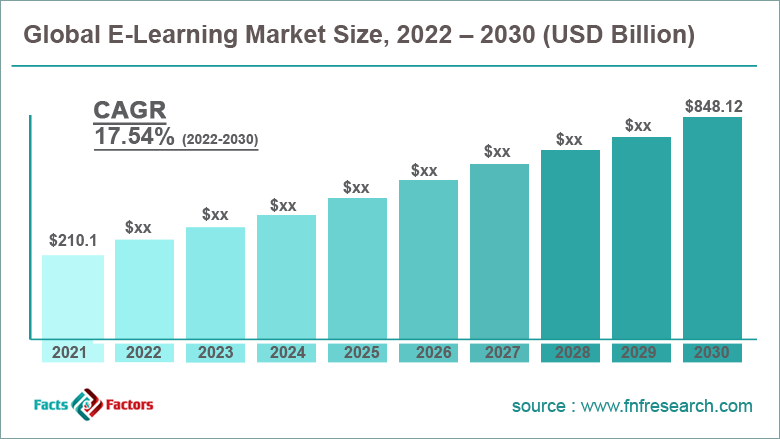 To know more about this report | Request Free Sample Copy
Market Overview
E-learning or electronic learning is the process of delivering training and learning using digital resources. The learning programs are created using formal methodologies but they are conducted through electronic equipment like tablets, computers, or cellular phones with an internet connection. E-learning makes the process easier for learners as well as teachers since the session can be conducted at any time and any place with few to limited restrictions. The advent of the internet has been one of the critical factors in encouraging the adoption of e-learning platforms because when there was less accessibility to the internet or the absence of it, study material was printed on paper or had to be transferred to compact discs which acted as great restrictions in delivering an enhanced experience.
With the help of the internet, learning institutes were able to abandon these limitations and explore more ways of providing quality education. With e-learning, it has become easy to incorporate multimedia in learning programs by integrating videos, images, audio, and other graphics. E-learning is considered the future of knowledge-imparting programs as with the help of digital systems it is possible to reach students and learners even in remote areas.
Key Insights
As per the analysis shared by our research analyst, the global e-learning market is estimated to grow annually at a CAGR of around 17.54% over the forecast period (2022-2030)
In terms of revenue, the global e-learning market size was valued at around USD 210.1 billion in 2021 and is projected to reach USD 848.12 billion, by 2030.
The market is projected to grow at a significant rate due to the excellent benefits offered by e-learning
Based on learning mode segmentation, self-paced was predicted to show maximum market share in the year 2021
Based on delivery mode segmentation, packaged content was the leading model in 2021
On the basis of region, North America was the leading revenue generator in 2021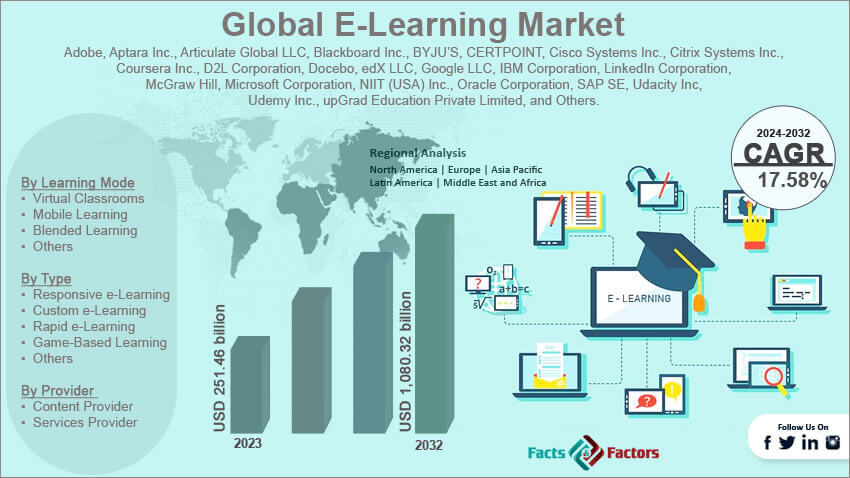 To know more about this report | Request Free Sample Copy
Growth Drivers
Advantages of e-learning to propel market demand
The global e-learning market is expected to grow owing to the benefits and advantages of e-learning sessions as compared to traditional methods of education and learning. Conventional methods of teaching involve building a large infrastructure that has to be completely equipped with necessary tools like benches, and chairs.
Other factors like a constant supply of water, electricity, and other essentials cannot be ignored when building a physical structure where teachers and students can participate in the knowledge transfer process. The cost of building and installation is eliminated in the case of e-learning since teachers and students are free to participate in sessions from anywhere they desire. There are several other benefits associated with e-learning which include offering convenience and flexibility to all the involved parties. It saves time and energy which is spent on traveling to and from the institute.
Restraints
Lack of internet accessibility to restrict market expansion
The global market may face growth restrictions because even in today's modern world many areas across the globe lack basic access to an electric connection as well as the internet. As per the United Nations Conference on Trade and Development (UNCTAD), in 2019, there were more than 570 million people in the least-developed countries that did not have access to electricity. The Guardian reported in 2021 that approximately 3 billion people have never used the internet in their entire lifetime.
Opportunities
Growing number of players to provide market growth opportunities
In the last 2 to 3 years, the global e-learning market has registered a high influx of new entrants which is expected to create more growth opportunities. Every player has something new to offer to the users having learned from the mistakes of previous or already existing players.
Growth in e-learning programs for niche subjects or topics may help in generating higher revenue as earlier such programs witnessed limited admission owing to factors like inaccessibility and high cost. However, these issues can now be handled because the learning centers have started offering financial assistance to the students and options like equated monthly installments (EMI).
Challenges
Growing cases of cheating to act as a major challenge
One of the key challenges the global market players face is managing the growing registered cases of cheating as multiple incidences have highlighted that students undergoing online learning are prone to cheating using different methods or ways during assessments. Hence e-learning platforms, when conducting examinations have to develop a full-proof means of making sure that the tests remain uncompromised.
Segmentation Analysis
The global e-learning market is segmented based on learning mode, application, delivery mode, function, and region.
The global market was led by the self-paced segment in 2021 and is projected to follow the same trend during the forecast period due to the higher adoption of self-paced programs as they are more preferred by working individuals who are willing to invest in upgrading their skills.
Self-paced programs offer higher flexibility which is one the most critical and deciding factors for many professionals as they can undertake the course offered depending on time availability. The self-paced segment is projected to grow at a CAGR of 14.65% by 2030. The instructor-led segment may also generate significant revenue due to the growing applications in classrooms and other teaching sessions that cannot be conducted without an instructor.
Based on delivery mode, the global market segments are learning management software, packaged content, and others. The global market is currently led by the packaged content segment and may grow at a CAGR of 11.21% during the forecast period. The learning management software (LMS) is expected to follow the packaged content segment due to the advantages of LMS. The growing need to train employees in the corporate world may drive segmental growth even further. As per a recent trend survey, demand for people skilled related to data science and artificial intelligence has increased tremendously.
Recent Developments:
In December 2022, the World Trade Organization (WTO) announced the launch of a new e-learning platform. The new system has upgraded features that help in enhancing user experience. The platform is built to help the general public as well the benefit from its technical assistance
In September 2022, the Union Finance Minister of India announced the intention to launch 'Bharat Vidya'. The e-learning platform which is to be developed by the Bhandarkar Oriental Research Institute (BORI), is intended to provide education on South Asian and Oriental studies.
Report Scope
| | |
| --- | --- |
| Report Attribute | Details |
| Market Size in 2021 | USD 210.1 Billion |
| Projected Market Size in 2030 | USD 848.12 Billion |
| CAGR Growth Rate | 17.54% CAGR |
| Base Year | 2021 |
| Forecast Years | 2022-2030 |
| Key Market Players | Articulate Global LLC, Adobe, Aptara Inc., SAP SE, Citrix Systems Inc., D2L Corporation, Microsoft Corporation, Cisco Systems Inc., and others. |
| Key Segment | By Learning Mode, Application, Delivery Mode, Function, and Region |
| Major Regions Covered | North America, Europe, Asia Pacific, Latin America, and the Middle East &, Africa |
| Purchase Options | Request customized purchase options to meet your research needs. Explore purchase options |
Regional Analysis
North America to register the highest growth during the projection period
The global e-learning market is projected to register the highest growth in North America driven by the US, which is ranked as the top-ranking country for online education. The region and the players present in the country run thousands of online courses offering quality education to millions of students annually even in the remotest part of the world. The growth in the US can also be attributed to, apart from the high quality of programs and related services, the exhaustive marketing and advertising strategies adopted by the players to enter and survive in new markets.
Coursera, one of the world's most dominant e-learning platforms, is based out of the US. It was launched in 2012 and by September 2022, the company registered more than 113 million learners using the platform to upgrade their skills. The regional growth may further be propelled by the rising number of students choosing online courses over traditional measures which is encouraged by access to technology and the internet.
Competitive Analysis
Articulate Global LLC
Adobe
Aptara Inc.
SAP SE
Citrix Systems Inc.
D2L Corporation
Microsoft Corporation
Cisco Systems Inc.
The global e-learning market is segmented as follows:
By Learning Mode Segment Analysis
Instructor-Led
Self-Paced
By Application Segment Analysis
Government
Academic
Corporate
By Delivery Mode Segment Analysis
Learning Management Software
Packaged Content
Others
By Function Segment Analysis
By Regional Segment Analysis
North America
Europe

France
The UK
Spain
Germany
Italy
Nordic Countries
Benelux Union

Belgium
The Netherlands
Luxembourg

Rest of Europe

Asia Pacific

China
Japan
India
Australia
South Korea
Southeast Asia

Indonesia
Thailand
Malaysia
Singapore
Rest of Southeast Asia

Rest of Asia Pacific

The Middle East & Africa

Saudi Arabia
UAE
Egypt
South Africa
Rest of the Middle East & Africa

Latin America

Brazil
Argentina
Rest of Latin America