Industry Insights
[223+ Pages Report] According to Facts and Factors, the global medical transport services market size was worth USD 87.20 billion in 2021 and is estimated to grow to about USD 113.55 billion by 2028, with a compound annual growth rate (CAGR) of approximately 4.50% over the forecast period. The report analyzes the medical transport services market's drivers, restraints/challenges, and their effect on the demands during the projection period. In addition, the report explores emerging opportunities in the medical transport services market.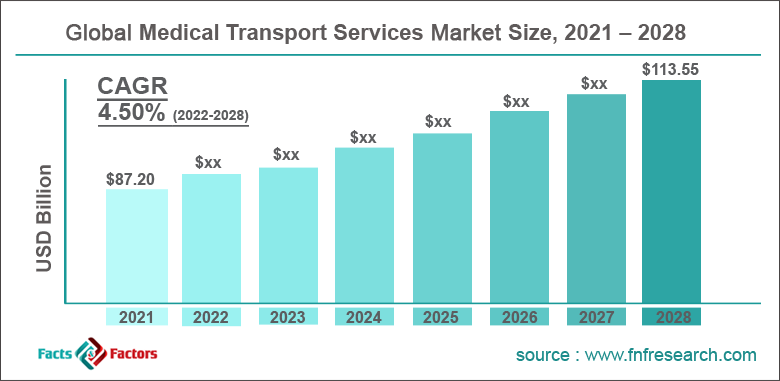 To know more about this report | Request Free Sample Copy
Market Overview
The growth in traumatic accidents, the number of persons with various chronic conditions, and the aging population have all increased the need for ambulance services. Throughout the projected period, it is also anticipated that the rise in medical tourism and the availability of reimbursement schemes would increase the demand for ambulance services. The steady rise in traumatic accidents is expected to drive market expansion. For instance, the National Health Portal estimates that 5 million individuals worldwide pass away each year due to different injuries.
Over the following years, it is anticipated that the growing worldwide elderly population and rising rates of chronic illnesses like diabetes and cancer, and sophisticated medical requirements will drive the market's expansion. The study on the global ambulance services industry comprehensively evaluates the market. Additionally, it is anticipated that the Ambulance Services Market will be driven throughout the anticipated period due to favorable reimbursement policies and increased medical tourism. Several restrictions and challenges can hinder the industry from growing. Some restraint factors that can prevent market expansion include the possibility of prescription mistakes by a pharmaceutical expert and lower medical reimbursement rates in underdeveloped nations.
Covid-19 Impact:
The COVID-19 epidemic has caused illnesses and fatalities, enormous global uncertainty, and changed the character of solid waste management. Worldwide demand for medical transport services has surged as a result of this. The epidemic has altered peoples' consumption and behavioral habits, which has abruptly changed the volume, make-up, and rate at which municipal solid trash is generated, depending on the locality. To survive in business, market participants developed several business tactics in reaction to the COVID-19 catastrophe, including alliances, technology advancements, and strategic agreements. For instance, Mahindra announced the release of the BS-6 Supro ambulance in June 2020.
This ambulance comes with a folding combi cart, medical supplies, air conditioning, an advertising system, and internal illumination. In the upcoming years, it is also anticipated that the rising demand for air ambulance services and the high number of patients with private insurance would boost this industry.
Key Insights
As per the analysis shared by our research analyst, the global medical transport services market is expected to grow at a CAGR of 4.50% over the forecast period.
In terms of revenue, the global medical transport services market was valued at around USD 87.20 billion in 2021 and is projected to reach USD 113.55 billion by 2028.
Due to good payment rules, an increase in traffic accidents, medical tourism, and the number of older people, demand for ambulance services is rising. Road accidents are rising, and these incidents need immediate medical care and ambulance assistance.
By transport vehicles, the ground ambulance category dominated the market in 2021.
By emergency services type, the emergency services category dominated the market in 2021.
North America dominated the global medical transport services market in 2021.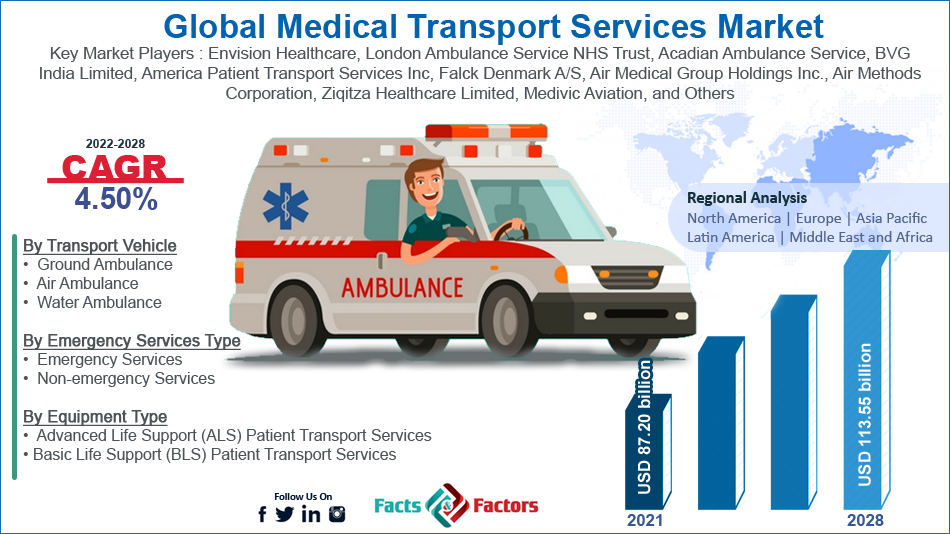 To know more about this report | Request Free Sample Copy
Growth Drivers
An increase in accidents will drive the market demand.
Increased use of personal and commercial automobiles has led to increased accidents. Accidents frequently necessitate urgent hospital admissions for medical care and assistance. As a result, patients need ambulance services to go to and from hospitals. The United States is among the nations with the highest number of traffic accidents worldwide. To give patients the best care possible, ambulance services are transported to the area using specialized water, ground, and air vehicles. These services are connected to and integrated with communication and transportation networks, specialty care facilities, hospitals, trauma centers, and rehabilitation facilities. They work with patient care technologies, including essential life support (BLS) and advanced life support (ALS), and are used in both emergency and non-emergency situations (ALS).
Restraints
The increased cost of transportation hampers the market growth
But it will take a lot of money to move in the direction of providing and improving healthcare transportation services. When local players are reluctant to make such investments, underdeveloped economies cannot do so. As a result, the rate of market expansion will be severely impacted. A problem for the sector is supplying high-quality healthcare transportation services. The primary players' narrow reach is stifling the rate of growth.
Opportunity
Introduction of ambulances with several specialties to create opportunities in the market
The introduction of multi-specialty ambulances, outfitted with cutting-edge instruments and technology, provides patients with immediate, high-quality care. Many healthcare facilities also use air ambulances to transfer patients with infectious illnesses and life-threatening situations, which increases patient safety, comfort, and flexibility. During the projected period, the adoption of supportive government policies to promote public health and significant advancements in healthcare infrastructure are anticipated to fuel market expansion for ambulance services globally.
Segmentation Analysis
The global medical transport services market is segregated based on transport vehicle, emergency service type, equipment type, and region.
The market is divided into ground ambulance services, air ambulance services, and water ambulance services based on the mode of transportation. The market shares are likely to be dominated by ground ambulance services. Their efficiency and widespread use are the determining variables. The market leadership and highest revenue share belonged to the ground ambulance category. Ground ambulances include Vans, pickup trucks, cars, SUVs, motorcycles, bicycles, all-terrain vehicles, golf carts, and buses. Increased cardiovascular disease cases in this area are predicted to drive market growth. For example, according to the CDC, one person in the United States passes away from a cardiovascular problem every 30 seconds.
The market is divided into emergency services and non-emergency services based on the emergency services type. Due to the frequency of cardiovascular disorders such as cardiac arrest, stroke, and congestive heart failure, emergency services are expected to have the highest CAGR throughout the estimated period. Patients with severe injuries or illnesses and those who require immediate medical care are given emergency ambulance services. For instance, the Heart and Strokes Organization of Canada estimates that every year in Canada, over 35,000 individuals experience cardiac arrest, whereas this figure rises to about 62,000 people who share stroke.
The market is divided into essential life support (BLS) ambulance services and advanced life support (ALS) ambulance services based on the equipment used. The advanced life support (ALS) ambulance services would be projected to dominate the market. The elements are responsible for the rise in highly developed machinery and skilled workers, the rising awareness of life support services, and the increasing prevalence of cardiovascular diseases. An automated external defibrillator, pulse oximetry, blood pressure monitoring equipment, oxygen delivery services, and nurses to help patients who are not physically or emotionally fit are all standard features of a basic life support ambulance.
Report Scope
| | |
| --- | --- |
| Report Attribute | Details |
| Market Size in 2021 | USD 87.20 Billion |
| Projected Market Size in 2028 | USD 113.55 Billion |
| CAGR Growth Rate | 4.50% CAGR |
| Base Year | 2021 |
| Forecast Years | 2022-2028 |
| Key Market Players | Envision Healthcare, London Ambulance Service NHS Trust, Acadian Ambulance Service, BVG India Limited, America Patient Transport Services Inc, Falck Denmark A/S, Air Medical Group Holdings Inc., Air Methods Corporation, Ziqitza Healthcare Limited, Medivic Aviation, and Others |
| Key Segment | By Transport Vehicle, Emergency Services Type, Equipment Type, and Region |
| Major Regions Covered | North America, Europe, Asia Pacific, Latin America, and the Middle East & Africa |
| Purchase Options | Request customized purchase options to meet your research needs. Explore purchase options |
Recent Developments
In September 2020, The International Critical Air Transfer Team (ICATT) and the Kyathi collaborated to develop India's first integrated air ambulance service in Karnataka.
In October 2020, Advatech Healthcare Europe introduced HIPPO Mobility, the first technology-driven, customized, asset-light, and affordable transportation service in the UK for non-emergency patients, the elderly, and people with disabilities.
Regional Landscape
North America dominates the market during the forecast period.
The Global Ambulance Services Market is divided into North America, Europe, Asia Pacific, and the Rest of the World based on the regional analysis. Due to favorable reimbursement policies, regulatory changes in the healthcare industry, rising demand for high-quality healthcare facilities, and developed healthcare infrastructure in this region, North America will have the most significant share of the market. Due to the rise in the number of elderly and obese people, who are more vulnerable to numerous chronic and acute diseases, the region has a high proportion of the global market. This surge in acceptance of modern treatment techniques and favorable reimbursement policies may be attributed to this.
On the other hand, Asia-Pacific is anticipated to see the quickest growth over the projection period. The business in the Asia-Pacific area is expected to grow because of improved healthcare facilities, a sizable untapped market, and a rise in traffic accidents.
Competitive Landscape
Key players within global Medical Transport Services market include
Envision Healthcare
London Ambulance Service NHS Trust
Acadian Ambulance Service
BVG India Limited
America Patient Transport Services Inc
Falck Denmark A/S
Air Medical Group Holdings Inc.
Air Methods Corporation
Ziqitza Healthcare Limited
Medivic Aviation
The Global Medical Transport Services market is segmented as follows:
By Transport Vehicle
Ground Ambulance
Air Ambulance
Water Ambulance
By Emergency Services Type
Emergency Services
Non-emergency Services
By Equipment Type
Advanced Life Support (ALS) Patient Transport Services
Basic Life Support (BLS) Patient Transport Services
By Region
North America
Europe

France
The UK
Spain
Germany
Italy
Nordic Countries
Benelux Union

Belgium
The Netherlands
Luxembourg

Rest of Europe

Asia Pacific

China
Japan
India
Australia
South Korea
Southeast Asia

Indonesia
Thailand
Malaysia
Singapore
Rest of Southeast Asia

Rest of Asia Pacific

The Middle East & Africa

Saudi Arabia
UAE
Egypt
South Africa
Rest of the Middle East & Africa

Latin America

Brazil
Argentina
Rest of Latin America