Industry Insights
[227+ Pages Report] According to the report published by Facts Factors, the global marine battery market size was worth around USD 0.53 billion in 2022 and is predicted to grow to around USD 2.1 billion by 2030 with a compound annual growth rate (CAGR) of roughly 18.61% between 2023 and 2030. The report analyzes the global marine battery market drivers, restraints/challenges, and the effect they have on the demands during the projection period. In addition, the report explores emerging opportunities in the marine battery market.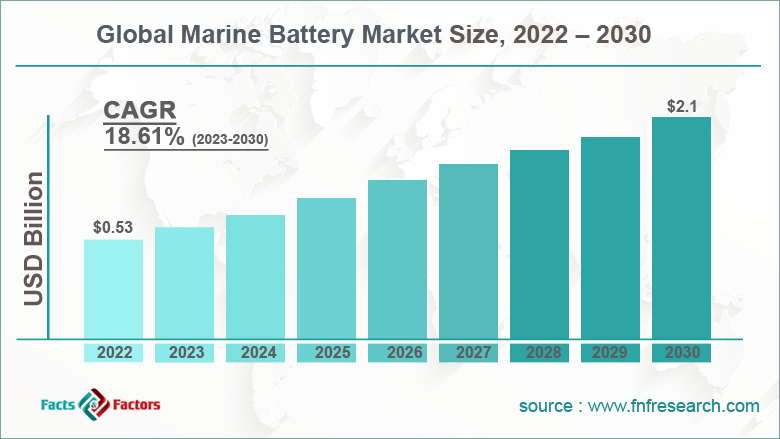 Market Overview
The global industry deals with the production of batteries that are meant specifically to be used underwater or in marine environments including processes that are carried out on yachts, ships, boats, or other water vehicles. These batteries are designed with materials and exhibit features that allow them to withstand extremely harsh environments and conditions that may occur around water including extreme temperatures, saltwater exposure, and intense vibration. Marine batteries can provide power to a wide range of systems and devices that are onboard any water vehicle like refrigeration, navigation, communication devices, lighting, and other systems.
Key Insights
As per the analysis shared by our research analyst, the global marine battery market is estimated to grow annually at a CAGR of around 18.61% over the forecast period (2022-2030)
In terms of revenue, the global marine battery market size was valued at around USD 0.53 billion in 2022 and is projected to reach USD 2.1 billion, by 2030.
The market is projected to grow at a significant rate due to the growing demand for electric or hybrid boats
Based on capacity segmentation, 100 - 250 Ah were predicted to show maximum market share in the year 2022
Based on propulsion type segmentation, fully electric was the leading type in 2022
On the basis of region, Asia-Pacific was the leading revenue generator in 2022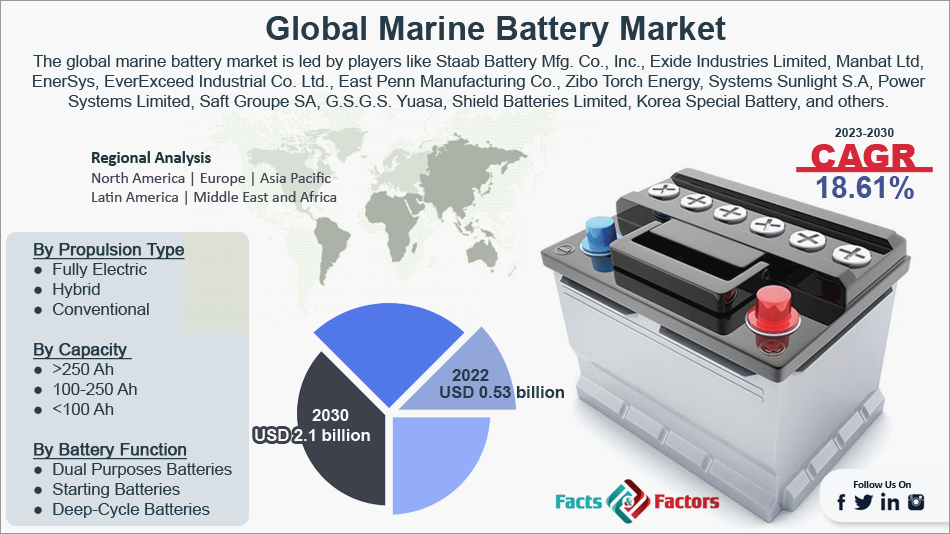 Growth Drivers
Growing demand for electric or hybrid boats to drive market growth
The global marine battery market is projected to grow owing to the increasing demand for hybrid or electric boats that offer several advantages over conventional boats. The world is currently moving toward measures to reduce carbon emissions due to the growing pollution rate and its impact on the ecosystem. Hence, there is an increasing focus on environment-friendly measures that not only have less impact on the environment but also prove to be fuel-efficient. This has led to the growing demand for electric vehicles including marine automobiles. Marine batteries can be crucial to powering electric water boats since they are capable of handling the harsh environment that water vehicles and devices onboard are subjected to.
Furthermore, the increasing investments in offshore wind energy could become a driving factor for the global sales volume since the industry is expanding rapidly. Marine batteries in this segment are used to store the energy thus generated. Offshore wind energy has tremendous potential as the demand for renewable energy increases at a rapid rate. As investments in the sector continue to rise, the demand for marine batteries is expected to benefit from the trend.
Restraints
High cost of initial investment to restrict the market growth
Marine batteries are different from traditional batteries and require specialized systems and mechanisms to develop effective and long-running batteries. The initial cost of investment for developing marine batteries is exceptionally high and small market players may find it intimidating to compete with large-scale producers and suppliers. Furthermore, this could delay higher adoption of marine batteries since the cost of maintenance is equally high and currently, there is a significant lack in the availability of parts that help marine batteries run efficiently.
Opportunities
Growing research & development to provide higher growth opportunities
Since end-user applications for marine batteries have witnessed a significant rise in the last few years, the investment toward research & development of new battery chemistries has increased tremendously. Universities and research centers have increased funding on determining the efficiency of other battery chemistries like solid-state batteries and lithium-sulfur batteries. These events are expected to help the global industry register higher growth opportunities since they may offer longer shelf life along with higher energy density.
Challenges
Limited range to act as a challenge during the growth phase
Marine batteries currently face issues in terms of having limited capacity and range. For ships or boats that require long trips, marine batteries can be relied on completely and offshore companies have to invest in additional measures to ensure that the systems run without any glitches during the entire sailing period. Furthermore, the durability and reliability of the batteries in terms of harsh environments are doubtful which is another challenge the industry players need to overcome.
Segmentation Analysis
The global marine battery market is segmented based on propulsion type, ship type, capacity, battery function, and region
Based on propulsion the global market segments are fully electric, hybrid, and conventional.
The global market registered the highest growth in the fully electric segment in 2022 and it may continue to dominate the market during the forecast period
Several benefits associated with the use of electric batteries are the reasons for high CAGR
For instance, they offer reduced emissions as compared to traditional batteries while also having a less negative impact on the aquatic life
Furthermore, reduced noise pollution and improved performance efficiency are important driving factors
Currently, the world has less than 1% of freshwater accessible for further use
Based on ship type, the global market divisions are unmanned, defense, and commercial.
Based on capacity, the global market is divided into >250 Ah, 100 to 250 Ah, and <100 Ah.
Every ship has its specific need and it is difficult to quantify the most popular battery capacity
However, the most significantly used capacity is the 100 to 250 AH segment since the range suits the requirements of small and large boats
Ship owners give importance to other factors as well when choosing battery capacity to be installed onboard
Some of these other factors are battery voltage, type of battery, and discharge rate
A battery with a charge capacity of 10 Ah can provide up to 10 Amps per hour
Based on battery function, the global market is divided into dual purposes batteries, starting batteries, and deep-cycle batteries.
Recent Developments:
In October 2021, Electric Fuel, a leading manufacturer of professional-grade high-performance batteries, announced the launch of a new lithium-ion marine battery with 48V high energy density. The launch was announced at the METSTRADE 2021 show held in Amsterdam
In June 2022, Leclanché, a Swiss battery manufacturer, announced that it had reached the final development stage of the third generation of the company's marine battery system. The new technology is customized to meet the requirements of shipbuilders producing hybrid and electric vessels
In December 2022, researchers at the Indian Institute of Technology (IIT)- Roorkee announced that they had successfully developed a short endurance machine ship that operated using a battery. The new unit has the potential to replace small traditionally-powered vessels
Report Scope
| | |
| --- | --- |
| Report Attribute | Details |
| Market Size in 2022 | USD 0.53 Billion |
| Projected Market Size in 2030 | USD 2.1 Billion |
| CAGR Growth Rate | 18.61% CAGR |
| Base Year | 2022 |
| Forecast Years | 2023-2030 |
| Key Market Players | Staab Battery Mfg. Co. Inc., Exide Industries Limited, Manbat Ltd, EnerSys, EverExceed Industrial Co. Ltd., East Penn Manufacturing Co., Zibo Torch Energy, Systems Sunlight S.A, Power Systems Limited, Saft Groupe SA, G.S.G.S. Yuasa, Shield Batteries Limited, Korea Special Battery, and others. |
| Key Segment | By Propulsion Type, Ship Type, Capacity, Battery Function, and Region |
| Major Regions Covered | North America, Europe, Asia Pacific, Latin America, and the Middle East &, Africa |
| Purchase Options | Request customized purchase options to meet your research needs. Explore purchase options |
Regional Analysis
Asia-Pacific to continue its dominance
The global marine battery market is projected to witness the highest growth in Asia-Pacific both in the terms of consumption and production. Several factors are expected to positively influence regional growth. The growing marine activities are projected to drive the demand for marine batteries in the regions of India and China. The countries are investing heavily in off-shore activities. Both regions have vast coastlines and the governments have increased investment in the potential that the associated water bodies hold.
For instance, China has amped up its funding toward oil exploration and production to meet the growing domestic demand and give tough competition to the western countries. Furthermore, the region is also investing in developing the fisheries segment. India has recently invested heavily in exploring the wind energy segment and is anticipated to continue this trend in the coming years further leading to the demand for marine batteries.
Competitive Analysis
Staab Battery Mfg. Co. Inc.
Exide Industries Limited
Manbat Ltd
EnerSys
EverExceed Industrial Co. Ltd.
East Penn Manufacturing Co.
Zibo Torch Energy
Systems Sunlight S.A
Power Systems Limited
Saft Groupe SA
G.S.G.S. Yuasa
Shield Batteries Limited
Korea Special Battery
The global marine battery market is segmented as follows:
By Propulsion Type Segment Analysis
Fully Electric
Hybrid
Conventional
By Ship Type Segment Analysis
Unmanned
Defense
Commercial
By Capacity Segment Analysis

>250 Ah
100-250 Ah
<100 Ah

By Battery Function Segment Analysis

Dual Purposes Batteries
Starting Batteries
Deep-Cycle Batteries

By Regional Segment Analysis

North America
Europe

France
The UK
Spain
Germany
Italy
Nordic Countries
Benelux Union

Belgium
The Netherlands
Luxembourg

Rest of Europe

Asia Pacific

China
Japan
India
Australia
South Korea
Southeast Asia

Indonesia
Thailand
Malaysia
Singapore
Rest of Southeast Asia

Rest of Asia Pacific

The Middle East & Africa

Saudi Arabia
UAE
Egypt
South Africa
Rest of the Middle East & Africa

Latin America

Brazil
Argentina
Rest of Latin America