Industry Insights
[227+ Pages Report] According to the report published by Facts & Factors, the global residential battery market size was worth around USD 12 billion in 2021 and is predicted to grow to around USD 49 billion by 2028 with a compound annual growth rate (CAGR) of roughly 17.75% between 2022 and 2028. The report analyzes the global residential battery market drivers, restraints/challenges, and the effect they have on the demands during the projection period. In addition, the report explores emerging opportunities in the residential battery market.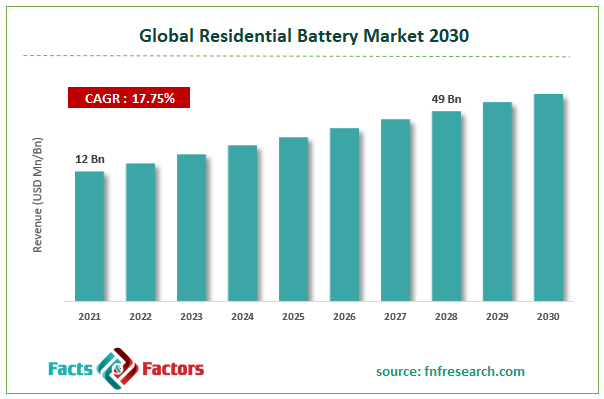 To know more about this report | Request Free Sample Copy
Market Overview
Residential batteries also known as home batteries are power units capable of storing energy to be used in the future for home devices. These batteries are capable of either sourcing energy directly from the power grid or other creational modes of renewable energy like harnessing solar or wind power. In most cases, households can either install a single residential battery or couple it with other batteries to improve the overall energy storing capacity. Residential batteries function like other batteries in their recharging and discharging capacity, however, the scale of power storage is more than regular batteries. Home batteries are capable of powering almost all home devices depending on the strength of the storage unit. Batteries for home settings are termed revolutionary since they redirect the power consumption trend back into the hands of the people and do not rely on the age-old mechanism of the power grid for continuous energy supply which breaks down frequently without prior intimation. Residential batteries provide a secure source of constant power supply, without which it is difficult to function in the current modernized world, where almost all surrounding things work on some source of power or electricity
Key Insights
As per the analysis shared by our research analyst, the global residential battery market is estimated to grow annually at a CAGR of around 17.75% over the forecast period (2022-2028).
In terms of revenue, the global residential battery market size was valued at around USD 12 billion in 2021 and is projected to reach USD 49 billion, by 2028. Due to a variety of driving factors, the market is predicted to rise at a significant rate.
Based on type segmentation, lithium-ion battery was predicted to show maximum market share in the year 2021
Based on operation segmentation, standalone was the leading revenue-generating operation in 2021.
On the basis of region, Asia-Pacific was the leading revenue generator in 2021
Covid-19 Impact:
The global market cap is projected to benefit from the pandemic in the coming years. Industrial power consumption is estimated to have been reduced by over 70% during the initial phase of the pandemic owing to the closure of production facilities and the rise in remote work culture. Since the electricity requirement in homecare settings increased so did the demand for residential batteries and the same trend is expected in the coming years.
Growth Drivers
Rising requirement of constant power supply in residential units to propel market expansion
The global residential battery market is projected to benefit from the increasing requirement of continuous and constant power supply in-home settings propelled by various factors including, but not limited to, exponential population growth, increasing use of smart and electricity-run devices, and rise in spending on other intelligent devices in a modern home like power-run windows, alarm systems, and others. Another factor contributing to the growing energy requirement is the adoption of a work-from-home hybrid work model requiring people to spend more time at home leading to more energy consumption. Although there has been a decline in the percentage of people working remotely as compared to at the start of the pandemic, nonetheless, the number is significantly high. As per a recent survey in India, around 40% of the respondents claimed that they prefer hybrid models while 30% chose permanent work-from-home models.
Restraints
High cost of installation to restrict the market growth
In the case of lithium-ion batteries, the installation cost can range from USD 7000 to USD 14000. The price may depend on the energy requirements in the house. The price may not be effective for low-income groups, even though they are a one-time investment, they may not fit the budget of a large section of the population living in poor economies.
Opportunities
Growing advancements in home batteries to provide expansion opportunities
The global residential battery market cap is anticipated to garner more growth opportunities as a result of developments in residential batteries. For instance, the emergence of zinc-manganese oxide batteries, and NanoBolt lithium tungsten batteries. There are growing advancements to curb the high cost of the product while delivering efficient outputs for greater market penetration which may result in higher revenues.
Challenges
Issues with recharge source present challenges for further market penetration
The global market growth may get restricted owing to concerns related to battery recharge sources. In developing economies, power supply from the main grid is a major concern as there are frequent and long electricity cuts. This leads to incomplete recharge of home batteries in case of longer power cuts. For technology using renewable sources, battery recharge becomes a problem during the prolonged absence of sunlight.
Segmentation Analysis
The global residential battery is segmented based on operation, type, and region.
Based on operation, the global market segments are solar and standalone. Currently, the highest revenue is generated from standalone systems since they have been present in the market longer than solar panels. A battery bank that can provide an average American household with a constant power supply for three days would have to supply 90 kilowatts of energy requiring 38 batteries.
Based on type, the global market is divided into lead-acid battery, and lithium-ion battery, which also leads the segmental revenue. One of the major causes of higher adoption is the decreasing prices of lithium-ion batteries along with improved output efficiency. This battery technology not only charges faster but also lasts longer and has higher power density providing improved battery life in lighter packaging. In 2021, lithium-ion battery was priced at USD 123 per kWh, while the price in 2013 was 667 per kWh, a decrease of 81.57% in a matter 8 years
Recent Developments:
In October 2021, SolarEdgar Technology, a United States startup, launched two products in the residential batteries market. The products are termed as Energy Hub inverter and Energy Bank battery. As per company management, the direct current (DC)-coupled home energy storage system is capable of providing a backup power of 9.7 kWh. It can also be connected with 8 other batteries, delivering more than 87kWh of energy.
In June 2022, Natural Battery Technologies, an Indian battery manufacturer, started the production of lithium-based batteries capable of recharging from solar power. The batteries are designed for commercial and residential purposes with storage capacities ranging between 1.5 kWh to 20 kWh. The company has announced customized batteries too depending on clients' requirement.
Report Scope
| | |
| --- | --- |
| Report Attribute | Details |
| Market Size in 2021 | USD 12 Billion |
| Projected Market Size in 2028 | USD 49 Billion |
| CAGR Growth Rate | 17.75% CAGR |
| Base Year | 2021 |
| Forecast Years | 2022-2028 |
| Key Market Players | Siemens, Samsung, ABB, Eaton, BYD Electronic Company, LG Chem Power, Tesla, Luminous Power Technologies, and others. |
| Key Segment | By Operation, Type, and Region |
| Major Regions Covered | North America, Europe, Asia Pacific, Latin America, and the Middle East &, Africa |
| Purchase Options | Request customized purchase options to meet your research needs. Explore purchase options |
Regional Analysis
Asia-Pacific to generate the highest revenue in the coming years
The global residential battery market is projected to be dominated by Asia-Pacific in the coming years owing to the high demand for residential batteries in home settings. The growing population and the subsequent higher demand for electricity supply is a major contributor to regional revenue pulled by the rising number of domestic players offering a variety of producers catering to each market segment. China's market is anticipated to be propelled by growing initiatives by the government to become a world leader in the coming years, making it invest more in home-grown brands and companies. The government has already shown its strength and ability to cater to the growing need for solar-powered energy storage batteries. In September 2021, China installed over 2.14 GW of energy for residential rooftop solar capacity, which is an increase of 64.61% from the previous year.
Competitive Analysis
Siemens
Samsung
ABB
Eaton
BYD Electronic Company
LG Chem Power
Tesla
Luminous Power Technologies
The global residential battery is segmented as follows:
By Operation
By Type
Lead-Acid Battery
Lithium-ion Battery
Others
By Regional Segment Analysis
North America
Europe

France
The UK
Spain
Germany
Italy
Nordic Countries
Benelux Union

Belgium
The Netherlands
Luxembourg

Rest of Europe

Asia Pacific

China
Japan
India
Australia
South Korea
Southeast Asia

Indonesia
Thailand
Malaysia
Singapore
Rest of Southeast Asia

Rest of Asia Pacific

The Middle East & Africa

Saudi Arabia
UAE
Egypt
South Africa
Rest of the Middle East & Africa

Latin America

Brazil
Argentina
Rest of Latin America