Industry Insights
[235+ Pages Report] According to the report published by Facts and Factors, the global lead acid battery market size was worth around USD 79.9 billion in 2021 and is predicted to grow to around USD 115.1 billion by 2030 with a compound annual growth rate (CAGR) of roughly 2.52% between 2022 and 2030. The report analyzes the global lead acid battery market drivers, restraints/challenges, and the effect they have on the demands during the projection period. In addition, the report explores emerging opportunities in the lead acid battery market.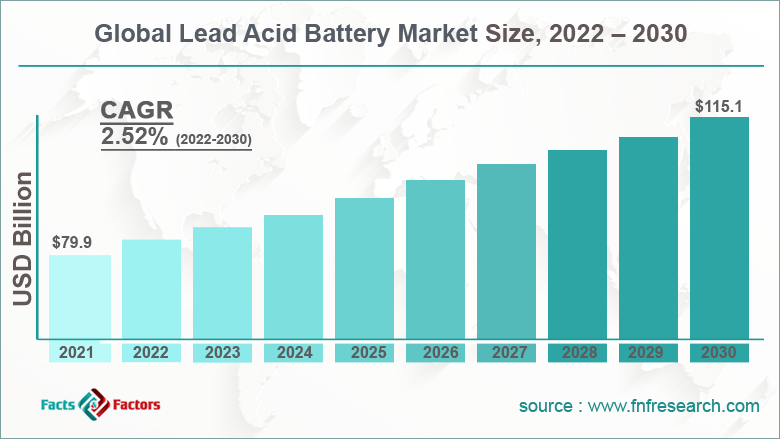 To know more about this report | Request Free Sample Copy
Market Overview
The lead-acid battery was first developed in 1959 by Gaston Plante, a French physicist. It is a rechargeable energy storage device and was the first battery to be ever created which could be re-powered. However, with the development of new modern-age batteries, the demand for lead batteries has been struggling with intense competition which is further affected by the low energy density of lead-acid batteries. There are various features that are driving the high demand or hold the lead-acid batteries have on the semiconductor market worldwide.
In the chemistry world, they can be classified into secondary battery segments where chemical reactions cannot be reversed. Discharging in a secondary battery involves the chemical process of extracting electric current also called forward reaction while charging is the action of regenerating the active material for more energy generation. The negative electrode in lead acid batteries is made of porous or spongy lead while the positive electrode is made of lead oxide.
Key Insights
As per the analysis shared by our research analyst, the global lead acid battery market is estimated to grow annually at a CAGR of around 2.52% over the forecast period (2022-2030)
In terms of revenue, the global lead acid battery market size was valued at around USD 79.9 billion in 2021 and is projected to reach USD 115.1 billion, by 2030.
The lead acid battery industry is projected to grow at a significant rate due to the cost-effectiveness of lead-acid batteries
Based on construction method segmentation, VRLA lead acid battery was predicted to show maximum market share in the year 2021
Based on end-user segmentation, utilities was the leading user in 2021
On the basis of region, Asia-Pacific was the leading revenue generator in 2021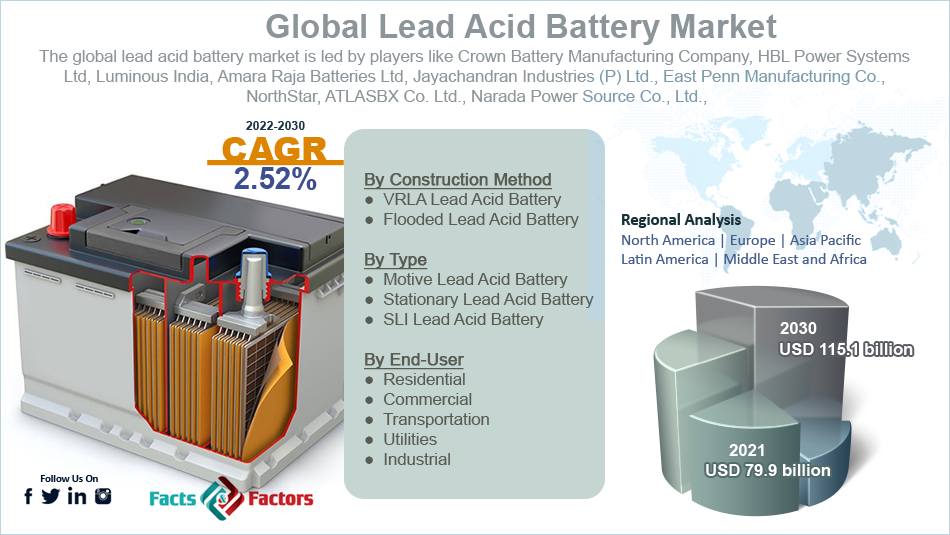 To know more about this report | Request Free Sample Copy
Growth Drivers
Cost-effectiveness of lead acid batteries to propel market demand
The global lead acid battery market is projected to witness surging growth owing to the cost-efficiency of the first rechargeable batteries ever developed as compared to all the modern-age batteries. Moreover, lead-acid batteries are excellent carriers of surge currents, which represent the maximum input current that an electrical device draws instantaneously the moment it is switched on. There are a very limited number of batteries that can offer the surge current capacity that lead-acid batteries hold making them ideal in large industrial settings.
The cells present in these batteries have a larger power-to-weight ratio, which measures the performance level of a power source. All of these features have managed to keep lead-acid batteries relevant, and in fact, a preferred choice amongst end-user applicants even to date when there are a lot of other options available in the commercial market. Even in settings where surge current does not play a significant role, lead batteries have managed to create and withhold a position because of the overall cost-efficiency. Additionally, growing applications in mining activities where they are used on headlamps, essential equipment for miners, could further drive the global market demand.
Restraints
Growing demand for lithium-ion batteries to act as a growth restraints
As per market analysts, the current most preferred choice for the majority of the players in the end-user segments is lithium-ion batteries, also called li-ion batteries. The market penetration index for li-ion batteries has increased multifold in the last couple of years mostly because of the less charging time required by li-ion batteries as compared to lead-acid along with factors like faster rate of current acceptance by the former type. This could lead to the lead acid battery industry witnessing certain growth restrictions.
Opportunities
Growing application interest in renewable energy to provide growth opportunities
As per various market studies, the newer and advanced versions of lead-acid batteries are expected to be put to greater use in the clean energy or renewable energy segment. The last decade has witnessed massive technical changes in lead-acid batteries that have contributed to improved performance and durability along with weight reduction and better recyclability. Companies in the renewable energy segment are eyeing the use of lead-acid batteries, which are lower in price, in the associated businesses to lower the final cost of investment required.
Challenges
Associated risk of a safety hazard to challenge the market expansion
If lead-acid batteries are handled incorrectly, there is a high chance of serious injury because of the capability to deliver high charge at a high rate. When the batteries are being charged, oxygen and hydrogen are released into the air which can lead to an explosion since the former is combustion supportive whereas the latter can be easily ignited and is highly flammable. As per official recommendation, flooded lead-acid batteries are not supposed to be used in indoor units and need to be kept in a battery box or in an enclosure with effective ventilation.
Segmentation Analysis
The global lead acid battery market is segmented by construction method, type, end-user, and region
Based on the construction method, the global market is divided into VRLA lead acid battery and flooded lead acid battery.
VRLA stands for valve regulated lead–acid battery which is also known as a sealed lead-acid battery. The segment was dominated by the VRLA lead batteries since they are more advanced in terms of technology and exhibit a longer life cycle as compared to the counterpart
VRLA stands at higher cost-effectiveness than lithium-ion batteries as well making them a good investment in terms of rechargeable batteries
The life expectancy of VRLA batteries is between 3 to 5 years but the longevity may be influenced by multiple other factors as well
Based on type, the lead acid battery industry is divided into motive lead acid battery, stationary lead acid battery, and SLI lead acid battery
Based on end-user, the global market is segmented into residential, commercial, transportation, utilities, and industrial
In 2021, the global market was dominated by the utilities segment due to the high demand for batteries in grid energy storage systems
Lead-acid batteries are used extensively in automotive batteries, portable consumer electronics, and electric vehicles which could drive the demand for the product in the commercial segment during the forecast period
When the capacity of lead-acid batteries drops to 70% or 80%, they should be replaced
Recent Developments:
In March 2022, Exide Industries, India's leading lead-acid battery maker, announced its plan to set up a large manufacturing unit in collaboration with SVOLT Energy Technology Co. Ltd (SVOLT), a Chinese battery maker. The manufacturing unit will be a facility dedicated to GW scale li-ion cell production and the agreement allows Exide to make use of SVOLT's resources to encourage li-ion cell production in India
In August 2020, Contemporary Amperex Technology Ltd (CATL), a global leader operating in the market, announced a partnership with Schneider Electric. The collaboration aims to replace lead-acid batteries with Li-ion batteries and both companies will be jointly working toward expanding the market for lithium-ion batteries
Report Scope
| | |
| --- | --- |
| Report Attribute | Details |
| Market Size in 2021 | USD 79.9 Billion |
| Projected Market Size in 2030 | USD 115.1 Billion |
| CAGR Growth Rate | 2.52% CAGR |
| Base Year | 2021 |
| Forecast Years | 2022-2030 |
| Key Market Players | Crown Battery Manufacturing Company, HBL Power Systems Ltd, Luminous India, Amara Raja Batteries Ltd, Jayachandran Industries (P) Ltd., East Penn Manufacturing Co., NorthStar, ATLASBX Co. Ltd., Narada Power Source Co. Ltd., Amara Raja Corporation GS Yuasa Corp, C&D Technologies Inc., Leoch International Technology Ltd., Johnson Controls, Chaowei Power Holdings Limited, East Penn Manufacturing Co, Exide Technologies, Hoppecke Batterien GmbH & Co. KG., and others. |
| Key Segment | By Construction Method, Type, End-User, and Region |
| Major Regions Covered | North America, Europe, Asia Pacific, Latin America, and the Middle East &, Africa |
| Purchase Options | Request customized purchase options to meet your research needs. Explore purchase options |
Regional Analysis
Asia-Pacific to emerge as the indisputable leader
The global lead acid battery market is projected to be dominated by Asia-Pacific during the forecast period with China acting as the major contributor followed by India. China is home to some of the largest and most dominant players manufacturing lead-acid batteries and having access to the international market with consistently growing collaborations. The rapid industrialization in the country as well as the growing need for advanced utilities to meet the demands of an exponentially surging population rate are key factors that could drive the demand in the regional market. China is currently the number one exporter, manufacturer, and consumer of lead-acid batteries. The region is known for its ability to mass-produce every object starting from everyday essentials to equipment in industrial facilities. The vision of the country leaders to become self-reliant is a major growth-driving factor.
Competitive Analysis
Crown Battery Manufacturing Company
HBL Power Systems Ltd
Luminous India
Amara Raja Batteries Ltd
Jayachandran Industries (P) Ltd.
East Penn Manufacturing Co.
NorthStar
ATLASBX Co. Ltd.
Narada Power Source Co. Ltd.
Amara Raja Corporation GS Yuasa Corp
C&D Technologies Inc.
Leoch International Technology Ltd.
Johnson Controls
Chaowei Power Holdings Limited
East Penn Manufacturing Co
Exide Technologies
Hoppecke Batterien GmbH & Co. KG.
The global lead acid battery market is segmented as follows:
By Construction Method Segment Analysis
VRLA Lead Acid Battery
Flooded Lead Acid Battery
By Type Segment Analysis
Motive Lead Acid Battery
Stationary Lead Acid Battery
SLI Lead Acid Battery
By End-User Segment Analysis
Residential
Commercial
Transportation
Utilities
Industrial
By Regional Segment Analysis
North America
Europe

France
The UK
Spain
Germany
Italy
Nordic Countries
Benelux Union

Belgium
The Netherlands
Luxembourg

Rest of Europe

Asia Pacific

China
Japan
India
Australia
South Korea
Southeast Asia

Indonesia
Thailand
Malaysia
Singapore
Rest of Southeast Asia

Rest of Asia Pacific

The Middle East & Africa

Saudi Arabia
UAE
Egypt
South Africa
Rest of the Middle East & Africa

Latin America

Brazil
Argentina
Rest of Latin America