Industry Insights
[227+ Pages Report] According to Facts and Factors, the global liquid nitrogen market is expected to increase at a compound annual growth rate (CAGR) of 4.8% during the projection period between 2022 and 2028. The valuation for the liquid nitrogen market was USD 17.5 billion in 2021 and it is expected to cross USD 22.8 billion, by 2028. The report explores various factors and their implications on the liquid nitrogen market's growth.
Market Overview
Liquid nitrogen is colorless, odorless, inert, non-corrosive, extremely cold, and non-flammable. The majority of the atmosphere is composed of nitrogen (78% by volume). Nitrogen is inert and does not support combustion. When it is transformed into liquid form, nitrogen turns into cryogenic liquid.
Cryogenic liquids are liquefied gases with boiling points less than -238 degrees Fahrenheit. Liquid nitrogen has a boiling point of -320 degrees Fahrenheit. When cryogenic liquids evaporate, they emit a tremendous volume of gas.
Cryogenic refrigeration is the most typical application of liquid nitrogen. Because liquid nitrogen contains a high percentage of air, 80 percent, it is simple to create and has a high thermal capacity with a long retention time. This liquid acts as a coolant in vacuum pumps, superconductors, and other equipment and materials. Liquid nitrogen is utilized in the medical sector to insulate liquid helium, which is used for MRIs and low-temperature medicinal & cosmetic treatments. It is also used to remove excess tissue, pre-cancerous cells, tumors, and cryogenics. In general, liquid nitrogen is regarded as a cryogenic liquid capable of rapidly freezing when in contact with live cells. As a result, it's used in the cryopreservation of biological specimens like eggs, sperm, and animal genetic samples.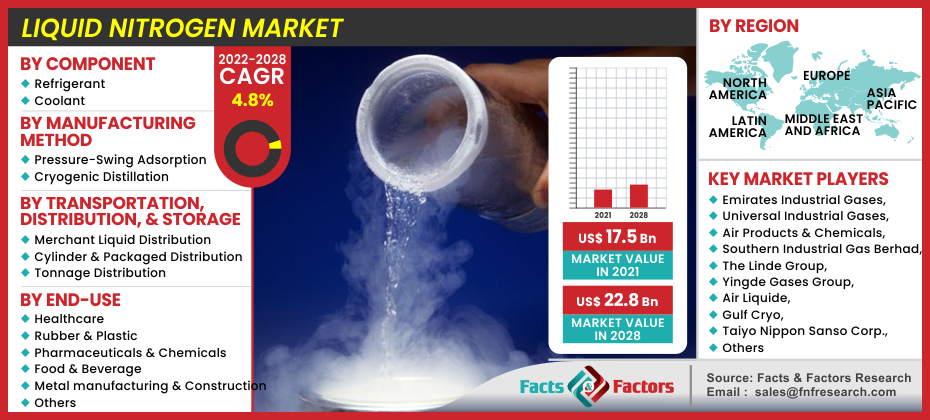 To know more about this report | Request Free Sample Copy
COVID-19 Impact:
COVID-19 has stifled the expansion of the market under consideration. As a result of global constraints, the transportation business has been afflicted by the pandemic. Since early March 2020, the number of people using public transportation in IGC countries has decreased by 80%. Internationally and interstate, there is very little movement. This has had an impact on the liquid nitrogen market. However, as a result of the ongoing epidemic, the healthcare business has seen tremendous development as a result of heightened health concerns. This will increase demand for liquid nitrogen as the utilization of medical equipment is likely to rise in the future.
Growth Drivers
The application of liquid nitrogen in a variety of industries is propelling the market expansion
The widespread use of liquid nitrogen as a chilling ingredient in varied end-use sectors such as pharmaceuticals and food and beverages is a primary driving factor contributing to the growth of the global liquid nitrogen market. The consumption of packaged food has grown dramatically as a result of rapid modernization, and there is rising concern over food preservation. Because liquid nitrogen is chemically stable, it serves an essential function in chilling and freezing food products, enhancing their shelf life. Furthermore, liquid nitrogen is widely employed in the healthcare and medical sectors to treat a variety of skin issues. Liquid nitrogen is generally supplied as an inorganic chemical, and its demand is predicted to rise during the projection period due to its variety of applications.
Restraints
Freezing property can have some harmful impacts which may hamper the market growth
Liquid nitrogen, with a boiling point of -384 degrees Fahrenheit, is used for a variety of purposes, including machine cooling, treatment to remove undesirable warts, skin, and pre-cancerous cells, and cryogenics. The beneficial freezing capability of liquid nitrogen is sometimes associated with negative consequences. Liquid nitrogen vapor has the potential to quickly freeze skin tissues and produce cold burns. If a small amount of it is swallowed, it can cause liquid nitrogen to expand in the stomach. Because liquid nitrogen is extremely cold, suitable safety precautions must be followed when using it, as cryogenic burns and frostbite can occur, similar to the effects of steam or hot oil. These reasons are impeding the growth of the liquid nitrogen market.
Opportunities
Rising automotive production is expected to result in significant market growth
Nitrogen-powered liquid vehicles can be an excellent option. As a result, liquid nitrogen is widely used as a coolant in automobiles. The Indian government has established the Automotive Mission Plan 2016–26 (AMP 2026) effort to develop the country's automotive industry. The government's collective goal for how the automotive industry should grow in terms of scale, contribution to national growth, technological development, institutional structure, and international standing is clearly laid out. According to the OICA, passenger car production in Africa increased by 1.5 percent in 2019, rising from 756,950 in 2018 to 792,251. As a result, increased automation production will necessitate more liquid nitrogen, acting as a driver for the liquid nitrogen market throughout the forecast period.
Challenges
Liquid nitrogen handling is indeed a challenge
When vaporized, liquid nitrogen expands 695 times its volume and has no warning features, such as color or odor. As a result, if enough liquid nitrogen is evaporated to lower the oxygen percentage to less than 19.5 percent, there is a risk of an oxygen shortage, which may result in unconsciousness. If the oxygen deprivation is severe, death may occur. When utilizing cryogens indoors, handlers must ensure that the room is sufficiently ventilated to avoid asphyxiation risks.
When transferring liquid nitrogen, oxygen in the surrounding air might dissolve and generate an oxygen-enriched atmosphere as the system recovers to ambient temperatures. Because nitrogen has a lower boiling point than oxygen, liquid oxygen evaporates slowly and can accumulate in amounts that can increase the flammability of things such as clothing surrounding the system. To reduce the risk of fire, equipment holding cryo fluids must be kept away from combustible items. Compressed oxygen in a cooling chamber may react with organic substances to form an explosive combination. When employing cryogens inside, make sure the room is sufficiently ventilated.
Segmentation Analysis
The global liquid nitrogen market is segregated on the basis of component, manufacturing method, transportation, distribution, & storage, end-use, and region.
By component, the market is divided into refrigerant and coolant. Coolant is anticipated to witness the fastest function in the liquid nitrogen market as it is employed in numerous end-use sectors such as metal manufacturing and construction, health care, pharmaceuticals, and chemicals.
By manufacturing method, the market is classified into pressure-swing adsorption and cryogenic distillation. The cryogenic distillation segment contributed to the biggest market share because it is a cost-effective technology for producing liquid nitrogen. Large and medium-scale manufacturing plants frequently employ this technology.
By transportation, distribution, and storage, the market is segmented into merchant liquid distribution, cylinder & packaged distribution, and tonnage distribution. Liquid nitrogen is best stored in poorly ventilated places. Liquid nitrogen storage and handling is a huge problem, and due care must be taken to avoid dangers and hazards such as spillage, burns, personal injury, container failure, and container damage. Cryogenic storage is primarily used to store liquid nitrogen. During the projection period, cylinder and packaged gas are expected to increase at the fastest CAGR.
By end-use, the market is divided into healthcare, rubber & plastic, pharmaceuticals & chemicals, food & beverage, metal manufacturing & construction, and others. Pharmaceuticals & chemicals were the market's largest end-user, and it is predicted to rise at a rapid CAGR during the forecast period.
Report Scope
| | |
| --- | --- |
| Report Attribute | Details |
| Market Size in 2021 | USD 17.5 Billion |
| Projected Market Size in 2028 | USD 22.8 Billion |
| CAGR Growth Rate | 4.8% CAGR |
| Base Year | 2021 |
| Forecast Years | 2022-2028 |
| Key Market Players | Emirates Industrial Gases, Universal Industrial Gases, Air Products & Chemicals, Southern Industrial Gas Berhad, The Linde Group, Yingde Gases Group, Air Liquide, Gulf Cryo, Taiyo Nippon Sanso Corporation, Nexair, Praxair, and Messer Group. |
| Key Segment | By Component, By Manufacturing Method, By Transportation, Distribution, & Storage, By End-Use, and By Region |
| Major Regions Covered | North America, Europe, Asia Pacific, Latin America, and the Middle East & Africa |
| Purchase Options | Request customized purchase options to meet your research needs. Explore purchase options |
Regional Landscape
North America is expected to have the biggest market share and lead the liquid nitrogen market. Because developing countries like India and China are expected to be rising markets, the Asia Pacific region is anticipated to witness the fastest market for liquid nitrogen. Aspects like the growth of the metal manufacturing & fabrication industry, rising demand for electronic products from a growing population, and economic development are propelling the development of the liquid nitrogen market in this region.
Recent Developments
June 2021: Inox Air Products has revealed that its proposed project in Hosur will generate liquid nitrogen and other products and will be ready for use in December 2022.
February 2021: Inox Air Products has announced a USD 2000 crore investment to construct 8 new gas processing units across India. Maharashtra, Gujarat, Uttar Pradesh, Tamil Nadu, Andhra Pradesh, Madhya Pradesh, and West Bengal would be home to these new industries.
Competitive Landscape
Some of the main competitors dominating the global liquid nitrogen market are :
Emirates Industrial Gases
Universal Industrial Gases
Air Products & Chemicals
Southern Industrial Gas Berhad
The Linde Group
Yingde Gases Group
Air Liquide
Gulf Cryo
Taiyo Nippon Sanso Corporation
Nexair
Praxair
Messer Group.
The global liquid nitrogen market is segmented as follows:
By Component Segment Analysis
By Manufacturing Method Segment Analysis
Pressure-Swing Adsorption
Cryogenic Distillation
By Transportation, Distribution, and Storage Segment Analysis
Merchant Liquid Distribution
Cylinder & Packaged Distribution
Tonnage Distribution
By End-Use Segment Analysis
Healthcare
Rubber & Plastic
Pharmaceuticals & Chemicals
Food & Beverage
Metal manufacturing & Construction
Others
By Regional Segment Analysis
North America

The U.S.
Canada
Mexico
Rest of North America

Europe

France
The UK
Spain
Germany
Italy
Nordic countries

Denmark
Finland
Iceland
Sweden
Norway

Benelux Reunion

Belgium
The Netherlands
Luxembourg
Rest of Europe
Asia Pacific

China
Japan
India
New Zealand
Australia
South Korea
Southeast Asia

Indonesia
Thailand
Malaysia
Singapore
Rest of Southeast Asia

Rest of Southeast Asia

The Middle East & Africa

Saudi Arabia
UAE
Egypt
Kuwait
South Africa
Rest of the Middle East & Africa

Latin America

Brazil
Argentina
Rest of Latin America