Industry Insights
[217+ Pages Report] According to the report published by Facts and Factors, the global kinase inhibitor in autoimmune diseases market size was worth around USD 4.7 billion in 2021 and is predicted to grow to around USD 7.9 billion by 2030 with a compound annual growth rate (CAGR) of roughly 5.43% between 2022 and 2030. The report analyzes the global kinase inhibitor in autoimmune diseases market drivers, restraints/challenges, and the effect they have on the demands during the projection period. In addition, the report explores emerging opportunities in the kinase inhibitor in the autoimmune diseases market.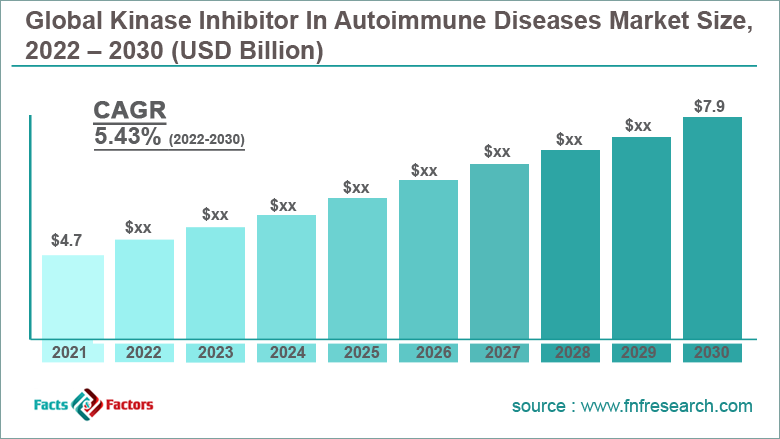 Market Overview
An enzyme inhibitor is any molecule that can effectively bind to an enzyme and block all its actions or activities. A protein kinase inhibitor is an enzyme inhibitor that can block all the actions of protein kinases, which are known to modify other proteins by adding phosphates covalently also known as phosphorylation. Kinase inhibitors are used for the treatment of various conditions like inflammation and cancer however, their impact may vary between patients.
Although there have been various studies conducted to treat autoimmune diseases, there is a significant lack of effective treatments. The use of kinase inhibitors has shown promising signs in the last few years and the research community is investing all possible resources to explore the associated treatment methods. The main approach behind using kinase inhibitors involves targeting all of the activities of the kinase that are known to regulate the production and action of inflammatory mediators. Studies have shown that even kinase inhibitors with small molecules have a wide range of efficacy with exceptional tissue penetration and convenience which makes them highly valuable in biologics.
Key Insights
As per the analysis shared by our research analyst, the global kinase inhibitor in autoimmune diseases market is estimated to grow annually at a CAGR of around 5.43% over the forecast period (2022-2030)
In terms of revenue, the global kinase inhibitor in autoimmune diseases market size was valued at around USD 4.7 billion in 2021 and is projected to reach USD 7.9 billion, by 2030.
The market is projected to grow at a significant rate due to the growing cases of autoimmune diseases
Based on drug segmentation, anti-inflammatory drugs was predicted to show maximum market share in the year 2021
Based on treatment segmentation, deficiency treatment was the leading user in 2021
On the basis of region, North America was the leading revenue generator in 2021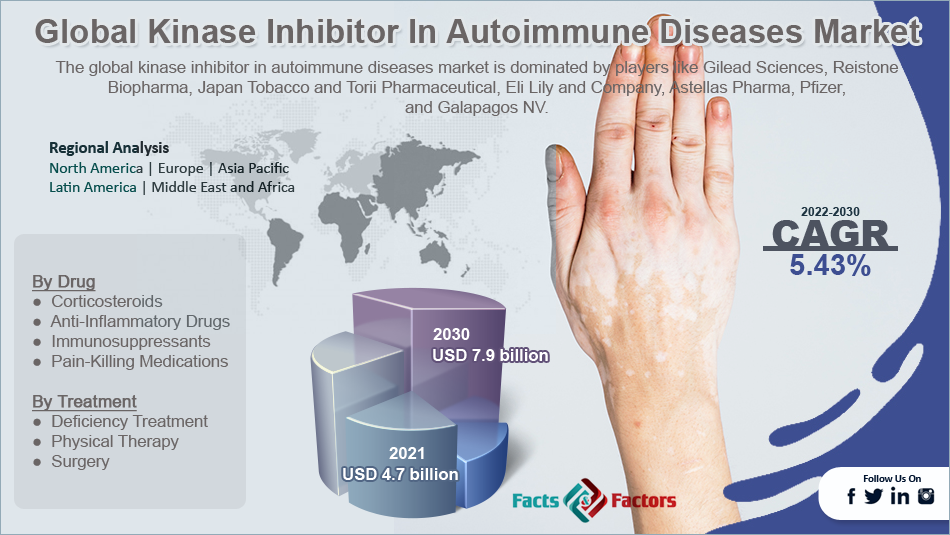 Growth Drivers
Growing cases of autoimmune diseases to propel market demand
The global kinase inhibitors in autoimmune diseases market are projected to grow owing to the increasing number of people suffering from various types and forms of autoimmune conditions. These are diseases in which the body's immune system starts attacking the body. In a normal healthy person, the immune system is responsible for fighting against any kind of foreign invasion in the body and usually, the system can effectively differentiate between the body's own cells and foreign cells. However, in autoimmune diseases that system is unable to make this difference and starts attacking healthy and essential cells. This occurs due to the release of proteins known as autoantibodies that ultimately attack healthy cells. In most cases, autoimmune disease affects only one part of the body. For instance, in type I diabetes, the pancreas is attacked. Some of the most common autoimmune diseases are Addison's disease, multiple sclerosis, celiac disease, Hashimoto thyroiditis, and dermatomyositis. Most of these conditions have not found a cure. In patients suffering from Addison's condition, the underlying issue can be treated but there are a significant number of patients that show no reaction to the treatment.
Restraints
Associated side-effects to restrict market expansion
Kinase inhibitors may be showing promising output but there are several side effects associated with the use of the protein molecules. Some of the related health concerns that may originate after undergoing kinase inhibitor treatment include rash, fatigue, diarrhea, myelosuppression, and impaired wound healing. Kinase inhibitors are toxic in relatively low concentrations and hence may also need a reduction in the dosage quantity to prevent any severe implications.
Opportunities
Growing strategic measures adopted by market players to create growth opportunities
The global kinase inhibitors in autoimmune diseases market is expected to benefit from the increasing interest shown by drug and medical treatment producers in understanding the working of kinase inhibitors and widening their applications. Various modern technologies are being used to create small-molecule kinase inhibitors alongside other research activities to find an accurate cure for the different types of autoimmune diseases. In June 2022, MiroBio managed to raise around USD 97 million in series B funding to be directed toward the development of treatment plans for autoimmune diseases.
Challenges
High cost of development to challenge market growth
Kinase inhibitors are a relatively new segment of interest for the medical community. The big or small pharmaceutical companies have to spend millions of dollars on creating an infrastructure that can assist and encourage the studies on protein molecules. This could potentially act as a major challenge for various small-scale players. Other factors that may not be in the favor of global market growth are the lack of skilled labor and manpower. The growing increase in the lack of understanding of basic concepts of autoimmune diseases is an area of concern.
Segmentation Analysis
The global kinase inhibitor in autoimmune diseases market is segmented based on drug, treatment, and region
Based on drug, the global market segments are corticosteroids, anti-inflammatory drugs, immunosuppressants, and pain-killing medications. The global market is anticipated to be led by the anti-inflammatory drugs segment in the coming years as it did in 2021. More than 43% of the global market share was led by the growing applications and use of anti-inflammatory drugs. The medicines are available at lower costs and show high-performance value. Anti-inflammatory drugs are more beneficial than steroids because they do not showcase any significant side effects making them highly sought-after drugs in the medical community.
Based on treatment, the global market is divided into deficiency treatment, physical therapy, and surgery. The global market registered the highest growth in the applications of drugs for deficiency treatment which is one of the main reasons for many autoimmune diseases. Most doctors recommend undergoing regular blood checkups as it can potentially help in reversing autoimmune diseases and preventing the occurrence of any other condition. For instance, vitamin D deficiency is known to cause rheumatoid arthritis which affects more than 1.29 million people in the US.
Recent Developments:
In September 2022, the US Food and Drugs Administration (FDA) approved the use of Sotyktu™ (deucravacitinib), an oral treatment to be used in patients who suffer from mild to severe plaque psoriasis. The drug is an allosteric tyrosine kinase 2 (TYK2) inhibitor and is not recommended to be used with other immunosuppressants
In December 2022, Takeda Pharmaceutical Co Ltd announced that it will be acquiring NDI-034858, a selective allosteric tyrosine kinase 2 (TYK2) inhibitor, oral medication developed by Nimbus Therapeutics to treat autoimmune diseases
Report Scope
| | |
| --- | --- |
| Report Attribute | Details |
| Market Size in 2021 | USD 4.7 Billion |
| Projected Market Size in 2030 | USD 7.9 Billion |
| CAGR Growth Rate | 5.43% CAGR |
| Base Year | 2021 |
| Forecast Years | 2022-2030 |
| Key Market Players | Boehringer Ingelheim International GmbH, Akorn Incorporated, Novartis AG, Teva Pharmaceutical Industries Ltd., Pfizer Inc., Johnson & Johnson Private Limited, Mylan N.V., and Others |
| Key Segment | By Treatment, Food Source, End-Users, Diagnosis, and Region |
| Major Regions Covered | North America, Europe, Asia Pacific, Latin America, and the Middle East &, Africa |
| Purchase Options | Request customized purchase options to meet your research needs. Explore purchase options |
Regional Analysis
North America to lead with the highest market share
The global kinase inhibitor in autoimmune diseases market is projected to register the highest growth in North America due to the increasing rate of research and development activities along with a high approval rate from the FDA authorities. As of 2021, there are more than 68 therapeutic agents approved by the FDA that essentially target 24 different types of protein kinases. The regional market may be further driven by the presence of some of the key players in the market who have invested large resources in creating effective kinase inhibitors in autoimmune diseases along with growing mergers and acquisition activities allowing the market players to enter new market segments and explore a higher consumer database. Growth in Europe is expected to be driven by the increasing investments in the pharmaceutical segment as well as the establishment of advanced healthcare infrastructure along with widespread awareness of healthcare allowing proactiveness amongst the regional population.
Competitive Analysis
Gilead Sciences
Reistone Biopharma
Japan Tobacco and Torii Pharmaceutical
Eli Lily and Company
Astellas Pharma
Pfizer
Galapagos NV
The global kinase inhibitor in autoimmune diseases market is segmented as follows:
By Drug Segment Analysis
Corticosteroids
Anti-Inflammatory Drugs
Immunosuppressants
Pain-Killing Medications
By Treatment Segment Analysis
Deficiency Treatment
Physical Therapy
Surgery
By Regional Segment Analysis
North America
Europe

France
The UK
Spain
Germany
Italy
Nordic Countries
Benelux Union

Belgium
The Netherlands
Luxembourg

Rest of Europe

Asia Pacific

China
Japan
India
Australia
South Korea
Southeast Asia

Indonesia
Thailand
Malaysia
Singapore
Rest of Southeast Asia

Rest of Asia Pacific

The Middle East & Africa

Saudi Arabia
UAE
Egypt
South Africa
Rest of the Middle East & Africa

Latin America

Brazil
Argentina
Rest of Latin America