Industry Insights
[212+ Pages Report] According to the report published by Facts and Factors, the global travel accommodation market size was worth around USD 646 billion in 2021 and is predicted to grow to around USD 1161 billion by 2030 with a compound annual growth rate (CAGR) of roughly 12.59% between 2022 and 2030. The report analyzes the global travel accommodation market drivers, restraints/challenges, and the effect they have on the demands during the projection period. In addition, the report explores emerging opportunities in the travel accommodation market.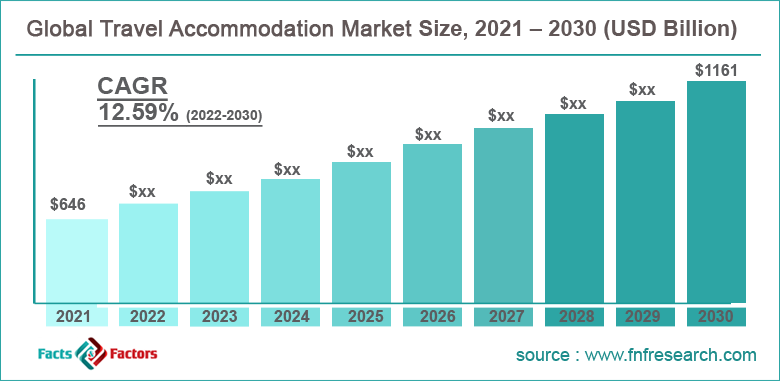 To know more about this report | Request Free Sample Copy
Market Overview
Travel refers to the movement of people with or without things from one place to another. Although modern-age travel is far more convenient, the process of people moving from one designated place to another has been in existence for ages. Travel is the only way people can move across geographical locations with the help of available resources. As technology and knowledge grew, modes of transport were invented which made the entire movement easier and allowed people to travel to distant locations.
Currently, traveling can be done on foot or using automobile vehicles like ships, airplanes, trains, buses, and boats to name a few. It can be moving across a short distance or a long distance depending on the proximity of the two locations. Travel accommodation is a crucial part of the tourism industry because it can either help to attract more tourists or can lead to bad reviews amongst potential customers. It is a unit or an establishment used by travelers to stay. It is regarded as the most basic aspect every traveler first looks at before finalizing other details like travel route, mode, number of days to be spent, and others. There are different types of accommodations available in the market that fall across the price range making traveling more lucrative.
Key Insights
As per the analysis shared by our research analyst, the global travel accommodation market is estimated to grow annually at a CAGR of around 12.59% over the forecast period (2022-2030)
In terms of revenue, the global travel accommodation market size was valued at around USD 646 billion in 2021 and is projected to reach USD 1161 billion, by 2030.
The market is projected to grow at a significant rate due to the growing adoption of technology in the industry
Based on price point segmentation, mid range was predicted to show maximum market share in the year 2021
Based on booking mode segmentation, online is the leading mode in 2021
On the basis of region, North America was the leading revenue generator in 2021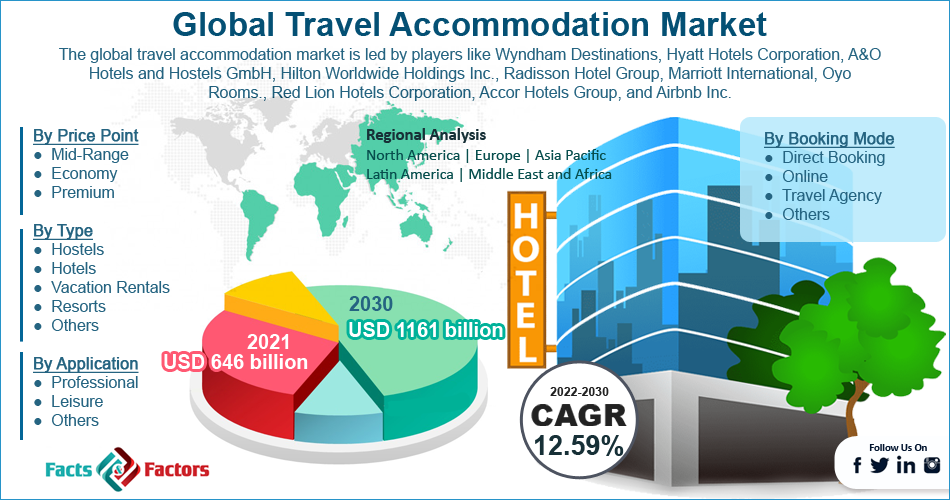 To know more about this report | Request Free Sample Copy
Growth Drivers
Growing use of technology to drive market growth
The global travel accommodation market is projected to grow owing to the increasing adoption of technology in the tourism industry. In the modern world, everyone works on advanced systems because they make the process less tedious and can take care of assigned tasks with minimum to zero error. The advent of the internet and the availability of vast information on the web has acted as a major boon for the travel accommodation segment. As making information available online is helpful not only to the customers but to the businesses as well. Potential travelers can check the available stay units and select from the vast range of options fitting their budget, dates, and other requirements while sitting at home.
On the other hand, the use of technology for travel accommodation has completely automated the process for the business front as service suppliers do not have to worry about manually booking hotels for the customers. The information has to be made available online and their task for the booking part is taken care of. Technology also helps in aligning almost all the other related services, for instance, sending out information to the guest about pick up and drop from the point where the visitor may want to have a pick up from.
Restraints
Growing inflation to restrict market expansion
As per experts, the world is moving toward recession and high inflation which is predicted to mark its beginning by May or June of 2023. This could severely impact the global market growth as people may not intend to travel for leisure purposes to protect themselves from the impact of high inflation. As of 2022, the inflation rate in the United States rose to an all-time high since the 1980s. Various factors are attributed to this growth. The global market may witness heavy losses in underdeveloped economies that are already suffering from poverty and other natural calamities regularly. More than 18 million people in South Africa currently live in extreme financial poverty at a threshold of around USD 2 per day.
Opportunities
Growing number of eco-friendly travel accommodations to provide growth opportunities
As the world is currently facing the negative impact of the tourism and travel industry which is evident in the increasing pollution across the globe, stakeholders have been pressured into developing more eco-friendly ways for the further development of the industry. To tackle this concern there is a growing number of travel accommodations that allow guests to experience sustainable ways of living by sharing rooms with other travelers. This trend can be specially observed in younger generations who opt for smaller apartments or larger units that can be shared with others.
Challenges
Increasing cyber-attacks to act as a major challenge
One of the key challenges the global travel accommodation market players face is the management of cyber and online attacks on the data stored on the servers of hotels and other accommodation units. In September 2022, the management of the Intercontinental Hotels Group (IHG) stated that the company has recently been a victim of a cyber-attack.
Segmentation Analysis
The global travel accommodation market is segmented based on price point, type, booking mode, application, and region
Based on price point, the global market divisions are mid-range, economy, and premium. In 2021, the global market was dominated by the mid-range segment owing to the availability of some of the best facilities in an affordable range. Growing standard of living and disposable income has allowed many visitors to spend in mid-range capacities. This is further encouraged by the growing number of people who travel for the experience and not for leisure purposes. Airbnb, one of the companies offering travel accommodations across price ranges, made a revenue of USD 4.8 billion in 2019. Economy and premium hotels registered a high influx of customers as well.
Based on booking mode, the global market divisions are direct booking, online, travel agency, and others. In 2021, the highest growth was observed in the online segment owing to the ease offered by online methods of booking. There are various coupon codes available online that can further help reduce the total cost. More than 699 million people are estimated to make online bookings by 2023.
Recent Developments:
In September 2022, Flipkart, an Indian e-commerce giant entered the travel industry by launching hotel booking services
In November 2022, EaseMyTrip launched the next version of self-booking tools for corporates thus helping businesses keep a track of travel itineraries and employee booking and
Report Scope
| | |
| --- | --- |
| Report Attribute | Details |
| Market Size in 2021 | USD 646 Billion |
| Projected Market Size in 2030 | USD 1161 Billion |
| CAGR Growth Rate | 12.59% CAGR |
| Base Year | 2021 |
| Forecast Years | 2022-2030 |
| Key Market Players | Wyndham Destinations, Hyatt Hotels Corporation, A&O Hotels and Hostels GmbH, Hilton Worldwide Holdings Inc., Radisson Hotel Group, Marriott International, Oyo Rooms., Red Lion Hotels Corporation, Accor Hotels Group, Airbnb Inc., and others. |
| Key Segment | By Price Point, Type, Booking Mode, Application, and Region |
| Major Regions Covered | North America, Europe, Asia Pacific, Latin America, and the Middle East &, Africa |
| Purchase Options | Request customized purchase options to meet your research needs. Explore purchase options |
Regional Analysis
North America to register the highest growth in the coming years
The global travel accommodation market is projected to witness surging growth in North America owing to the increasing population preferring to travel during vacation time as well as a growing number of professional trips for business purposes. In 2020, during travel restrictions, the number of US citizens who traveled abroad remained as high as 9.9 million.
The country's domestic tourism statistics report the number to be as high as 2.3 billion. Asia-Pacific is projected to grow due to the increasing population and rising disposable income which may further be propelled by the increasing number of students traveling abroad for studies. As per official reports, in the academic year 2020-2021, more than 1.7 lakh Indian students traveled to the US for studies.
Competitive Analysis
Wyndham Destinations
Hyatt Hotels Corporation
A&O Hotels and Hostels GmbH
Hilton Worldwide Holdings Inc.
Radisson Hotel Group
Marriott International
Oyo Rooms.
Red Lion Hotels Corporation
Accor Hotels Group
Airbnb Inc.
The global travel accommodation market is segmented as follows:
By Price Point Segment Analysis
Mid-Range
Economy
Premium
By Type Segment Analysis
Hostels
Hotels
Vacation Rentals
Resorts
Others
By Booking Mode Segment Analysis
Direct Booking
Online
Travel Agency
Others
By Application Segment Analysis
Professional
Leisure
Others
By Regional Segment Analysis
North America
Europe

France
The UK
Spain
Germany
Italy
Nordic Countries
Benelux Union

Belgium
The Netherlands
Luxembourg

Rest of Europe

Asia Pacific

China
Japan
India
Australia
South Korea
Southeast Asia

Indonesia
Thailand
Malaysia
Singapore
Rest of Southeast Asia

Rest of Asia Pacific

The Middle East & Africa

Saudi Arabia
UAE
Egypt
South Africa
Rest of the Middle East & Africa

Latin America

Brazil
Argentina
Rest of Latin America