Industry Insights
[220+ Pages Report] According to the report published by Facts and Factors, the global electric bus charging station market was worth around USD 600 million in 2021 and is estimated to grow to about USD 5500 Million by 2028, with a compound annual growth rate (CAGR) of approximately 40.2% over the forecast period. The report analyzes the electric bus charging station market's drivers, restraints, and challenges and the effect they have on the demands during the projection period. In addition, the report explores emerging opportunities in the electric bus charging station market.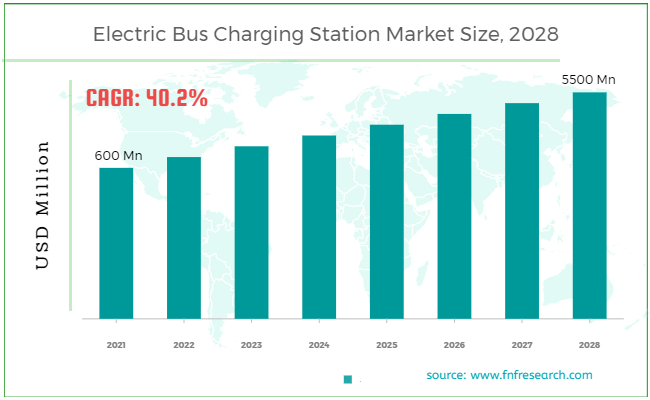 To know more about this report | Request Free Sample Copy
Market Overview
An electric bus is an electric vehicle (EV), which means it runs on electricity rather than petrol, diesel, or gasoline. Unlike a hybrid vehicle, which uses a combination of battery power and an internal combustion engine, an electric bus runs entirely on electricity. As a result, electric vehicles are occasionally referred to as "all-electric vehicles" to emphasize that they do not use any other sort of power. An electric bus obtains power from the network and retains it in a tank that can be recharged when the power is no longer needed. This is precisely how our devices work. We plug them in, charge the battery, and use them freely until they need to be recharged.
Overhead charging and plug-in charging are the two most common methods for charging electric buses. However, because of the trend to increase electric bus compatibility, overhead charging methods are likely to increase during the forecast period owing to an increase in the number of electric cars.
The necessity for electric vehicles has arisen as carbon and several other toxic transportation gas emissions have increased. As a result, there is an increasing demand for business and residential charging infrastructure. Technological developments in both EV charging software and hardware have the potential to transform how EV operators use and benefit from EV charging applications. Even before a motorist connects a car to a charging station, technologies like charging networks and the Smartcar API properly calculate the EV's charging time.
Electric buses are exploding onto the scene as a viable alternative to regular buses for cities, commercial transit companies, and schools. It's no surprise that these buses are gaining popularity because they are more environmentally friendly and can save you money over time.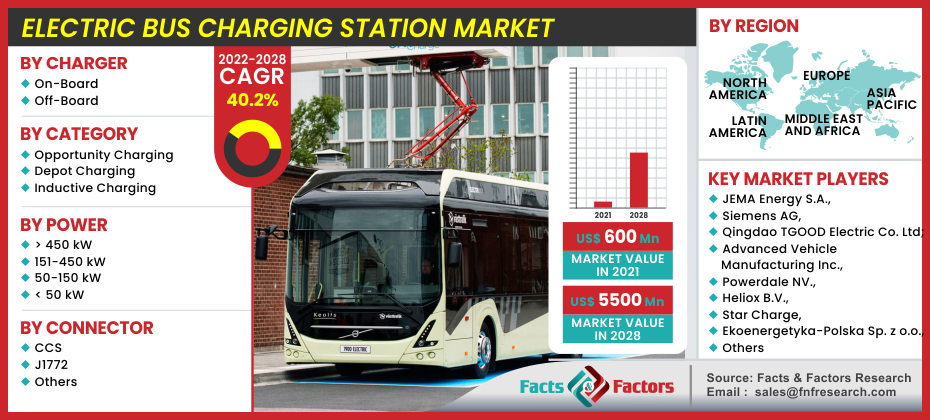 To know more about this report | Request Free Sample Copy
COVID-19 Impact:
In 2020, the unique COVID-19 outbreak had a minor impact on the global electric bus charging station market. Due to the disruption of the whole supply chain ecology, both production and sales of new vehicles came to a standstill around the world in Q1 and Q2 of 2020. Furthermore, original equipment manufacturers (OEMs) had to wait until the lockdowns were removed before they could resume production, which harmed their businesses. Several electric car manufacturers, notably in China, have already announced the introduction of 5G-capable automobiles. Although the majority of them have been postponed due to the COVID-19 outbreak.
Growth Drivers
Favorable government policies and a rise in the uptake of electric buses are expected to drive the market's growth
Various countries around the world are taking steps to replace their petroleum-based car fleets with electric vehicles. Various countries offer incentives and set restrictions to encourage the use of electric vehicles. Several significant factors have propelled the global electric bus charging station market, most notably increased government funding schemes and increased government aspirations for the electrification of mass buses. Furthermore, governments are launching significant programs to encourage the use of green energy-powered automobiles. For instance, the policies governing electric buses in Europe are primarily concerned with technological advancement and market development. Also, the European Commission backed Green eMotion, a Europe-wide electromobility program launched in collaboration with 42 partners from industry, utilities, electric car manufacturers, municipalities, universities, technology, and research organizations.
E-mobility is now considered the most effective technology for reducing transportation exhaust emissions. Electric buses are rapidly replacing traditional diesel-fueled buses, exceeding the adoption of battery-powered vehicles. The increased use of electric buses in Europe's public fleet is a major motivator. Buses are used by the government for public transportation, military purposes, transit services, and other functions. Several countries in the region are expanding the number of electric buses in their transportation networks. Furthermore, local administrations in countries are incorporating electric buses into their public or local transit fleets.
Restraints
The high cost of setting up the electric bus charging infrastructure may hinder the global market's growth
The cost of installing an electric bus charging station is extremely significant and varies depending on the type of chargers used. Minimum technical requirements must be met to set up the EV charging infrastructure, and choosing the correct provider and location is critical. The cost of establishing the EV charge stations is determined by the cost of land, wires, and other auxiliary infrastructure. There is also a variable cost of electricity and power demand for quick charging.
Opportunities
Rising demand for EV charging stations offers significant growth opportunities
The increasing demand for electric bus charging stations in private places is creating enormous growth prospects for market participants. Increasing competition in the hospitality industry, for example, is positively boosting market growth since many hospitality service providers offer electric bus charging facilities on their sites. Furthermore, many big multinational firms provide charging stations as part of their employee welfare programs, creating significant growth potential for charging station developers and installers.
Challenges
Compliance with multiple charging protocols: There are EV charging standards that must be followed, such as the CCS (Combined Charging System), CHAdeMO, and others. All types of electric charging points should be compatible with EV charging systems. Incompatibility can cause frequency, current, and voltage mismatches. This can raise the complexity and cost.
Safety against voltage fluctuations: Setting up EV charging stations necessitates specific technical knowledge. Voltage swings, ground faults, and overcurrents can all be dangerous. If there is a sudden rise in voltage, valuable components may be damaged. In addition, noise-filtering components must be installed with care. Aside from that, an ASIL D-grade safety system should be put in place. For added security, EMC/EMI tests must be performed. To keep voltage fluctuations under control, sensors such as control pilot sensors and proximity sensors must be included.
Software and hardware associated challenges: Numerous hardware and software-related difficulties must be solved while establishing an electric bus charge station. When the protocol's criteria are met, the hardware components such as proximity sensors and the control pilot regulate the connection, charging the EV. However, creating such hardware components for diverse protocols with varying conditions is difficult. Several concerns must be addressed, including insulation, heat dissipation, grounding, power issues, and voltage monitoring.
In terms of software, it is required that charging begin only when specified requirements, such as current filtering, the ground connection, and so on, are met. The difficulty is in developing software to recognize the protocol supported by the EV and alter the charging modes appropriately.
Segmentation Analysis
The global electric bus charging station market is segregated on the basis of charger, category, power, connector, and region.
By charger, the market is divided into onboard and off-board. The onboard charging segment has the highest market share in the electric bus charging station market.
By category, the market is classified into opportunity charging, depot charging, and inductive charging. In terms of sales volume, the depot charging category has the highest share. This is due to the growing demand for overnight charging buses among commercial and public transportation operators.
By power, the market is classified into > 450 kW, 151-450 kW, 50-150 kW, and < 50 kW. In terms of power, the < 50 kW group accounts for the lion's share. The low cost of these charging stations is the primary cause of the category's rise in the market.
By connector, the market is bifurcated into CCS, J1772, and others.
Report Scope
| | |
| --- | --- |
| Report Attribute | Details |
| Market Size in 2021 | USD 600 Million |
| Projected Market Size in 2028 | USD 5500 Million |
| CAGR Growth Rate | 40.2% CAGR |
| Base Year | 2021 |
| Forecast Years | 2022-2028 |
| Key Market Players | JEMA Energy S.A., Siemens AG, Qingdao TGOOD Electric Co. Ltd., Advanced Vehicle Manufacturing Inc., Powerdale NV., Heliox B.V., Star Charge, Ekoenergetyka-Polska Sp. z o.o., GH Energy Inc., Proterra Inc., China Potevio Co. Ltd., ABB Ltd, Schunk Carbon Technology, and Bombardier Inc. |
| Key Segment | By Charger, By Category, By Power, By Connector, and By Region |
| Major Regions Covered | North America, Europe, Asia Pacific, Latin America, and the Middle East & Africa |
| Purchase Options | Request customized purchase options to meet your research needs. Explore purchase options |
Regional Landscape
Asia Pacific region is expected to be the fastest-growing market during the forecast period
China, India, Japan, and South Korea are among the countries that make up the Asia Pacific area. The region is home to some of the world's fastest-growing economies, including China and India. The governments of these growing economies have recognized the global electric bus charging station market's growth potential and, as a result, have implemented a variety of efforts to recruit major OEMs for the construction of electric vehicle charging stations in their local markets. Charging network operators for EV charging stations, for example, have teamed up with several OEMs to promote free EV charging for EV drivers.
Europe is expected to be the second-largest region accounting for approximately 26 percent of the global electric bus charging station market. France, Austria, Germany, Denmark, Spain, the Netherlands, Italy, Sweden, Norway, and the United Kingdom are the biggest EV markets in Europe. To combat rising emissions levels, Europe has enacted severe emission regulatory regulations. Several governments in the region are encouraging the use of electric vehicles by providing major incentives. The region's emphasis on zero-or low-emission vehicles has resulted in a huge surge in demand for electric vehicle charging stations. The United Kingdom announced plans to phase out gasoline and diesel-powered automobiles by 2030 and foster the growth of electric vehicles.
Recent Developments
February 2022: Causis E-Mobility, which is sponsored by a UK fund, intends to build factories for electric 2-wheelers, 3-wheelers, and buses. The company's goal is to enter the whole value chain of electric vehicles, beginning with the establishment of an 8-gigatonne-hour lithium-ion cell factory, four manufacturing factories, and charging stations that will employ renewable energy sources.
February 2022: ABC Companies, a North American motorcoach seller, reported the completion of a 1,700-mile voyage through the Pacific Northwest in an all-electric Van Hool CX45E bus. The "Proterra Powered" electric bus drove from Newark to Seattle and back, using only public charging stations. The journey illustrates the significance of electric bus capabilities and the expanding charging infrastructure in the United States to facilitate long-distance electric vehicle travel.
Competitive Landscape
Some of the main competitors dominating the global electric bus charging station market are :
JEMA Energy S.A.
Siemens AG
Qingdao TGOOD Electric Co. Ltd.
Advanced Vehicle Manufacturing Inc.
Powerdale NV.
Heliox B.V.
Star Charge
Ekoenergetyka-Polska Sp. z o.o.
GH Energy Inc.
Proterra Inc.
China Potevio Co. Ltd.
ABB Ltd
Schunk Carbon Technology
Bombardier Inc.
The global electric bus charging station market is segmented as follows:
By Charger Segment Analysis
By Category Segment Analysis
Opportunity Charging
Depot Charging
Inductive Charging
By Power Segment Analysis
> 450 kW
151-450 kW
50-150 kW
< 50 kW
By Connector Segment Analysis
By Regional Segment Analysis
North America
Europe

UK
France
Germany
Italy
Spain
Rest of Europe

Asia Pacific

China
Japan
India
South Korea
Southeast Asia
Rest of Asia Pacific

Latin America

Brazil
Mexico
Rest of Latin America

The Middle East and Africa

GCC Countries
South Africa
Rest of MEA