Industry Insights
[225+ Pages Report] Global Artificial Intelligence in Retail market was projected at USD 2.7 billion in 2019, which is expected to hit USD 20.05 billion in 2026 and is expected to rise to CAGR by 39% between 2020 and 2026.
Market Overview
Digitalization in retail is much more than just linking objects. It's about turning data into observations that guide decisions that produce better market results. Retail AI—including machine learning and deep learning—are crucial to developing these insights. This offers retailers incredible consumer interactions, revenue growth prospects, accelerated innovation, and insightful companies, all allowing them to separate themselves from their rivals. In some parts of its operations, several retailers are now using AI. They may automate marketing practices with AI in CRM applications, or predictive analytics to determine which consumers are likely to purchase those goods. The cloud helps AI workloads store and process data volumes from a wide range of sources. For eg, demand prediction and online product reviews are demands for retail cloud workloads.
But operating AI provides benefits in the store itself. The edge retail computing serves as a mechanism for insight, aggregation, or transformation into useful, operational knowledge of vast quantities of raw data. Imagine inventory robotics restoring shelves; digital signs adjusting to the audience; and customer monitoring sensors to alert cross-selling and upselling opportunities. The traction on brick and mortar is a special kind of AI in detail, known as computer vision. And it opens the way for new instances of market usage by consumer engagement, predicting demand, product control, and more.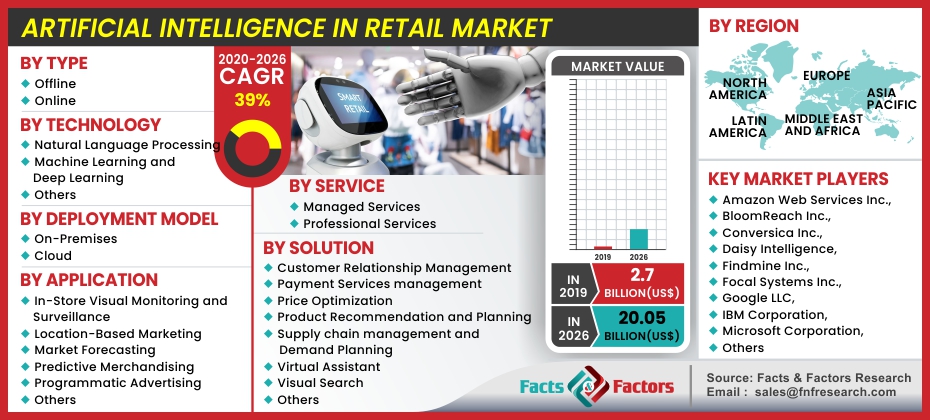 To know more about this report | Request Free Sample Copy
Industry Growth Factors
Over the years the idea of virtual test rooms has become more common, allowing shoppers to play with their equipment through a tactile GUI. The combination of artificial intelligence and digital mirrors allows shoppers to test and wear diverse dresses, accessories, goggles, and other beauty items. The real-time simulation for computer dressing solutions is delivered in conjunction with other advanced technology, such as virtual realities, artificial intelligence, or visual computing. The technology strengthens both online and offline Shopping's user engagement and loyalty. The need for a digital trial room is expected to increase because of its secure shopping experience since the global COVID-19 pandemic.
Each retail corporation tries to consolidate its loyal client base to remain on the market today in the retained sector. Providing each consumer with improved customized service is a prime tactic for leading brands. Chabot's operated by AI is one of the innovations that can effectively promote consumer interaction. Popularity is also likely to increase in all markets for both online and in-store catboats. The framework lets retailers handle consumer shopping requests with AI-configured chatbots without including humans. Al-Driven Chatbots' fast, customized and on-demand support and feedback add to the consumer experience while favoring the retail sector as a whole.
Global Artificial Intelligence in Retail Market: Segmentation
Global Artificial Intelligence in Retail market is segmented into four notable segments which are type, solution, technology, deployment model, service, and application.
Based on type the market is classified into offline, and online. Based on technology the market is classified as machine learning & deep learning, natural language processing, and others. Based on Solution the market is further classified as Visual Search, Payment Services management, Customer Relationship Management, Product Recommendation & Planning, Price Optimization, Virtual Assistant, Supply chain management & Demand Planning, and Others. Based on service the market is further classified as managed services, and professional services. Based on the deployment model the market is further classified as on-premises and cloud. Based on Application the market is further classified as Location-Based Marketing, In-Store Visual Monitoring & Surveillance, Market Forecasting, Programmatic Advertising, Predictive Merchandising, and Others.
Global Artificial Intelligence in Retail Market: Regional Analysis
Based on regions, the global Artificial Intelligence in Retail market can be divided into five main regions.
The Asia Pacific market with the highest market share is anticipated to lead, largely due to the participation of many emerging economies, such as China and India, with an emphasis on improving retail solutions. A lot of retailers have hired AI-based technologies to maximize the processes and inventory of their supply chains. AI helps retailers to manage and attract their clients and to consider the consumer's purchasing habits. AI technology is being used by online and offline shopping companies to engage consumers and increase sales turnover.
Report Scope
Report Attribute

Details

Market Size in 2019

USD 2.7 Billion

Projected Market Size in 2026

USD 20.05 Billion

CAGR Growth Rate

39% CAGR

Base Year 2020

Forecast Years

2020-2026

Key Market Players

Amazon Web Services Inc., BloomReach Inc., Conversica Inc., Daisy Intelligence, Findmine Inc., Focal Systems Inc., Google LLC, IBM Corporation, Microsoft Corporation, Plexure Ltd, Salesforce.com Inc., SAP SE, Sentient Technologies Holdings Limited, Style.ai, Versium Analytics Inc., ViSenze Pte Ltd, and Others.

Key Segment

By Type, By Technology, By Solution, By Service, By Deployment Model, By Application, By Region

Major Regions Covered

North America, Europe, Asia Pacific, Latin America, and the Middle East & Africa

Purchase Options

Request customized purchase options to meet your research needs. Explore purchase options
Global Artificial Intelligence in Retail Market: Competitive Players
Some of the key players in the Artificial Intelligence in Retail market are :
Amazon Web Services Inc.
BloomReach Inc.
Conversica Inc.
Daisy Intelligence
Findmine Inc.
Focal Systems Inc.
Google LLC
IBM Corporation
Microsoft Corporation
Plexure Ltd
Salesforce.com Inc.
SAP SE
Sentient Technologies Holdings Limited
Style.ai
Versium Analytics Inc.
ViSenze Pte Ltd
and Others
The global Artificial Intelligence in Retail market is segmented as follows:
By Type:
By Technology:
Natural Language Processing
Machine Learning and Deep Learning
Others
By Solution:
Customer Relationship Management
Payment Services management
Price Optimization
Product Recommendation and Planning
Supply chain management and Demand Planning
Virtual Assistant
Visual Search
Others
By Service:
Managed Services
Professional Services
By Deployment Model:
By Application:
In-Store Visual Monitoring and Surveillance
Location-Based Marketing
Market Forecasting
Predictive Merchandising
Programmatic Advertising
Others
Global Artificial Intelligence in Retail Market: Regional Segment Analysis
North America
Europe

Germany
The UK
France
Spain
Italy
Rest of Europe

Asia Pacific

China
Japan
India
South Korea
Southeast Asia
Rest of Asia Pacific

Latin America

Brazil
Mexico
Rest of Latin America

Middle East & Africa

GCC
South Africa
Rest of the Middle East & Africa