Industry Insights
[217+ Pages Report] According to the report published by Facts & Factors, the global enzyme label analyzer market size was worth around USD 2.32 billion in 2021 and is predicted to grow to around USD 3.96 billion by 2028 with a compound annual growth rate (CAGR) of roughly 7.90% between 2022 and 2028. The report analyzes the global Enzyme label analyzer market's drivers, restraints/challenges, and the effect they have on the demands during the projection period. In addition, the report explores emerging opportunities in the Global Enzyme label analyzer market.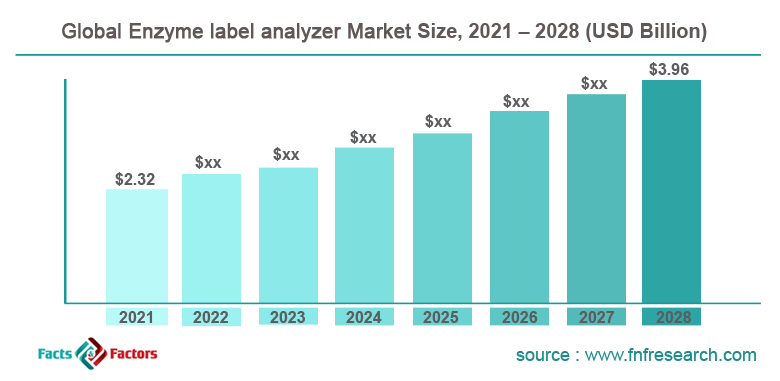 Global Enzyme label analyzer Market: Overview
Enzymes are biocatalysts that change the rate of a biological reaction and bring about the intended outcomes. They are proteinaceous by nature and have attracted particular attention recently because of the many applications they have. Enzymes are used in a variety of industries, including food and animal feed, textiles and detergents, pharmaceuticals and biotechnology R&D, and manufacturing (paper and pulp processing, leather processing, and agriculture). Their use in manufacturing processes has led to significant cost savings, reduced energy use, and improved substrate activity, which has helped the enzymes business grow.
Furthermore, the market for enzymes worldwide has grown during the course of the analysis period due to a variety of causes. Enzymes have several advantages, and the biotech, pharmaceutical, food and beverage, and biofuel industries are all benefiting from them. The pharmaceutical industry's increased need for enzymes to synthesize intermediates for the manufacturing of active pharmaceutical ingredients (API) for potent medicines is predicted to fuel the market's expansion. The ability of an enzyme to break down complex molecules into simpler ones (such as starch into glucose) in the food and beverage industry, the elimination of fat and oil stains in the detergent industry, the production of bioethanol for use in biofuels, and improved bleaching properties in the paper and pulp industries are all expected to drive up demand for enzymes in the upcoming years.
Key Insights
As per the analysis shared by our research analyst, the global Enzyme label analyzer market is estimated to grow annually at a CAGR of around 7.90% over the forecast period (2022-2028).
In terms of revenue, the global Enzyme label analyzer market size was valued at around USD 2.32 billion in 2021 and is predicted to grow to around USD 3.96 billion by 2028. Due to a variety of driving factors, the market is predicted to rise at a significant rate.
Based on type segmentation, carbohydrase was predicted to show maximum market share in the year 2021
Based on application segmentation, the household care segment held the leading revenue-generating applications in 2021.
On the basis of region, North America was the leading revenue generator in 2021
Covid-19 Impact
The COVID-19 outbreak has moderately harmed the food and beverage industry, including the ingredient industry, by slowing down global economic growth. Due to the numerous limitations and safety measures implemented to contain the epidemic, industries are struggling. Because enzymes are a business-to-business product, broken supply chains have an impact on their international trade. Enzymes with clean labels can be used in the paper and textile sectors in addition to the food and beverage sector. The market has also been influenced by trade restrictions worldwide and limits on manufacturing facilities in some nations. Over the next two to three quarters, it is anticipated that this situation will have a modest to low impact on the market.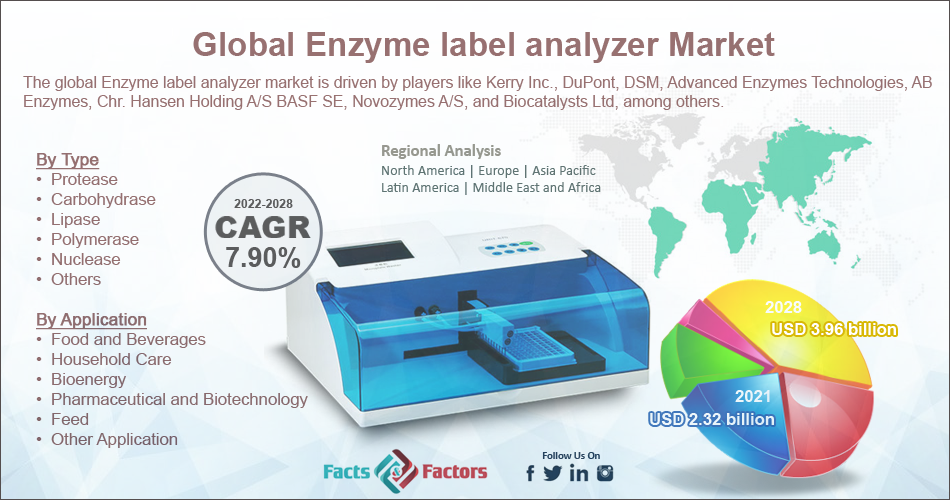 Global Enzyme label analyzer Market: Growth Drivers
Rising Demand for Bio-based Additives in Processed Food and Beverages to Drive the Market
The increased use of bio-based additives in processed meals is a result of the rising demand for chemical-free, all-natural products. Various microbes, plants, and animals manufacture enzymes, which offer a number of advantages over synthetic chemicals in the production of goods as well as for human consumption. Many benefits that cannot be attained by conventional chemical therapy are acquired as a result of the ongoing use of enzymes. These frequently include improved product quality, cheaper manufacturing, less waste, and less energy use. Generally speaking, non-specific, difficult to manage, and perhaps causing unequal conditions, traditional synthetic chemical treatments. In place of synthetic chemicals, food processors are switching to enzymes since they are both affordable and secure. The global enzyme label analyzer market's expansion is also fueled by the enhancement of product quality made possible by these enzymes.
Global Enzyme label analyzer Market: Restraints
Regulatory Uncertainties to Impede the Growth of the Market
The use of food enzymes as processing ingredients in the food business has caused the safety regulatory framework for that industry to continuously develop and upgrade. Enzymes fall under the categories of food additives and food processing aids in terms of food law. Food enzymes must be classified since pre-market approval, which includes safety review, is only required for additives in some nations. Additionally, different nations and regions have different definitions for additives and processing aids, which leads to the regulatory uncertainty that hinders market expansion. For instance, in Canada, the United States, and Japan, all food enzymes are governed as food additives. However, only a small number of food enzymes are regarded as additives in the EU and Australia, where the majority are used as processing aids. The European Union (EU) member states' national laws on the use of enzymes as tools for food processing vary widely. These enzymes are subject to the licensing process in France, Denmark, Poland, and Hungary, whereas, in the United Kingdom, a voluntary approval mechanism is in existence, which results in a geographical disparity.
Global Enzyme label analyzer Market: Opportunity
Biotechnological advancements to support food enzymes market may provide lucrative opportunities
The global enzyme label analyzer market is expanding significantly due to biotechnology developments that have improved the production method for enzymes. Modern biotechnology has already developed methods that make it possible to create microbial hosts that are reliable and effective in being used to produce different enzymes. Modern technology allowed for the production of insufficient quantities that would not have been possible using traditional extraction methods including host microorganisms or any other raw materials. Enzymes with higher functional features have been produced as a result of the new genetic approaches that enable DNA changes in various microbial strains to produce the desired enzyme. The major producers of food enzymes are concentrating on technological development to take advantage of the rising demand from various food industry sectors. For instance, AB Enzymes and Genedata, a top supplier of cutting-edge software solutions for life science R&D, collaborated in July 2019 to digitalize strain creation and boost the effectiveness of the search for novel enzymes.
Global Enzyme label analyzer Market: Challenges
Varied Activity of Enzymes
The U.S. Pharmacopeia, Food Chemical Codex, British Pharmacopeia, Japanese Pharmacopeia, and other compendia sources have developed ways to test the activity of supplements. These techniques are often created for concentrated single enzyme samples and single-ingredient pharmaceutical formulae or raw materials. The testing procedures become more difficult when complex goods and multi-enzyme blends are produced.
Global Enzyme label analyzer Market: Segmentation
The global Enzyme label analyzer market is segmented based on type, application, and region
The market share leader in 2021 was the carbohydrase sector, and this trend is anticipated to be true for the entire forecast period. This is explained by the fact that the most common type of enzyme utilized in the food and pharmaceutical sectors is carbohydrase. Therefore, it is anticipated that over the projected period, commercial uses of carbohydrase in detergents and food products would drive the segment's expansion. Due to its widespread application in the processing of proteins, the protease enzyme category is the second largest revenue producer. Protease enzymes are also essential for the replication and transcription of DNA, cell growth and differentiation, ovulation, fertilization, and other processes. Polymerase and nuclease enzymes possess the highest growth potential in the global enzymes market, and is expected to grow at a significant CAGR during analysis period.
By application, the household care segment dominated the market. The acceptance of goods containing enzymes over those having compounds produced from petrochemicals, which have a tendency to contaminate the environment more, is one reason contributing to the expansion of the household care market. The population's growing knowledge of the benefits of enzymes for the environment has significantly fueled the expansion of the market for enzymes used in household cleaning. The benefits of utilizing enzymes in garment laundering have also greatly increased demand for these enzyme-based goods. Considering that they perform at lower temperatures and larger concentrations than items with a chemical basis. Household care enzymes are the enzymes found in the laundry and dishwashing detergents. Enzymes based on pharmaceutical and biotechnology, however, have the biggest growth potential throughout the forecast period. Demand for enzyme-based goods is fueled by the essential function that enzymes play in the synthesis of APIs and the development of drugs for the treatment of diseases like cancer and AIDS. This demand is predicted to propel the market growth for pharmaceutical and biotechnological enzymes.
Recent Developments:
In June 2021, International Flavors & Fragrances, Inc. introduced Nurica, a dairy enzyme that naturally uses the lactose found in milk in the United States. In order to manage lactose intolerance and maximize fiber intake, the enzyme aids in the production of a higher yield of prebiotic galacto-oligosaccharides (GOS) fibers naturally.
In April 2021, to increase the number of dairy enzymes that are Kosher and Halal approved, Biocatalysts Ltd. announced the release of Promod 517MDP (P517MDP).
Report Scope
| | |
| --- | --- |
| Report Attribute | Details |
| Market Size in 2021 | USD 2.32 Billion |
| Projected Market Size in 2028 | USD 3.96 Billion |
| CAGR Growth Rate | 7.90% CAGR |
| Base Year | 2021 |
| Forecast Years | 2022-2028 |
| Key Market Players | Kerry Inc., DuPont, DSM, Advanced Enzymes Technologies, AB Enzymes, Chr. Hansen Holding A/S BASF SE, Novozymes A/S, and Biocatalysts Ltd., and others. |
| Key Segment | By Type, Application, and Region |
| Major Regions Covered | North America, Europe, Asia Pacific, Latin America, and the Middle East &, Africa |
| Purchase Options | Request customized purchase options to meet your research needs. Explore purchase options |
Global Enzyme label analyzer Market: Regional Analysis
North America to lead the market growth during the projection period
Region-wise, it is analyzed across North America, Europe, Asia-Pacific, and LAMEA. North America contributed the highest share in the global enzymes label analyzer market in 2021, followed by Europe and Asia-Pacific. The primary reason that Europe, followed by North America, is currently dominating the global enzyme label analyzer industry is due to the Go-clean trend. With millennials demanding nutrition as well as texture and mouthfeel, the idea of clean eating is constantly gaining popularity. The need for lactase enzymes is anticipated to rise in these areas due to the increased number of consumers who are lactose intolerant, allowing them to control the global enzymes label analyzer market share. Asia Pacific is anticipated to grow at the highest CAGR in the Enzyme label analyzer during the forecast period. It is crucial to remember that immobilized enzyme technology has greatly advanced in recent years for use in food applications. Immobilized enzyme technology improves food enzyme properties such as slow reaction rate, shelf life restriction, and operational stability. Additionally, clear labeling practices have been increasingly popular worldwide. Leading companies are now entering this market to meet the rising demand from consumers who are health-conscious.
Global Enzyme label analyzer Market: Competitive Analysis
Kerry Inc.
DuPont
DSM
Advanced Enzymes Technologies
AB Enzymes
Chr. Hansen Holding A/S BASF SE
Novozymes A/S
Biocatalysts Ltd.
The global Enzyme label analyzer market is segmented as follows:
By Type
Protease
Carbohydrase
Lipase
Polymerase
Nuclease
Others
By Application
Food and Beverages
Household Care
Bioenergy
Pharmaceutical and Biotechnology
Feed
Other Application
By Regional Segment Analysis
North America
Europe

France
The UK
Spain
Germany
Italy
Nordic Countries
Benelux Union

Belgium
The Netherlands
Luxembourg

Rest of Europe

Asia Pacific

China
Japan
India
Australia
South Korea
Southeast Asia

Indonesia
Thailand
Malaysia
Singapore
Rest of Southeast Asia

Rest of Asia Pacific

The Middle East & Africa

Saudi Arabia
UAE
Egypt
South Africa
Rest of the Middle East & Africa

Latin America

Brazil
Argentina
Rest of Latin America