Covid-19
Electric Bike Market
The pandemic continues to cause unprecedented disruption across industries worldwide.Get detailed insights regarding the impact of COVID-19 on the market. Request Sample
Industry Insights
[227+ Pages Report] According to Facts and Factors, the global electric bikes market was valued at USD 40.21 Billion in 2020 and is anticipated to cross USD 67.96 Billion by the end of 2026, growing at a CAGR of 9.14% between 2021 and 2026.

Global E-Bike Market: Market Overview:
E-bikes, e-bicycles, pedelecs, and power-assisted (bi)cycles are ordinary bicycles with an electric motor, a battery, and a transmission. These bikes can either be pedaled or powered by rechargeable batteries. There are three types of rechargeable batteries: lead-acid, lithium-ion (Li-ion), and nickel-metal hydride (NiMH). The most common type of battery is lead-acid, which can travel large distances on a single charge. These bikes are easy to ride, suitable for people of all ages, and a cost-effective alternative to motorized cars as an environmentally responsible mode of transportation. Electric bicycles are a versatile, eco-friendly, and fashionable form of transportation. Consumers regard them as a viable alternative to scooters, smart cars, and public transportation.
These bikes can help with traffic congestion because of their smaller size, ability to reach higher speeds with less effort, and health advantages from pedaling. These considerations have resulted in an increase in the popularity of electric bikes around the world. There have been technological breakthroughs in the field of e-bikes as the popularity of e-bikes has grown. One such breakthrough is the linked e-bike, which uses a SIM module to send and receive data to and from the cloud without the use of a smartphone. Automatic emergency call, integrated navigation, social media connection, an anti-theft system, and remote diagnostics are just a few of the significant features given by the linked e-bike.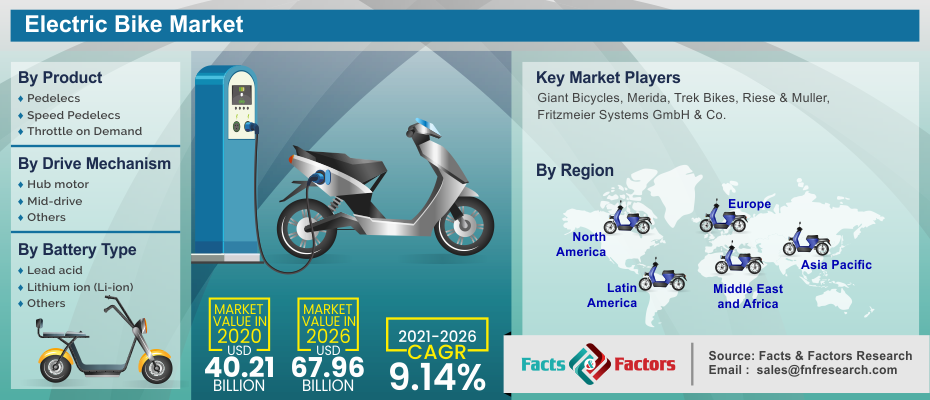 Global E-Bike Market: Covid-19 Impact:
Commuters are avoiding public transit due to the COVID-19 pandemic. E-bikes are regarded as a safe, convenient, and cost-effective mode of mobility. According to industry analysts and e-bike manufacturers such as Rad Power Bike, VanMoof, and Lectric e-bike, e-bikes are becoming a more popular method of transportation as cities in the United States and Europe emerge from quarantine. Furthermore, due to government limits on public transit as a result of social-discrimination guidelines, commuters are turning to the bicycle as a form of daily mobility. However, in the first quarter of 2020, e-bike sales were hampered by the closure of e-bike retailers owing to lockdown.
Global E-Bike Market: Growth Factors
Over the projection period, factors such as rapid urbanization and traffic congestion in cities are likely to fuel demand for e-bikes. Government rules encouraging the use of electric bikes, consumer preference for e-bikes as an environmentally responsible and efficient mode of transportation, and rising gasoline prices are all factors positively impacting the market's growth.
Because of the COVID-19 epidemic, shared mobility is unlikely to be favored for transportation. E-bikes are regarded as a safe, convenient, and cost-effective mode of mobility. To relieve the strain on public transportation systems, most countries are promoting e-bikes through subsidies and legal adjustments.
E-bikes are also less expensive, easier to charge, and do not require large expenditures in supporting infrastructure when compared to other modes of mobility. As a result, there is a rise in demand for e-bikes. Cycling's growing popularity as a leisure activity is one of the key elements fuelling the industry's growth. Cycling has a number of physical and mental health benefits, including improved cardiovascular performance, muscle strength, and endurance, as well as reduced stress and depression risk. Young people are increasingly choosing adventure activities, which is fuelling the growth of the e-bike sector.
Global E-Bike Market: Market Segmentation:
The throttle section has the largest market share in the world. Traditional bicycles are responsible for a significant portion of air pollution. This has increased demand for low-cost, zero-emission e-bikes that are also lighter and more environmentally friendly. Governments in developing countries have established strict regulations to replace traditional bicycles by 2025. The throttle category is expected to be driven by rising gasoline prices globally as a result of the US-China trade war and customers' increased preference for e-bikes over the forecast period. Over the projected period, the pedal-assist segment is predicted to develop at a healthy rate. Pedelecs have various advantages over traditional bicycles, including increased mobility, which is beneficial for old persons while climbing hills, the ability to cover more distances in less time than standard bicycles, and the need for less effort while riding uphill or against the wind.
The majority of e-bike manufacturers in Europe and North America concentrate on mid-motor e-bikes. The mid-drive hub motor sector will dominate the hub motor position segment in 2020, as it is the best design for pedelec e-bikes and pedal-assisted e-bikes, which are widely used worldwide. There's a reason for this: producing these types of e-bikes is more profitable for them. These bikes are lighter, smaller, and can travel greater distances while using very little battery power. As a result, the mid-motor sector is expected to grow at a faster rate over the forecast period.
During the forecast period, the lithium-ion battery category is likely to dominate the market. These batteries are smaller, lighter, and have a longer range than lead-acid batteries. They can also start in harsh weather. They also necessitate less upkeep. These are some of the factors that are expected to keep this segment's dominance over the projection period. Various governments have established strict regulations for the usage of lead-acid batteries because their chemicals emit hazardous fumes that might cause major environmental problems. The emission of lead into groundwater has the potential to be harmful to human health.
Global E-Bike Market: Regional Segment:
The North American e-bike industry is expected to grow at a high rate between 2021 and 2026, propelled by demand from Canada and the United States. The industry's expansion in Canada is being aided by rising demand from retired clients, as well as a growing preference for leisure activities.
The European market accounts for roughly 39% of the total e-bike market. Germany was the most powerful country in Europe, followed by France and Italy. E-bikes are a popular means of transportation in Germany. In this country, e-bikes are also employed for sports and pleasure. In the country, they serve as a clean, quiet, and space-saving option for city logistics.
During the projected period, Asia Pacific is predicted to be the largest market for e-bikes. Due to rising e-bike sales in these nations, China, Japan, India, and Taiwan are prospective markets in this region. In China, the use of electric bikes has exploded in the last decade, and the industry is expected to be one of the fastest-growing marketplaces in the world, with prospects in a variety of sectors and categories.
Global E-Bike Market: Key Market Players:
The e-bike market is highly fragmented, with the biggest companies accounting for only a small portion of the entire market. Giant Bicycles, Merida, Trek Bikes, Riese & Muller, and Fritzmeier Systems GmbH & Co. Kg are some of the key market players. The major company in this market is Giant Bicycles. The majority of these companies' operations are located on China, with Europe and North America serving as secondary markets. Companies are broadening their product portfolios through innovations and new launches in order to maintain their market leadership positions.
Global E-Bike Market: By Product
Pedelecs
Speed Pedelecs
Throttle on Demand
Global E-Bike Market: By Drive Mechanism
Hub motor
Mid-drive
Others
Global E-Bike Market: By Battery Type
Lead acid
Lithium ion (Li-ion)
Others
Global E-Bike Market: By Region
North America
Europe

France
The UK
Spain
Germany
Italy
Rest of Europe

Asia Pacific

China
Japan
India
South Korea
Southeast Asia
Rest of Asia Pacific

Latin America

Brazil
Mexico
Rest of Latin America

Middle East & Africa

GCC
South Africa
Rest of Middle East & Africa