Covid-19
Foldable Electric Scooter Market
The pandemic continues to cause unprecedented disruption across industries worldwide.Get detailed insights regarding the impact of COVID-19 on the market. Request Sample
Industry Insights
[223+ Pages Report] As per the research report by the Facts and Factors market, the global foldable electric scooter market generated sales revenue of USD 1.92 Billion in 2020. Further, the foldable electric scooter sales are expected to generate revenue of USD 3.50 Billion by the end of 2026, increasing at a CAGR of around 10.5% from 2021 to 2026.

Market Overview
An electric scooter typically has two wheels, a platform called a deck to stand on and a handlebar to steer the way. They differ from the unmotorized kick scooters of the 90s due to the addition of a battery, electronics, larger (often air-filled) tires, and an electric motor. A foldable electric scooter is featured with all these components plus the fact that it can folded. Though the majority of scooters are intended to be ridden while standing on the deck, some scooters can be converted into seated electric scooters with optional accessories. Recently, there has been an enormous surge in interest for scooters mainly into the cities.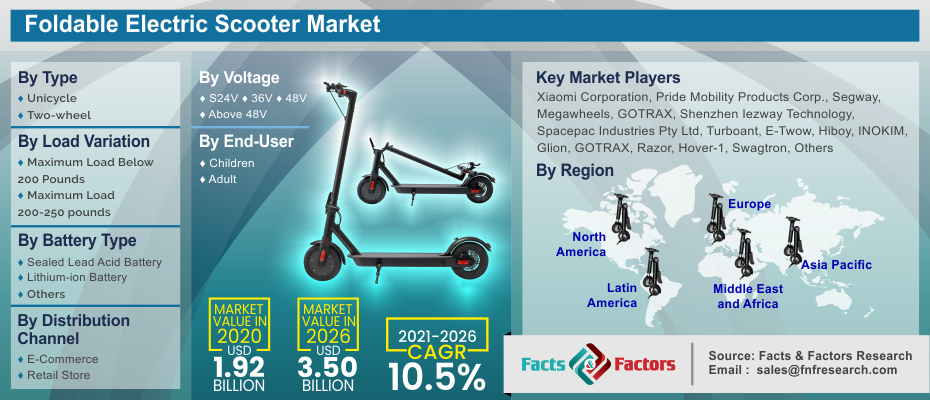 Industry Growth Factor
The compact nature of a foldable e-scooter is also a huge benefit when it comes to home storage. Bicycles and rigid scooters can be tricky to store, particularly if you have little space to spare. Folding down a scooter into a conveniently compact size means it can be stored indoors easily and unobtrusively. Riders will also find that a foldable electric scooter is far more practical than a standard scooter, as they are far less cumbersome to carry when not in use. Also, foldable electric scooters are well known to be fuel efficient and hence cause less pollution. The energy efficiency, compact size, and lightweight feature make them convenient for commutation in crowded places. Thus, their compact and environment-friendly features are expected to boost the demand for foldable electric scooter throughout the forecast period.
Global Foldable Electric Scooter Market: Segmentation
Based on type, the foldable electric scooter market is bifurcated into unicycle and two-wheel. Based on load variation, the market is bifurcated into "Maximum Load below 200 Pounds" and "Maximum Load 200-250 pounds". Based on battery type, the market is bifurcated into a sealed lead acid battery, lithium-ion battery, and other. Based on voltage, the market is bifurcated into 24V, 36V, 48V, and above 48V. Based on the distribution channel, the foldable electric scooter market is bifurcated into e-commerce and retail store. Based on end-user, the market is bifurcated into children and adult.
Global Foldable Electric Scooter Market: Regional Analysis
On a regional basis, the foldable electric scooter market is divided into five major regions namely North America, Europe, Latin America, Asia Pacific, and The Middle East, and Africa.
North America holds the largest market share for the foldable electric scooter which is attributed to the prevalence of a higher number of electric vehicle manufacturers and also the rate of urbanization is higher in the region. Also, the developed economies of the region like the US and Canada are among the largest consumers of foldable electric scooters.
Asia Pacific on the other hand is anticipated to be the fastest growing market for foldable electric scooters, during the forecast period. The region is comprised of growing economies like China, Japan, India, South Korea, etc. It is also home to few of the top manufactures such as Xiaomi Corporation. Also, the Chinese economy is one of the largest producer and consumers of electric vehicles. Moreover, the increasing pollution and relevant government initiatives are contributing to the growing demand for foldable electric scooters in the region.
Global Foldable electric scooter Market: Competitive Players
Some of the key players in the foldable electric scooter market are Xiaomi Corporation, Pride Mobility Products Corp., Segway, Megawheels, GOTRAX, Shenzhen Iezway Technology, Spacepac Industries Pty Ltd, Turboant, E-Twow, Hiboy, INOKIM, Glion, GOTRAX, Razor, Hover-1, Swagtron, Mercane Wheels, URB-E, Minimotors, XOOTR, Jetson, EcoReco among others.
By Type
By Load Variation
Maximum Load Below 200 Pounds
Maximum Load 200-250 pounds
By Battery Type
Sealed Lead Acid Battery
Lithium-ion Battery
Others
By Voltage
By Distribution Channel
By End-User
Global Foldable Electric Scooter Market: Regional Segment Analysis
North America
Europe

U.K.
France
Germany
Rest of Europe

The Asia Pacific

China
Japan
India
Rest of Asia Pacific

Latin America

Brazil
Mexico
Rest of Latin America

The Middle East and Africa

GCC
South Africa
Rest of Middle East & Africa
Covid-19
Foldable Electric Scooter Market
The pandemic continues to cause unprecedented disruption across industries worldwide.Get detailed insights regarding the impact of COVID-19 on the market. Request Sample
Table of Content