Industry Insights
[207+ Pages Report] According to Facts and Factors, the global cervical dysplasia market size was worth around USD 584.86 million in 2021 and is predicted to grow to around USD 974.11 million by 2028 with a compound annual growth rate (CAGR) of roughly 7.56% between 2022 and 2028. The report analyzes the global cervical dysplasia market's drivers, restraints/challenges, and the effect they have on the demands during the projection period. In addition, the report explores emerging opportunities in the Global Cervical Dysplasia market.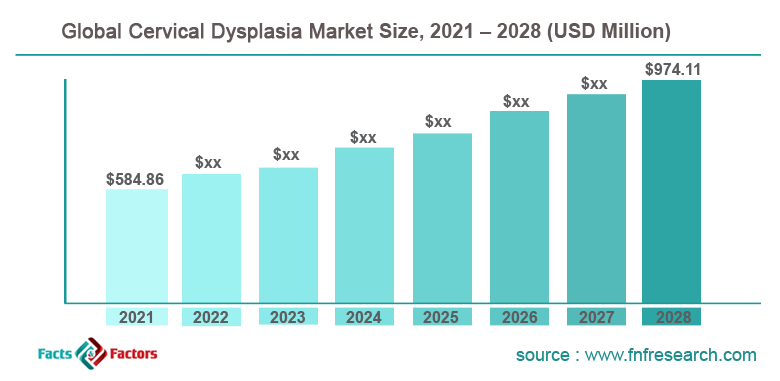 To know more about this report | Request Free Sample Copy
Market Overview
A precancerous condition known as cervical dysplasia is characterized by abnormal cell development on the cervix. Cervical intraepithelial neoplasia is another name for cervical dysplasia. Treatment and routine diagnosis can stop it before it develops into cancer. Women of any age are typically affected, but between the ages of 25 and 35 are more frequently affected. A sexually transmitted illness called cervical dysplasia is brought on by an infection with the human papillomavirus (HPV). They are asymptomatic, meaning they don't exhibit any symptoms.
Based on the types of cells it affects, glandular cell lesions and intraepithelial lesions are the two types of cervical dysplasia. A Pap test, an HPV test, and a colposcopy can all be used to detect this illness. The destruction and removal of the aberrant region can be used to treat cervical dysplasia. Surgery, radiation therapy, chemotherapy, or medication combinations, ablation therapy, and resection (expulsion of the aberrant region) therapy are the three types of standard treatment. There are many different treatment options, and the type of surgical procedure needed depends on the stage and intensity of the cancer's growth.
Key Insights
As per the analysis shared by our research analyst, the global cervical dysplasia market is estimated to grow annually at a CAGR of around 7.56% over the forecast period (2022-2028).
In terms of revenue, the global cervical dysplasia market size was valued at around USD 584.86 million in 2021 and is predicted to grow to around USD 974.11 million by 2028. Due to a variety of driving factors, the market is predicted to rise at a significant rate.
Based on type segmentation, diagnostic test was predicted to show maximum market share in the year 2021
Based on end user segmentation, hospital were predicted to show maximum market share in the year 2021.
On the basis of region, North America was the leading revenue generator in 2021.
Covid-19 Impact
The COVID-19 pandemic has had a huge impact on the cervical dysplasia market as well as the world's healthcare systems. According to an article in Cancer Connect 2020, researchers from the Dana Farber Cancer Institute found that the six most frequent cancer types—breast, colorectal, lung, pancreatic, gastric, and esophageal cancers—had a 46% decline in diagnoses during the COVID-19 pandemic. Additionally, it was advised to delay elective surgeries, cancer screenings, and other health prevention services unless the risks outweighed the benefits and to prepare the hospital infrastructure for the care of COVID-19 patients by the Centers for Disease Control and Prevention (CDC) and many other medical professional organizations.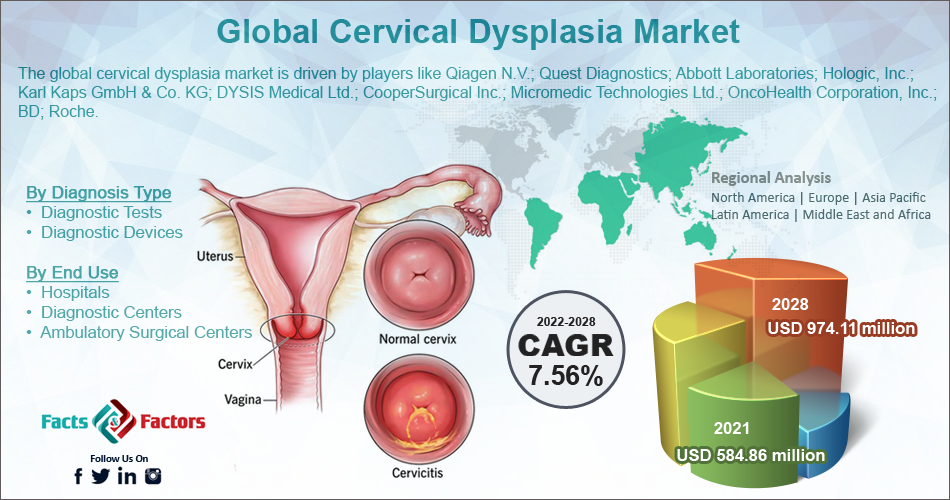 To know more about this report | Request Free Sample Copy
Growth Drivers
Governments funded screening programs for cancer augment the market growth
One of the main drivers of the global cervical dysplasia market is the increase in government-funded cancer screening programs. For instance, the first government campaign to raise awareness of cervical dysplasia screening using smear tests was introduced by Public Health England in March 2019. According to the same source, due to the stigma and fear surrounding the Pap test, the percentage of women aged 25 and older who get smear tests is currently at its lowest point in two decades.
According to information provided by NHS Digital, around 71.4% of women were screened in March 2018. PHE recently launched a campaign that involves working with national media outlets and several social media platforms to raise awareness across different platforms in England. Thus, a rise in the number of initiatives undertaken by the government to enhance the screening of cervical dysplasia is expected to boost market growth in the near future.
Restraints
Pending approvals, unavailability of therapeutic drugs, and the high costs
During the projection period, the market expansion is projected to be hampered by obstacles such as delayed approvals, the lack of therapeutic medications, and the high costs of research and development in the cervical dysplasia industry. However, ongoing research and development in the area may be able to offset the constraining factor and offer the industry a sizable opportunity during the projected period.
Opportunity
Some of the newcomers to the worldwide cervical dysplasia treatment market are Hospido, Carer, 4baseCare, Onward Assist, Moderna Inc., CureVac, BioNTech, Nanthhealth, Guardant Health, and Oncophenomics, among others. The market is anticipated to experience considerable growth prospects in the near future due to the growing number of players, which will help the cervical dysplasia treatment market over the approaching years.
Challenges
While early detection and treatment of cervical dysplasia are crucial for staying safe, women in rural and developing countries have not yet learned enough about its lethality. According to a report titled "Cervical Cancer Screening in Rural India" that was published by the Indian Journal of Medical Research in 2018, while cervical diseases like cervical carcinoma and dysplasia are more common in these areas, the screening rate for cervical cancer is quite low in rural areas of India. However, industry participants are upbeat about the development of awareness in these areas and continue to make efforts to introduce more affordable product lines and diagnostic options for cervical dysplasia.
Segmentation Analysis
The global cervical dysplasia market is segmented based on type, end user, and region
Based on type, the market is segmented into diagnostic tests and diagnostics devices. Cervical dysplasia diagnostic tests controlled the market. This is because of its effectiveness, adaptability, reimbursement procedures, and economic efficiency. These tests have a better penetration in low- and middle-income nations as a result of their cost-effectiveness. The expansion of government efforts is anticipated to increase Pap smear testing in the near future. For instance, "Smear your Mea," a community funded by the New Zealand Health campaign was established in 2017. It urges women to obtain screening tests so they can stop cancer from developing. One of the key elements anticipated to drive segment expansion over the forecast period is such initiatives. A significant driver of market growth is predicted to be the growing developments in HPV testing technology over the course of the forecast period. Fast Track Diagnostics added a new line of HPV tests to their range of sexually transmitted illnesses in March 2018. The tests make use of multiplex real-time PCR kits that allow for the detection of HPV subtypes 18, 16, and 12. The HPV testing market is anticipated to be driven by its acceptance as the main test, global accessibility, and rising popularity due to higher sensitivity.
Based on end use, the market is segmented into hospitals, Diagnostic Centers, and Ambulatory Surgical Centers. Cervical dysplasia was mostly sold by hospitals. This is because there are numerous payment plans and technologically sophisticated diagnostic tools and tests available. Additionally, advancing medical infrastructure has made it possible for hospitals to outfit various technologically sophisticated diagnostic devices, boosting both diagnostic effectiveness and overall patient happiness. Increasing efforts by numerous hospitals to improve cancer early detection is also anticipated to fuel the market for cervical dysplasia throughout the anticipated time frame. For instance, in May 2019, an agency of Provincial Health Services Authority, B.C. Women's Hospital and Health Centre partnered with Surrey's various family doctors and other communities to connect with women who consider the routine screening of the disease is quite challenging as some women might find it difficult to access doctors or are living in remote and rural areas
Recent Developments:
In June 2022, F. Hoffmann-La Roche Ltd, a Swiss multinational healthcare company, announced the official launch of a 'human papillomavirus (HPV) self-sampling solution' in the regions accepting the CE mark. This test kit mainly helps in screening for HPV, which can detect women who are at risk of developing cervical cancer.
In January 2022, SANSURE BIOTECH INC., an in-vitro diagnostic products supplier, announced that its 'HPV DNA Diagnostic Kit (HPV 13+2)' was approved by the China National Medical Products Administration (NMPA). The kit is developed with advanced magnetic beads technology and above 13 kinds of high-risk genotypes to assure that the kit is capable of cervical cancer screening.
Report Scope
| | |
| --- | --- |
| Report Attribute | Details |
| Market Size in 2021 | USD 584.86 Million |
| Projected Market Size in 2028 | USD 974.11 Million |
| CAGR Growth Rate | 7.56% CAGR |
| Base Year | 2021 |
| Forecast Years | 2022-2028 |
| Key Market Players | Qiagen N.V., Quest Diagnostics, Abbott Laboratories, Hologic Inc., Karl Kaps GmbH & Co. KG, DYSIS Medical Ltd., CooperSurgical Inc., Micromedic Technologies Ltd., OncoHealth Corporation Inc., BD, Roche., and others. |
| Key Segment | By Diagnosis Type, End Use, and Region |
| Major Regions Covered | North America, Europe, Asia Pacific, Latin America, and the Middle East &, Africa |
| Purchase Options | Request customized purchase options to meet your research needs. Explore purchase options |
Regional Analysis
North America to lead the market growth during the projection period
North America dominated the global cervical dysplasia market and accounted for the largest revenue share in 2021. Throughout the projection period, it is anticipated that the region would keep its position. The region's cervical dysplasia market is expected to be driven by factors including technological advancements, an increase in the prevalence of various associated diseases, rising awareness and screening programs, and supportive initiatives by public and private organizations to increase the adoption of HPV testing.
Additionally, a direct-to-consumer product, an HPV testing kit, was released by California-based telemedicine business Nurx in December 2018. With insurance, the test is free and makes it easier to find 14 high-risk HPV genotypes. With screening tests, this project promotes women in rural areas and those without insurance. As a result of the rising number of initiatives launched by startups in the region to improve the uptake of HPV testing among women aged 25 and over, North America is predicted to experience exponential development. In the near future, it is anticipated that growing government initiatives in Europe to improve cervical cancer screening will fuel the expansion of the cervical dysplasia market. For instance, the Pearl of Wisdom Campaign, which kicks off European Cervical Cancer Prevention Week, was launched in January 2016 by the Irish Family Planning Association and the National Cervical Screening Program. The campaign emphasizes the value of routine disease screening.
Competitive Analysis
Qiagen N.V.
Quest Diagnostics
Abbott Laboratories
Hologic Inc.
Karl Kaps GmbH & Co. KG
DYSIS Medical Ltd.
CooperSurgical Inc.
Micromedic Technologies Ltd.
OncoHealth Corporation Inc.
BD
Roche
The global cervical dysplasia market is segmented as follows:
By Diagnosis Type
Diagnostic Tests
Diagnostic Devices
By End Use
Hospitals
Diagnostic Centers
Ambulatory Surgical Centers
By Regional Segment Analysis
North America
Europe

France
The UK
Spain
Germany
Italy
Nordic Countries
Benelux Union

Belgium
The Netherlands
Luxembourg

Rest of Europe

Asia Pacific

China
Japan
India
Australia
South Korea
Southeast Asia

Indonesia
Thailand
Malaysia
Singapore
Rest of Southeast Asia

Rest of Asia Pacific

The Middle East & Africa

Saudi Arabia
UAE
Egypt
South Africa
Rest of the Middle East & Africa

Latin America

Brazil
Argentina
Rest of Latin America