Industry Insights
[231+ Pages Report] According to the report published by Facts and Factors, the global car subscription market size was worth around USD 5.1 billion in 2022 and is predicted to grow to around USD 99 billion by 2030 with a compound annual growth rate (CAGR) of roughly 35.1% between 2023 and 2030. The report analyzes the global car subscription market drivers, restraints/challenges, and the effect they have on the demands during the projection period. In addition, the report explores emerging opportunities in the car subscription market.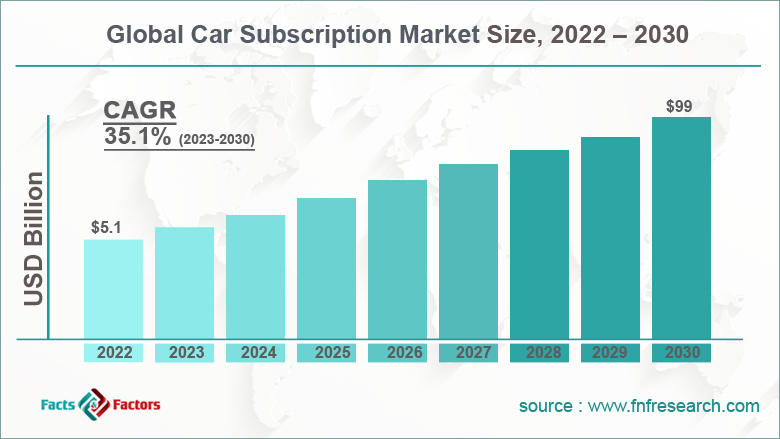 Market Overview
The global industry is relatively a new segment and a consequence of rampant commercialization and industrialization. It is a unique way of owning a vehicle with a monthly fee to the car provider without actually owning the car. This allows the consumer to gain all the advantages associated with acquiring a car but without the liabilities that come along with it. It is sometimes referred to as a vehicle subscription service or car-as-a-service. In this method, the subscriber pays a pre-decided monthly payment that covers certain aspects of a car including the cost of the car, maintenance, insurance, and associated roadside assistance. However, the subscriber does not have to worry about the depreciating value of the car, selling the vehicle, or trade-ins once they are no longer using the car which is at the end of the subscription.
Key Insights
As per the analysis shared by our research analyst, the global car subscription market is estimated to grow annually at a CAGR of around 35.1% over the forecast period (2022-2030)
In terms of revenue, the global car subscription market size was valued at around USD 5.1 billion in 2022 and is projected to reach USD 99 billion, by 2030.
The market is projected to grow at a significant rate due to the growing demand for flexible mobility services
Based on subscription period segmentation, o to 6 months was predicted to show maximum market share in the year 2022
Based on vehicle type segmentation, the executive car was the leading type in 2022
On the basis of region, North America was the leading revenue generator in 2022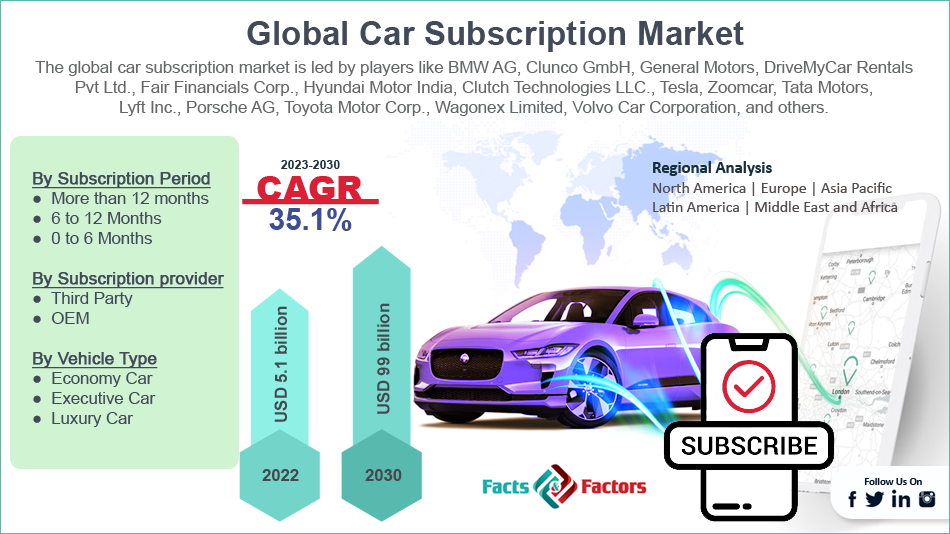 Growth Drivers
Growing demand for flexible mobility services to drive market growth
The global car subscription market is projected to grow owing to the increasing demand for mobility services that offer better flexibility to customers. With the rapid rate of urbanization, a large segment of the population is witnessing a change in lifestyle patterns and preferences. Furthermore, with the increase in the inflation rate, consumers are opting for an affordable yet comfortable lifestyle and the global industry players are trying to tap into this segment of the population. Owning a car has become extremely expensive since car prices are at an all-time high along with maintenance issues due to fluctuating gas and petrol prices. Car subscription has allowed consumers to enjoy luxuries without worrying about the issues which is the most lucrative factor about the car ownership method.
Restraints
Restricted geographic availability to restrict market expansion
Services related to car subscriptions are currently limited only in certain geographic areas which could act as a global market growth limiting factor. The service is only available in developed economies and has not made a mark in underdeveloped or emerging nations. It could take multiple years before the global industry players make an entry into newer regions since they first need to test the viability of the business in already existing nations. Furthermore, car preference varies from one person to another and it is difficult for service providers to meet the expectations of every customer.
Opportunities
Urbanization to open doors for higher growth opportunities
Car subscription services are currently only mostly available in developed countries that have the necessary supporting infrastructure along with a positive approach of the consumers toward such services. With rapid urbanization, the global market can expect higher growth opportunities as consumer awareness is expected to increase. Additionally, as more people move toward urban cities, lifestyle preferences are bound to change which can be a good trait acting in favor of more revenue.
Challenges
High dealer dependency to challenge the market expansion
These services are largely based on the intention and business ethics of the dealers. This means that consumers have to be highly dependent on the service providers for every aspect of undertaking car subscription services. Moreover, since the concept is relatively new, the regulatory measures surrounding the operational parameters of the temporary car ownership service are vague and not clearly defined leaving a large room for experimentation which could act as a challenge for the global industry players and the consumers.
Segmentation Analysis
The global car subscription market is segmented based on subscription period, subscription provider, vehicle type, and region
Based on the subscription period, the global market is divided into more than 12 months, 6 to 12 months, and o to 6 months
The choice of the subscription period is completely based on the offerings of the service provider and the consumer's preference
However, as per official statistics analysis, the most preferred choice is between 0 to 6 months
Consumers tend to choose shorter service periods because it allows them higher flexibility and the option to choose a new service in case of dissatisfaction with the previous one
Long-duration services can be binding and offer lesser flexibility
The average cost of car subscription service in the US is around USD 750 to USD 1600 per month
Based on subscription provider, the global market divisions are third party and OEM
Based on vehicle type, the global market divisions are economy cars, executive car, and luxury car.
The most popular form of cars that sell the most in the global industry are executive cars, especially in the crossovers and sports utility vehicle (SUV) sub-segment
This is because such cars offer versatility and are highly spacious which means that can have numerous applications which trait is absent in the economy car segment
They are suitable for adventure sports or a family trip
However, the luxury cars segment is gaining momentum since a lot of people may want to enjoy the experience that luxury cars offer at a nominal price
As per information by RepairPal, the average annual cost of maintaining an Audi, which is a luxury car, comes to around USD 800
Recent Developments:
In February 2023, Maruti Suzuki, a global leader in the automotive segment, announced its collaboration with SMAS Auto Leasing India Pvt Ltd. The collaboration will aim at improving the former's vehicle subscription services. SMAS is currently the fifth partner offering Maruti's vehicles to offer white plate subscriptions
In October 2022, PSA Financial Services Netherlands which is a joint venture with Santander and Banque PSA Finance (Stellantis) as core members, announced partnering with Casi, a Norwegian startup. The move will assist the former in launching car subscription service named Drivenjoy in the Dutch-speaking territory
In October 2022, Maruti Suzuki launched car subscription services in 5 Indian cities. They are Vishakhapatnam, Ludhiana, Chandigarh, Nagpur, and Lucknow. With this, the company has expanded its services in total of 25 Indian cities
Report Scope
| | |
| --- | --- |
| Report Attribute | Details |
| Market Size in 2022 | USD 5.1 Billion |
| Projected Market Size in 2030 | USD 99 Billion |
| CAGR Growth Rate | 35.1% CAGR |
| Base Year | 2022 |
| Forecast Years | 2023-2030 |
| Key Market Players | BMW AG, Clunco GmbH, General Motors, DriveMyCar Rentals Pvt Ltd., Fair Financials Corp., Hyundai Motor India, Clutch Technologies LLC., Tesla, Zoomcar, Tata Motors, Lyft Inc., Porsche AG, Toyota Motor Corp., Wagonex Limited, Volvo Car Corporation, and others. |
| Key Segment | By Subscription Period, Subscription provider, Vehicle Type, and Region |
| Major Regions Covered | North America, Europe, Asia Pacific, Latin America, and the Middle East &, Africa |
| Purchase Options | Request customized purchase options to meet your research needs. Explore purchase options |
Regional Analysis
North America to register the highest CAGR
The global car subscription market is projected to witness the highest growth in North America since it is currently the most revenue-generating region with the US and Canada contributing significantly. There are several service providers, car dealers, manufacturers, and third-party businesses that offer programs that help in deeper penetration of the regional market.
Furthermore, the highly developed infrastructure and cars being a basic necessity in every American or Canadian household has led to more people opting for reasonable ways of owning a car. As per Statista, every US household owns an average of 1.88 cars. The regional market has already established a mark for itself and with the addition of new players along with a positive response from the consumers, the regional market can expect better growth opportunities.
Competitive Analysis
BMW AG
Clunco GmbH
General Motors
Drive My Car Rentals Pvt Ltd.
Fair Financials Corp.
Hyundai Motor India
Clutch Technologies LLC.
Tesla
Zoomcar
Tata Motors
Lyft Inc.
Porsche AG
Toyota Motor Corp.
Wagonex Limited
Volvo Car Corporation
The global car subscription market is segmented as follows:
By Subscription Period Segment Analysis
More than 12 months
6 to 12 Months
0 to 6 Months
By Subscription provider Segment Analysis
By Vehicle Type Segment Analysis
Economy Car
Executive Car
Luxury Car
By Regional Segment Analysis
North America
Europe

France
The UK
Spain
Germany
Italy
Nordic Countries
Benelux Union

Belgium
The Netherlands
Luxembourg

Rest of Europe

Asia Pacific

China
Japan
India
Australia
South Korea
Southeast Asia

Indonesia
Thailand
Malaysia
Singapore
Rest of Southeast Asia

Rest of Asia Pacific

The Middle East & Africa

Saudi Arabia
UAE
Egypt
South Africa
Rest of the Middle East & Africa

Latin America

Brazil
Argentina
Rest of Latin America