Covid-19
Global B2C Mobility Sharing Market Size, Share
The pandemic continues to cause unprecedented disruption across industries worldwide.Get detailed insights regarding the impact of COVID-19 on the market. Request Sample
Industry Insights
[228+ Pages Report] According to a Facts and Factors report, the global B2C Mobility Sharing market is estimated to be around USD 35 Billion in 2020, with annual sales of approximately USD 99 Billion at the end of 2026, representing a CAGR of around 30% from 2021 to 2026.
Market Overview
B2C mobility sharing includes vehicle sharing, ride-hailing, and ride-sourcing services provided directly to consumers by the service provider. The vehicles used in this service are owned by the service providers. The services provided are determined by the amount of time or distance traveled. Sharing mobility is a new transportation trend that has proven successful in boosting average vehicle occupancy and reducing the number of vehicles required to transport multiple passengers. Because of the rapidly increasing automotive sales, the shared mobility market has a huge potential to grow over the forecast period of 2021 to 2026. Furthermore, rising connected vehicle and smartphone penetration, as well as rising on-road vehicle traffic and fuel costs, are all having a significant impact on the growth of the shared mobility market. Another driver boosting the growth of the shared mobility market is the high per capita income as well as the rising cost of vehicle ownership, which is pushing people to look for another way to solve their transportation problems. In Business-to-Consumer (B2C) service models, providers usually own/lease and maintain a number of vehicles and charge users membership and/or usage fees to access these vehicles. Examples of B2C shared mobility service models covered in this section include: 1) Carsharing (roundtrip and one-way), 2) Bikesharing, 3) Scooter Sharing, and 4) Microtransit.
Industry Growth Factors
Cities house more than 70% of the population in Europe, North and Latin America. The social costs of urbanization have risen, including degradation of the environment, traffic jams, and accidents, all of which are immediate and pressing issues. Technology is critical for providing safe and sustainable transportation for millions of people sharing limited space, as well as for supply chain resilience. An increase in urbanization has led to increased mobility of residents. The high cost of living in urban cities and the need for swift, flexible and cost-effective mobility has become a need of an hour. Thus, this requirement is filled by B2C mobility sharing players.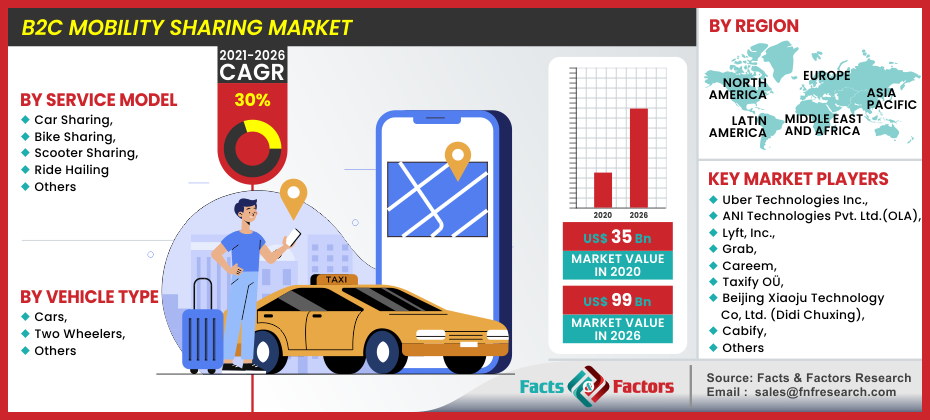 Traditional mobility was dominated by personal vehicles and public transport and little amount of market was available for sharing. But with the increased usage of smartphones and the emergence of platform-based businesses has altered the market of mobility services and incepted a new concept of Mobility as a Service (MaaS). Mobility-as-a-Service (MaaS) is an evolving concept of how consumers and businesses move away from vehicle ownership towards service-based transport. In this sense, MaaS includes a multi-modal aggregation of transport modes as well as on-demand mobility. This innovation in the business has increased the convenience of the consumers and altered their choices as more and more consumers are inclined towards not owning the vehicles. This trend has also compelled the global finances to invest in the market opportunity of B2C shared mobility business and as a result of which numerous market players catering to the needs of the consumers have emerged. Governments across the world are supporting the sharing infrastructure. Helsinki, Finland, is an example of a city at the forefront of the transition to shared mobility. Helsinki has set an ambitious goal of replacing private vehicles with shared mobility by 2025, integrating all shared and public transportation into a single linked network with easy payment via digital platforms. Several cities of the world lack adequate public transportation infrastructure and services, limiting their use. Furthermore, cities lack non-motorized transportation infrastructure, which may limit the adoption of bike/cycle sharing schemes.
Segmentation Analysis
The global B2C Mobility Sharing market is segmented on the service model as car sharing, bike sharing, scooter sharing, ride-hailing, and others. By Vehicle Type, the market is divided into cars, two-wheelers, and others. Car sharing service is likely to grow tremendously as a result of an increase in daily commuters traveling to work, the increase in family outings, and the increase in the number of people traveling to restaurants and bars are all fuelling global demand for passenger cars. As most ride-sharing occurs when traveling long or moderate distances, thus more occurrences of car-sharing services are likely to grow in the forecast period.
Regional Analysis
The global B2C mobility sharing market can be divided into five regions. The popularity of ride-hailing services is growing all over the world, owing to their effectiveness in limiting the number of vehicles on the road, resulting in less pollution and less traffic congestion. Several countries in North America and Europe are experiencing significant traffic congestion, resulting in significant emissions of greenhouse gases, which leads to an increase in global temperature. As a result, governing bodies are emphasizing shared mobility services, particularly ride-sharing services, which have been shown to be effective in reducing pollution. APAC is region is also witnessing tremendous growth potential for shared mobility owing to high growth in the economy, rising standard of living of the population, and increasing urbanization. With rising GDP, rapid urbanization, and urban sprawl, India's demand for mobility is increasing. Between now and 2030, India's passenger kilometer traveled (PKT) is expected to nearly 14 times increase, from 1400 Billion passenger kilometer (BPKM) to 18,750 BPKM. While India is expected to be a global leader in shared mobility, several barriers must be overcome in order to promote solutions and services. Infrastructure and services, policy and regulatory, behavioral, and data are the four major barriers to increasing shared mobility in India.
Competitive Players
Major players in the market are Uber Technologies Inc., ANI Technologies Pvt. Ltd. (OLA), Lyft, Inc., Grab, Careem, Taxify OÜ, Beijing Xiaoju Technology Co, Ltd. (Didi Chuxing), Cabify, Europcar, The Hertz Corporation, Avis Budget Group, Inc., and Enterprise Holdings, Inc.
Global B2C Mobility Sharing Market: Regional Segment Analysis
North America
Europe

UK
France
Germany
Italy
Spain
Rest of Europe

Asia Pacific

China
Japan
India
South Korea
Southeast Asia
Rest of Asia Pacific

Latin America

Brazil
Mexico
Rest of Latin America

Middle East and Africa

GCC Countries
South Africa
Rest of MEA