Industry Insights
[211+ Pages Report] According to Facts and Factors, the global artificial tendons and ligaments market size was worth around USD 19.09 million in 2021 and is predicted to grow to around USD 56.61 million by 2028 with a compound annual growth rate (CAGR) of roughly 16.80% between 2022 and 2028. The report analyzes the global artificial tendons and ligaments market's drivers, restraints/challenges, and the effect they have on the demands during the projection period. In addition, the report explores emerging opportunities in the artificial tendons and ligaments market.
Market Overview
A ligament is a section of connective tissue that holds two bones together. The ligament is a fibrous band of connective fibers that supports the internal organs and holds the bones together at the joints. The white ligament, which is rich in collagenous fibers, and the yellow ligament, which is rich in elastic fibers, are the two main types of ligament. A damaged tendon is replaced with an artificial tendon, a strengthening substance. Artificial tendons are made from bio-compatible materials such PET (polyethylene terephthalate), polypropylene, and polyacrylonitrile (sodium styrene sulfonate). A technique to 3D print human tissue, including tendons and ligaments, was recently created by a team of researchers from the biomedical department at the University of Utah.
The frequency of sports injuries, the rise in interest in minimally invasive surgery, the prevalence of sports injuries, the advantages of artificial tendons and ligaments, and the issues with the usage of orthobiologics are all elements that are fostering the market's expansion.
Rising sports injury rates, growing government initiatives to increase public awareness of artificial tendons and ligaments, and rising R&D investment in artificial ligaments and tendons are some of the factors propelling the growth of the global artificial tendons and ligaments market. The aging population and growing need for minimally invasive operations both contribute to tendon and ligament degeneration difficulties, which will cause the market for artificial tendons and ligaments to grow. Healthcare providers' reluctance to use artificial tendons and ligaments, the high cost of therapy, and subpar reimbursement rules are the main obstacles to the growth of the artificial tendons and ligament market.
Key Insights
As per the analysis shared by our research analyst, the global artificial tendons and ligaments market is estimated to grow annually at a CAGR of around 16.80% over the forecast period (2022-2028).
In terms of revenue, the global artificial tendons and ligaments market size was valued at around USD 19.09 million in 2021 and is projected to reach USD 56.61 million, by 2028. Due to a variety of driving factors, the market is predicted to rise at a significant rate.
Based on application segmentation, knee injuries were predicted to show maximum market share in the year 2021
Based on end user segmentation, hospital and clinics had the leading revenue-generating applications in 2021.
On the basis of region, North America was the leading revenue generator in 2021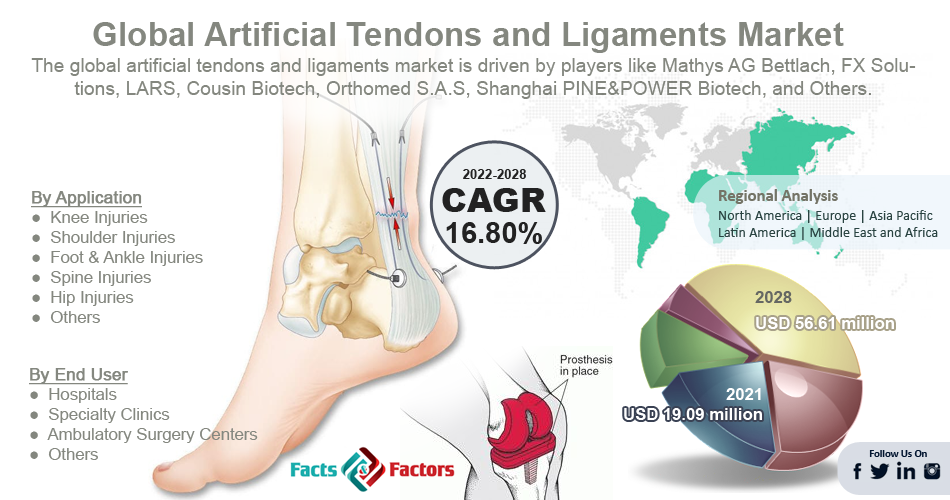 To know more about this report | Request Free Sample Copy
Growth Drivers
Increasing incidence of sports injuries is the key factor driving the market.
The majority of sports-related injuries are brought on by mishaps, bad technique, inadequate warm-up & stretching, and a lack of conditioning. Ankle sprain, groyne pull, hamstring strain, ACL tear, and tennis elbow are among the most prevalent types of sports injuries found among players.
Additionally, a sizable portion of people is ignorant of the safety precautions that apply to sports, which can lead to a variety of mild to severe injuries. A&E departments in England treated an estimated 165,000 cases of sports-related injuries in 2016, according to Accident & Emergency (A&E) figures released by the U.K. Parliament.
Restraints
High procedure cost to restrict the market growth
On the other hand, it is anticipated that the procedure's high cost and the negative reimbursement condition will restrain market expansion. In the forecast period of 2022–2028, the artificial tendons and ligaments market is expected to face challenges from healthcare providers who are reluctant to utilize artificial tendons and ligaments and from a lack of clinical evidence demonstrating their effectiveness.
Opportunities
Advancements in surgical procedures to provide growth opportunities
The problems with tendon and ligament tissue engineering may be resolved with the use of advanced composite materials. These methods still have drawbacks, such as the requirement for larger-scale animal models to facilitate future clinical translation and thorough evaluation of tissue response following implantation.
Segmentation Analysis
The global Artificial Tendons and Ligaments market is segmented based on application, end user, and region.
Based on application the market is segmented into knee injuries, shoulder injuries, foot & ankle injuries, spine injuries, hip injuries, and others. Due to a variety of factors, including an increase in sports participation, an increase in the frequency of knee injuries, discomfort at the harvest site as a result of conventional surgical treatment methods using autografts and allografts, and the advantages of artificial tendons and ligaments over autografts and allografts, the knee injuries segment dominated the global artificial tendons and ligaments market.
The other uses category includes conditions such as hip dislocation, elbow injuries, and spinal injuries. The segment is anticipated to expand rapidly as a result of the rise in entire femoral tumor removals and prosthetic replacement surgeries, both of which have high success rates. Among the significant products in this area are Cousin Biotech's NAJA and IntraSpine, LARS, and InternalBrace.
By end user, the market is divided into hospitals, specialty clinics, ambulatory surgery centers, and others. Due to a high risk of postoperative problems and high patient turnover, the hospitals segment led the global artificial tendons and ligaments market. Supportive infrastructure, which assists in efficient operations, will also encourage the adoption of these grafts in hospitals and clinics' end-user facilities.
Recent Developments:
In June 2018, a team of Swiss researchers developed a microplate system for printing engineered muscle and tendon tissue. This system may help as a therapeutic application to treat a variety of muscle disorders.
In January 2018, a team of scientists from the University of Colorado Boulder engineered a humanlike artificial muscle that is cheap, flexible, and strong.
Report Scope
| | |
| --- | --- |
| Report Attribute | Details |
| Market Size in 2021 | USD 19.09 Million |
| Projected Market Size in 2028 | USD 56.61 Million |
| CAGR Growth Rate | 16.80% CAGR |
| Base Year | 2021 |
| Forecast Years | 2022-2028 |
| Key Market Players | Mathys AG Bettlach, FX Solutions, LARS, Cousin Biotech, Orthomed S.A.S, Shanghai PINE&POWER Biotech, and others. |
| Key Segment | By Application, End User, and Region |
| Major Regions Covered | North America, Europe, Asia Pacific, Latin America, and the Middle East &, Africa |
| Purchase Options | Request customized purchase options to meet your research needs. Explore purchase options |
Regional Analysis
Europe to lead the market growth during the projection period
Due to increased government initiatives to promote sports, an increase in conferences, symposiums, and workshops showcasing the newest sports technologies in the UK, an increase in sports-related injuries and knee replacements, the growth of the medical device industry, the low out-of-pocket costs for medical devices, and agreements between universities, organizations, and institutions, the Europe region currently holds a dominant share of the global artificial tendons and ligaments market.
Competitive Analysis
Mathys AG Bettlach
FX Solutions
LARS
Cousin Biotech
Orthomed S.A.S
Shanghai PINE&POWER Biotech
The global artificial tendons and ligament market is segmented as follows:
By Application
Knee Injuries
Shoulder Injuries
Foot & Ankle Injuries
Spine Injuries
Hip Injuries
Others
By End User
Hospitals
Specialty Clinics
Ambulatory Surgery Centers
Others
By Regional Segment Analysis
North America
Europe

France
The UK
Spain
Germany
Italy
Nordic Countries
Benelux Union

Belgium
The Netherlands
Luxembourg

Rest of Europe

Asia Pacific

China
Japan
India
Australia
South Korea
Southeast Asia

Indonesia
Thailand
Malaysia
Singapore
Rest of Southeast Asia

Rest of Asia Pacific

The Middle East & Africa

Saudi Arabia
UAE
Egypt
South Africa
Rest of the Middle East & Africa

Latin America

Brazil
Argentina
Rest of Latin America