Industry Insights
[239+ Pages Report] According to Facts and Factors, the global arrayed waveguide grating (AWG) market size was worth around USD 100.18 million in 2021 and is predicted to grow to around USD 234.95 million by 2028 with a compound annual growth rate (CAGR) of roughly 12.95% between 2022 and 2028. The report analyzes the global Arrayed Waveguide Grating (AWG) market's drivers, restraints/challenges, and the effect they have on the demands during the projection period. In addition, the report explores emerging opportunities in the Arrayed Waveguide Grating (AWG) market.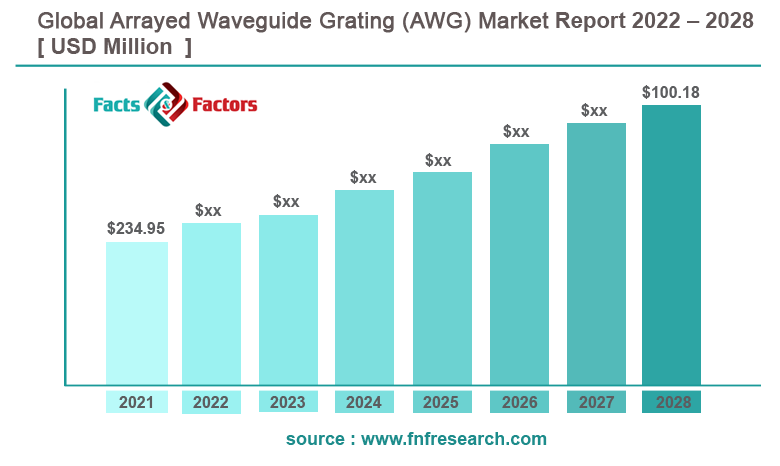 Market Overview
Arrayed waveguide gratings (AWG) are frequently employed in wavelength division multiplexed (WDM) systems as optical (de)multiplexers. The transmission capacity of optical networks is greatly increased by these devices since they can multiplex a number of wavelengths onto a single optical cable. The devices are based on the basic optical principle that light waves of different wavelengths do not interfere with one another linearly. The light from multiple of these channels can be transported by a single optical fiber with very little crosstalk between the channels if each channel in an optical communication network uses light with a slightly different wavelength. At the transmission end of an optical communication network, the AWGs are used to multiplex channels of several wavelengths onto a single optical fiber. At the receiving end, they serve as demultiplexers to retrieve individual channels of various wavelengths. The top two manufacturers in the world market for AWG are NTT and NeoPhotonics. In 2019, they accounted for 69.40% of total income. Asia-Pacific is the region with the highest volume of AWG consumption, accounting for 47.91% of the global market share in 2019.
Key Insights
As per the analysis shared by our research analyst, the global arrayed waveguide grating (AWG) market is estimated to grow annually at a CAGR of around 12.95% over the forecast period (2022-2028).
In terms of revenue, the global arrayed waveguide grating (AWG) market size was valued at around USD 100.18 million in 2021 and is projected to reach USD 234.95 million, by 2028. Due to a variety of driving factors, the market is predicted to rise at a significant rate.
Based on type segmentation, thermal AWG was predicted to show maximum market share in the year 2021
Based on application segmentation, the enterprise network had the leading revenue-generating applications in 2021.
On the basis of region, North America was the leading revenue generator in 2021
Covid-19 Impact
The market for arrayed waveguide gratings (AWG) has been impacted by COVID-19. Due to the increasing usage of electronic devices, data traffic combined with the efficient handling of the substantial volumes of generated data in data centers, and high-speed cloud computing, this has had a favorable effect on the market. In addition, the need for arrayed waveguide gratings is growing as a result of the lockdown and restrictions since users are exchanging data at a faster rate and need a reliable internet connection.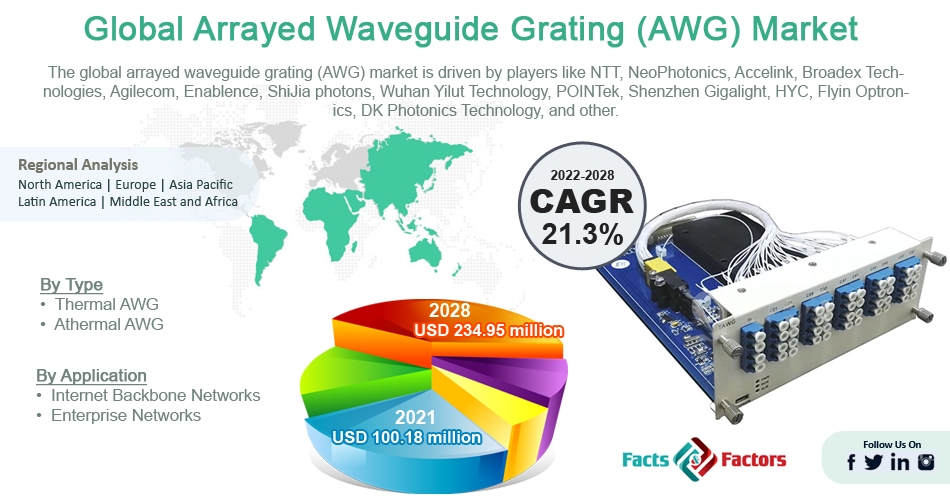 Growth Drivers
Expanding adoption of electronic devices drives the market growth
The market for arrayed waveguide gratings is developing at a rapid rate due to rising electronic device use, increased data traffic as a result of data centers' ability to handle massive amounts of data creation, and rapid cloud computing. Additionally, factors such as increased bandwidth need, expanding internet connectivity, and low power consumption may increase demand for arrayed waveguide gratings during the projection period.
Restraints
High installation costs may hamper the market growth
The tardy introduction of various technologies connected to optical waveguides and the high installation cost of arrayed waveguide grating for data transmission regions like data centers, however, could impede the growth of the global arrayed waveguide grating market in the near future.
Opportunities
Rise in the demand for bandwidth creates a lucrative growth opportunity
Furthermore, during the projected period of 2022 to 2028, market participants would benefit from increased internet connectivity, rising bandwidth demand, and declining power consumption. Additionally, a rise in investments from major firms would help the market grow even more.
Challenges
High-performance optical (de)multiplexers known as arrayed waveguide gratings (AWG) play a key role in the construction of high-speed dense wavelength division multiplexing (DWDM) networks. Their size and structural complexity, however, make it difficult to perform a complete mathematical study, which limits design.
Arrayed Waveguide Grating (AWG)Market: Segmentation
The global arrayed waveguide grating (AWG) market is segmented based on type, application, and region
On the basis of type, the market is segmented as Thermal AWG and Athermal AWG. Thermal AWG dominated the growth of the market. Some other names for an AWG device are optical waveguide, waveguide grating router, phase array, and phasar. An array of curved-channel waveguides with a set difference in the length of the optical path between the neighboring channels make up an AWG device. The Mach-Zehnder interferometer is a generalization known as an arrayed waveguide grating (AWG). The following figure provides an illustration of this gadget. Through an array of M waveguides with lengths selected so that the length difference between any two neighboring waveguides is constant, it combines two NxM star couplers. As a result, as an input signal travels through it, the phase difference between two adjacent waveguides remains constant.
On the basis of application, the market is segmented as Internet Backbone Networks and Enterprise Networks. The Enterprise Networks dominate the growth of the market. The wavelength dependence of an AWG can be explained using the following straightforward physical concepts. The first-star coupler divides this signal's power into numerous components and directs them into the waveguides producing the grating when it is launched into one of the input waveguides. The wavefront is tilted at the output end of the grating array as a result of linearly changing phase shifts in waveguides of various lengths. Each channel is compelled to focus on a different output waveguide of the second coupler by the tilt, which is wavelength-dependent. This behavior is comparable to a bulk grating, which similarly sends various wavelengths to various regions.
Recent Developments:
In December 2019, DigiLens Inc., a leader in holographic waveguide display technology for augmented reality, announced its expansion into China with the addition of Crystal Optech as its first Chinese licensee and Country Manager Xiaoshu Lin. DigiLens Crystal waveguides will be able to expand their market presence as a result of this relationship.
Report Scope
| | |
| --- | --- |
| Report Attribute | Details |
| Market Size in 2021 | USD 100.18 Million |
| Projected Market Size in 2028 | USD 234.95 Million |
| CAGR Growth Rate | 12.95% CAGR |
| Base Year | 2021 |
| Forecast Years | 2022-2028 |
| Key Market Players | NTT, NeoPhotonics, Accelink, Broadex Technologies, Agilecom, Enablence, ShiJia photons, Wuhan Yilut Technology, POINTek, Shenzhen Gigalight, HYC, Flyin Optronics, DK Photonics Technology, and others. |
| Key Segment | By Type, Application, and Region |
| Major Regions Covered | North America, Europe, Asia Pacific, Latin America, and the Middle East &, Africa |
| Purchase Options | Request customized purchase options to meet your research needs. Explore purchase options |
Regional Analysis
North America to lead the market growth during the projection period
North America dominates the global arrayed waveguide grating market followed by Europe, and Japan owing to high internet penetration, and the establishment of key players in the field of the internet such as Google, and Facebook. In order to reduce the cost of network deployment, manufacturers can now incorporate AWG capabilities onto active equipment to produce InP-based Photonic Integrated Circuits (PICs). For instance, the transceiver can perform add-drop multiplexing tasks without the use of an external multiplexer. This lowers the cost of the component and the installation as well as any potential optical attenuation from using numerous optical connectors.
The Arrayed waveguide grating market is projected to expand in Asia Pacific at the highest CAGR during the forecast period. The desire for better infrastructure has been significantly boosted by factors including economic expansion in important nations like China and India, which is further boosting the market for arrayed waveguide gratings in the region. Additionally, the potential for construction projects in nations like China and Singapore is larger, increasing the market's need for arrayed waveguide grating. Government initiatives for infrastructure development and spending on residential and non-residential projects in nations like Japan, China, India, and Malaysia are just a few examples. AWGs can be used in a wide range of applications, from very simple add-drop multiplexers to complex telecommunication cross-connects. AWGs are typically employed as (de) multiplexers in WDM networks in the telecommunications sector. This is typically used in long-distance networks, such as those for international, domestic, and regional transportation. The majority of Passive Optical Networks (PON) deployed globally uses wavelength-independent optical splitter for power splitting and time division multiplexing for upstream and downstream transmission. This enables a lower cost of deployment and removes the need to manage wavelengths to individual connections downstream from the optical splitter and are anticipated to boost the demand for Arrayed waveguide grating market regional growth.
Competitive Analysis
NTT
NeoPhotonics
Accelink
Broadex Technologies
Agilecom
Enablence
ShiJia photons
Wuhan Yilut Technology
POINTek
Shenzhen Gigalight
HYC
Flyin Optronics
DK Photonics Technology
The global arrayed waveguide grating (AWG) market is segmented as follows:
By Type
By Application
Internet Backbone Networks
Enterprise Networks
By Regional Segment Analysis
North America
Europe

France
The UK
Spain
Germany
Italy
Nordic Countries
Benelux Union

Belgium
The Netherlands
Luxembourg

Rest of Europe

Asia Pacific

China
Japan
India
Australia
South Korea
Southeast Asia

Indonesia
Thailand
Malaysia
Singapore
Rest of Southeast Asia

Rest of Asia Pacific

The Middle East & Africa

Saudi Arabia
UAE
Egypt
South Africa
Rest of the Middle East & Africa

Latin America

Brazil
Argentina
Rest of Latin America