Industry Insights
[211+ Pages Report] According to Facts and Factors, the global enterprise data management market size was worth USD 77.5 billion in 2021 and is estimated to grow to USD 130.6 billion by 2028, with a compound annual growth rate (CAGR) of approximately 9.1% over the forecast period. The report analyzes the enterprise data management market's drivers, restraints/challenges, and the effect they have on the demands during the projection period. In addition, the report explores emerging opportunities in the enterprise data management market.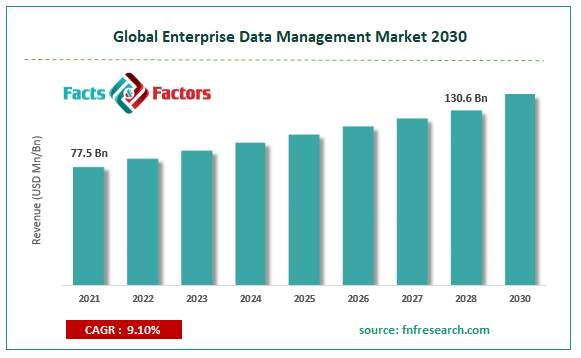 To know more about this report | Request Free Sample Copy
Market Overview
The systematic administration of data that results from a business's policies, controls, processes, technology, and people is known as enterprise data management. Organizations can benefit from enterprise data management systems by cleaning, standardizing, profiling, and removing duplicates of data related to operations, marketing, finance, vendor relations, and risk management. Enterprise data management enables businesses to resolve administrative data conflicts and problems brought on by the careless handling of information and data. Data from external enterprise systems, applications, and cloud services are automatically ingested via enterprise data management. To give It is examined for consistency and integrity once received to give end users greater information or improve the data quality.
The goal of enterprise data management is to extract qualitative information from massive amounts of data that can be utilized to create connections and develop strategic interpretations. Both structured and unstructured data are possible. The primary development drivers of the enterprise data management market are the desire to lower the total data ownership cost and the growing demand for data management in companies as a crucial prerequisite for business continuity. Most businesses across various industries constantly define data management policies and ensure data accuracy, positively impacting how enterprise data management solutions are implemented.
COVID-19 Impact:
Many global sectors are experiencing interruptions due to the Covid 19 epidemic. The market is now facing a few difficulties. Enterprise data management is currently being produced at a slower pace. Additionally, enterprise data management deployment is challenging at the moment. Lockdowns and international limitations are hampering the deployment rate. Like in other sectors, this sector's demand is affected. Many organizations now employ remote workers. The adoption of this technology in businesses is diminishing due to the work-from-home environment. In the market for enterprise data management, SME demand is declining. The enterprise system is typically connected with the main system. Many markets will continue to operate remotely in the years to come.
Key Insights
As per the analysis shared by our research analyst, the global enterprise data management market value is expected to grow at a CAGR of 9.1% over the forecast period.
In terms of revenue, the global enterprise data management market size was valued at around USD 77.5billion in 2021 and is projected to reach USD 130.6 billion by 2028.
The requirement to efficiently manage the hierarchical master data generated across departments, the adoption of Internet of Things (IoT) devices, and digitalization are three major market growth drivers.
By components, the software category dominated the market in 2021
By deployment mode, the on-premise category dominated the market in 2021
North America dominated the global enterprise data management market in 2021.
Growth Drivers
The need for a risk management system is growing, which will increase the demand for the product
The ongoing globalization has led to numerous businesses opening locations worldwide. Data acquisition is complicated by the variable data dependent on the offices' areas. Data management systems can support multi-user access and single-source reporting in these situations, giving clients consistent data everywhere. The incumbents in various industries and industry verticals, including BFSI and manufacturing, can benefit from EDM solutions by gaining essential insights from historical and current data and forecasting market developments that might impact client requirements. The baseline of an organization may be significantly affected by restructuring the workflows at this point. EDM solutions can be helpful for these firms by verifying the data's accuracy and implementing efficient risk management.
Restraints
Address and validation problems with the data will hamper the growth of the market
The leading cause of problems with route optimization is a lack of address information. Significant barriers include issues with addressing structures and inconsistent validation standards across nations. The address data management technique includes address validation. Data quality and address validation are substantial barriers to expanding the enterprise data management market, even though EDM solutions can help with data management. Suppose major firms with departments processing significant volumes of information consistently fail to adopt data management solutions or do not select the proper data management solutions. In that case, the market's growth may be hampered by crowded data elements.
Opportunity
Increasing the use of cloud-based models by different organizations will lead to the generation of new opportunities
The global enterprise data management market is anticipated to benefit from expansion chances provided by the cloud's integration with data integration. Software integration is built on analytical models that control vast amounts of data. By using cloud technology, it is possible to monitor the demand for data regulation in a safe setting at a reasonable price. The benefits have encouraged participants to work together, increasing the market's size. Technologies that have evolved, such as AWS or an OpenStack data center, are concentrated on software for data integration and integrity within public cloud platforms. With these favorable characteristics, the market is projected to see substantial potential for growth during the assessment period.
Segmentation Analysis
The global enterprise data management market has been segmented into components, industry vertical, deployment mode, and organization size.
Based on components, the worldwide enterprise data management market is segmented into software, services, professional services, consulting, deployment and integration, and support and maintenance. In 2021, the software segment's revenue share was above 76.4 percent, which was the highest. Over the projection period, it is predicted that small and medium-sized businesses would increasingly embrace enterprise data management solutions, fueling the segment's growth. More and more enterprises are adopting effective EDM solutions to satisfy regulatory compliance requirements, including data privacy requirements and financial reporting. Benefits like decreased erroneous and duplicate data and increased organizational productivity are anticipated to fuel the rise even more.
Based on industry vertical, the worldwide enterprise data management market is segmented into healthcare and life science, banking, financial services and insurance (BFSI), government and defense, telecom and information technology (I.T.), retail and consumer goods, manufacturing, media and entertainment, transportation and logistics, energy and utilities, and others (research, education, travel and hospitality, and real estate). In 2021, the BFSI segment was predicted to grow at a noteworthy rate. Enterprise data management solutions can assist market participants in the BFSI sector more effectively, managing company-wide risks, enhancing sales and marketing operations, tracking and monitoring finance and accounting procedures, and managing numerous compliances. For instance, banking institutions worldwide have adopted cutting-edge agile approaches to secure their data and guarantee correct data quality. The BFSI sector is adopting enterprise data management solutions due to these technological improvements.
Based on deployment mode, the worldwide enterprise data management market is segmented into cloud and on-premises. In 2021, the on-premise market had a revenue share of above 45%.To perform various processes, many firms are switching from manual systems to automated systems. On-premise software is now in demand as a result of this. Many firms use on-premise deployment to take advantage of the additional security features. In addition, specific enterprise data management solutions can be easily tailored to the organization's needs and operate without an internet connection. Consequently, the on-premise segment is anticipated to rise steadily during the forecast period.
Based on organization size, the worldwide enterprise data management market is segmented into small and medium-sized enterprises and large enterprises. The largest market share, 67.3 percent, was held by the big enterprise sector in 2021. This growth is due to the demand for power monitoring solutions and automation capabilities for resource allocation, and strategic decision-making across large businesses is largely responsible. Adopting business solutions in large enterprises is facilitated by the need for high-tech tools, such as sophisticated analytical engines, process blueprints, and real-time data compilation tools.
Report Scope
| | |
| --- | --- |
| Report Attribute | Details |
| Market Size in 2021 | USD 77.5 Billion |
| Projected Market Size in 2028 | USD 130.6 Billion |
| CAGR Growth Rate | 9.1% CAGR |
| Base Year | 2021 |
| Forecast Years | 2022-2028 |
| Key Market Players | SAS Institute Inc., IBM Corporation, Oracle Corporation, Teradata Corporation, Talend, SAP SE, Symantec, Ataccama, Cloudera Inc., Informatica, Mindtree Limited, Qlik, EnterWorks Inc., GoldenSource Corporation, MapR, MuleSoft LLC., Amazon Web Services Inc., Zaloni Inc., Micro Focus International plc, Actian, and Others |
| Key Segment | By Components, Industry Vertical, Deployment Mode, Organization Size, and Region |
| Major Regions Covered | North America, Europe, Asia Pacific, Latin America, and the Middle East & Africa |
| Purchase Options | Request customized purchase options to meet your research needs. Explore purchase options |
Recent Developments
In May 2022, IBM and SAP announced the latest milestone in their long-standing cooperation, with IBM embarking on one of the world's most significant corporate transformation initiatives based on SAP® ERP software to fuel the company's development and better support its clients. IBM is transitioning to SAP S/4HANA®, SAP's cutting-edge ERP system, as part of the extended relationship to carry out work spanning more than 120 countries, 1,000 legal entities, and many IBM businesses in hardware, software, and consulting, and finance.
Regional Landscape
North America dominated the enterprise data management market in 2021
The rapid growth of the small, medium, and large businesses in the region is what fuels the North American enterprise data management market. The development of several businesses that produce enormous amounts of data has forced organizations to make substantial advancements in effective data management to stop data loss. This element has contributed to the expansion of the enterprise data management sector. Large businesses' increasing demand for risk management solutions is expected to fuel regional market expansion throughout the projected period. The demand for EDM solutions is expected to increase throughout the projected period due to the region's numerous governments supporting software businesses to create and develop free and open-source programs for controlling and allowing remote access to a vast amount of data.
Competitive Landscape
Key players within the global Enterprise Data Management market include
SAS Institute Inc.
IBM Corporation
Oracle Corporation
Teradata Corporation
Talend
SAP SE
Symantec
Ataccama
Cloudera Inc.
Informatica
Mindtree Limited
Qlik
EnterWorks Inc.
GoldenSource Corporation
MapR
MuleSoft LLC.
Amazon Web Services Inc.
Zaloni Inc.
Micro Focus International plc
Actian
Global Enterprise Data Management Market is segmented as follows:
By Components
Software
Services
Professional Services
Consulting
Deployment and Integration
Support and Maintenance
By Industry Vertical
Healthcare and Life science
Banking, Financial Services, and Insurance (BFSI)
Telecom and Information Technology (I.T.)
Retail and Consumer goods
Media and Entertainment
Manufacturing
Energy and Utilities
Transportation and Logistics
Government and Defense
Others (education, travel, real estate, hospitality, and research)
By Deployment Mode
By Organization Size
Small and Medium-sized Enterprises
Large enterprises
By Region
North America
Europe

France
The UK
Spain
Germany
Italy
Nordic Countries
Benelux Union

Belgium
The Netherlands
Luxembourg

Rest of Europe

Asia Pacific

China
Japan
India
Australia
South Korea
Southeast Asia

Indonesia
Thailand
Malaysia
Singapore
Rest of Southeast Asia

Rest of Asia Pacific

The Middle East & Africa

Saudi Arabia
UAE
Egypt
South Africa
Rest of the Middle East & Africa

Latin America

Brazil
Argentina
Rest of Latin America