Industry Insights
[225+ Pages Report] According to Facts and Factors, The global 4PL Logistics market size was valued at USD 57,295.80 million in 2021 and is predicted to increase at a CAGR of 3.92% to USD 71,338.08 million by 2028. The study examines the market in terms of revenue in each of the major regions, which are classified into countries. The report analyses the global 4PL logistics market's drivers and restraints, as well as the impact they have on-demand throughout the projection period. In addition, the report examines global opportunities in the 4PL logistics market.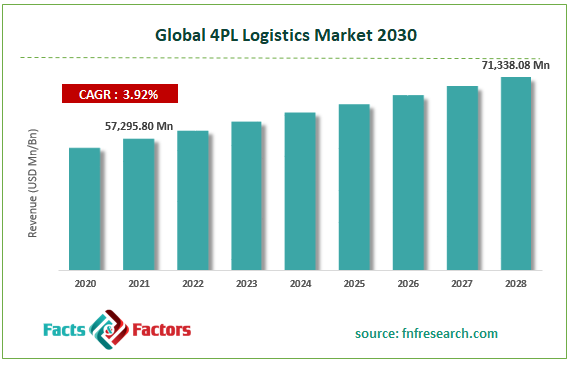 To know more about this report | Request Free Sample Copy
Market Overview
The management of collecting, storing, and transferring resources to their eventual destination is referred to as logistics. Fourth-party logistics is the most cutting-edge type of outsourcing, and it has been rapidly gaining favor in recent years. Procurement, storage, and distribution are all important aspects of fourth-party logistics. Improved customer service, lower overall operational costs, and greater flexibility are just a few of the benefits of fourth-party logistics. In the current context, the worldwide fourth-party logistics market is growing steadily in terms of initial research efforts, product developments, investments, technical integrations, and implementation, and is expected to increase rapidly in the next years.
Growth Drivers
The worldwide fourth-party logistics market is growing steadily in terms of initial research efforts, product developments, investments, technical integrations, and implementation, and is expected to increase rapidly in the next years. The development of the fourth-party logistics concept has essentially been a step toward eliminating all bottlenecks in the complicated global supply chain environment. Fourth-party logistic (4PL) services, also known as supply-chain-as-a-service, are when a 4PL provider interfaces with the logistics department of a customer organization. This allows 4PL service providers to have a hands-on approach to all aspects of a supply chain, from order administration to storage, and compliance rules to supplier management. 4PL service providers would serve as a single point of contact for diverse supply chain providers and clients. With this, the 4PL providers may optimize and give valuable service to their clients by managing all operations with sophisticated resources.
COVID-19 Impact Analysis
The COVID-19's spread represents a drop in industrial growth as a result of major supply chain disruptions and a halt in manufacturing activities. The outbreak's negative impact on several end-users, such as automotive and retail, is expected to stymie the expansion of the 4PL logistics sector. Exports and imports have been halted as a result of imposed trade restrictions and international border closures, interrupting the entire production process. Industry development is expected to be hampered by supply chain interruptions, lockdown measures, and reduced consumer and corporate expenditure. However, as governments throughout the world ease tight restrictions, demand for these services is expected to rise.
The complete research study looks at both the qualitative and quantitative aspects of the 4PL Logistics market. Both the demand and supply sides of the market have been investigated. The demand side study examines market income in various regions before comparing it to all of the major countries. The supply side research examines the industry's top rivals, as well as their regional and global presence and strategies. Each major country in North America, Europe, Asia Pacific, the Middle East and Africa, and Latin America is thoroughly investigated.
Segmentation Analysis
The global 4PL Logistics market is segregated based on Type and End User.
Based on Type, the retail segment has the most market share, and it is likely to continue to lead the industry in the next years. Consumer purchasing habits have altered as a result of the rise of e-Commerce. Retailers are looking for a holistic supply chain solution that will allow them to produce new items, grow their geographical presence, and improve their capabilities as a result of rising sales. In the coming years, the consumer electronics segment is expected to develop at the fastest rate. The consumer electronics industry is growing at a breakneck pace around the world, prompting manufacturers to engage in third-party logistics services in order to provide consumers with door-to-door delivery.
Based on End-user, the solution integrator model segment accounted for the majority of the market share. For the most part, all B2B companies use the solution integrator model to optimize their supply chains and provide the best customer service. This type of business relationship is preferred by consumers in the food and beverage and retail sectors with their 4PL service providers.
Report Scope
| | |
| --- | --- |
| Report Attribute | Details |
| Market Size in 2021 | USD 57,295.80 Million |
| Projected Market Size in 2028 | USD 71,338.08 Million |
| CAGR Growth Rate | 3.92% CAGR |
| Base Year | 2021 |
| Forecast Years | 2022-2028 |
| Key Market Players | Allyn International Services, Inc., United Parcel Service, Inc., GEFCO Group, XPO Logistics, Inc., Deutsche Post AG, DB Schenker, DAMCO, Logistics Plus Inc., GEODIS, CEVA Logistics AG, and Others |
| Key Segment | By Type, End User, and Region |
| Major Regions Covered | North America, Europe, Asia Pacific, Latin America, and the Middle East & Africa |
| Purchase Options | Request customized purchase options to meet your research needs. Explore purchase options |
Regional Landscape
In 2021, Asia Pacific had the greatest industry share in the global market. This large market share can be due to the growing use of e-commerce in emerging markets. Industry growth is mostly ascribed to growing countries such as South Korea, India, Japan, and China. The industry's growth is expected to be fueled by the growing need for a fourth-party supply chain from various e-commerce businesses. Furthermore, the industry's expansion is fueled by the region's rapidly growing end-user sector, which includes consumer electronics, automotive, food and beverage, healthcare, and other industries. Manufacturers in emerging countries are expected to increase their desire for a simple supply chain procedure, propelling the market growth.
Competitive Landscape
The report contains qualitative and quantitative research on the global Fourth Party Logistics (4PL) Market, as well as detailed insights and development strategies employed by the leading competitors. The report also provides an in-depth analysis of the market's main competitors, as well as information on their competitiveness. The research also identifies and analyses important business strategies used by these main market players, such as mergers and acquisitions (M&A), affiliations, collaborations, and contracts. The study examines, among other things, each company's global presence, competitors, service offers, and standards.
List of Key Players in the Global 4PL Logistics Market:
Allyn International Services, Inc.
United Parcel Service, Inc.
GEFCO Group
XPO Logistics, Inc.
Deutsche Post AG
DB Schenker
DAMCO
Logistics Plus Inc.
GEODIS
CEVA Logistics AG
The global 4PL logistics market is segmented as follows:
By Type Segment Analysis
Synergy Plus Operating Model
Solution Integrator Model
Industry Innovator Model
By End User Segment Analysis
Automotive
Healthcare
Food and Beverage
Consumer Electronics
Aerospace and Defense
Retail
Industrial
Others
By Regional Segment Analysis
North America
Europe

France
The UK
Spain
Germany
Italy
Nordic Countries
Benelux Union

Belgium
The Netherlands
Luxembourg

Rest of Europe

Asia Pacific

China
Japan
India
Australia
South Korea
Southeast Asia

Indonesia
Thailand
Malaysia
Singapore
Rest of Southeast Asia

Rest of Asia Pacific

The Middle East & Africa

Saudi Arabia
UAE
Egypt
South Africa
Rest of the Middle East & Africa

Latin America

Brazil
Argentina
Rest of Latin America