Industry Insights
[236+ Pages Report] According to the report published by Facts Factors, the global xylitol market size was worth around USD 0.69 billion in 2022 and is predicted to grow to around USD 1.1 billion by 2030 with a compound annual growth rate (CAGR) of roughly 4.31% between 2023 and 2030. The report analyzes the global xylitol market drivers, restraints/challenges, and the effect they have on the demands during the projection period. In addition, the report explores emerging opportunities in the xylitol market.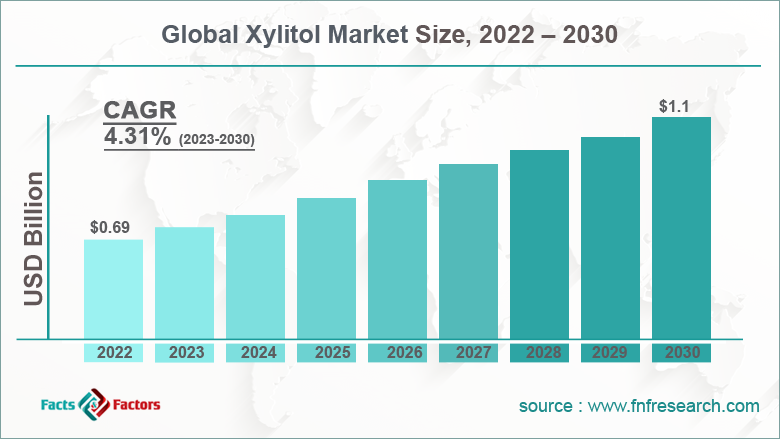 To know more about this report | Request Free Sample Copy
Market Overview
Xylitol is a substitute for sugar as it is a naturally-occurring sugar alcohol. It has immense popularity in the food & beverages sector since it is low in calories and works as an exceptional sweetener without the negative health impact that is associated with the consumption of sugar. Due to its healthy content, it has gained access to the healthcare industry where it is used as an ingredient in the production of mouthwash, toothpaste, and chewing gums amongst other oral health-related products.
The industry refers to the production and sales of products containing xylitol. It is inclusive of various segments like food & beverages, personal care, pharmaceuticals, and others. Natural sugar alcohol is commercially available in different forms like syrups, powders, and crystals. It has wide applications resulting in higher and growing demand. Several factors contribute to the high rate of growth but the market is not free of challenges or limitations that the industry players are working toward.
Key Insights
As per the analysis shared by our research analyst, the global xylitol market is estimated to grow annually at a CAGR of around 4.31% over the forecast period (2022-2030)
In terms of revenue, the global xylitol market size was valued at around USD 0.69 billion in 2022 and is projected to reach USD 1.1 billion, by 2030.
The market is projected to grow at a significant rate due to the increasing health concerns over the consumption of sugar
Based on raw material segmentation, birch wood was predicted to show maximum market share in the year 2022
Based on application segmentation, food & beverages was the leading application in 2022
On the basis of region, Asia-Pacific was the leading revenue generator in 2022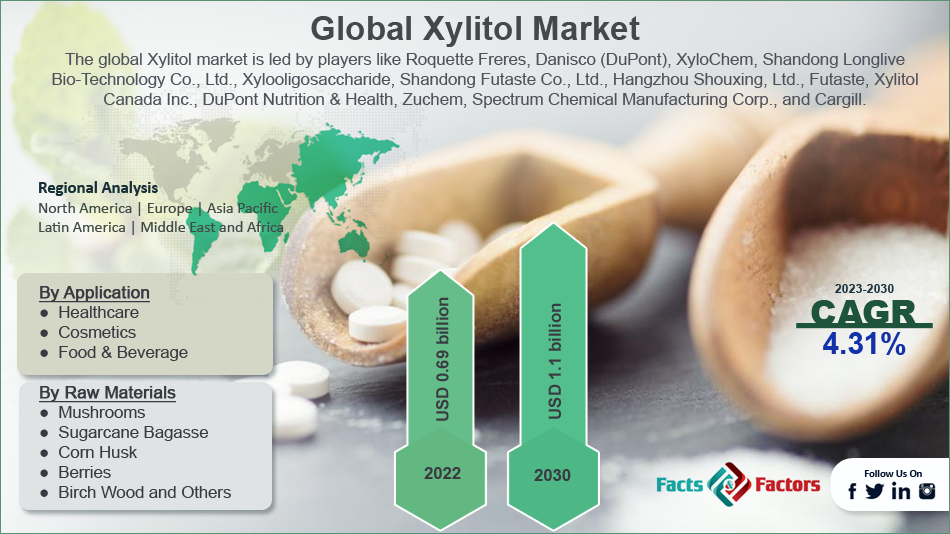 To know more about this report | Request Free Sample Copy
Growth Drivers
Growing health concerns related to sugar consumption to drive market growth
The global xylitol market is projected to grow owing to the increasing health concern over the consumption of sugar. Xylitol is a naturally occurring sweetener but does not have negative health impacts that are associated with regular sugar intake. Some of these impacts are obesity, diabetes, increased risk of heart disease, tooth decay, and nutritional deficiency. As the awareness rate surrounding the long-term impact of sugar consumption has increased due to ongoing government initiatives, programs run by medical professionals, access to information on the internet, and other factors, consumers are looking for healthier alternatives to sugar.
Since xylitol has a low glycemic index, it is being increasingly used in food & beverages as a healthier substitute for sugar. Furthermore, the growing prevalence of obesity and diabetes could lead to more demand for xylitol. People suffering from the conditions are advised to intake food items that have low-calorie counts and xylitol can act as an excellent substitute.
Restraints
High cost of production to restrict market expansion
The production of xylitol involves complex procedures with the aid of advanced tools. The process is extremely difficult unlike the production of sugar in which the processes involved are simple and basic. This leads to a high cost of investment in terms of xylitol production. The price sensitivity may act as a barrier to further growth during the projection period. Additionally, the availability of low-cost substitutes poses a major threat to the expansion of the market. Some of the substitutes including erythritol and stevia are gaining high popularity.
Opportunities
The growing population of health-conscious consumers opens more doors for expansion
There is a growing segment of the population that has become extremely health conscious, especially due to the compromised immune system that was largely witnessed as a result of Covid-19 infections. People are becoming increasingly aware of how food can impact overall health over the long term. This trend is expected to assist in the further expansion of the global industry. Furthermore, the growing popularity of sugar-free and low-calorie products is projected to propel the demand for Xylitol since it is an excellent substitute for sugar with a lesser calorie count.
Challenges
Absence of regulatory measures to challenge market growth
One of the key challenges faced by the global industry players in terms absence of regulatory measures or the complex environment that surrounds the measures in the countries in which they exist. For instance, in certain countries, the producers have strict rules in place that determine product safety, selling, and consumption whereas certain countries do not have any sort of acknowledgment for the naturally occurring sweetener. It is relatively a new option that may take some time to gain more attention from regulatory bodies.
Segmentation Analysis
The global xylitol market is segmented based on application, raw materials, and region
Based on application, the global market segments are healthcare, cosmetics, and food & beverage
The industry witnessed the highest growth in the food & beverages segment in 2022 due to already existing wide applications of the product
It is used as a sugar substitute in products like baked goods, chocolates, candies, and chewing gums
With the growing awareness amongst consumers related to the health impact of poor habit habits, the demand for healthier options in place of sugar has risen tremendously in the last couple of years
Xylitol not only assists in reducing the calorie count of the food item but also imparts certain traits like flavor enhancement and texture improvement
I gram of Xylitol contains 2.4 calories
Based on raw materials, the global market is divided into mushrooms, sugarcane bagasse, corn husk, berries, birch wood, and others
Birch wood was the leading raw material in the industry in 2022 due to high product adoption
Corn husk and sugarcane bagasse are agricultural waste and are widely used as raw materials to produce xylitol since they are sustainable and eco-friendly options
Berries naturally contain Xylitol and there are commercially available ways of extracting it. However, the quantity of berries is low leading to a higher cost of production as compared to birch wood
100 grams of berries contain 0.3 grams of Xylitol
On the other hand, mushrooms are not a regular choice for the commercial production of berries
Recent Developments:
In August 2022, scholars at the Indian Institute of Technology (IIT)- Guwahati, developed a new fermentation method that is assisted by ultrasound for the production of Xylitol from sugarcane bagasse. As per the research team, the new method goes above the operation limitations of other chemical methods of production
In May 2022, Fazer announced that it will upcycle the oats hull that it generated at its milling sites. The hull will be used for the production of Xylitol which will have 40% fewer calories than sugar, thus acting as a great substitute. In the last 3 years, that company has invested around USD 315 million in oats derivatives
In November 2020, zuChem announced that the company will start the commercial sale of Xylitol that it will produce at its state-of-the-art fermentation facility which is the world's first bio-process Xylitol plant
Report Scope
| | |
| --- | --- |
| Report Attribute | Details |
| Market Size in 2022 | USD 0.69 Billion |
| Projected Market Size in 2030 | USD 1.1 Billion |
| CAGR Growth Rate | 4.31% CAGR |
| Base Year | 2022 |
| Forecast Years | 2023-2030 |
| Key Market Players | Roquette Freres, Danisco (DuPont), XyloChem, Shandong Longlive Bio-Technology Co. Ltd., Xylooligosaccharide, Shandong Futaste Co. Ltd., Hangzhou Shouxing Biological Technology Co. Ltd., Futaste, Xylitol Canada Inc., Sanxinyuan Food Industry Corporation Limited, Ingredion, DuPont Nutrition & Health, Zuchem, Spectrum Chemical Manufacturing Corp., Cargill., and others. |
| Key Segment | By Application, Raw Materials, and Region |
| Major Regions Covered | North America, Europe, Asia Pacific, Latin America, and the Middle East &, Africa |
| Purchase Options | Request customized purchase options to meet your research needs. Explore purchase options |
Regional Analysis
Asia-Pacific to dominate the market growth
The global Xylitol market is projected to witness the highest growth in Asia-Pacific since it is currently the leading region in terms of CAGR. China is the most dominant region in terms of the production and export of Xylitol. It accounts for more than 79% of the worldwide production and the growth is due to the abundance of raw materials along with favorable government policies that encourage further production of the compound.
Due to the large-scale availability of skilled labor along with growing investments in production facilities, the cost associated with Xylitol creation is relatively low which leads to the strengthening of the regional market presence. North America and Europe may also act as significant contributors to the global market as the demand for sugar substitutes in the food & beverages segment is growing exponentially.
Competitive Analysis
Roquette Freres
Danisco (DuPont)
XyloChem
Shandong Longlive Bio-Technology Co. Ltd.
Xylooligosaccharide
Shandong Futaste Co. Ltd.
Hangzhou Shouxing Biological Technology Co. Ltd.
Futaste
Xylitol Canada Inc.
Sanxinyuan Food Industry Corporation Limited
Ingredion
DuPont Nutrition & Health
Zuchem
Spectrum Chemical Manufacturing Corp.
Cargill.
The global xylitol market is segmented as follows:
By Application Segment Analysis
Healthcare
Cosmetics
Food & Beverage
By Raw Materials Segment Analysis
Mushrooms
Sugarcane Bagasse
Corn Husk
Berries
Birch Wood and Others
By Regional Segment Analysis
North America
Europe

France
The UK
Spain
Germany
Italy
Nordic Countries
Benelux Union

Belgium
The Netherlands
Luxembourg

Rest of Europe

Asia Pacific

China
Japan
India
Australia
South Korea
Southeast Asia

Indonesia
Thailand
Malaysia
Singapore
Rest of Southeast Asia

Rest of Asia Pacific

The Middle East & Africa

Saudi Arabia
UAE
Egypt
South Africa
Rest of the Middle East & Africa

Latin America

Brazil
Argentina
Rest of Latin America