Covid-19
Global Volumetric Display Market Size, Share
The pandemic continues to cause unprecedented disruption across industries worldwide.Get detailed insights regarding the impact of COVID-19 on the market. Request Sample
Industry Insights
[197+ Pages Report] According to Facts and Factors, the global volumetric display market was valued at about USD 311.2 million in 2020, and is predicted to create revenue of about USD 1,534.9 million by the end of 2026, with a CAGR of about 30.4% between 2021 and 2026.
REPORTING DATA TIMEFRAME

Parameter

Details

Historical Data (Actual Data)

2016 - 2020

Base Year Data

2020

Current Year Data

2021

Projected Data

2021 - 2026
Market Overview
Despite the fact that this technology is still in its infancy, scientists believe it has enormous potential and offers significant benefits. Volumetric displays, for example, do not put much strain on the eyes because we perceive this immersive display as a real-world 3D object. This is an improvement over VR displays. Furthermore, unlike AR-VR, it does not necessitate the use of a headset. Furthermore, these volumetric displays can be used with any 3D input device, such as Kinect, Leap Motion, or Structure. In terms of applications, the volumetric display can be used for 3D Human Size communications, similar to how humans appear in projected forms in sci-fi movies for a top-secret mission. This display can be used for a variety of purposes in the medical and healthcare industries, including surgical planning, post-op review, training, doctor-patient communication, and diagnosis. Finally, it promises to usher in a major revolution in the field of gaming. The major players in this market at the moment are Alioscopy, Holoxica Ltd., Leia Inc., Seekway. SeeReal Technologies, Soscho, Coretec, Zebra Imaging, 3DIcon Corporation, Voxon , Burton, Zebra Imaging, Holografika Kft., and LightSpace Technologies Inc.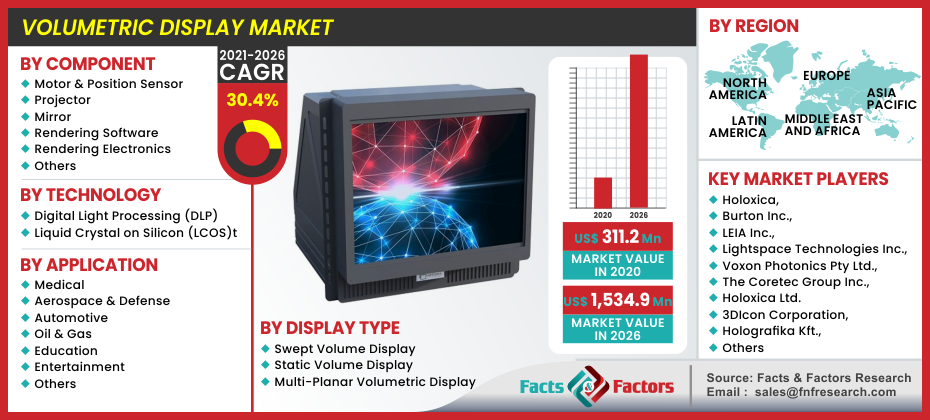 Industry Growth Factors
In recent years, gamers all over the world have expressed a strong desire for a better gaming experience. Without any device on the gamer's body, volumetric displays provide a 360° view of 3D gaming. Furthermore, key market players such as Voxon Photonics are aggressively focusing on introducing innovative 3D displays for gaming purposes in a variety of countries. As a result, rising consumer demand and massive investments in manufacturing by key market players are expected to drive market growth. The volumetric display is a complex combination of components such as a motor, projector, sensors, and laser systems. This, combined with high costs, is expected to stymie market growth over the forecast period. Volumetric displays rely on rotating parts or scanning mechanisms, which limits manufacturers' ability to produce large-screen units. The high costs incurred during the manufacturing process raise the overall cost of the product.
Segmentation Analysis
Component, technology, display type, application, and region are the segments of the global volumetric display market.
Motor & position sensor, projector, mirror, rendering software, and rendering electronics make up product segment of the global volumetric display industry. The global volumetric display market can be divided into Digital Light Processing (DLP) and Liquid Crystal on Silicon (LCOS). Based on display type, the global volumetric display industry is categorized into swept, static and multi-planar. Over the forecast period, the swept volume segment is expected to grow at a CAGR of 30.4 percent. The significant focus on developing advanced swept volume displays by prominent market players globally is attributed to the growth. For example, Voxon Photonics introduced 'Z3D' in June 2019, the world's first 3D Arcade Machine based on swept volume technology, which provides an enhanced gaming experience with an ultra-high digital projection device. The technology also aids in the support of multi-user interaction in gaming and a variety of other applications such as video calling. Medical, aerospace & defense, automotive, oil & gas, education, and entertainment are the end-user segment of the global volumetric display market.
Regional Analysis
The volumetric display market is divided into five regions: North America, the Middle East, and Africa, Asia Pacific, Europe, and Latin America. The volumetric displays market in North America is expected to be the largest during the forecast period, dominating the global volumetric display market. Various factors, such as technological advancements and technological innovations in 3D displays, are driving the market in North America. During the forecast period, the Asia Pacific volumetric displays market is expected to be one of the most appealing. The volumetric display market in this region is primarily driven by technological advancements in the region and rising demand for 3D displays in a variety of end-user applications.
Competitive Players
Some main participants of the global volumetric display market are Holoxica, Burton Inc., LEIA Inc., Lightspace Technologies Inc., Voxon Photonics Pty Ltd., The Coretec Group Inc., Holoxica Ltd.3DIcon Corporation, Holografika Kft., Zebra Imaging, Seekway Technologies, Alioscopy, Soscho GmbH and SeeReal Technologies S.A. amongst others.
The global volumetric display market is segmented as follows:
By Component:
Motor & Position Sensor
Projector
Mirror
Rendering Software
Rendering Electronics
Others
By Technology:
Digital Light Processing (DLP)
Liquid Crystal on Silicon (LCOS)
By Display Type:
Swept Volume Display
Static Volume Display
Multi-Planar Volumetric Display
By Application:
Medical
Aerospace & Defense
Automotive
Oil & Gas
Education
Entertainment
Others
Volumetric Display Market: Regional Segment Analysis
North America
Europe

UK
France
Germany
Italy
Spain
Rest of Europe

Asia Pacific

China
Japan
India
South Korea
Southeast Asia
Rest of Asia Pacific

Latin America

Brazil
Mexico
Rest of Latin America

Middle East and Africa

GCC Countries
South Africa
Rest of MEA