Industry Insights
[218+ Pages Report] According to Facts and Factors, the global Urinary bags market size was worth around USD 1.96 billion in 2021 and is predicted to grow to around USD 2.74 billion by 2028 with a compound annual growth rate (CAGR) of roughly 4.89% between 2022 and 2028. The report analyzes the global Urinary bags market's drivers, restraints/challenges, and the effect they have on the demands during the projection period. In addition, the report explores emerging opportunities in the Global Urinary bags market.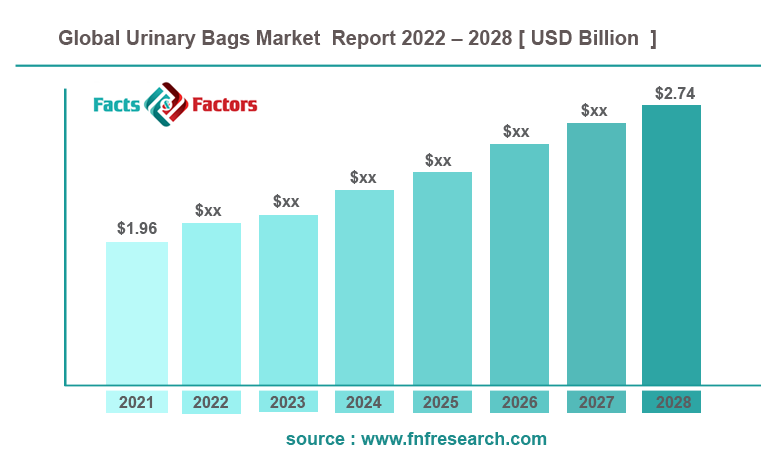 Market Overview
Urinary incontinence (U.I.) items include urine drainage bags, which are urine collection bags. Those with urine incontinence, patients with restricted mobility, and bedridden patients all use these bags. The catheters have drainage bags at the end to catch the urine as it passes through the bladder. Small leg bags or big night bags are both examples of urinary drainage bags. These come in two varieties, disposable and reusable, and are widely used in surgical facilities, hospitals, and clinics. Due to the increased risk of infection associated with reusable urine drainage bags, disposable bags are in greater demand than reusable bags. Bags used to collect urine from the outside are called urinary incontinence (UI) goods. They are used by patients who are immobile, those with limited movement, and people with urine incontinence (UI). The ends of the catheters are connected to incontinence bags, which are used to catch urine as it exits the bladder. The prevalence of urinary incontinence ranges from 5% to 70%, according to a survey published by the National Center for Biotechnology Information (NCBI) in 2019. The prevalence rate is anticipated to increase with aging, especially in women between the ages of 40 and 70. Additionally, according to estimates from the National Institute for Health and Clinical Excellence, 34% of British women in 2017 experienced urinary incontinence.
Key Insights
As per the analysis shared by our research analyst, the global Urinary bags market is estimated to grow annually at a CAGR of around 4.89% over the forecast period (2022-2028).
In terms of revenue, the global Urinary bags market size was valued at around USD 1.96 billion in 2021 and is predicted to grow to around USD 2.74 billion by 2028. Due to a variety of driving factors, the market is predicted to rise at a significant rate.
Based on product type segmentation, leg bag was predicted to show maximum market share in the year 2021
Based on capacity, 501-1000 ml was predicted to show maximum market share in the year 2021
Based on end user, hospitals were predicted to show maximum market share in the year 2021
On the basis of region, Europe was the leading revenue generator in 2021.
Covid-19 Impact
The worldwide healthcare sector has faced various challenges as a result of the COVID-19 epidemic. Limited access to medical treatment led to inadequate medical facilities for patients with various ailments. The elderly and patients with various comorbidities were at a higher risk of getting COVID-19 due to a lack of immunity. The device is anticipated to be in high demand in hospital settings to provide efficient patient care as a result of the higher hospital admission rates brought on by COVID-19. As a result, the market will probably continue to grow significantly and gradually long after the pandemic is gone. In order to lower the danger of COVID-19 transmission, governments of various nations encourage patients with urological diseases to use teleconsultation services.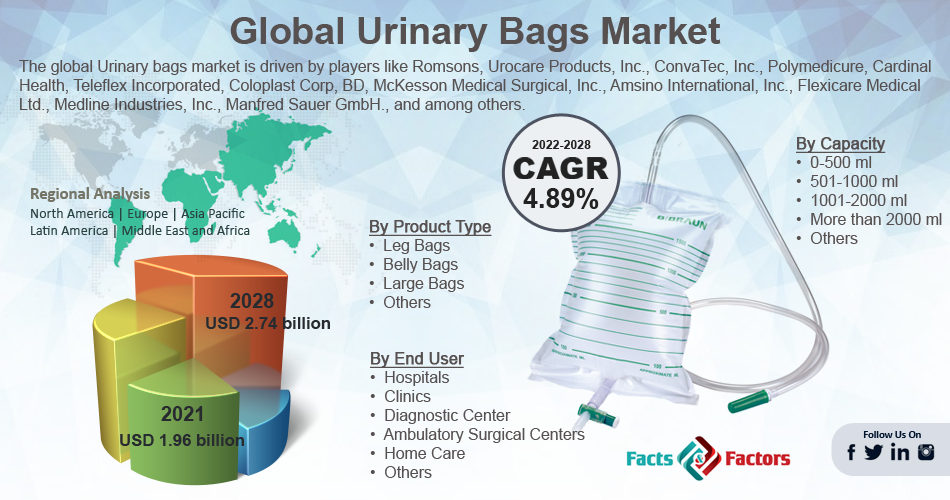 Growth Drivers
Growing prevalence of urinary incontinence to drive the urine bags market during the forecast period
One of the main causes driving up demand for urinary bags is the growing geriatric population. Further, other key factors that are projected to propel market expansion during the forecast period include the rapid rise in the incidence of disabilities that cause limited mobility and the rising prevalence of urinary incontinence worldwide. Urinary incontinence is linked to limited movement in bedridden patients, which can have a substantial negative influence on the patient's quality of life and place a heavy load on the patient's family and caregivers.
The number of people over 65 in the geriatric population is predicted to rise from 24% to 28% in the coming years, and a parallel rise in the prevalence of urinary incontinence among them is likely to increase the demand for urine collection devices during the forecast years, according to data published by BC Medical Journal in 2017. The aging population's increasing use of long-term care and home care facilities is also anticipated to fuel the expansion of the urinary bag market in the years to come.
Restraints
Chances of infection in urinary tract of patients using non-sterile disposable urine bags and medical cost burden for long term
However, risks of urinary tract infection in patients utilizing non-sterile disposable pee bags and the long-term financial burden of using urine bags for medical purposes are significant concerns limiting market expansion. If a further sterilizing step is added to the production process, the price of pee bags will rise dramatically. Although non-sterile bags are widely available and practical to use, they increase the risk of surface and catheter contamination, which could lead to UTIs and other issues and further increase the expense. Long-term use of pee bags is challenging since single-use bags add greatly to the patient's financial burden from medical expenses. Prices for urine bags (set of 12) range from USD 50 to USD 60 on retail companies' e-commerce websites. Patients with urine incontinence must frequently replace single-use bags, using more bags per day as a result. Another factor anticipated to restrain market expansion is alternative approaches to treating overactive bladder with drugs such as anticholinergics.
Opportunity
Rising preference for disposable urine bags
It is anticipated that the demand for disposable urine bags over reusable bags would increase, creating a profitable opportunity for global urinary bags market growth. This is explained by the fact that using disposable urine bags removes the possibility of urinary tract infections brought on by inadequate bag washing. Additionally, it is projected that product innovation and technological developments in capillary blood collection tubes will create expansion prospects for the market.
Challenges
Catheter drainage process and related support system
The procedure of catheter drainage and its associated support system is one of the urinary bags' main challenges. In order to prevent any negative effects on the market for urinary drainage bags, this is one issue that needs to be handled correctly.
Segmentation Analysis
The global Urinary bags market is segmented based on type, capacity, end-users, and region
Based on product type, the market has been segmented into leg bags, belly bags, large bags & others. Leg bags held the biggest market share among them in 2018 and are anticipated to grow at a very high CAGR over the course of the forecast period. Leg bags enable catheter users to keep their independence by enabling them to easily and discreetly empty their leg bags. With the use of an anti-reflux valve, leg urine bags also help to encourage regular hydration and lessen the chance of urine backflow, which lowers the risk of urinary tract infection. There has been significant adoption of leg bags with drainage capacities ranging between 500 and 1000 ml attributable to the suitability for the collection of average urine output volume and the presence of a large number of leg bags with a capacity ranging between 500 and 1000 ml. The large-capacity bags segment is the second-largest segment that is anticipated to grow at a significant rate during the forecast period due to the growing usage of large-capacity bags in both hospitals as well as healthcare providers due to their cost-effective nature
Based on capacity, the market has been segmented into 0-500 ml, 501-1000 ml, 1001-2000 ml, More than 2000 ml, and others. Urinary incontinence is becoming more common among physically active people, which is projected to increase demand for medium-capacity drainage bags that don't need to be often emptied and improve patient quality of life. The 500-1000 ml urinary drainage bag sector is anticipated to register a higher CAGR throughout the analysis period due to the rising prevalence of urinary diseases. The availability of a wide range of 500-1000 ml urinary drainage bag options as well as an increase in product launches could further support this segment's growth over the course of the forecast period. The adoption rate of 1000-2000 ml urine drainage bags is projected to increase in the next years due to the rising incidence of chronic diseases and the rising number of surgical procedures performed globally.
Based on end-user, the market has been segmented into hospitals, clinics, diagnostic centers, ambulatory surgical centers, home care, and others. According to the end-user category in the market report, the hospital sector accounted for a significant portion of the urine drainage bag market. This is mostly because hospitals have better healthcare infrastructure and facilities than home care settings. Because of the increase in surgeries conducted in hospitals and the rising number of patients being admitted for urine incontinence, the hospital segment is predicted to maintain its dominance in the years to come. Due to the opportunities provided to patients in certain surgical and other procedures that are carried out outside of hospital settings, the ambulatory surgery centers segment is predicted to experience impressive growth during the projection year.
Recent Developments:
July 2019- Clinisupplies Ltd collaborated with Alliance Healthcare to focus on the distribution and supply of its products in the U.K.
In August 2020, Volymi announced the launch of new smart catheter bags for patients with limited mobility capabilities. The bag incorporates an alert system that uses external sensors, which can be linked to a smartphone app.
Report Scope
| | |
| --- | --- |
| Report Attribute | Details |
| Market Size in 2021 | USD 1.96 Billion |
| Projected Market Size in 2028 | USD 2.74 Billion by 2028 |
| CAGR Growth Rate | 4.89% CAGR |
| Base Year | 2021 |
| Forecast Years | 2022-2028 |
| Key Market Players | Romsons, Urocare Products Inc., ConvaTec Inc., Polymedicure, Cardinal Health, Teleflex Incorporated, Coloplast Corp, BD, McKesson Medical Surgical Inc., Amsino International Inc., Flexicare Medical Ltd., Medline Industries, Inc., Manfred Sauer GmbH, and others. |
| Key Segment | By Product Type, Capacity, End User, and Region |
| Major Regions Covered | North America, Europe, Asia Pacific, Latin America, and the Middle East &, Africa |
| Purchase Options | Request customized purchase options to meet your research needs. Explore purchase options |
Regional Analysis
Europe to lead the market growth during the projection period
In terms of regional segmentation, Europe is anticipated to rule the global urinary bags market for the duration of the forecast. According to estimates, the market in Europe will grow as a result of growing healthcare costs and an increase in bladder cancer occurrences. In Germany, an estimated 25,000 new cases of bladder cancer were reported in 2018, according to recent findings released by Globocan (2018). According to the research, the European market was worth USD 467.3 million in 2018. Additionally, the market had a 2017 worth of USD 447.3 Million.
According to the National Health Services, or NHS, 6 million persons in the United States had urine incontinence in 2017. Over the anticipated timeframe, demand for urinary drainage bags in Europe is anticipated to increase due to the condition's worsening severity.
Because urine incontinence is becoming more common and more people are aware that there are many different urinary collection devices available, North America is expected to increase significantly throughout the projection period. The National Association for Continence (NAFC) reported that between 75% and 80% of American women have urine incontinence on a yearly basis.
Competitive Analysis
Romsons
UrocareProductsInc.
ConvaTecInc.
Polymedicure
CardinalHealth
TeleflexIncorporated
ColoplastCorp
BD
McKessonMedicalSurgicalInc.
AmsinoInternationalInc.
FlexicareMedicalLtd.
MedlineIndustriesInc.
ManfredSauerGmbH.
The global Urinary bags market is segmented as follows:
By Product Type
Leg Bags
Belly Bags
Large Bags
Others
By Capacity
0-500 ml
501-1000 ml
1001-2000 ml
More than 2000 ml
Others
By End User
Hospitals
Clinics
Diagnostic Center
Ambulatory Surgical Centers
Home Care
Others
By Regional Segment Analysis
North America
Europe

France
The UK
Spain
Germany
Italy
Nordic Countries
Benelux Union

Belgium
The Netherlands
Luxembourg

Rest of Europe

Asia Pacific

China
Japan
India
Australia
South Korea
Southeast Asia

Indonesia
Thailand
Malaysia
Singapore
Rest of Southeast Asia

Rest of Asia Pacific

The Middle East & Africa

Saudi Arabia
UAE
Egypt
South Africa
Rest of the Middle East & Africa

Latin America

Brazil
Argentina
Rest of Latin America