Industry Insights
[210+ Pages Report] According to Facts and Factors, the global Ultrasound Probe Disinfection market size was worth around USD 442.39 million in 2021 and is predicted to grow to around USD 1012.74 million by 2028 with a compound annual growth rate (CAGR) of roughly 12.56% between 2022 and 2028. The report analyzes the global Ultrasound Probe Disinfection market's drivers, restraints/challenges, and the effect they have on the demands during the projection period. In addition, the report explores emerging opportunities in the Global Ultrasound Probe Disinfection market.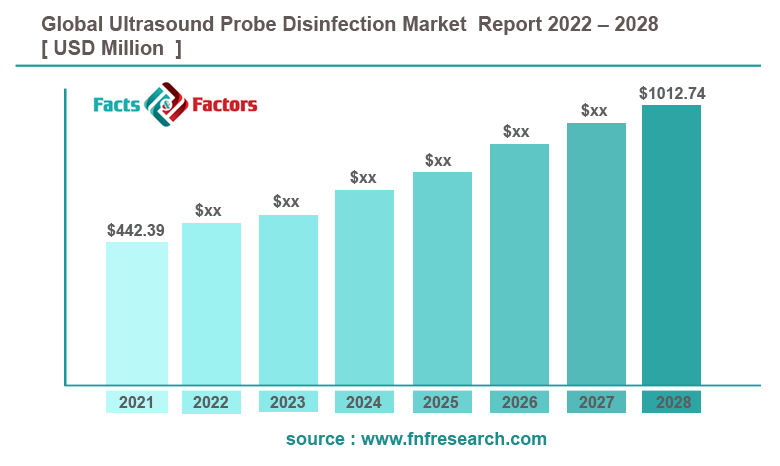 To know more about this report | Request Free Sample Copy
Market Overview
Disinfection is the process of destroying pathogenic and other kinds of germs using heat or chemicals. Due to disinfection's ability to eradicate the majority of known dangerous microorganisms, the procedure is less lethal than sterilization. In order to use ultrasound in medicine safely and effectively, infection control is essential, according to the American Institute of Ultrasound in Medicine (AIUM). One of the most popular diagnostic techniques utilized nowadays is ultrasound. This also prompts questions about how thoroughly the ultrasound probe should be cleaned. The repeated use of the ultrasound probe and its potential to act as a vehicle for the spread of viruses raise concerns even though ultrasonography is a crucial tool in the detection of disease. After undergoing an ultrasound-guided surgery and drainage using tainted gel in Australia in 2017, 10 patients were discovered to be infected with Burkholderia cenocepacia, according to the Therapeutic Drug Administration. There are now several different ultrasound probe disinfection tools on the market. Ultrasound probe disinfectors with cutting-edge technology have been introduced to the market in response to growing concerns about reducing hospital-acquired infections. For instance, Nanosonics debuted Tropton 2 in October 2018; it can retain up to 100,000 records of disinfection and is simple to incorporate into medical information systems.
Key Insights
As per the analysis shared by our research analyst, the global Ultrasound Probe Disinfection market is estimated to grow annually at a CAGR of around 12.56% over the forecast period (2022-2028).
In terms of revenue, the global Ultrasound Probe Disinfection market size was valued at around USD 442.39 million in 2021 and is predicted to grow to around USD 1012.74 million by 2028. Due to a variety of driving factors, the market is predicted to rise at a significant rate.
Based on product type segmentation, instruments were predicted to show maximum market share in the year 2021
Based on disinfection process, intermediate /low level disinfection was predicted to show maximum market share in the year 2021
Based on end user, hospitals and clinical were predicted to show maximum market share in the year 2021
On the basis of region, North America was the leading revenue generator in 2021.
Covid-19 Impact
The market for ultrasonic probe disinfection tools suffered during the height of the COVID-19 epidemic, and this trend remained through December 2020. The drop in ultrasound imaging operations is believed to have an effect on the market for consumables. Despite this, it doesn't seem like a rise in disinfection cycles is having a detrimental effect on the market for consumables. The frequency of ultrasonography procedures began to gradually increase after the introduction of vaccines. Several associations and governmental organizations, including the American Institute of Ultrasound in Medicine, have published international recommendations to solve a number of concerns in the current scenario and guarantee patient safety. Due to the aforementioned problems, hospitals and caregivers may anticipate delays in elective surgeries and ultrasound procedures. However, it is anticipated that the market will begin to consistently grow as intended beginning in the latter part of 2021.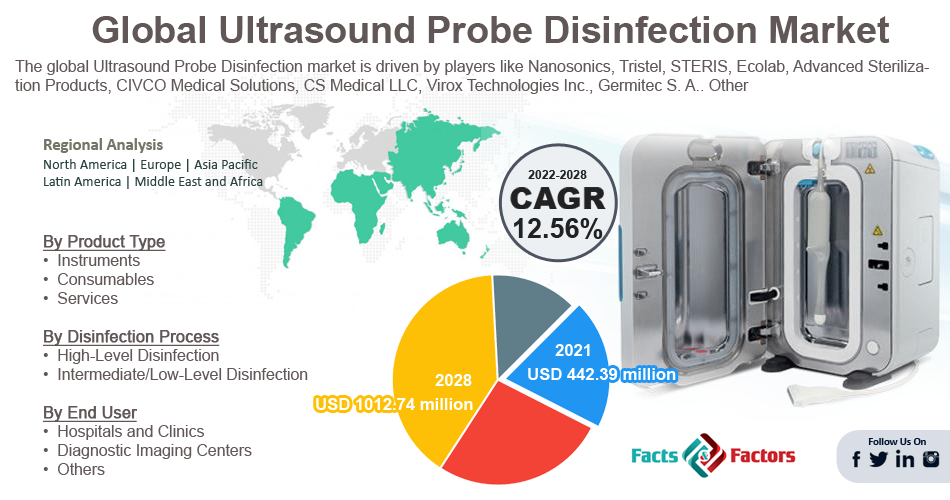 To know more about this report | Request Free Sample Copy
Growth Drivers
Increasing number of ultrasound imaging procedures
By offering quick access to clinical data, improvements in diagnostic ultrasound imaging procedures have improved diagnosis. By displacing more expensive diagnostic exams, the availability of rapid diagnostic data has consequently assisted in lowering total healthcare expenditures. The global ultrasound probe disinfection market has great growth potential due to the wide variety of ultrasound imaging treatments. Another significant reason driving the increase in the number of ultrasonic imaging treatments conducted is the growing geriatric population around the world. The demand for illness diagnostics and therapies is anticipated to increase gradually since the elderly (those 65 years of age and over) are more vulnerable to hospital-acquired infections and chronic diseases like cardiovascular diseases (CVD) and other malignancies.
Restraints
High cost of automated probe reprocessors
Transvaginal, transrectal, and transesophageal procedures use endocavitary and TEE probes. Most hospitals in developing nations cannot afford automated probe reprocessors for high-level disinfection due to their high cost. Automated reprocessors often cost between USD 10,000 and USD 15,000, whereas UV-C disinfectors typically cost between USD 15,000 and USD 35,000. Because they are so expensive, automated reprocessors and consumables like wipes and liquids are not used more frequently in developing nations. Radiologists in developing nations prefer to employ less expensive solutions like probe covers because they believe that using these consumables raises the price of imaging facilities. The lack of strict regulations for the use of disinfectants before procedures and low awareness of infections caused by infected probes among radiologists and patients are also restraining the adoption of correct disinfection procedures in countries such as India, Brazil, Mexico, and China. The added cost of storage cabinets and maintenance is another major factor limiting the adoption of automated probe reprocessors among end users with limited budgets.
Opportunity
Increasing birth rates/ number of pregnancies
An obstetrical ultrasound is a common technique carried out throughout pregnancy to assess the fetus's growth and health using ultrasound images. The usage of ultrasound technology for OB/GYN imaging and newborn care is anticipated to rise as the number of births and pregnancies around the world rises. In particular, it is anticipated that India and China would have a significant increase in the number of pregnancies in the upcoming years. With 20.0 million and 12.0 million newborns, respectively, these nations had the most preterm deliveries in 2020. (Source: WHO, 2020). Due to the OB/GYN problems connected to these pregnancies, preterm newborns require much more ultrasound procedures than typical deliveries do. Additionally, the high rate of births (pregnancies) and more recent ultrasound obstetrical applications (like the detection of fetal cardiac pulsations and pulsations in various fetal blood vessels) are anticipated to present significant growth opportunities for ultrasound probe disinfection product manufacturers worldwide.
Challenges
Lack of knowledge about probe reprocessing
The use of contaminated ultrasound probes can result in catastrophic patient infections or instrument failures, thus disinfecting them is a crucial step in reprocessing. According to a poll by the Joint Commission, a lack of awareness regarding probe reprocessing among healthcare professionals is contributing to an increase in hospital-acquired infections in patients brought on by blood-borne pathogens or bacterial agents. The danger of infections and outbreaks has increased as a result of non-compliance with the manufacturer's instructions for use (IFU) and evidence-based recommendations. Ultrasound probe reprocessing is a challenging task that calls for qualified professionals to provide high-level disinfection after each use. As a result, many hospitals hire trained personnel for sterile processing. For the purpose of training/monitoring the staff members in charge of device reprocessing, written policies and procedures that are current must be accessible on-site. The expansion of the global ultrasound probe disinfection market is impacted by a lack of expertise in probe reprocessing and limited awareness of the value of thoroughly cleaning all transducers.
Segmentation Analysis
The global ultrasound probe disinfection market is segmented based on product type, disinfection process, end user, and region
Based on product type, the market has been segmented into instruments, consumables, and services. Because instruments are more expensive than consumables and services, they accounted for the greatest market share in 2021. Automated reprocessors, UV-C disinfectors, manual reprocessors/soaking stations, and ultrasound probe storage cabinets are some of the devices on the market for ultrasound probe disinfection. Due to the increasing demand for these products because they are disposable, the consumables segment is predicted to grow at the quickest rate throughout the projection period. Both enzymatic and non-enzymatic detergents are employed in the disinfection process. Disinfectant wipes, liquid, and sprays have been further divided into the consumables market based on formulation.
Based on disinfection process, the market has been segmented into high level disinfection, intermediate /low level disinfection. In 2021, the market was headed by the segment for intermediate/low-level disinfection, which accounted for more than 50% of the global share. Since intermediate/low-level disinfection is the fundamental process that is adhered to as a routine procedure in hospital facilities, the market is expected to maintain its leadership position during the forecast years. Due to the growing awareness of sanitation, high-level disinfection method is predicted to see the quickest CAGR throughout the projection period. In addition, scientists have created technologically sophisticated disinfection processes to get rid of germs from the instruments and gadgets used in healthcare institutions as a result of the emergence of life-threatening infections in recent years.
Based on end-user, the market has been segmented into hospitals & clinics, diagnostics imaging centers, and others. The market share represented by hospitals and clinics was the largest in 2021 and is expected to grow at the quickest CAGR during the forecast period. The increase in diagnostic imaging and in-vitro fertilization methods is blamed for this development. Additionally, it is projected that rising investments in healthcare infrastructure by public and private entities around the world will promote segment expansion. Due to the increased incidence of breast cancer and the rising need for diagnostic imaging techniques, diagnostic imaging facilities are predicted to experience significant expansion throughout the projected period. Breast cancer is the most prevalent cancer affecting women, according to the World Cancer Research Fund International.
Recent Developments:
In April 2018, Virox Technologies Ltd. received approval for the use of its patented Accelerated Hydrogen Peroxide (AHP) technology from the FDA.
In August 2018, Nanosonics Ltd. launched trophon 2, the latest innovation in ultrasound probe high-level disinfection.
Report Scope
| | |
| --- | --- |
| Report Attribute | Details |
| Market Size in 2021 | USD 442.39 Million |
| Projected Market Size in 2028 | USD 1012.74 Million |
| CAGR Growth Rate | 12.56% CAGR |
| Base Year | 2021 |
| Forecast Years | 2022-2028 |
| Key Market Players | Nanosonics, Tristel, STERIS, Ecolab, Advanced Sterilization Products, CIVCO Medical Solutions, CS Medical LLC, Virox Technologies Inc., Germitec S. A., Schülke & Mayr GmbH, Parker Laboratories Inc., Metrex Research LLC, Soluscope SA, Dr. Schumacher GmbH, Whiteley Medical (New Zealand), MMM Group, GAMA Healthcare Ltd., Ruhof Corporation, BODE Chemie GmbH, PDI, Advanced Ultrasound Solutions Inc., IMA-X, Diversey Holdings, Borer Chemie AG, Medevice Healthtech, and others. |
| Key Segment | By Product Type, Disinfection Process, End User, and Region |
| Major Regions Covered | North America, Europe, Asia Pacific, Latin America, and the Middle East &, Africa |
| Purchase Options | Request customized purchase options to meet your research needs. Explore purchase options |
Regional Analysis
North America to lead the market growth during the projection period
The largest market share for ultrasound probe disinfection is anticipated to be held by North America in 2021. The increase in transvaginal, transrectal, abdominal, and intraoperative ultrasound procedures, along with transoesophageal echocardiography (TEE) and ultrasound-guided interventional procedures (biopsies, venous access), the rising use of high-level disinfectants, and the presence of significant market players in the region, all contribute to this. Additionally, the demand for automated high-level disinfection systems, which are necessary to reduce the prevalence of HAIs, is driving up the need for automated probe reprocessors in the region.
Competitive Analysis
Nanosonics
Tristel
STERIS
Ecolab
Advanced Sterilization Products
CIVCO Medical Solutions
CS Medical LLC
Virox Technologies Inc.
Germitec S. A.
Schülke & Mayr GmbH
Parker Laboratories Inc.
Metrex Research LLC
Soluscope SA
Dr. Schumacher GmbH
Whiteley Medical (New Zealand)
MMM Group
GAMA Healthcare Ltd.
Ruhof Corporation
BODE Chemie GmbH
PDI
Advanced Ultrasound Solutions Inc.
IMA-X
Diversey Holdings
Borer Chemie AG
Medevice Healthtech
The global Ultrasound Probe Disinfection market is segmented as follows:
By Product Type
Instruments
Consumables
Services
By Disinfection Process
High-Level Disinfection
Intermediate/Low-Level Disinfection
By End User
Hospitals and Clinics
Diagnostic Imaging Centers
Others
By Regional Segment Analysis
North America
Europe

France
The UK
Spain
Germany
Italy
Nordic Countries
Benelux Union

Belgium
The Netherlands
Luxembourg

Rest of Europe

Asia Pacific

China
Japan
India
Australia
South Korea
Southeast Asia

Indonesia
Thailand
Malaysia
Singapore
Rest of Southeast Asia

Rest of Asia Pacific

The Middle East & Africa

Saudi Arabia
UAE
Egypt
South Africa
Rest of the Middle East & Africa

Latin America

Brazil
Argentina
Rest of Latin America