Industry Insights
[205+ Pages Report] According to Facts and Factors, the global seed processing market was worth approximately USD 10 billion in 2020 and is expected to grow to approximately USD 18.5 billion by 2028, with a compound annual growth rate (CAGR) of approximately 10.2% over the forecast period. The report explores the seed processing market's drivers & restraints and the impact they have on the demand during the projection period. In addition, the report analyses emerging opportunities in the seed processing market.
Seed Processing Market: Overview
Seed processing is an important aspect of producing high-quality seeds. It ensures that the seeds are of excellent quality and are not infected. Cleaning, drying, seed treatment, packaging, and storage are all part of seed management in agriculture. Seed processing primarily aims to improve seed viability, vigor, and health. Seed processing achieves the highest pure seed percentage with the highest germination capacity. The nature of harvested produce is heterogeneous. Through seed processing, we can obtain a product with a homogeneous character. Seed processing is a key step in achieving homogenous seeds through the use of appropriate processing technologies.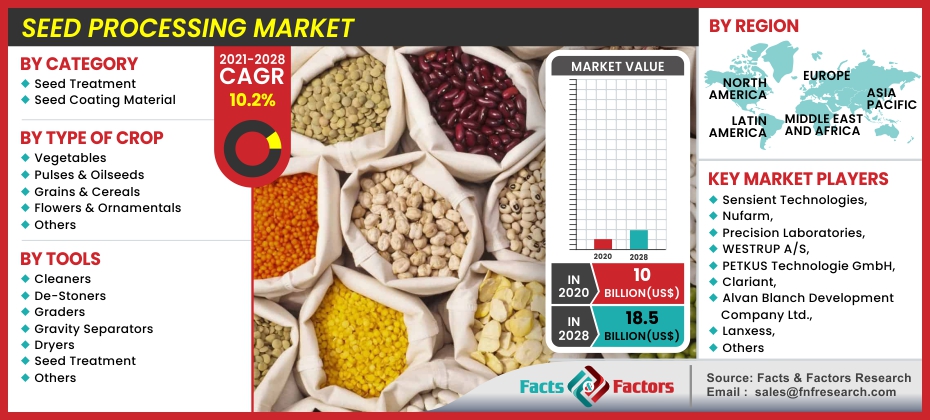 To know more about this report | Request Free Sample Copy
Seed Processing Market: Growth Drivers
The growing need to feed the world's rapidly rising population, as well as the growing demand for high-quality seeds in the agriculture sector to boost crop yields, are driving the global seed processing market's rise. Seed processing procedures can aid in the production of healthier seeds with the maximum germination potential. This is likely to drive significant revenue growth during the projection period. Farmers are progressively using more inventive seed processing procedures to reduce seed heterogeneity, which is primarily produced by soil variability in terms of physical, chemical, and biological aspects. Seed processing allows for the improvement of seed quality, which aids in the attainment of consistency in fields and crop yields.
Other significant drivers driving seed processing adoption in the agriculture industry include the increased requirement to reduce seed wastage by drying seeds to appropriate moisture content and implementing disease-prevention methods. Seed processing facilities have become more homogeneous and have enhanced marketing by offering proper packaging and preservation, which is driving demand for seed processing in the agricultural industry. The growing need to improve yield, maintain vigor, extend longevity, and overall crop quality is driving the expansion of the global seed processing market. Mechanical seed processing is becoming more popular as it improves physical purity and allows for seed sorting based on size and specific gravity. Growing farmer awareness of improved seed processing processes and the benefits associated with them is a major factor contributing to market growth, and this trend is projected to continue.
Governments throughout the world are investing in agriculture to raise output and provide financial assistance to farmers, which is projected to drive expansion in the global seed processing market. Seed processing procedures provide advantages such as enabling thorough separation, minimizing seed loss, and improving seed quality. Pre-processed seeds also need minimal work, which is another factor driving market expansion. Increased vegetable and fruit output, driven by a fast-growing population and an expanded base of health-conscious customers consuming more organic and healthy foods, are also factors driving increased seed processing adoption. Increasing R&D initiatives for the manufacturing of low-cost seed processing equipment that can be easily handled by even small-scale farmers is predicted to support seed processing demand over the forecast period. Increased R&D investments, high labor expenses, rising supply chain costs, and technology costs are all projected to limit global seed processing market growth in the next few years.
Segmentation Analysis
The global seed processing market is segmented into categories, type of crop, tools, and region.
By category, the market is classified into seed treatment and seed coating material. The revenue growth rate for the seed treatment segment is expected to accelerate during the forecast period. The growing need to promote seed germination and increase agricultural yield is driving the demand for seed treatment. Furthermore, the rising frequency of seed-borne illnesses and storage pest damage has increased the use of seed treatment methods in the agriculture industry.
By type of crop, the market is divided into vegetables, pulses & oilseeds, grains & cereals, flowers & ornamentals, and others. In 2020, the cereals and grains sector held the greatest revenue share in the seed processing market. By tools, the seed processing market is divided into cleaners, de-stoners, graders, gravity separators, dryers, seed treatment, and others. In 2020, gravity separators had the highest revenue share in the seed processing market.
Report Scope
| | |
| --- | --- |
| Report Attribute | Details |
| Market Size in 2020 | USD 10 Billion |
| Projected Market Size in 2028 | USD 18.5 Billion |
| CAGR Growth Rate | 10.2% CAGR |
| Base Year | 2020 |
| Forecast Years | 2021-2028 |
| Key Market Players | Sensient Technologies, Nufarm, Precision Laboratories, WESTRUP A/S, PETKUS Technologie GmbH, Clariant, Alvan Blanch Development Company Ltd., Lanxess, Chromatech, Germains Seed Technology, Lewis M. Carter Manufacturing LLC, BASF, Corteva, Cimbria, Seed Dynamics, Syngenta, Centor Group, Bayer, and Incotec, and Others |
| Key Segment | By Category, By Type of Crop, By Tools, and By Region |
| Major Regions Covered | North America, Europe, Asia Pacific, Latin America, and the Middle East & Africa |
| Purchase Options | Request customized purchase options to meet your research needs. Explore purchase options |
Regional Landscape
Europe held the largest share of the global seed processing market, with Spain leading the way, followed by France, Germany, and Russia. The expanding success of agriculture in the region, as well as the need for higher-quality seeds, are the primary drivers of market expansion. Seed processing is required in main crops such as cereals (barley, corn, etc.) and forage plants (clover, alfalfa, rapeseed, etc.) to avoid bacterial infections such as bare smut and decay. Furthermore, seed treatments can help the crop's early growth. Thus, manganese and zinc-based seed treatments that boost the plant's root system are gaining favor in the region.
In 2020, the beet yellows virus caused crop damage and productivity reductions in sugar beet farms in Spain. The farmers were quite concerned about it. They petitioned the authorities to allow them to use the Cruiser SB neonicotinoid treatment to decrease crop damage, which was later granted. As a result of rising pest and insect attacks, growers' need to safeguard the crop and rising yields are propelling the seed processing market in the region forward.
Recent Development
January 2021 - Corteva Agriscience has begun construction of a new Seed Application Technology Center (CSAT) in southwest France to help European farmers start growing crops and achieve a successful harvest.
December 2020 – Advanced Biological Marketing announces its latest product, GroFlo, for the seed processing industry. GroFlo combines all the benefits of dyes and polymers with added nutrients to give your seeds a good start.
Competitive Landscape
The global seed processing market's major competitors offer a varied and growing product line. Companies are concentrating their efforts on new product launches, partnerships, and acquisitions, all of which help them gain market share. During the forecast period, the development of bio-based seed treatment solutions has huge growth potential, with benefits such as environmental sustainability and fewer requirements for product development and launch.
Some of the key operators in the global seed processing market are
Sensient Technologies
Nufarm
Precision Laboratories
WESTRUP A/S
PETKUS Technologie GmbH
Clariant
Alvan Blanch Development Company Ltd.
Lanxess
Chromatech
Germains Seed Technology
Lewis M. Carter Manufacturing LLC
BASF
Corteva
Cimbria
Seed Dynamics
Syngenta
Centor Group
Bayer
Incotec.
The global seed processing market is segmented as follows:
By Category Segment Analysis
Seed Treatment
Seed Coating Material
By Type of Crop Segment Analysis
Vegetables
Pulses & Oilseeds
Grains & Cereals
Flowers & Ornamentals
Others
By Tools Segment Analysis
Cleaners
De-Stoners
Graders
Gravity Separators
Dryers
Seed Treatment
Others
By Region Segment Analysis
North America

The U.S.
Canada
Mexico
Rest of North America

Europe

France
The UK
Spain
Germany
Italy
Nordic countries

Denmark
Finland
Iceland
Sweden
Norway

Benelux Reunion

Belgium
The Netherlands
Luxembourg

Rest of Europe

Asia Pacific

China
Japan
India
New Zealand
Australia
South Korea
Southeast Asia

Indonesia
Thailand
Malaysia
Singapore
Rest of Southeast Asia

Rest of Southeast Asia
The Middle East & Africa

Saudi Arabia
UAE
Egypt
Kuwait
South Africa
Rest of the Middle East & Africa

Latin America

Brazil
Argentina
Rest of Latin America