Covid-19
Global Agriculture Testing Service Providers Market Size, Share
The pandemic continues to cause unprecedented disruption across industries worldwide.Get detailed insights regarding the impact of COVID-19 on the market. Request Sample
Industry Insights
[187+ Pages Report] As per the Facts and Factors report, the global agriculture testing service providers market is expected to be around USD 5.25 Billion in 2020, with revenues expected to reach around USD 8.45 Billion by the end of 2026, increasing at a CAGR of around 7% from 2021 to 2026.
Market Overview
Agricultural testing services are specified to measure the content and consistency of the contaminant by testing various samples including soil, water, crop, etc. Agricultural test services help to examine the appropriate input and tools for optimal plant development. Measurement of the impurity level also allows measuring, for example, the pH or acidity level of the given sample, configuration, and other features. The soil test helps decide the degree of fertility and the trace components of a given type of soil. Agricultural research can be a benefit for the commercialized farming and agriculture community.
Industry Growth Factor
In developing and marketing regions the demand for agriculture testing services is a highly growing industry. It is becoming famous. In commercialized agriculture countries, agricultural testing services have been popular to continue the export expansion of agricultural goods. However, growing demand for agricultural testing services is expected to boost growth prospects on the market for agricultural testing services in developing countries like China, India, and Brazil. One of the prominent drivers for development on the market of agricultural testing services has been stringent agricultural production and environmental protection regulations.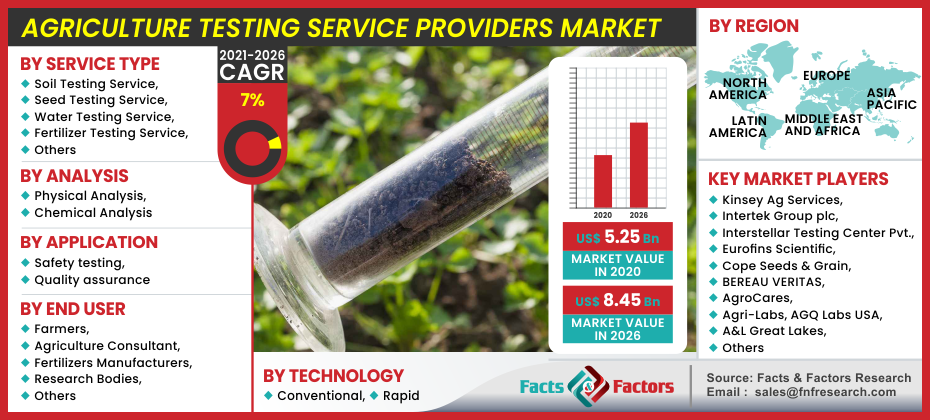 To ensure that crops produced for commercial use by genetic modification are carefully investigated and reviewed to make sure that no substantial harm does exist for the atmosphere or consumers, the US Department of Agriculture (USDA), the Food and drug management (FDA), and the Environmental Protection Agency (EPA).
In developing and commercialized areas, the agricultural testing industry is a highly growing field. It is very common. Environmental protection and agricultural productivity regulations and legalization have been the main drivers of demand development in this sophisticated segment. The export development of agricultural commodities is being maintained by sample testing in commercialized agricultural countries. The growing uncertainties in the supply chain as well as the absence of good agricultural practices in the supply chain, and the absence of proper hygienic and sanitary procedures, have led to the instances of pollution of both humans and livestock at the outset of the supply chain. This has led to serious problems for farmers, farmers, end-users, regulators, and the other players of the sector.
Global Agriculture Testing Service Providers Market: Segmentation
Based on service type the market is segmented into water testing service, soil testing service, seed testing service, fertilizer testing service, and others. Based on the analysis the market is further segmented into physical analysis and chemical analysis. Additionally, based on application market is further segmented into safety testing and quality assurance. Based on technology market is sub-segmented into conventional, and rapid. Moreover, based on the end-user market is sub-segmented into research bodies, fertilizers manufacturers, farmers, agriculture consultants, others.
Global Agriculture Testing Service Providers Market: Regional Analysis
Based on regions, the global agriculture testing service providers market can be divided into five main regions.
On the basis of geography, Europe is expected to have a large market share. Countries like France, Germany, and Italy in European countries have a vast number of agricultural areas and greenhouses that are driving the development of the demand for agricultural testing. In addition, except for the Asia Pacific in Japan, the agricultural testing facilities are expected to be growing as healthier and nutritious foods are consumed increasingly, requiring crop testing at the proper level. The growth rate in agricultural testing services in the Middle East and Africa is modest due to increased spending in agriculture by the Government.
The rise of agricultural automation and testing facilities has been seen by countries in North America, such as the US and Canada. Agricultural testing facilities are massively adopted in these regions to improve nutritious food output and boost the development of agricultural goods. Therefore, the demand for agricultural testing services is expected to be experiencing sustained growth in North America over the projected period.
Global Agriculture Testing Service Providers Market: Competitive Players
Some of the key players in the agriculture testing service providers market are Kinsey Ag Services, Intertek Group plc, Interstellar Testing Center Pvt., Eurofins Scientific, Cope Seeds & Grain, BEREAU VERITAS, AgroCares, Agri-Labs, AGQ Labs USA, A&L Great Lakes, SGS SA, Pramukh Laboratory, Polytest Laboratories, OMIC USA Inc., NRM Laboratories, National Agro Foundation, Logan Labs, Lilaba Analytical Laboratories, and Waters Agricultural Laboratories.
Global Agriculture Testing Service Providers Market: Regional Segment Analysis
North America
Europe
The Asia Pacific
Latin America
The Middle East and Africa