Industry Insights
[210+ Pages Report] According to Facts and Factors, the global childcare management software market size was worth USD 172.50 million in 2021 and is estimated to grow to USD 266.06 million by 2028, with a compound annual growth rate (CAGR) of approximately 7.50% over the forecast period. The report analyzes the childcare management software market's drivers, restraints/challenges, and their effect on the demands during the projection period. In addition, the report explores emerging opportunities in the childcare management software market.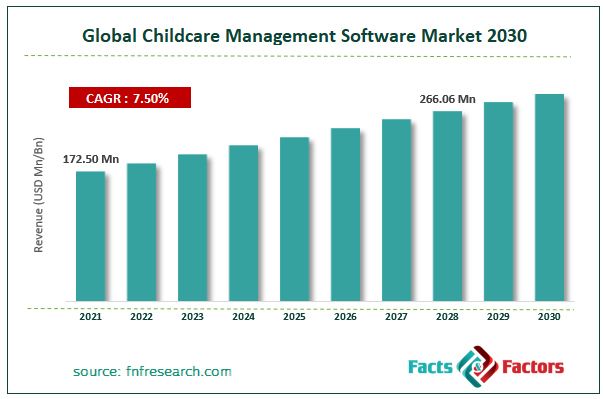 To know more about this report | Request Free Sample Copy
Market Overview
Software for childcare management includes management and accounting options for daycare or childcare facilities. There are installation and online versions of childcare management software. The solution is compatible with several devices, including PCs and cellphones. The program controls several aspects of daycare, including attendance, the collection of childcare fees, staff and parent contact, and other activities. A childcare management system links parents to their children who are cared for remotely. Childcare software coordinates the internal activities of daycare facilities and preschool programs and makes communication easier for parents and instructors.
On a single platform, the software streamlines and unifies childcare facility operations. The development and modification of regular progress reports, billing invoices, student profiles, and general documentation are made easier and more efficient using childcare software. Childcare software improves parent involvement and classroom administration through technology and mobile devices. These solutions frequently incorporate aspects of visitor management software and are cloud-based, implemented on already-owned mobile devices, and integrated with accounting and student information systems.
COVID-19 Impact:
Nearly all global businesses have been badly impacted by the COVID-19 pandemic. Additionally, the global supply chain has been affected by tight restrictions on transportation, but this has created possibilities for the software business and benefited the expansion of the market for childcare software. Following the COVID-19 pandemic outbreak, public health recommendations were considered to help stop the disease's spread and its severe effects on children's safety and health. Additionally, COVID-19 has the potential to have a three-fold influence on the world economy: directly altering supply and demand, upsetting supply chains, disrupting markets, and having an economic impact on businesses and financial markets.
Key Insights
As per the analysis shared by our research analyst, the global childcare management software market value to grow at a CAGR of 14% over the forecast period.
In terms of revenue, the global childcare management software market size was valued at around USD 172.50 million in 2021 and is projected to reach USD 266.065 million, by 2028.
The booming global market for childcare management software is due to the rise in daycare facilities and contractual partnerships between suppliers and corporations. Vendors of childcare management software are planning to establish contractual partnerships with corporate and governmental facilities as a result of the increase in daycare facilities.
By deployment type, the cloud category dominated the market in 2021.
By solution, the nutrition management category dominated the market in 2021.
North America dominated the global childcare management software market in 2021.
Growth drivers
The market for childcare software is expanding as a result of the rising demand for childcare services
The rising need for childcare facilities to improve the current process in childcare centers, schools, and homes is one of the key drivers fueling the growth of the worldwide childcare software market. Because childcare software automates administrative chores like billing, reporting, and admissions, daycare facilities and preschools may save time. Most childcare software is connected to social media platforms so that childcare facilities may interact with parents there using the program. For instance, Procare, a well-known childcare program, keeps data about the kid and their family. Additionally, using the same software, employee hours and vacation time may be controlled through the payroll module, and tuition fees can be paid online with the tuition express module. Additionally, the Procare program contains many modules for bookkeeping, data administration, and tracking attendance.
Restraints
High management expenses to restrain the market growth
The majority of childcare software applications are web- and PC-based. The development of the market for childcare software is being hampered by additional expenses related to web-based childcare solutions. Web-based software is rented out and has additional monthly data collection and analysis fees. Additionally, customers want quick and dependable internet access, which may not be possible for those with limited funds.
Opportunity
Future improvements in technology for the childcare system to generate market opportunities
It is projected that the existing businesses that supply childcare management software would have numerous prospects for expansion as a result of the availability of technologies like video streaming, ChatBot, and many more. The elements above are integrated to assist parents in monitoring their children and maintaining constant communication. Parents can use video streaming or a chatbot to communicate directly with the daycare or preschool administrator in the event of an emergency. Companies like Kindyhub, Eleyo, KinderCare, and Procare are focused on innovation as a result of the rapid improvements in technology. Consequently, the market for childcare management software will experience tremendous growth throughout the forecast period.
Challenges
The financial limitations of operating a childcare facility are a significant barrier to the expansion of the market
The profit margin for owners of childcare businesses has reduced due to the rise of playschools, nurseries, and schools with daycare centers. For smaller childcare businesses, purchasing software without a return on investment is difficult. Given the high operating expenses, such as personnel costs, rent, and facility upkeep, the profit margins can only be increased if the occupancy rate is very high. Compared to rural and semi-urban areas, the occupancy rate in metropolitan areas is higher. Because of this, urban facilities can generate more revenues than semi-urban or rural ones. Urban daycare centers might earn up to three times as much money. As a result, childcare facilities with lower occupancy rates and profit margins may be reluctant to invest further in childcare management software. These daycare facilities still favor conventional methods and utilize antiquated technologies to run their businesses. These elements will limit market expansion throughout the anticipated term.
Segmentation Analysis
The global childcare management software market is segregated based on Deployment Type, Solution, and region.
Based on the solutions offered, the market for childcare management software is segmented into groups that include family and child data management, attendance tracking, accounting, time and activity management, nutrition management, and others. The nutrition management market is growing at the quickest rate. Keeping records for children in daycare, preschool, and childcare facilities is made simpler by the nutrition management solution in the childcare management software. The program maintains track of the food for daycare centers that participate in the USDA Child and Adult Care Food Program (CACFP). It is projected that information on menu planning; meals are given, print meal roll call sheets, monthly reimbursement spending, and the industry's growth in emerging nations would be the main factors driving the increase of segmentation in the childcare management software market globally.
The market for childcare management software is divided into on-premises and cloud deployment types. One of the driving forces at play in the present market situation is the proliferation of alluring cloud-based solutions. Both schools and kindergartens may give parents and guardians important information by using the applications and software for childcare management. These considerations are fueling the market for childcare management software across various applications.
Report Scope
| | |
| --- | --- |
| Report Attribute | Details |
| Market Size in 2021 | USD 172.50 Million |
| Projected Market Size in 2028 | USD 266.06 Million |
| CAGR Growth Rate | 7.50% CAGR |
| Base Year | 2021 |
| Forecast Years | 2022-2028 |
| Key Market Players | Bloomz Inc., Eleyo, Himama, iclasspro, Kidcheck, Kindyhub, Kwiksol Corporation, Oncare, Softerware Inc., Tadpoles LLC, and Others |
| Key Segment | By Deployment Type, Solution, and Region |
| Major Regions Covered | North America, Europe, Asia Pacific, Latin America, and the Middle East & Africa |
| Purchase Options | Request customized purchase options to meet your research needs. Explore purchase options |
Recent Developments
In 2019: iClassPro and Sweet Peas Educational Gymnastics have partnered to support the physical, social, and cognitive growth of kids between the ages of 6 months and 6 years old.
Regional Landscape
The largest portion of the worldwide market for childcare software was held by North America
Due to technology improvements and widespread use of mobile devices, tablets, and computers across numerous industries, North America accounted for the highest share of the global market for childcare software. A state licensing agency must license and oversee childcare facilities and childcare programs in accordance with U.S. Department of Health & Human Services licensing rules. A licensed daycare center is one example of the link between Alaska and early care and education. Because of client-centric strategies, the availability of 24/7 customer involvement, and operational efficiency, childcare software use will increase significantly throughout the area.
Due to rising smartphone usage and sales, particularly in emerging nations like India and China, Asia Pacific had the greatest market share and is anticipated to continue doing so during the projection period.
Competitive Landscape
Key players within the global childcare management software market include
Bloomz Inc.
Eleyo
Himama
iclasspro
Kidcheck
Kindyhub
Kwiksol Corporation
Oncare
Softerware Inc.
Tadpoles LLC
The global childcare management software market is segmented as follows:
By Deployment Type
By Solution
Family & Child Data Management
Attendance Tracker
Accounting
Time & Activity Management
Nutrition Management
Others
By Region
North America
Europe

France
The UK
Spain
Germany
Italy
Nordic Countries
Benelux Union

Belgium
The Netherlands
Luxembourg

Rest of Europe

Asia Pacific

China
Japan
India
Australia
South Korea
Southeast Asia

Indonesia
Thailand
Malaysia
Singapore
Rest of Southeast Asia

Rest of Asia Pacific

The Middle East & Africa

Saudi Arabia
UAE
Egypt
South Africa
Rest of the Middle East & Africa

Latin America

Brazil
Argentina
Rest of Latin America