Industry Insights
[202+ Pages Report] According to Facts and Factors, the global HVAC controls market was worth around USD 15182.9 million in 2021 and is estimated to grow to about USD 27340.5 million by 2028, with a compound annual growth rate (CAGR) of approximately 10.3% over the forecast period. The report analyzes the HVAC Controls Market drivers, restraints/challenges, and the effect they have on the demands during the projection period. In addition, the report explores emerging opportunities in the HVAC Controls Market.
Market Overview
HVAC Manage Systems, or heating, ventilation, and air conditioning frameworks, are frameworks that allow the user to regulate the temperature of the environment in which the issue is located. It refers to the numerous systems that are used to transport air between indoor and outdoor regions as well as to heat and cool residential and commercial buildings. The expected market expansion is related to rising demand for building automation systems, as well as technological developments in HVAC control units. In addition, rising customer comfort levels have raised the demand for HVAC controls that may be handled remotely. All of these factors are projected to have a favorable impact on the market throughout the forecast period.
HVAC equipment demand is skyrocketing as a result of increased building spending, rapid urbanization, and rising disposable incomes in major nations. Climate change is another element contributing to growing HVAC demand around the world. Due to the rising temperatures and unpredictable weather patterns, HVAC equipment has become a need rather than a luxury. As a result control systems are inherent in all HVAC equipment, and rising demand for HVAC equipment is likely to fuel market expansion. The government programs aimed at producing a green, clean, and sustainable environment, the HVAC control systems market is likely to rise significantly. Several governments throughout the world are providing financial incentives to encourage the use of energy-efficient equipment in both home and business settings. This is anticipated to drive the market in the upcoming years.
The emergence of technologically enhanced smart controls, such as providing the Internet of Things (IoT) enabled HVAC control systems to support connectivity and home automation, is also expected to boost demand for HVAC controls. The need to replace older control systems with newer, more sophisticated controllers, as advanced systems provide various advantages over older systems, such as lower operating costs and better energy efficiency, is projected to drive market expansion. Moreover, developments in the functionality of HVAC sensors used to detect CO2, humidity, occupancy, and temperature are projected to sustain market demand over the projection period.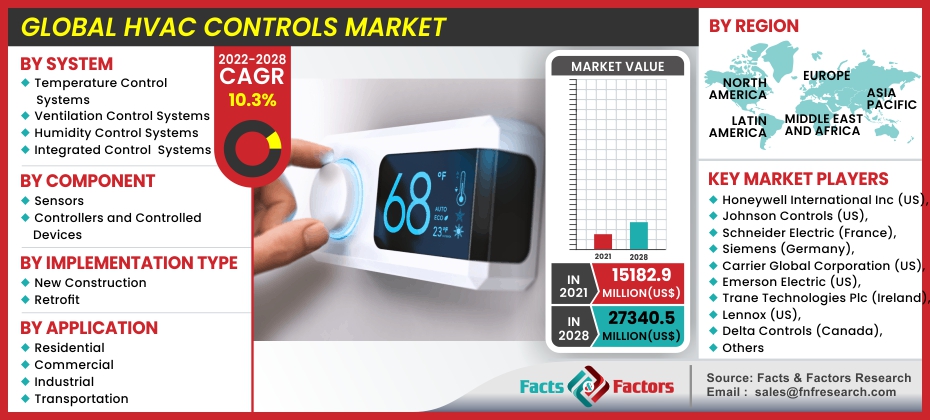 To know more about this report | Request Free Sample Copy
COVID-19 Impact:
COVID-19 has caused a major blow to the sector, causing both supply and demand to sink at the same time. The current COVID-19 epidemic has resulted in a slowing of market growth. Due to major interruptions in the worldwide supply chain, the COVID-19 pandemic is limiting the supply of HVAC equipment and other control components. As a result, the forecasted growth of the HVAC controls market across many application areas is expected to slow. Since social distancing is the most effective way of preventing the transmission of the disease, many HVAC businesses are being forced to either temporarily close, lay off personnel, or shift to operating remotely.
The Covid-19 problem has had an influence on the HVAC industry's supply chain. The majority of HVAC control system main components are created in the Asia Pacific, including HVAC equipment, sensors, and controlled equipment. The COVID-19 scenario has revealed the region's overdependence on critical raw materials, particularly in China, India, and the United States. This is primarily due to the country's long history of manufacturing HVAC devices and spare components. The suspension of operations in China and other Asia Pacific countries has had a significant impact on HVAC control manufacturers in a number of countries. As a result of the foregoing, production has been constrained, resulting in a significant decrease in company inputs.
The recovery is dependent on government aid, corporate debt levels, and how enterprises and markets deal with decreased demand. The usage of remote technologies or IoT-enabled HVAC systems, as well as greater use of HVAC equipment and control systems in the commercial sector, will boost the market's recovery. The rise in the adoption of HVAC equipment and control systems in the commercial sector and usage of remote technology or IoT-enabled HVAC systems will support the recovery of the market. When end-user industries recover from the effects of the pandemic, the market is likely to regain its growth momentum.
Growth Drivers
The emergence of IoT-enabled HVAC systems
The combination of the HVAC industry and IoT enables remote appliance control, resulting in dramatically improved customer-centric services. The primary advantages of incorporating IoT into the energy sector include operational insight into HVAC appliances and possibilities to significantly reduce energy use. HVAC contractors, for example, can get their devices to continuously monitor occupancy within the facility by integrating smart devices with motion sensors. When there is no movement detected for an extended length of time, the system may propose, via app notification, that heating (or cooling) be turned down to reduce power consumption.
The controls may also readily include the most recent networking and AI technologies, allowing them to learn the tenants' preferences and adjust to their comfort demands automatically over time. HVAC manufacturers are attempting to improve their market share by providing consumers with smart HVAC systems. Lighting and HVAC systems spend the most energy in any commercial or residential property. Implementing IoT and enabling machine-to-machine (M2M) communication in various applications would aid in cost savings, resource conservation, predictive maintenance, comfort control, and healthy building performance. As a result, there is a greater demand for IoT-based HVAC management systems.
Restraint
HVAC controls are not widely used due to a lack of awareness among end-users.
Global warming and the need to conserve as much energy as possible have emerged as major global challenges. Advanced HVAC systems aid in efficiently addressing these concerns; yet, understanding of the benefits of HVAC systems and controls is limited. HVAC systems are widely used in residential buildings in industrialized countries; yet, due to the high cost of installing these systems, adoption remains low, despite the fact that the environmental benefits are significant. Setting up an HVAC system in a building is part of a subcontract awarded by contractors to a specialized company.
However, the bulk of subcontracting firms lacks technical experience and money, resulting in the installation of inefficient HVAC systems and controls. Additionally, there is a dearth of awareness among contractors regarding HVAC standards. Residential HVAC construction companies are uninformed of the most recent Seasonal Energy Efficiency Ratio (SEER) regulations, which are impeding HVAC control adoption.
Opportunity
Growing demand for cloud computing in HVAC
Cloud computing aids in the storage of data, the execution of procedures, and the operation of enterprises by utilizing internet servers hosted in a remote place. It has turned into a catalyst for enterprise technology innovation. Contractors maintain numerous data in HVAC systems, such as information relating to HVAC loads, equipment installed in a building, proposals, maintenance operations, and others, which are developed in a range of separate systems. Acquiring such data manually carries the risk of data loss and may also result in confusion. To address this issue, a shared platform, i.e., cloud computing can be employed, granting access to everyone involved in the project.
A cloud platform makes it simple to keep up to current on project information, customer requirements, and equipment and control selection. The same information can be utilized as a reference in the future. Cloud computing aids in regulatory compliance, the selection of energy-efficient HVAC systems and controls, the analysis of HVAC load, the storage of sales data, and the maintenance of data for personnel.
Challenge
The possibility of COVID-19 spreading through the operation of air-conditioning and ventilation systems has slowed the expansion of the HVAC controls market.
The World Health Organization (WHO) conducted an assessment in 2020 and declared the COVID-19 disease to be pandemic. The COVID-19 epidemic has caused catastrophic global socioeconomic disruptions, affecting millions of people worldwide. Concerns have been raised about the spread of the disease through the functioning of HVAC systems, because the infectious disease can spread through a variety of channels, including air transmission. The virus that causes COVID-19, according to the Centers for Disease Control (CDC), is thought to travel mostly from person to person by respiratory droplets created when an infected person sneezes, coughs, sings, talks, and so on. These droplets can land in the mouths or nostrils of adjacent people or be inhaled, which is far more likely when people are in close proximity to one another.
These infected droplets may theoretically be disseminated through an HVAC system and spread to other occupants, although this scenario appears implausible. The World Health Organization (WHO) has contributed to COVID-19 recommendations on ventilation and air-conditioning systems. Through the Global Heat Health Information Network, WHO collaborated closely with the World Meteorological Organization Joint Office for Climate and Health and the United States National Oceanic and Atmospheric Administration (NOAA) to establish and update the guidelines. This set of guidelines is projected to stymie market expansion in the future years.
Segmentation Analysis
The HVAC Controls Market is segregated based on System, Component, Implementation Type, and Application.
By System, the market is classified into Temperature Control Systems, Ventilation Control Systems, Humidity Control Systems, and Integrated Control Systems. During the predicted period, the temperature and humidity control system segment held the greatest share. The segment's large market share can be attributable to the increasing global adoption of heating and cooling equipment. Companies are concentrating their efforts on providing systems that combine temperature and humidity control features in a single device. Due to the obvious introduction of such systems that provide temperature and humidity control in a single unit, the market is projected to maintain its dominance in the coming years.
By Component, the market is classified into Sensors, Controllers, and Controlled Devices. The sensors component segment would increase at the fastest rate during the projection period. Sensors are in charge of sensing various elements in the atmosphere and accurately transmitting this information to controllers, which can then be analyzed to take necessary actions. These sensors also detect whether or not the activities of controllers and controlled equipment produced the anticipated consequences. The advancement of wireless technology, as well as its application in IoT and smart homes, are driving the market for sensors in HVAC controls.
By Implementation Type, the market is categorized into New Construction and Retrofit. Replacing an old business HVAC system may be expensive, therefore retrofitting, which involves the installation of new or adapted elements to an existing system, is a cost-effective choice.
By Application, the market is classified into Residential, Commercial, and Industrial. During the forecast period, HVAC controls for residential applications held the biggest market share. The growing awareness of the importance of energy conservation and efficiency, as well as environmental protection, has fueled the development of energy-efficient HVAC controllers. These solutions aid in the most efficient use of energy while also maintaining the most comfortable and healthful interior atmosphere. Favorable government regulations and tax credit facilities for HVAC system installation, as well as end users' rising focus on lowering electricity bills, have all contributed significantly to the expansion of the HVAC controls market for residential applications.
Report Scope
| | |
| --- | --- |
| Report Attribute | Details |
| Market Size in 2021 | USD 15182.9 Million |
| Projected Market Size in 2028 | USD 27340.5 Million |
| CAGR Growth Rate | 10.3% CAGR |
| Base Year | 2021 |
| Forecast Years | 2022-2028 |
| Key Market Players | Honeywell International Inc (US), Johnson Controls (US), Schneider Electric (France), Siemens (Germany), Carrier Global Corporation (US), Emerson Electric (US), Trane Technologies Plc (Ireland), Lennox (US), Delta Controls (Canada), Distech Controls (Canada), KMC Controls (US), Daikin Industries (Japan), LG Electronics (South Korea), Jackson Systems (US), and OJ Electronics (Denmark). |
| Key Segment | By System, Component, Implementation Type, Application, and Region |
| Major Regions Covered | North America, Europe, Asia Pacific, Latin America, and the Middle East & Africa |
| Purchase Options | Request customized purchase options to meet your research needs. Explore purchase options |
Regional Landscape
During the forecast period, APAC held the biggest share of the HVAC controls market. Technological developments and a preference for energy-efficient goods drive the growth of the HVAC control market in APAC. The expanding population in this region's developing countries, along with environmental awareness, is driving the use of HVAC controls. The growing popularity of green buildings, as well as government measures to regulate energy-efficient practices in the commercial sector, are assisting in the adoption of HVAC controls in this region.
Over the projection period, North America will expand substantially. Other key factors promoting growth in this region include supportive government policies, beneficial legislation, programs, and associations. Due to the closure of several ongoing building sites, the adoption of HVAC control systems may be significantly influenced in 2020. However, as these projects progressively resume operations, the demand for HVAC control systems employed in such projects may arise in the future years, in parallel with economic recovery. The majority of the market in North America is dominated by maintenance and replacement services.
Recent Developments
In 2020, J2 Innovations has formed a strategic alliance with Clivet SpA. It will allow the world's leading manufacturer of specialized HVAC systems to provide revolutionary HVAC plant and building optimization solutions.
Competitive Landscape
Some of the main competitors dominating the HVAC Controls Market include -
Honeywell International Inc (US)
Johnson Controls (US)
Schneider Electric (France)
Siemens (Germany)
Carrier Global Corporation (US)
Emerson Electric (US)
Trane Technologies Plc (Ireland)
Lennox (US)
Delta Controls (Canada)
Distech Controls (Canada)
KMC Controls (US)
Daikin Industries (Japan)
LG Electronics (South Korea)
Jackson Systems (US)
OJ Electronics (Denmark)
The global HVAC controls market is segmented as follows:
By System Segment Analysis
Temperature Control Systems
Ventilation Control Systems
Humidity Control Systems
Integrated Control Systems
By Component Segment Analysis
Sensors
Controllers and Controlled Devices
By Implementation Type Segment Analysis
New Construction
Retrofit
By Application Segment Analysis
Residential
Commercial
Industrial
Transportation
By Regional Segment Analysis
North America

The U.S.
Canada
Mexico
Rest of North America

Europe

France
The UK
Spain
Germany
Italy
Nordic countries

Denmark
Finland
Iceland
Sweden
Norway

Benelux Reunion

Belgium
The Netherlands
Luxembourg

Rest of Europe

Asia Pacific

China
Japan
India
New Zealand
Australia
South Korea
Southeast Asia

Indonesia
Thailand
Malaysia
Singapore
Rest of Southeast Asia

Rest of Asia Pacific

The Middle East & Africa

Saudi Arabia
UAE
Egypt
Kuwait
South Africa
Rest of the Middle East & Africa

Latin America

Brazil
Argentina
Rest of Latin America