Industry Insights
[195+ Pages Report] According to Facts and Factors, the global titanium dioxide market is expected to increase at a compound annual growth rate (CAGR) of 5.6% during the projection period between 2022 and 2028. The valuation for the titanium dioxide market was USD 18.8 billion in 2021 and it is expected to cross USD 27.2 billion, by 2028. The report explores various factors and their implications on the titanium dioxide market's growth.
Market Overview
Titanium dioxide (TiO2) is a natural mineral that is used as a bright white pigment in paint, as a coloring in food, in lotions & cosmetics, and in other industrial applications. It is a white, powdery substance after processing. Titanium dioxide is highly resistant to ultraviolet (UV) light and functions as a UV absorber.
Titanium dioxide, like zinc oxide, is used in most sunscreens in the pharmaceutical sector to prevent UVA and UVB rays. It's also a prevalent color in pharmaceutical items like tablet coatings, gelatin capsules, and syrups. It is used in lipsticks, toothpaste, ointments, lotions, and powders in the cosmetics sector. It can be used to turn pigments opaque by acting as an opacifier. Titanium dioxide has been designated as GRAS (Generally Regarded As Safe) by the US Food and Drug Administration. The FDA authorizes the use of commercial-grade titanium dioxide up to 1% without mentioning it on product labels. Titanium dioxide nanoparticles are the world's second most manufactured nanoparticles. Titanium dioxide nanowires and nanotubes are high-performance materials. When used as a coating, titanium dioxide adds opacity, brightness, and whiteness. It is widely used in the paint industry as a white pigment.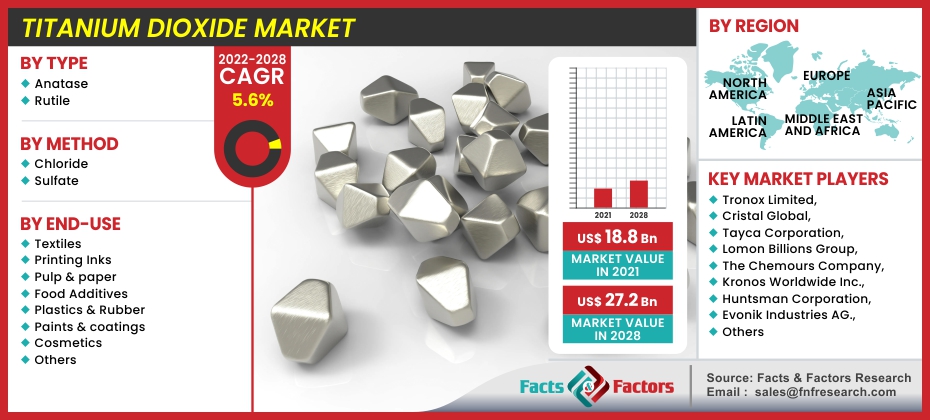 To know more about this report | Request Free Sample Copy
COVID-19 Impact:
The COVID-19 pandemic seems to have had a substantial impact on the construction industry, causing a temporary halt in construction, manufacturing, and trading activity. Because titanium dioxide is used as a pigment in paints, the slowdown in paint and coating manufacturing, as well as the cessation of construction activities, is leading to decreased consumption and demand for titanium dioxide. The pandemic has also produced an economic downturn because of decreased demand for numerous consumer-based items in which the substance is used as a raw material to provide pigment. This decrease in demand is causing a decrease in supply chain operations. The global lockout had a substantial influence on the distribution and trading activities of many global manufacturers, resulting in higher raw material and final goods prices.
Growth Drivers
Raising need for lightweight automobiles in the construction and automotive industries to aid market growth
The increasing need for lightweight automobiles, together with support from rising technological breakthroughs and innovations in the automotive sector, is the primary market factor driving this market's growth. Regulations governing emission rules may contribute to an increase in demand for fuel-efficient vehicles. This is projected to boost demand even more. Rising construction activities as a result of consumers' improving lifestyles and expanding renovation activities, as well as new infrastructure projects by governments, are driving the global titanium dioxide market's expansion. Furthermore, expansion in adjacent industries such as appliance manufacturing, consumer products, and electronics are supporting demand.
Restraints
The possibility of a demand-supply gap could stifle market growth
There has been a rapid increase in demand for titanium dioxide from a variety of end-use industries, which cannot be met due to the temporary stoppage of production units caused by the COVID-19 pandemic, resulting in a demand and supply gap. This expanding demand-supply mismatch acts as a market restricting factor. Furthermore, the danger of replacements such as carbonates, antimony oxide, and zinc oxide is putting pressure on market demand for TiO2. Furthermore, governmental rules governing the reduction of industrial effluents for the protection of the environment are stifling the industry's growth.
Opportunities
It is possible that titanium dioxide nanoparticles may have various opportunities in the coming years
Titanium dioxide nanoparticles are photocatalysts, which means they can use light energy to catalyze reactions with other molecules at low temperatures. Although various photocatalytic compounds are available, researchers discovered that titanium dioxide performs best in the sunshine. Researchers can create more effective photocatalysts by forming titanium dioxide nanoparticles, which have more surface area to react with other molecules.
Certain businesses use titanium oxide nanoparticles as part of a film that utilizes light energy to initiate a chemical reaction that kills microorganisms on surfaces.
A team of Penn State academics led by Craig Grimes has devised an amazing method of converting collected CO2 into methane. They employ a cluster of titanium dioxide nanotubes covered with a catalyst that aids in the conversion of water and carbon dioxide into methane, utilizing sunlight as a power source.
Researchers are also working on ways to exploit titanium dioxide nanoparticles' photocatalytic characteristics to eliminate cancer tumors. They are employing targeted medication delivery technologies to deliver titanium dioxide nanoparticles to cancerous tumors, then shine a light on the tumor. Titanium dioxide nanoparticles employ light energy to add an electron atom to oxygen molecules, which then destroy cancer cells.
Challenges
One of the greatest challenges to the use of titanium dioxide in water and wastewater treatment is the difficulty of separating it from the treated water suspension, which makes it expensive.
Although the bulk form of titanium dioxide is usually regarded as harmless, multiple investigations have revealed that chronic inhalation of titanium dioxide nanoparticles is hazardous, as documented in a series of experiments on aquatic and terrestrial animals.
Segmentation Analysis
The global titanium dioxide market is segregated on the basis of type, method, end-use, and region.
By type, the market is divided into anatase and rutile. In 2020, the rutile category led the market with a profit share of more than 75.0 percent. This tendency is set to continue during the forecasting period. Rutile type titanium dioxide is often used in paint applications as a carrier to produce white color in plastics and to prevent color fading in the paper. During the projected period, the expanding construction industry is expected to drive demand for rutile-type titanium dioxide.
By method, the market is segmented into chloride and sulfate. The sulfate segment leads the market because of the simpler and more cost-effective way of manufacturing titanium oxide. The rapid growth of the construction and automotive industries has resulted in the high usage of titanium dioxide for paint and coating applications. Because of the advancement of cost-effective production machines and the use of poor raw materials with less environmental impact, technological improvement is further supporting market expansion.
The chloride category is predicted to develop significantly during the projected timeframe due to rising consumer goods demand. Because of high-quality raw material requirements and costly manufacturing methods, the need for chloride procedures has fallen over the years.
By end-use, the market is classified into textiles, printing inks, pulp & paper, food additives, plastics & rubber, paints & coatings, cosmetics, and others. Due to the sheer growth in demand for automobiles and growing building activity, the paints and coatings segment dominates the market. This mineral is used as a pigment in paints and coatings since it is corrosion-resistant, long-lasting, and scratch-resistant. Because of these features, the compound is widely used in the construction and automotive industries, which is expected to drive market expansion.
Report Scope
| | |
| --- | --- |
| Report Attribute | Details |
| Market Size in 2021 | USD 18.8 Billion |
| Projected Market Size in 2028 | USD 27.2 Billion |
| CAGR Growth Rate | 5.6% CAGR |
| Base Year | 2021 |
| Forecast Years | 2022-2028 |
| Key Market Players | Tronox Limited, Cristal Global, Tayca Corporation, Lomon Billions Group, The Chemours Company, Kronos Worldwide Inc., Huntsman Corporation, and Evonik Industries AG., among others |
| Key Segment | By Type, Method, End-Use, and Region |
| Major Regions Covered | North America, Europe, Asia Pacific, Latin America, and the Middle East & Africa |
| Purchase Options | Request customized purchase options to meet your research needs. Explore purchase options |
Regional Landscape
Due to the region's rapid technological development and increasing disposable income, North America is predicted to have a significant growth in the global titanium dioxide market. The key factors driving market expansion are consumers' increased need for lightweight and cost-effective cars, as well as an increase in new construction and renovation operations. This, along with increased economic activity such as exports from the region, is driving the titanium dioxide market. Furthermore, increased demand in the healthcare business during the global pandemic has been a driving force.
Due to increased demand for titanium dioxide from various end-use industries such as vehicles, residential construction, plastics, and paper, Asia-Pacific led the global titanium dioxide market in 2019, with a value of USD 7578 million. As a result of lifestyle improvements and government infrastructure efforts, economic progress in countries such as Japan, China, and India is creating significant demand in the construction industry. As a result of a rapid expansion in the middle-class population and increasing disposable incomes, China has dominated the Asia-Pacific region.
During the projection period, the European area is expected to experience significant market expansion. This expansion can be attributed to a surge in demand for cost-effective and environmentally friendly lightweight vehicles from consumers of all economic levels. Growing environmental consciousness serves as a motivator for the acceptance of fuel-efficient, lightweight, and long-lasting products. This is expected to open new markets. Germany is a key country active in auto manufacturing, which is backed by high economic growth as well as advancements in technology in delivering low-cost and fuel-efficient options for lightweight vehicles.
Recent Developments
January 2022: LB Group has reported a 1 billion RMB investment in the building of a 200 ktpa titanium dioxide pigment completion plant at its Xiangyang site. Two titanium dioxide pigment completion lines, each capable of processing 100 ktpa of titanium dioxide pigment essential element, will be built.
July 2021: Venator Materials PLC announced price increases for its titanium dioxide pigments being used in plastics, coatings, paper, and inks around the world. The increase in price for EMEA, Asia-Pacific, and Latin America is USD 200/tons, compared to USD 0.08/lb in North America.
Competitive Landscape
Some of the main competitors dominating the global titanium dioxide market are Tronox Limited, Cristal Global, Tayca Corporation, Lomon Billions Group, The Chemours Company, Kronos Worldwide Inc., Huntsman Corporation, and Evonik Industries AG.
The global titanium dioxide market is segmented as follows:
By Type Segment Analysis
By Method Segment Analysis
By End-Use Segment Analysis
Textiles
Printing Inks
Pulp & paper
Food Additives
Plastics & Rubber
Paints & coatings
Cosmetics
Others
By Regional Segment Analysis
North America

The U.S.
Canada
Mexico
Rest of North America

Europe

France
The UK
Spain
Germany
Italy
Nordic countries

Denmark
Finland
Iceland
Sweden
Norway

Benelux Reunion

Belgium
The Netherlands
Luxembourg
Rest of Europe
Asia Pacific

China
Japan
India
New Zealand
Australia
South Korea
Southeast Asia

Indonesia
Thailand
Malaysia
Singapore
Rest of Southeast Asia

Rest of Southeast Asia

The Middle East & Africa

Saudi Arabia
UAE
Egypt
Kuwait
South Africa
Rest of the Middle East & Africa

Latin America

Brazil
Argentina
Rest of Latin America