Industry Insights
[201+ Pages Report] According to Facts and Factors, the global super absorbent polymer (SAP) market was valued at USD 9.51 billion in 2021 and is predicted to increase at a CAGR of 5.2% to USD 11.02 billion by 2028. The study examines the market in terms of revenue in each of the leading regions, which are classified into countries.
Market Overview
A super absorbent polymer (SAP), also known as slush powder is capable of absorbing water up to 300 times its original mass. Due to their extremely absorbent water qualities, they are extensively utilized in gels, and the cross-linkers used in SAP give them much-needed absorb water. Low-density cross-linkers in SAP are frequently replaced by high absorbent capacity. These SAPs are also excellent for generating a softer, sticker-like gel. Rising hygiene awareness and demand for infant and adult diapers in emerging economies are major drivers driving the market. In addition, the market is being driven by a rise in the use of highly absorbent polymers in agricultural applications. Furthermore, nations with a large elderly population, such as Japan, Italy, Finland, Greece, and others, have a high penetration of adult diapers, which boosts the market growth.
In today's market, traditional super absorbent polymers are non-biodegradable and account for a significant portion of landfills worldwide. As a result, efforts in the development of highly absorbent polymers made from renewable ingredients are projected to open up new business opportunities. Acrylic acid is the most common raw ingredient utilized to make extremely absorbent polymers. Acrylic acid prices have been fluctuating due to swings in crude oil prices and a lack of supply in the Asian market. The price of acrylic acid will be affected by the delayed recovery of crude oil prices. This has impacted the prices of super absorbent polymers as well as hampering its growth.
Impact of COVID - 19
In the last two to three years, the market for ultra-absorbent polymers has grown. However, the market is likely to drop during the COVID-19 pandemic because of the lockdown enforced by several countries, as well as reduced production efficiency due to manpower scarcity. The global increase of COVID-19 cases, on the other hand, raised the demand and supply of hygiene and medical products and solutions. Super absorbent polymers are commonly utilized in the production of diapers and wipes, both of which are in high demand in hospitals during the epidemic. However, due to the global pandemic scenario, the demand and supply of super absorbent polymers have been impacted by the rise of numerous businesses other than medical.
The complete research study looks at both the qualitative and quantitative aspects of the Super Absorbent Polymer (SAP) Market. Both the demand and supply sides of the market have been investigated. The demand side study examines market income in various regions before comparing it to all of the major countries. The supply-side research examines the industry's top rivals, as well as their regional and global presence and strategies. Each major country in North America, Europe, Asia Pacific, the Middle East and Africa, and Latin America is thoroughly investigated.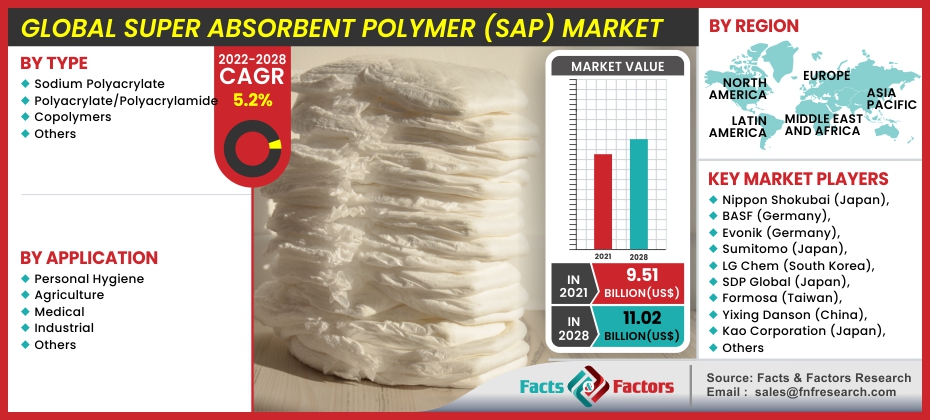 To know more about this report | Request Free Sample Copy
Segmentation Analysis
The global super absorbent polymer (SAP) market is segregated based on type and applications.
By Type, the most prevalent super absorbent polymers on the market are sodium polyacrylate, polyacrylate/polyacrylamide copolymer, and others. It is often called the 'super slurper' and is widely preferred for its ability to absorb as much as 400-800 times water than its mass. It is also the most used type in personal hygiene products such as baby diapers, adult continence products, sanitary napkins, and agricultural applications. Personal hygiene, medical, agricultural, and industrial sectors all use these polymers. Sodium polyacrylate dominates the market for extremely absorbent polymers. The industry is being driven by the increasing use of sodium polyacrylate in personal hygiene applications due to its high liquid absorption capacity.
The global market is segmented by application into personal hygiene, agriculture, medical, industrial, and others. The medical category is predicted to grow at the fastest pace by application during the projection period. This is linked to the growth of the healthcare sector in developing countries like India, China, Australia, Brazil, and others.
Report Scope
| | |
| --- | --- |
| Report Attribute | Details |
| Market Size in 2021 | USD 9.51 Billion |
| Projected Market Size in 2028 | USD 11.02 Billion |
| CAGR Growth Rate | 5.2% CAGR |
| Base Year | 2021 |
| Forecast Years | 2022-2028 |
| Key Market Players | Nippon Shokubai (Japan), BASF (Germany), Evonik (Germany), Sumitomo (Japan), LG Chem (South Korea), SDP Global (Japan), Formosa (Taiwan), Yixing Danson (China), Satellite Science & Technology Co. Ltd. (China), Kao Corporation (Japan), and Others |
| Key Segment | By Type, Application, and Region |
| Major Regions Covered | North America, Europe, Asia Pacific, Latin America, and the Middle East & Africa |
| Purchase Options | Request customized purchase options to meet your research needs. Explore purchase options |
Regional Landscape
APAC has the world's largest and fastest-growing market for super absorbent polymers. The region's growing need for super absorbent polymers can be attributed to a number of factors, including its large population, rising middle-class prosperity, and low labor and raw material costs. In addition, as the number of end-use industries in the region increases, so does the number of breakthroughs and discoveries in the field of super absorbent polymers, propelling the APAC super absorbent polymers market forward.
Furthermore, rising per capita disposable income in developing countries encourages people to invest in their health and access better healthcare, boosting the market value of superabsorbent polymers soon. North America is expected to show significant growth in the forecast period due to growth in disposable income and substantial spending on health and hygiene.
List of Key Players in the Global Super Absorbent Polymer (SAP) Market:
Nippon Shokubai (Japan)
BASF (Germany)
Evonik (Germany)
Sumitomo (Japan)
LG Chem (South Korea)
SDP Global (Japan)
Formosa (Taiwan)
Yixing Danson (China)
Satellite Science & Technology Co., Ltd. (China)
Kao Corporation (Japan)
The global super absorbent polymer (SAP) market is segmented as follows;
By Type Segment Analysis
Sodium Polyacrylate
Polyacrylate/Polyacrylamide
Copolymers
Others
By Application Segment Analysis
Personal Hygiene
Agriculture
Medical
Industrial
Others
By Regional Segment Analysis
North America
Europe

France
The UK
Spain
Germany
Italy
Nordic Countries
Benelux Union

Belgium
The Netherlands
Luxembourg

Rest of Europe

Asia Pacific

China
Japan
India
Australia
South Korea
Southeast Asia

Indonesia
Thailand
Malaysia
Singapore
Rest of Southeast Asia

Rest of Asia Pacific

The Middle East & Africa

Saudi Arabia
UAE
Egypt
South Africa
Rest of the Middle East & Africa

Latin America

Brazil
Argentina
Rest of Latin America