Industry Insights
[209+ Pages Report] According to Facts and Factors, the global polymer foam market was valued at USD 91.5 billion in 2021 and is predicted to increase at a CAGR of 4.01% to USD 101.12 billion by 2028. The study examines the market in terms of revenue in each of the major regions, which are classified into countries.
Market Overview
Polyurethane (PU) foams are long-lasting, lightweight, adaptable, corrosion and vibration resistant, recyclable, and offer a wide range of geometric design options. To build lightweight, fuel-efficient, and durable constructions, PU foams are widely employed in a passenger automobile seat cushions, gasket seals, armrests, headrests, cushioned instrument panels, airbags, and other components. The demand for polymer foam is predicted to rise as its applications in numerous industries, such as packaging, furniture, and bedding, and the automotive industry, expand. Polymer foams are incredibly light and adaptable, as well as extremely durable, mildew-resistant, and dermatologically friendly. These characteristics make them suitable for a wide range of consumer applications.
Building and construction, automotive, and marine industries all employ polyurethane-based foams. High recyclability, clean incineration for pollution filtration, decreased waste, and better sustainability is all advantages of polymer foam. However, a growing number of governments and federal authorities are voicing concerns about the harmful health impacts of isocyanides used in polyurethane manufacturing. Significant technological breakthroughs, such as the introduction of bio-based polyols and non-toxic isocyanides, are expected to boost polymer foam demand in a variety of applications.
The working class and students' increased stress and exhaustion have produced a need for solutions that can help them relax. Memory foam is a type of polymer foam that retains its shape when stressed, evenly distributing the tension and assisting in muscle relaxation. This foam is primarily used in the production of footwear soles. These foam-based soles not only assist clients to relieve pain but also aid to restore natural pronation. The growing worldwide senior population, on the other hand, has fueled demand for memory foam-based bedding products including mattresses and cushions. These foams are used in mattresses to provide full-body support and to help relieve pain. Furthermore, foam-based pillows have been shown to help with the maintenance of the consumer's sleep cycle as well as stress reduction, giving them a significant boost in the global market. This upward trend in the usage of memory foam-based goods is likely to give the industry a significant boost.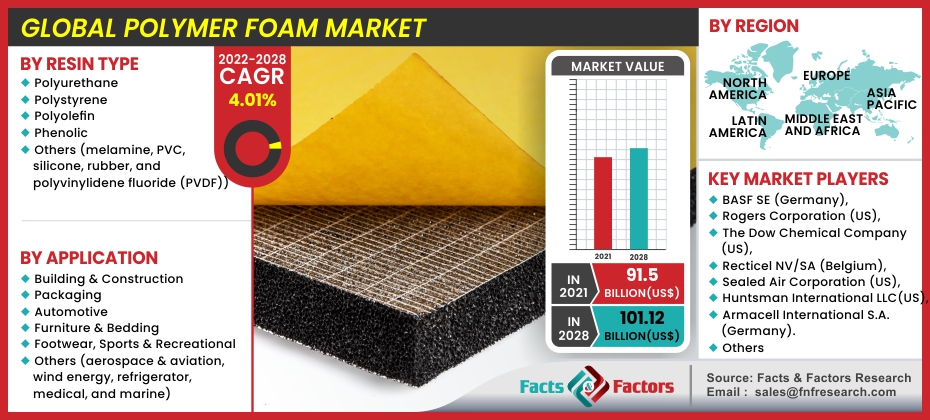 To know more about this report | Request Free Sample Copy
Impact of COVID – 19
Covid-19 has had an impact on not only human and material transportation but also on industry and building activities around the world. The severe slowdown in global economic activities has led to a huge fall in demand for these foams, with major economies like China, India, the United States, Germany, and Brazil announcing lockdowns for many months. The production of automobiles has been significantly hampered, posing challenges to the industry's adoption of foams. According to the European Automobile Manufacturers Association (ACE), the automobile market in the EU has shrunk this year due to the closure of production sites and lower demand. Similarly, decreased consumer spending and restrictions on material transportation have had a substantial impact on the building and construction industry's performance. This has had an impact on the demand for these forms as well.
The complete research study looks at both the qualitative and quantitative aspects of the Polymer Foam market. Both the demand and supply sides of the market have been investigated. The demand side study examines market income in various regions before comparing it to all of the major countries. The supply-side research examines the industry's top rivals, as well as their regional and global presence and strategies. Each major country in North America, Europe, Asia Pacific, the Middle East and Africa, and Latin America is thoroughly investigated.
Segmentation Analysis
The global Polymer Foam market is segregated based on resin type and application.
Based on the resin type, the segment of polyurethane resins is expected to grow at the fastest rate. Polyurethane has a low heat conduction coefficient, a low density, a low water absorption rate, a high mechanical strength, and excellent insulating characteristics. PU foam comes in a variety of rigidities, hardness, and densities. Upholstery, bedding, car and truck seating, and new inorganic plant substrates for roof or wall gardens all use low-density flexible foams. Low-density foams are employed in RTM cores and thermal insulation.
Based on the application, the building and construction segment held the largest share of the polymer foam market. In the building and construction industry, polymer foams are used for forging, pipe-in-pipe, doors, roof boards, and slabs. In the building and construction industry, PU is the most commonly used foam for insulation. It has a low heat conduction coefficient, a low density, a low water absorption coefficient, and relatively good mechanical and insulating properties, all of which are beneficial in the building and construction industry.
Report Scope
| | |
| --- | --- |
| Report Attribute | Details |
| Market Size in 2021 | USD 91.5 Billion |
| Projected Market Size in 2028 | USD 101.12 Billion |
| CAGR Growth Rate | 4.01% CAGR |
| Base Year | 2021 |
| Forecast Years | 2022-2028 |
| Key Market Players | BASF SE (Germany), Rogers Corporation (US), The Dow Chemical Company (US), Recticel NV/SA (Belgium), Sealed Air Corporation (US), Huntsman International LLC (US), Armacell International S.A. (Germany), Zotefoams plc (UK), Covestro AG (Germany), JSP Corporation (Japan), Kaneka Corporation (Japan), Hanwha Chemical Corporation (South Korea), and Others |
| Key Segment | By Resin Type, Application, and Region |
| Major Regions Covered | North America, Europe, Asia Pacific, Latin America, and the Middle East & Africa |
| Purchase Options | Request customized purchase options to meet your research needs. Explore purchase options |
Regional Landscape
During the forecast period, APAC is expected to be the fastest-growing market. The area is made up of countries at various stages of economic growth. The strong economic growth rate in the region is mostly related to heavy investment in businesses such as building and construction, packaging, automotive, building and construction, and furniture and bedding. Because of the rising end-use industries, the worldwide polymer foam market is booming. The market is growing because to economic expansion in developing nations and growth in main end-use industries like building & construction, automotive, packaging, and furniture & bedding.
List of Key Players in the Global Polymer Foam Market:
BASF SE (Germany)
Rogers Corporation (US)
The Dow Chemical Company (US)
Recticel NV/SA (Belgium)
Sealed Air Corporation (US)
Huntsman International LLC (US)
Armacell International S.A. (Germany)
Zotefoams plc (UK)
Covestro AG (Germany)
JSP Corporation (Japan)
Kaneka Corporation (Japan)
Hanwha Chemical Corporation (South Korea)
The global polymer foam market is segmented as follows;
By Resin Type Segment Analysis
Polyurethane
Polystyrene
Polyolefin
Phenolic
Others (melamine, PVC, silicone, rubber, and polyvinylidene fluoride (PVDF))
By Application Segment Analysis
Building & Construction
Packaging
Automotive
Furniture & Bedding
Footwear, Sports & Recreational
Others (aerospace & aviation, wind energy, refrigerator, medical, and marine)
By Regional Segment Analysis
North America
Europe

France
The UK
Spain
Germany
Italy
Nordic Countries
Benelux Union

Belgium
The Netherlands
Luxembourg

Rest of Europe

Asia Pacific

China
Japan
India
Australia
South Korea
Southeast Asia

Indonesia
Thailand
Malaysia
Singapore
Rest of Southeast Asia

Rest of Asia Pacific

The Middle East & Africa

Saudi Arabia
UAE
Egypt
South Africa
Rest of the Middle East & Africa

Latin America

Brazil
Argentina
Rest of Latin America