Industry Insights
[205+ Pages Report] According to Facts and Factors, during the forecast period of 2022 to 2028, the global radiopharmaceutical market is estimated to develop at a compound annual growth rate (CAGR) of 10.5%. The global radiopharmaceutical market size was valued at USD 4.9 billion in 2021, and it is predicted to exceed USD 11.8 billion by 2028. The study investigates several elements and their consequences on the growth of the radiopharmaceutical market.
Market Overview
Radiopharmaceuticals are radioactive components that are administered to patients and monitored using specific imaging devices for diagnosis and treatment. It's made up of a radioisotope bonding to a compound. The radioisotope is delivered to specific cells, tissues, or organs by the organic molecule. The radioisotope was chosen because of its properties. Radiopharmaceuticals are used as radioactive substances in medical imaging and therapy for a variety of diseases in the field of radiopharmaceuticals (for example, brachytherapy). Many radiopharmaceuticals employ technetium-99m (Tc-99m), a gamma-emitting tracer nuclide with numerous applications.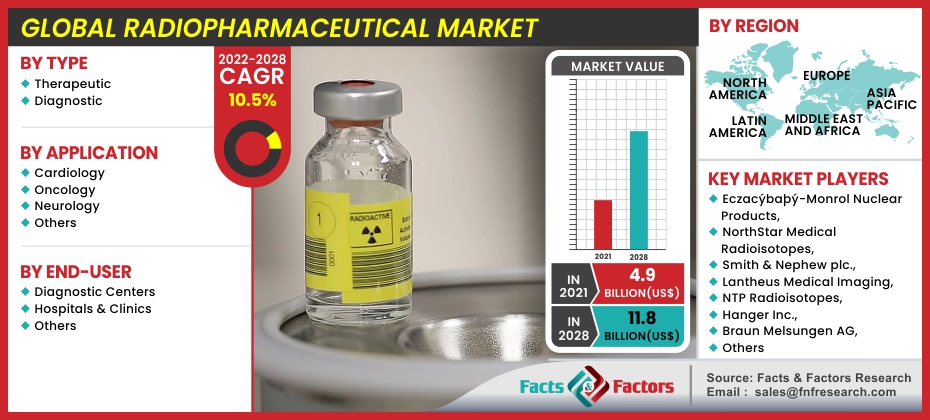 To know more about this report | Request Free Sample Copy
Diagnostic radioisotopes and therapeutic radioisotopes are two types of radiopharmaceuticals. Radiopharmaceuticals are extensively used in the diagnosis and treatment of cancer, cardiovascular disease, and other diseases. The radiopharmaceutical industry will continue to grow at a relatively fast rate. Investors remain optimistic about this sector, and more new investments will enter the field in the future.
COVID-19 Impact
Due to funding and schedule cuts during this phase, COVID-19 entered the market with a roadblock. The pandemic caused significant changes in the clinical processes of radiological medical units around the world. The market's revenue fell, causing a delay in a variety of non-diagnostic methods and treatment surgeries. Academic medical centers and universities were forced to close down scientific research activities in order to achieve the maximum impact of social distancing. Furthermore, a halt in funding for such research & development activities slowed market growth.
However, during Q3-Q4 2020, the number of patients began to rise as government regulations in various regions were eased. As a result, the reinstatement of services had a beneficial impact on the demand for radiopharmaceuticals in 2021.
Growth Drivers
Nuclear imaging modalities will benefit from technological advancements, propelling the market
One of the driving factors for the global radiopharmaceutical market's growth is increased awareness about the potential impact of early and prompt diagnosis, as well as the associated benefits of managing and treating chronic disorders. Advances in nuclear imaging techniques, particularly PET/PET-CT, have facilitated the development of this modality's applications beyond cardiology to oncology, neurology, and infection detection.
Because of technological advancements, the volume of PET and SPECT procedures has increased significantly.
Furthermore, advancements like the progress of cadmium zinc telluride (CZT)-based detection systems, which allow the concurrent observation of anatomical and physiological structures, are anticipated to drive SPECT-CT adoption systems.
New diagnostic and therapeutic radiopharmaceutical product launches will drive market growth
The strong focus of several market players on introducing new products in this market is one of the crucial driving factors. Rising demand for nuclear imaging has resulted in the introduction of new products as well as the advancement of comprehensive diagnostic radiopharmaceutical pipelines will further complement the market growth. Furthermore, a large number of chronic disease patients encourages makers to release new products in the global market.
Furthermore, multiple major market leaders have signed agreements and collaborations for the development and marketing of diagnostic radiopharmaceuticals.
Restraints
Short half-life of radiopharmaceuticals may limit market growth
The half-life of the radioisotope and the composition of the radionuclide determine the expiry of a radiopharmaceutical. For instance, the radioactivity of F-18 in PET scans reduces after 110 minutes, whereas C-11 radioactivity decreases after 20 minutes. Tc-99m radioactivity is reduced after six hours in SPECT diagnosis, whereas I-123 and In-111 isotopes should be used within 13 and 67 hours, respectively. Non-use of radioisotopes within the specified shelf life results in radioactivity and chemical decomposition, lowering radiochemical purification to an unacceptable level that can be potentially lethal during diagnosis and treatment.
Opportunities
Radiopharmaceuticals used in neurological applications anticipated to rise in future
Radiopharmaceuticals are primarily used to diagnose cancer and cardiovascular diseases. Due to the accumulation of these markets, a number of companies and stakeholders have started to focus on broadening the overall application areas of radiopharmaceuticals. With radiopharmaceuticals' expanding application areas, uptake and demand are anticipated to rise in the future. This implies that players have an opportunity to broaden their services and share in the global radiopharmaceutical market by accommodating radiopharmaceutical supply in neurological application fields.
Challenges
Budget cuts in hospitals and high equipment costs remain a challenge
The COVID-19 pandemic has wreaked havoc around the world, causing healthcare systems around the world to shut down. As a result, hospitals have increased unit testing in an effort to save lives and limit the virus's spread. COVID-19's financial challenges forced governments all over the world to implement budget cuts. Furthermore, the pandemic led to a lower number of patients for radiopharmaceutical procedures and a decision to cancel elective procedures, causing hospitals to face a cash crunch.
Segmentation Analysis
The global radiopharmaceutical market is segregated on the basis of type, application, end-user, and region.
By type, the market is divided into therapeutic and diagnostic. Diagnostic radiopharmaceuticals are further subdivided into SPECT radiopharmaceuticals and PET radiopharmaceuticals. SPECT radiopharmaceuticals are further classified as Iodine-123, Thallium-201, Technetium-99m, and others. PET radiopharmaceuticals are classified as 68Ga, FDG-PET/18F, 11c, and others.
The diagnostic radiopharmaceuticals segment is expected to dominate the global market. This segment is also expected to grow at a significant CAGR due to factors such as effective imaging of patient populations with various cancers, launching new products to diagnose various disorders and rising procedural volumes globally.
Therapeutic radiopharmaceuticals are expected to grow at the fastest rate. The growth can be attributed to factors such as the treatment's comparative effectiveness, the benefits affiliated with these possible treatments, and the increasing interest in therapeutic radiopharmaceuticals by industry players due to a significant focus on clinical trials.
By application, the market is classified into cardiology, oncology, neurology, and others. The oncology segment is projected to grow at the fastest rate. A cancer diagnosis is one of the most common imaging procedures performed around the world. This is due to increased awareness of early cancer detection, the high prevalence of cancer, and the benefits of early detection in the management & treatment of various types of cancer. A large number of radiopharmaceutical therapy pipeline products are aimed at oncology indications, which are expected to contribute to segmental growth in the forthcoming years.
During the projected timeline, the cardiology segment is anticipated to grow at a significant CAGR. The rising use of radiopharmaceuticals for the diagnosis and therapy of cardiovascular diseases is attributed to the growth of the cardiology segment.
By end-user, the market is divided into diagnostic centers, hospitals & clinics, and others. During the forecast period, the hospitals & clinics segment is projected to grow at a significant CAGR. The high procedural volume of nuclear imaging procedures, as well as the increased efficiency of handling these sensitive products in hospitals & clinics, are attributed to the rapid growth rate.
Diagnostic centers held the second-largest market share in 2020 and are expected to grow at the fastest CAGR over the projected period. The high growth rate of this segment can be attributed to the growth of diagnostic institutions and high procedural volumes in diagnostic centers.
Report Scope
| | |
| --- | --- |
| Report Attribute | Details |
| Market Size in 2021 | USD 4.9 Billion |
| Projected Market Size in 2028 | USD 11.8 Billion |
| CAGR Growth Rate | 10.5% CAGR |
| Base Year | 2021 |
| Forecast Years | 2022-2028 |
| Key Market Players | Eczacýbaþý-Monrol Nuclear Products, NorthStar Medical Radioisotopes, Smith & Nephew plc., Lantheus Medical Imaging, NTP Radioisotopes, Hanger Inc., Advanced Accelerator Applications, Braun Melsungen AG, Otto Bock Healthcare GmBH, Bracco Imaging, Cardinal Health, Nordion, Eckert & Ziegler, General Electric, Zimmer Biomet, Bayer AG, JSC Isotope, and Curium., among others |
| Key Segment | By Type, Application, End-User, and Region |
| Major Regions Covered | North America, Europe, Asia Pacific, Latin America, and the Middle East & Africa |
| Purchase Options | Request customized purchase options to meet your research needs. Explore purchase options |
Regional Landscape
North America dominates the global market while maintaining its position during the forecast period
North America dominates the radiopharmaceutical market due to its large number of healthcare services, growing overweight population, large patient population suffering from chronic diseases such as coronary disorders, cancer, & strokes, and a surge in research activities.
Asia-Pacific region is expected to grow significantly from 2022 to 2028 as a result of increased government initiatives to raise awareness, an increase in medical tourism, the availability of massive untapped markets, an increase in cases of cardiovascular diseases, the presence of key market players, the availability of well-established infrastructure, growing research activities in the region, a large population pool, and a growing demand for quality healthcare in the region.
Recent Developments
August 2021: NorthStar Medical Radioisotopes, LLC, a global pioneer in radiopharmaceuticals, and GE Healthcare announced an exclusive contract to manufacture and sell iodine-123 capsules in the United States.
March 2021: Bracco Diagnostics Inc. has announced a collaboration with CardioNavix, LLC to increase accessibility to cardiac PET imaging. The Bracco Mobile Isotope Service, a new program, will allow further patient care forums can provide cardiac PET imaging.
Competitive Landscape
Some of the main competitors dominating the global radiopharmaceutical market are Eczacýbaþý-Monrol Nuclear Products, NorthStar Medical Radioisotopes, Smith & Nephew plc., Lantheus Medical Imaging, NTP Radioisotopes, Hanger Inc., Advanced Accelerator Applications, Braun Melsungen AG, Otto Bock Healthcare GmBH, Bracco Imaging, Cardinal Health, Nordion, Eckert & Ziegler, General Electric, Zimmer Biomet, Bayer AG, JSC Isotope, and Curium.
The global radiopharmaceutical market is segmented as follows:
By Type Segment Analysis
By Application Segment Analysis
Cardiology
Oncology
Neurology
Others
By End-User Segment Analysis
Diagnostic Centers
Hospitals & Clinics
Others
By Regional Segment Analysis
North America

The U.S.
Canada
Mexico
Rest of North America

Europe

France
The UK
Spain
Germany
Italy
Nordic countries

Denmark
Finland
Iceland
Sweden
Norway

Benelux Reunion

Belgium
The Netherlands
Luxembourg

Rest of Europe

Asia Pacific

China
Japan
India
New Zealand
Australia
South Korea
Southeast Asia

Indonesia
Thailand
Malaysia
Singapore
Rest of Southeast Asia

Rest of Southeast Asia

The Middle East & Africa

Saudi Arabia
UAE
Egypt
Kuwait
South Africa
Rest of the Middle East & Africa

Latin America

Brazil
Argentina
Rest of Latin America