Covid-19
Global Quartz Market Size, Share
The pandemic continues to cause unprecedented disruption across industries worldwide.Get detailed insights regarding the impact of COVID-19 on the market. Request Sample
Industry Insights
[228+ Pages Report] According to Facts and Factors, the global quartz market was valued at USD 8,535.5 million in 2021 and is predicted to increase at a CAGR of 6.9% to USD 11,947.91 million by 2028. The study examines the market in terms of revenue in each of the major regions, which are classified into countries.
Market Overview
Quartz is a silica-based material that is hard and crystalline. The atoms are connected in a continuous framework of SiO4 silicon-oxygen tetrahedra, with each oxygen shared by two tetrahedra, resulting in a chemical formula of SiO2. After feldspar, it is the second most abundant mineral in the Earth's crust. Almost all acid igneous, metamorphic, and sedimentary rocks contain it. In silica-rich felsic rocks like granites, granodiorites, and rhyolites, it is a necessary mineral. The global quartz market appears to have a bright future, with applications in electronics and semiconductors, solar, buildings and construction, optics and telecommunications, and metallurgy. The growing need for quartz in the semiconductor and electronics industries, as well as the rising demand for solar photovoltaic/PV cells, are the primary drivers of this market.
One of the major opportunities for the quartz market's expansion is the rising sales of consumer electronics goods. The semiconductor industry is significantly increasing its demand for quartz. High purity quartz (HPQ) is ideal for wafer processing because of its superior conductivity and ability to endure high temperatures. Increased sales of electronic gadgets such as laptops, mobile phones, TVs, tablets, and other similar products are predicted to raise semiconductor demand, boosting the quartz market. On the other hand, the market's expansion could be hampered by raw material price volatility and the high cost of high-purity quartz. The acquisition of raw materials is in jeopardy as trade rules become more restrictive. Companies that require industrial raw materials for the manufacturing of high purity quartz, in particular, confront significant obstacles.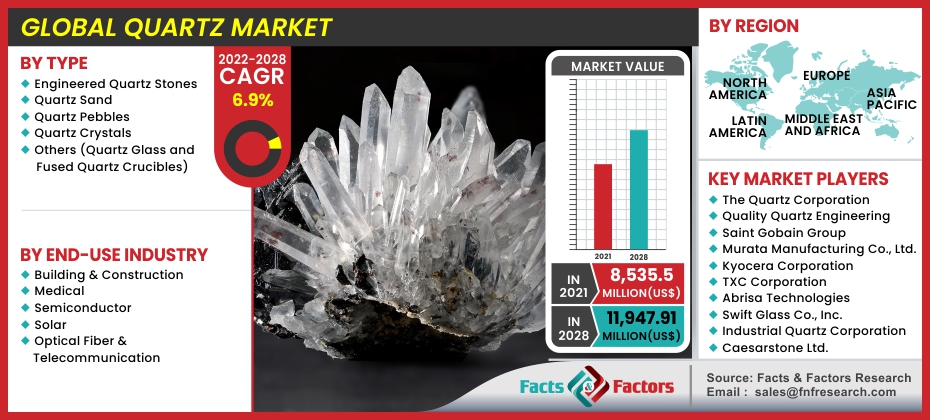 Impact of COVID - 19
The COVID-19 epidemic has disrupted the supply chains of various industries around the world, including electronics and semiconductors, construction, and automotive. This, in turn, had a negative impact on quartz demand in these industries. Solar power usage has increased, but this hasn't been enough to bring the market back. The global construction sector has been impacted by the COVID-19 pandemic, with projects encountering labor shortages, supply chain challenges, and financial constraints. The ripple effects can be seen all across the industry, from China's original problem to construction sites all around the world.
Due to the resumption of production in most industries, the market is projected to revive now that the lockdowns have been removed in most countries around the world. In addition, the Asia-Pacific region's quartz market is expected to grow due to increased research and development spending on quartz production. The main nations contributing to the global quartz market in Asia-Pacific are India, China, and Japan.
Segmentation Analysis
The global quartz market is segregated based on the type and end-user industry.
Building & Construction, Medical, Semiconductor, Solar, Optical Fiber & Telecommunication are the end-user industries in which the market is segmented. From 2022 to 2028, the Building & Construction industry is expected to increase at a significant rate. The regions studied are North America, Europe, Asia-Pacific, and LAMEA. North America dominates the worldwide quartz market, with Asia-Pacific expected to grow at the quickest CAGR throughout the forecast period.
Quartz sand accounted for the largest proportion of the high purity quartz market by type. Quartz sand is used in many different industries, including aerospace, electronics, machinery, computer technology, petroleum, and many more. The semiconductor industry's demand for high purity quartz sand has grown over time. In the semiconductor industry, there are no replacements for high purity quartz sand.
Report Scope
| | |
| --- | --- |
| Report Attribute | Details |
| Market Size in 2021 | USD 8,535.5 Million |
| Projected Market Size in 2028 | USD 11,947.91 Million |
| CAGR Growth Rate | 6.9% CAGR |
| Base Year | 2021 |
| Forecast Years | 2022-2028 |
| Key Market Players | The Quartz Corporation, Quality Quartz Engineering, Saint Gobain Group, Murata Manufacturing Co., Ltd., Kyocera Corporation, TXC Corporation, Abrisa Technologies, Swift Glass Co., Inc., Industrial Quartz Corporation, Caesarstone Ltd., and Others |
| Key Segment | By Type, End-use Industry, and Region |
| Major Regions Covered | North America, Europe, Asia Pacific, Latin America, and the Middle East & Africa |
| Purchase Options | Request customized purchase options to meet your research needs. Explore purchase options |
Regional Landscape
The Quartz market is likely to be dominated by the Asia-Pacific region, which includes China and India. Quartz is becoming more widely used in a variety of end-use industries in the Asia Pacific, including building and construction, electronics and semiconductors, medical, and so on, which gives potential growth opportunities for quartz manufacturers. An increasing population, industrialization, a growing number of well-established market participants, and the usage of quartz in the semiconductor sector are all driving quartz demand in the region.
Increased residential and commercial constructions due to the rising population, developments in the electronics sector, and expanding semiconductor industry are some of the key drivers driving the worldwide quartz market growth. Manufacturers in developing countries like India and China have a lot of room to grow.
List of Key Players in the Global Quartz Market:
The Quartz Corporation
Quality Quartz Engineering
Saint Gobain Group
Murata Manufacturing Co., Ltd.
Kyocera Corporation
TXC Corporation
Abrisa Technologies
Swift Glass Co., Inc.
Industrial Quartz Corporation
Caesarstone Ltd.
The global quartz market is segmented as follows;
By Type Segment Analysis
Engineered Quartz Stones
Quartz Sand
Quartz Pebbles
Quartz Crystals
Others (Quartz Glass and Fused Quartz Crucibles)
By End-use Industry Segment Analysis
Building & Construction
Medical
Semiconductor
Solar
Optical Fiber & Telecommunication
By Regional Segment Analysis
North America
Europe

France
The UK
Spain
Germany
Italy
Nordic Countries
Benelux Union

Belgium
The Netherlands
Luxembourg

Rest of Europe

Asia Pacific

China
Japan
India
Australia
South Korea
Southeast Asia

Indonesia
Thailand
Malaysia
Singapore
Rest of Southeast Asia

Rest of Asia Pacific

The Middle East & Africa

Saudi Arabia
UAE
Egypt
South Africa
Rest of the Middle East & Africa

Latin America

Brazil
Argentina
Rest of Latin America