Industry Insights
[195+ Pages Report] According to Facts and Factors, the global pyridine market is expected to increase at a compound annual growth rate (CAGR) of 9.7% during the projection period between 2022 and 2028. The valuation for the global pyridine market was USD 1.1 billion in 2021 and it is expected to cross USD 2.4 billion, by 2028. The report explores various factors and their implications on the pyridine market's growth.
Market Overview
Pyridine is a cyclic compound with the chemical formula C5H5N that is a colorless to yellow liquid. It is a heterocyclic organic molecule with a basic structure. It is sometimes referred to as pyridine or azine. The structure is similar to that of benzene, except that one of the methine groups has been substituted by a nucleophile. It has a nasty, rotten, fishy smell. Pyridine can be manufactured from formaldehyde, ammonia, and acetaldehyde, or it can be extracted from unrefined coal tar. It has poor basicity and is highly soluble in water.
It is very combustible and poisonous when inhaled or swallowed. When exposed to pyridine, some individuals reported asthmatic breathing, nausea, headache, vomiting, coughing, and laryngitis. It is frequently used as a precursor in the production of agrochemicals and medicines. It is also a significant chemical and organic solvent.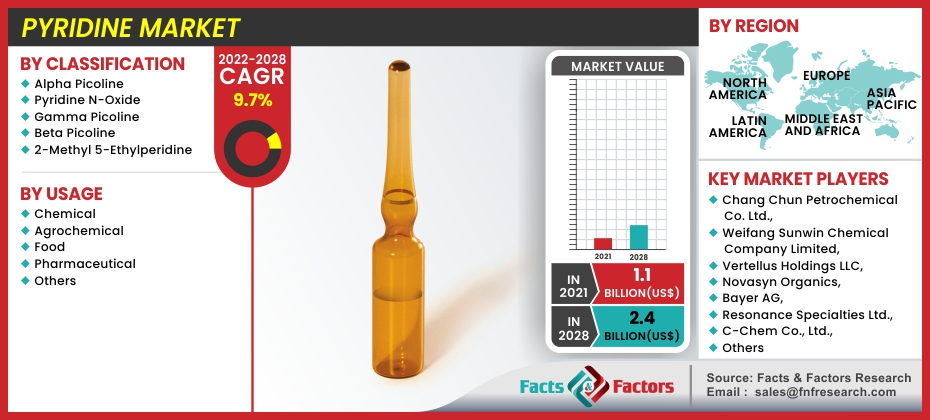 To know more about this report | Request Free Sample Copy
Pyridine is a solvent that is used to create a variety of items such as pharmaceuticals, vitamins, food flavorings, insecticides, dyes, paints, adhesives, rubber products, and fabric waterproofing. Pyridine can also be produced by the decomposition of a variety of natural components in the environment.
COVID-19 Impact:
The rise of COVID-19 in the 4th quarter of 2020 has increased sales for Pyridine in the pharmaceutical market, as people are afraid to seek out nutritional goods to build their immunity as a virus preventive approach. During this time, there has been a considerable increase in the usage of pharmaceutical drugs based on pyridine compounds such as nicotinamide, nicotine, vitamin B6, and others, driving sales of pyridine derivatives. In contrast, COVID-19 had an adverse effect on sales in 2020. In the textile and pesticide industries, pyridine compounds are frequently used. During the lockdown, garment and textile mills were briefly closed down due to the disease outbreak risk. Likewise, the export and import markets were shut down. As a result, the market remained stable during the lockdown.
Growth Drivers
Rising pyridine demand from the agrochemical and pharmaceutical industries drives the market growth
The growing market for synthetic pyridine from the chemical and pharmaceutical industries is expected to fuel market expansion. Synthetic pyridine accounts for approximately 95 percent of global pyridine production and is the only option for meeting rising demand. Strong expansion in the pharmaceutical and chemical sectors is fueling massive demand for the products, which is likely to fuel market growth throughout the forecast period.
The growing demand for pyridine as an active substance in agrochemicals is likely to drive market expansion. It is being used in the manufacture of insecticides. Significant demand for pesticides is propelling market growth due to the increasing requirement for superior quality yielding crops and expanding global food demand. This is due to rising population levels. Furthermore, the increasing adoption of modern farming practices is likely to fuel pyridine market expansion over the forecast years.
Restraints
Strict laws and restrictions governing the use of pyridine are projected to stymie market expansion
Strict laws and restrictions governing the use of pyridine are projected to stymie market expansion. According to the Occupational Safety and Health Administration (OSHA), the Acceptable Daily Intake (ADI) for pyridine for inhalation exposure is 0.002 mg/kg/day with a Reportable Quantity (RQ) of 100.
One of the key problems limiting pyridine use is severe composting while using it as an herbicide. Furthermore, excessive pyridine use seems to have the ability to pollute compost materials such as hay, dung, and so on.
Opportunities
The growing usage of pyridine as a solution in a variety of chemical applications is expected to create profitable prospects in the near future. Pyridine, for example, is utilized as a weak base in SOCl2 and TsCl. As a by-product of this process, HCl is generated. Pyridine absorbs HCl when it is produced, resulting in pyridinium hydrochloride. As a result, the rising usage of pyridine as a solution in various chemical reactions is expected to drive market expansion in the near future.
Over the projection period, increasing FDA approval for pyridine in functional foods is likely to create new doors of opportunity. Pyridine and its compounds are frequently utilized as food flavoring additives in the production of a wide range of food products. As a result, increased regulatory approvals in the United States for the use of pyridine as a food additive are expected to promote its uptake in various culinary applications, favoring pyridine market growth in the near future.
Businesses are conducting extensive research to improve the chemical functions of pyridine and its analogs in order to increase their absorption in agrochemicals such as insecticides, acaricides, fungicides, and herbicides.
Challenges
The volatility of raw resources is caused by a variety of internal and external factors, including geopolitical conflicts between countries, global trade wars, employability, foreign exchange movements, labor costs, and population growth. For instance, in 2019, trade tensions between the United States and China significantly influenced chemical product makers, suppliers, and distributors.
Furthermore, as a result of the COVID-19 impact, different manufacturing sectors have shut down their businesses due to a lack of workforce, instability of supply chain operations worldwide, and a lack of raw material availability, all of which pose a challenge to the global pyridine market's ability to grow. For example, in March 2020, Brazil's pesticide and herbicide businesses faced a number of issues as a result of a pesticide supply chain disruption from China.
Segmentation Analysis
The global pyridine market is segregated on the basis of classification, usage, and region.
By classification, the market is segmented into alpha picoline, pyridine N-oxide, gamma picoline, beta picoline, and 2-methyl 5-ethylperidine. Pyridine N-oxide had 38% of the global pyridine market in 2020 and is predicted to reach USD 900 million by 2028. Vitamin B3 is made from beta picoline. The beta picoline segment is expected to grow at a moderate CAGR throughout the forecast period.
By usage, the market is divided into chemical, agrochemical, food, pharmaceutical, and others. The agrochemicals segment is predicted to account for the highest share of the global pyridine market and to grow at a CAGR of around 7.8% in terms of value between 2022 and 2028.
Report Scope
| | |
| --- | --- |
| Report Attribute | Details |
| Market Size in 2021 | USD 1.1 Billion |
| Projected Market Size in 2028 | USD 2.4 Billion |
| CAGR Growth Rate | 9.7% CAGR |
| Base Year | 2021 |
| Forecast Years | 2022-2028 |
| Key Market Players | Chang Chun Petrochemical Co. Ltd., Weifang Sunwin Chemical Company Limited, Vertellus Holdings LLC, Novasyn Organics, Bayer AG, Resonance Specialties Ltd., C-Chem Co., Ltd., Mitsubishi Chemical Company, Lonza Group AG, Jubilant Life Sciences Ltd., Koei Chemical Co. Ltd., Shandong Luba Chemical Co. Ltd., and Others |
| Key Segment | By Classification, By Usage, and By Region |
| Major Regions Covered | North America, Europe, Asia Pacific, Latin America, and the Middle East & Africa |
| Purchase Options | Request customized purchase options to meet your research needs. Explore purchase options |
Regional Landscape
Asia Pacific region accounts for a sizable portion of the global pyridine market
Asia Pacific region accounts for a sizable portion of the global pyridine market. The region's developing targeted market could be due to rising demand in nations such as India, China, Bangladesh, Japan, Vietnam, South Korea, and Malaysia. The region's demand is increasing as a result of favorable government laws, rising discretionary income, and widely accessible cheap labor, among other considerations. The rapidly expanding pharmaceutical industry, as well as growing preference from the agrochemicals sector, are likely to drive market expansion in the Asia Pacific.
Furthermore, Europe is projected to see a significant increase in demand as a result of companies' increased interest in supporting the burgeoning pharmaceutical and agrochemical markets.
Recent Developments
June 2021: Vertellus has agreed to buy ESIM Chemicals' specialties and intermediates division, which is a leading provider of specialized industrial chemicals, to the lubricant, pharmaceutical, coatings, and fuel industries.
February 2021: Trineso has agreed to purchase Synthomer PLC's vinyl pyridine latex business, which will broaden the company's product line.
Competitive Landscape
Some of the main competitors dominating the global pyridine market are Chang Chun Petrochemical Co. Ltd., Weifang Sunwin Chemical Company Limited, Vertellus Holdings LLC, Novasyn Organics, Bayer AG, Resonance Specialties Ltd., C-Chem Co., Ltd., Mitsubishi Chemical Company, Lonza Group AG, Jubilant Life Sciences Ltd., Koei Chemical Co. Ltd., and Shandong Luba Chemical Co. Ltd.
The global pyridine market is segmented as follows:
By Classification Segment Analysis
Alpha Picoline
Pyridine N-Oxide
Gamma Picoline
Beta Picoline
2-Methyl 5-Ethylperidine
By Usage Segment Analysis
Chemical
Agrochemical
Food
Pharmaceutical
Others
By Regional Segment Analysis
North America

The U.S.
Canada
Mexico
Rest of North America

Europe

France
The UK
Spain
Germany
Italy
Nordic countries

Denmark
Finland
Iceland
Sweden
Norway

Benelux Reunion

Belgium
The Netherlands
Luxembourg

Rest of Europe

Asia Pacific

China
Japan
India
New Zealand
Australia
South Korea
Southeast Asia

Indonesia
Thailand
Malaysia
Singapore
Rest of Southeast Asia

Rest of Southeast Asia

The Middle East & Africa

Saudi Arabia
UAE
Egypt
Kuwait
South Africa
Rest of Middle East & Africa

Latin America

Brazil
Argentina
Rest of Latin America