Industry Insights
[203+ Pages Report] According to Facts and Factors, the global portable generator market was valued at USD 1,729.50 billion in 2021 and is predicted to increase at a CAGR of 6.58% to USD 2,619.41 billion by 2028. The study examines the market in terms of revenue in each of the major regions, which are classified into countries.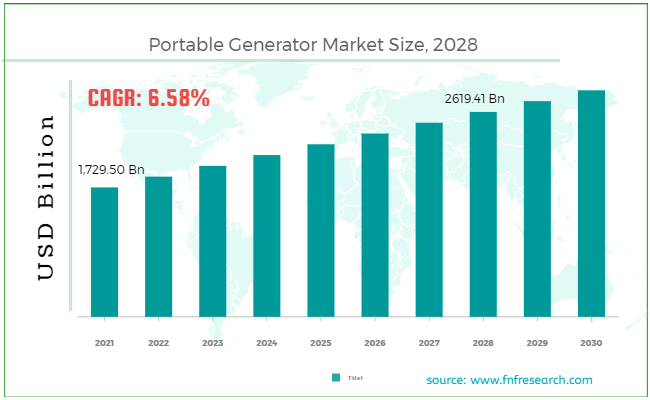 To know more about this report | Request Free Sample Copy
Market Overview
Electricity is essential for a country's economic development, however, numerous countries lack adequate grid infrastructure. Small and medium businesses (SMEs), as well as commercial spaces, are significantly hampered by the insufficient power supply. Portable generators not only provide a stable power supply in the event of a blackout, but they also ensure a constant electric supply, boosting the portable generator market. In the forecast years, the worldwide portable generators market trends will be defined by chronic outages, insufficient power supply, altering customer preferences, and continued infrastructure construction.
Consumers are turning to portable generators, particularly for residential applications, to ensure uninterrupted electricity supply as cities grow and power system breakdowns become more common. However, due to the adverse environmental impact of portable generators has prompted governments in a number of countries to enact strict laws. As a result, generators with fewer greenhouse gas emissions are being introduced by manufacturers. Electric power consumption has increased significantly in recent years in industries such as oil and gas, automobile, aerospace and defense, IT and telecommunications, and agriculture. Portable generators are used on construction sites to run power tools such as paint sprayers, air compressors, drills, and saws while consuming the least amount of fuel. As an outcome, the industry is likely to benefit from increased demand for an uninterruptible power supply.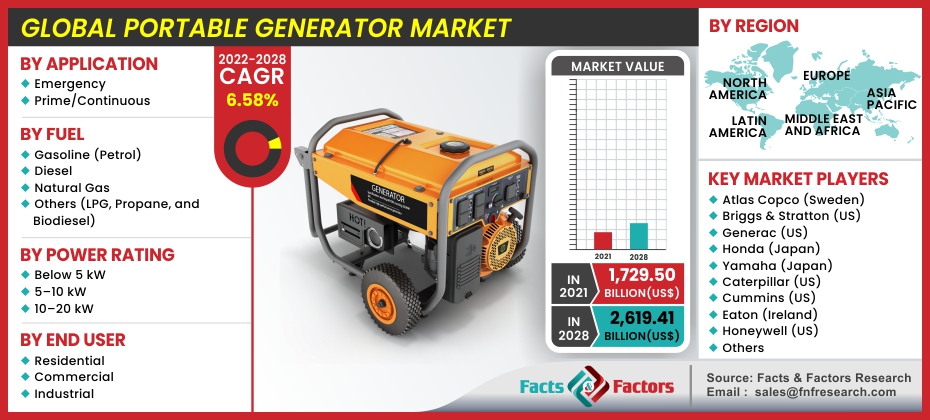 To know more about this report | Request Free Sample Copy
Impact of COVID – 19
Following public curfews and a stringent ban on worker movement, the unexpected spread of Novel Coronavirus resulted in the halting of various industry operations across all areas. The ongoing digital revolution, which is a result of technological advancements and an increase in industrial automation, will, however, have a favorable impact on market statistics. As a result, the growing need to fulfill increased power demand, mostly from the business and residential sectors, would boost the portable generators industry's potential.
Since the lockdown in the first half of 2020, many industries started employing people to work from home, such a situation increased the utilization of electricity in residential areas. However, few parts of countries didn't have 24 hours supply of electricity to fulfill the need to work from home for continuous nine hours. Due to this, the demand for a portable generator in such areas increased exponentially and is expected to rise in the coming years.
The complete research study looks at both the qualitative and quantitative aspects of the Portable Generator market. Both the demand and supply sides of the market have been investigated. The demand side study examines market income in various regions before comparing it to all of the major countries. The supply-side research examines the industry's top rivals, as well as their regional and global presence and strategies. Each major country in North America, Europe, Asia Pacific, the Middle East and Africa, and Latin America is thoroughly investigated.
Segmentation Analysis
The global portable generator market is segregated based on application, fuel, power rating, end-user, and region.
Power generators with outputs of less than 5 kW, 5 - 10 kW, and 10 - 20kW fall under the power rating category. The expansion of the portable generators market is expected to be fuelled by an increase in the usage of multipurpose power generation systems. Due to rising awareness of in-house power backup and the increased need for portable powering systems in outdoor recreational activities, the segment of smaller than 5 kW portable generators is expected to develop at the fastest rate. To the necessity for increased power supply to run machinery and industrial tools, portable generators are widely employed in the industrial sector, which is likely to drive the portable generators market.
The power rating below 5 kW is mostly used in residential areas. The end-user segment is divided into residential, commercial and industrial. Portable generators are used to run vital appliances such as lights, refrigerators, fans, and other appliances during power outages or adverse weather conditions, which are widely used in the residential sector. The residential sector constitutes the largest segment, accounting for the majority of the global market followed by the commercial and industrial sectors. Natural disasters are widespread in several parts of the world, causing disruptions in national power networks and infrastructure, as well as erratic electricity supplies. Portable generators are frequently used to provide electricity for rescue attempts in such situations. Due to this, the demand for portable generators is increased in every end-user sector.
Report Scope
| | |
| --- | --- |
| Report Attribute | Details |
| Market Size in 2021 | USD 1,729.50 Billion |
| Projected Market Size in 2028 | USD 2,619.41 Billion |
| CAGR Growth Rate | 6.58% CAGR |
| Base Year | 2021 |
| Forecast Years | 2022-2028 |
| Key Market Players | Atlas Copco (Sweden), Briggs & Stratton (US), Generac (US), Honda (Japan), Yamaha (Japan), Caterpillar (US), Cummins (US), Eaton (Ireland), Honeywell (US), Siemens (Germany), Wacker Neuson (Germany), Kubota (Japan), Kohler (US), Champion (US), Himoinsa (Spain), Duromax (US), Loncin (China), and Others |
| Key Segment | By Application, Fuel, Power Rating, End-User, and Region |
| Major Regions Covered | North America, Europe, Asia Pacific, Latin America, and the Middle East & Africa |
| Purchase Options | Request customized purchase options to meet your research needs. Explore purchase options |
Regional Landscape
The portable generator market is expected to grow significantly in the next years as a result of increased electricity usage and frequent blackouts. Asia-Pacific is predicted to dominate the portable generator industry and contribute significantly to driving the residential generator market. Emerging economies like China and India, which are heavily investing in the energy and power sector, are attributed to the growth. Despite government investments in grid infrastructure, millions of people in the region still lack access to electricity, which might fuel the portable generator's growth. North America and Europe, on the other hand, are experiencing a consistent increase, owing to increasing natural disasters.
Due to the weak grid infrastructure in African countries, household generators are in considerable demand throughout the Middle East and Africa. Portable generators are commonly employed in many Gulf nations to provide backup or continuous electricity during public events or natural disasters. In addition, this region has a lot of economic development potential, and many global businesses are investing in many industry verticals. As a result, portable generators are the ideal choice for supplying power in rural areas and avoiding frequent power outages.
List of Key Players in the Global Dietary Supplements Market:
Atlas Copco (Sweden)
Briggs & Stratton (US)
Generac (US)
Honda (Japan)
Yamaha (Japan)
Caterpillar (US)
Cummins (US)
Eaton (Ireland)
Honeywell (US)
Siemens (Germany)
Wacker Neuson (Germany)
Kubota (Japan)
Kohler (US)
Champion (US)
Himoinsa (Spain)
Duromax (US)
Loncin (China)
Others
The global portable generator market is segmented as follows;
By Application Segment Analysis
Emergency
Prime/Continuous
By Fuel Segment Analysis
Gasoline (Petrol)
Diesel
Natural Gas
Others (LPG, Propane, and Biodiesel)
By Power Rating Segment Analysis
Below 5 kW
5–10 kW
10–20 kW
By End-User Segment Analysis
Residential
Commercial
Industrial
By Regional Segment Analysis
North America
Europe

France
The UK
Spain
Germany
Italy
Nordic Countries
Benelux Union

Belgium
The Netherlands
Luxembourg

Rest of Europe

Asia Pacific

China
Japan
India
Australia
South Korea
Southeast Asia

Indonesia
Thailand
Malaysia
Singapore
Rest of Southeast Asia

Rest of Asia Pacific

The Middle East & Africa

Saudi Arabia
UAE
Egypt
South Africa
Rest of the Middle East & Africa

Latin America

Brazil
Argentina
Rest of Latin America