Industry Insights
[187+ Pages Report] According to a survey released by Facts and Factors, the global polyvinyl alcohol market was valued at USD 905.5 Million in 2020 and is predicted to reach USD 1291.7 Million by the end of 2026, rising at a CAGR of nearly 6.10% between 2021 and 2026.
Market Overview
Polyvinyl alcohol, a synthetic water-soluble polymer, has long been utilized in formulation processes in a wide range of end-use industries, including food packaging, construction, electronics, coatings, printing, textile, cosmetics, and paper. It's primarily utilized in the food packaging industry since it's a polymer with high water solubility and biodegradability. There are several uses for polyvinyl alcohol, such as in ceramics, textiles, coatings, and papers and wood. Other applications include a variety of different end-uses for the same grade of the product. Since then, PVA sales have increased as a result of this capability. Aside from ethanol, water solubility, and grease, and oil resistance, there are lesser-known product alternatives. Polyvinyl alcohol is widely used in the construction industry for a number of reasons, including enhanced water solubility and particle size, adsorption strength, cement porous solution viscosity, and static cement slurry filtration.
Industry Growth Factors
The rising demand for biodegradable products drives the polyvinyl alcohol business. As the polyvinyl alcohol business grows internationally, some of the most important factors include changing consumer preferences for environmentally-friendly goods, trash disposal, and waste management, as well as increased disposable incomes of consumers and the expansion of various industries. The increased use of polyvinyl alcohol in the electronics industry is expected to drive the worldwide polyvinyl alcohol market in the coming years. The expanding construction sector in many emerging nations across the world has also considerably expanded the application of polyvinyl alcohols, which are utilized in concrete mixes for outstanding adhesive qualities. Significant expansion in the global food and beverage sector, as well as rising demand for biodegradable synthetic polymers for packing solutions, are expected to drive the market over the forecast period.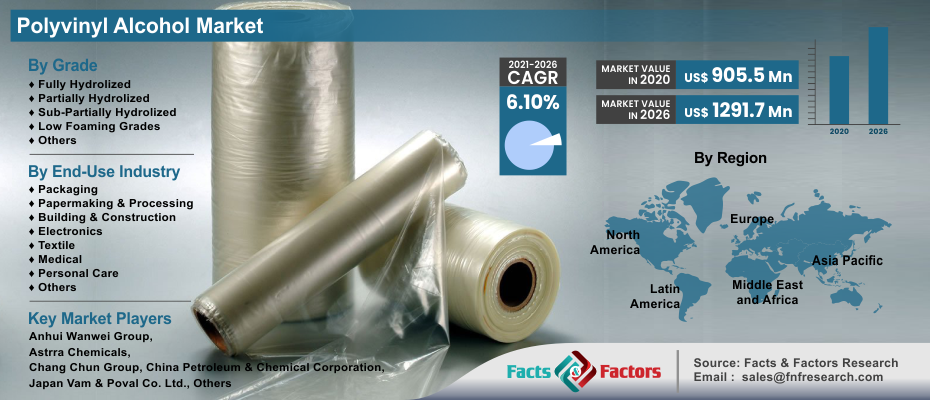 Segmentation Analysis
The global polyvinyl alcohol market is segregated based on grade type, end-use industry, and region. Based on grade type, the global polyvinyl alcohol industry is categorized into fully hydrolyzed, partially hydrolyzed, sub-partially hydrolyzed, low foaming grades, and others. In 2020, partly hydrolyzed grade PVA will dominate the market because of its growing usage in the food and beverage sector uses it as a packing agent in high-moisture foods as a gas barrier and to keep the items' quality and taste. Based on the end-use industry, the global polyvinyl alcohol industry is categorized into packaging, papermaking & processing, building & construction, electronics, textile, medical, personal care, and others. As of 2020, polyvinyl alcohol was mostly used in the building and construction industry. PVA is added to mortar to improve cohesion, fluidity, as well as the drying time of the concrete surface by increasing cohesion and fluidity. Polymerization aid, or the production of other goods using PV alcohol, has been its most common use in nations such as the United States and China. Polyvinyl alcohol is most commonly used as a polymerization aid in China, while PVB is more commonly used in Western Europe and the United States.
Report Scope:
| | |
| --- | --- |
| Report Attribute | Details |
| Market Size in 2020 | USD 905.5 Million |
| Projected Market Size in 2026 | USD 1291.7 Million |
| CAGR Growth Rate | 6.10% |
| Base Year | 2020 |
| Forecast Years | 2021-2026 |
| Key Market Players | Anhui Wanwei Group, Astrra Chemicals, Chang Chun Group, China Petroleum & Chemical Corporation, Japan Vam&Poval Co. Ltd., and Others |
| Key Segments | Grade Type, End-Use Industry, and Region |
| Major Regions Covered | North America, Europe, Asia Pacific, Latin America, and Middle East & Africa |
| Purchase Options | Request customized purchase options to meet your research needs. Explore purchase options |
Regional Analysis
Asia-Pacific is anticipated to be the largest regional market for polyvinyl alcohol in the world. The product market is being driven by growing demand from end-use industries such as automotive, electrical and electronics, chemicals, healthcare, oil and gas, and home care. India, Indonesia, Vietnam, and other rising economies in the Asia-Pacific area have contributed to the expansion of the construction sector in the region. Due to the increasing attractiveness of these markets, enormous amounts of money have been invested in the industrial and service sectors of these nations. As a result, the need for commercial and residential infrastructures has risen throughout time, resulting in an increase in building projects. Following the lead of the Asia-Pacific market, it is expected that the North American and European markets will grow steadily over the forecast period. The North American and European markets are expected to grow gradually during the forecast period, following the Asia-Pacific market's lead.
Competitive Players
Some main participants of the global polyvinyl alcohol market are Anhui Wanwei Group, Astrra Chemicals, Chang Chun Group, China Petroleum & Chemical Corporation, Japan Vam&Poval Co. Ltd., Kemipex, KURARAY CO. LTD., Nippon Synthetic Chemical Industry Co. Ltd., Merck KGaA, OCI Company Ltd., Polysciences Inc., SNP, Inc., Sekisui Chemical Co. Ltd., Solutia Inc. (Eastman Chemical Company), amongst others.
By Grade Type:
Fully Hydrolized
Partially Hydrolized
Sub-Partially Hydrolized
Low Foaming Grades
Others
By End-Use Industry:
Packaging
Papermaking & Processing
Building & Construction
Electronics
Textile
Medical
Personal Care
Others
By Region:
North America
Europe

France
The UK
Spain
Germany
Italy
Rest of Europe

Asia Pacific

China
Japan
India
South Korea
Southeast Asia
Rest of Asia Pacific

Latin America

Brazil
Mexico
Rest of Latin America

Middle East & Africa

GCC Countries
South Africa
Rest of Middle East & Africa