Covid-19
Global Polyolefins Market Size, Share
The pandemic continues to cause unprecedented disruption across industries worldwide.Get detailed insights regarding the impact of COVID-19 on the market. Request Sample
Industry Insights
[227+ Pages Report] According to Facts and Factors, the global polyolefins market was valued at USD 295.2 billion in 2021 and is predicted to increase at a CAGR of 5% to USD 395.7 billion by 2028. The study examines the market in terms of revenue in each of the major regions, which are classified into countries.
Market Overview
Polypropylene and polyethylene belong to the polyolefin family of thermoplastics. The polymerization of ethylene and propylene, respectively, is used to make it largely from natural gas and oil. It's made up of olefins, hydrocarbons, and monomers, and it's highly processable, chemically stable, and long-lasting. It is the most frequently used thermoplastic polymer, with applications ranging from packaging to consumer goods to fibers and textiles. Numerous factors, such as the development of the solar power industry and an increase in demand from the packaging industry in developed countries, are driving the worldwide polyolefins market forward. The market's progress, however, is limited by fluctuating raw material prices. The expansion of the packaging sector in developing countries, on the other hand, is expected to provide lucrative opportunities for market players.
Polyolefins have a variety of characteristics that make them suited for a variety of applications. It has low strength and hardness, but is incredibly ductile and impact resistant; it will stretch rather than break. Polyolefins are more water-resistant and robust than other polymers, thus they survive longer when exposed to the weather. Polyolefins are a good electric insulator because they resist electric treeing, yet they can become electrostatically charged. Antistatic substances can be used to prevent this. Depending on the thickness of the Polyolefins, they can range from almost translucent to opaque. Because of their clarity, low-density polyolefins are ideal for packaging. HDPE and other polyolefins can be recycled into different products, saving money over making a new product from scratch. Polyolefin demand is increasing in a variety of industries, including automotive, electrical and electronics, food and beverage, and consumer goods. Polyolefins' qualities, including as high stiffness, moisture resistance, and chemical resistance, make them ideal for industrial applications, particularly in the packaging of automotive and electrical spare parts.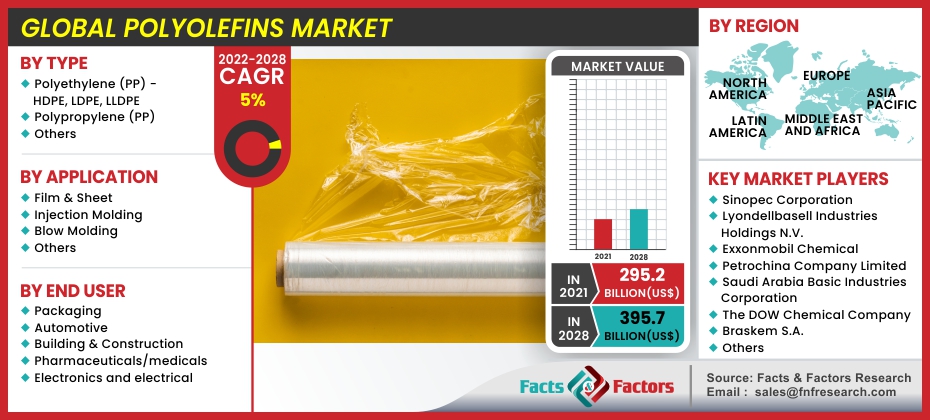 Impact of COVID – 19
The downstream derivatives market for polyolefins is experiencing a period of low demand. Oversupply and compressed profit margins resulted from the ongoing wave of capacity expansions in the polyethylene industry, putting even more pressure on producers. COVID-19 adds additional lead time to cargo deliveries for manufacturers that were already dealing with supply chain interruptions as a result of the trade war between the United States and China. The development of COVID-19, which the World Health Organization has labeled a pandemic, is having a noticeable influence on worldwide economic growth. As most countries have given "stay at home guidelines," i.e., lockdown, the pandemic is disrupting operations of different industries including automotive, oil and gas, construction, aerospace, and others.
The complete research study looks at both the qualitative and quantitative aspects of the polyolefins market. Both the demand and supply sides of the market have been investigated. The demand side study examines market income in various regions before comparing it to all of the major countries. The supply-side research examines the industry's top rivals, as well as their regional and global presence and strategies. Each major country in North America, Europe, Asia Pacific, the Middle East and Africa, and Latin America is thoroughly investigated.
Segmentation Analysis
The global Polyolefins market is segregated based on type, application, and end-user.
In terms of volume, polyethylene and polypropylene are expected to rise rapidly. LLDPE and LDPE are commonly used in electrical insulation, while HDPE is commonly used to make home containers. Because supply and demand are so closely linked, international firms in the field are continually investing in R&D and innovation to widen their final scope. Polyethylene serves a variety of purposes. Because it is non-toxic in its solid-state, it is often used in food packaging.
In the worldwide polyolefins market, the packaging category has the highest share and is predicted to grow at a considerable CAGR over the forecast period. This expansion is related to the growing demand for polyethylene films as a substitute for glass and metal in the packaging industry, which is fuelling the market's expansion.
Report Scope
| | |
| --- | --- |
| Report Attribute | Details |
| Market Size in 2021 | USD 295.2 Billion |
| Projected Market Size in 2028 | USD 395.7 Billion |
| CAGR Growth Rate | 5% CAGR |
| Base Year | 2021 |
| Forecast Years | 2022-2028 |
| Key Market Players | Sinopec Corporation, Lyondellbasell Industries Holdings N.V., ExxonMobil Chemical, Petrochina Company Limited, Saudi Arabia Basic Industries Corporation, The DOW Chemical Company, Braskem S.A., Total S.A., Arkema S.A., Borealis AG, Ineos Group AG, Abu Dhabi Polymers Company Ltd. (Borouge), Chevron Phillips Chemical Company LLC, ENI S.P.A., Formosa Plastics Corporation, Polyone Corporation, Sasol Ltd., Tosoh Corporation, Reliance Industries Limited (RIL), Repsol, among others |
| Key Segment | By Type, Application, End-User, and Region |
| Major Regions Covered | North America, Europe, Asia Pacific, Latin America, and the Middle East & Africa |
| Purchase Options | Request customized purchase options to meet your research needs. Explore purchase options |
Regional Landscape
The Asia Pacific dominates the global polyolefins market and was a major polyolefins consumer. China dominates the region's market, and India is expected to be the region's fastest-growing market. The Asia Pacific polyolefins market is expected to grow due to rising population and rapid industrialization. These regions' industries are focusing on R&D investments as well as technological advancements. The region's construction and packaging industries are expected to drive the polyolefins market. Because of the implementation of new environmental regulations, competition in the global polyolefins market is expected to increase in the coming years. This is also expected to open up new opportunities for market participants.
List of Key Players in the Global Polyolefins Market:
Sinopec Corporation
Lyondellbasell Industries Holdings N.V.
ExxonMobil Chemical
Petrochina Company Limited
Saudi Arabia Basic Industries Corporation
The DOW Chemical Company
Braskem S.A.
Total S.A.
Arkema S.A.
Borealis AG
Ineos Group AG
Abu Dhabi Polymers Company Ltd. (Borouge)
Chevron Phillips Chemical Company LLC
ENI S.P.A.
Formosa Plastics Corporation
Polyone Corporation
Sasol Ltd.
Tosoh Corporation
Reliance Industries Limited (RIL)
Repsol
The global Polyolefins market is segmented as follows;
On the basis of Type:
Polyethylene (PP) - HDPE, LDPE, LLDPE
Polypropylene (PP)
Others
On the basis of Application:
Film & Sheet
Injection Molding
Blow Molding
Others
On the basis of End User:
Packaging
Automotive
Building & Construction
Pharmaceuticals/medicals
Electronics and electrical
On the basis of Region:
North America
Europe

France
The UK
Spain
Germany
Italy
Nordic Countries
Benelux Union

Belgium
The Netherlands
Luxembourg

Rest of Europe

Asia Pacific

China
Japan
India
Australia
South Korea
Southeast Asia

Indonesia
Thailand
Malaysia
Singapore
Rest of Southeast Asia

Rest of Asia Pacific

The Middle East & Africa

Saudi Arabia
UAE
Egypt
South Africa
Rest of the Middle East & Africa

Latin America

Brazil
Argentina
Rest of Latin America